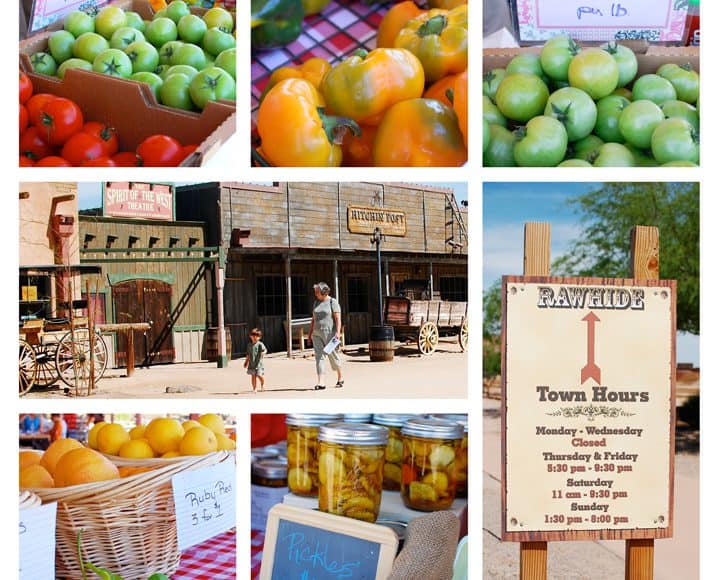 Striking Gold in a Desert Farmer's Market
Wait a minute. A farmer's market in the desert? I couldn't believe it myself. The idea itself is an oxymoron. I was in Phoenix over the weekend, not exactly hunting down farmer's markets, but to celebrate the wedding of one of my dearest cousins. Amid…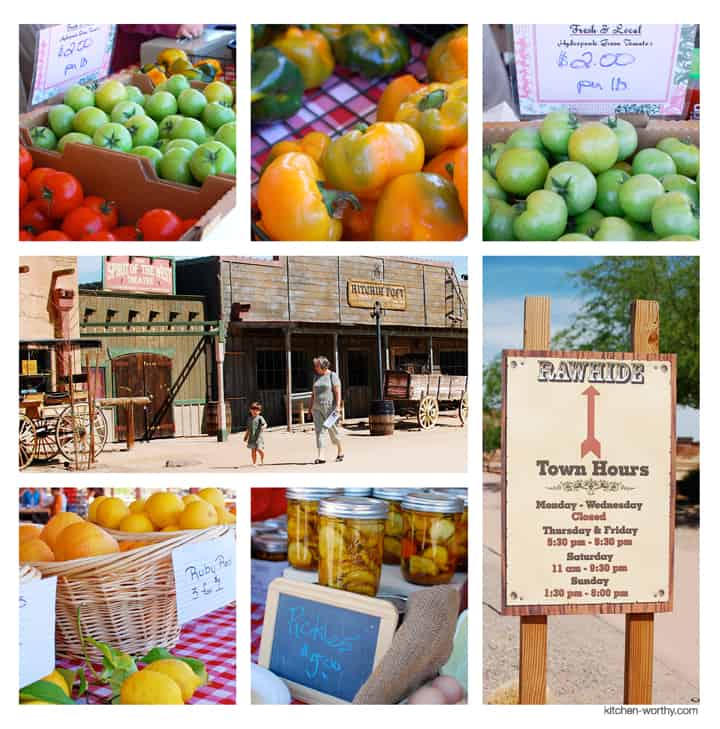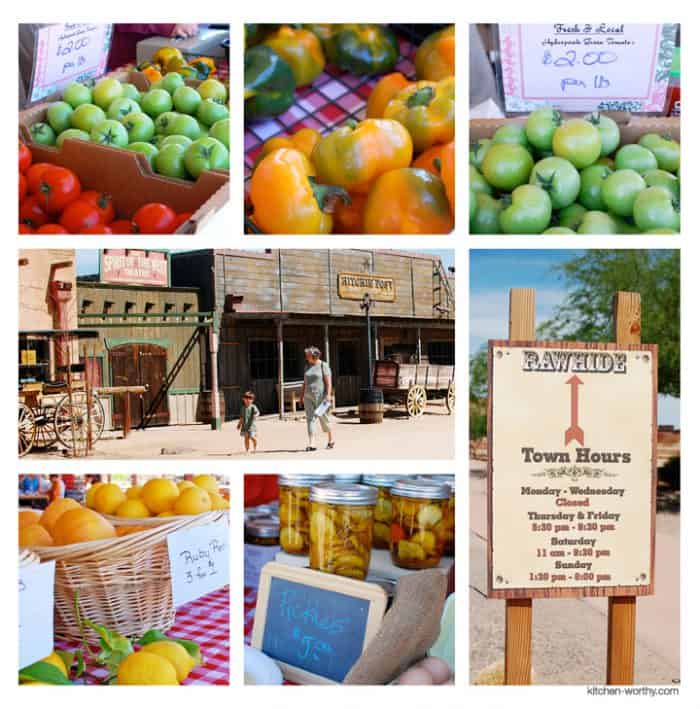 Striking Gold in a Desert Farmer's Market
Wait a minute. A farmer's market in the desert?
I couldn't believe it myself. The idea itself is an oxymoron.
I was in Phoenix over the weekend, not exactly hunting down farmer's markets, but to celebrate the wedding of one of my dearest cousins. Amid family reunions, rehearsal dinners, and the countless gluttonous feasts that come with a traditional Filipino wedding, my sister and I found time the morning of the wedding to explore one of Phoenix's most unique farmer's markets. When we learned that the the Gila River Farmer's Market at Rawhide was a mere water taxi ride away from our hotel, we didn't even hesitate.  We were going to have to explore and see for ourselves what they had to offer. Can you really grow things in the desert?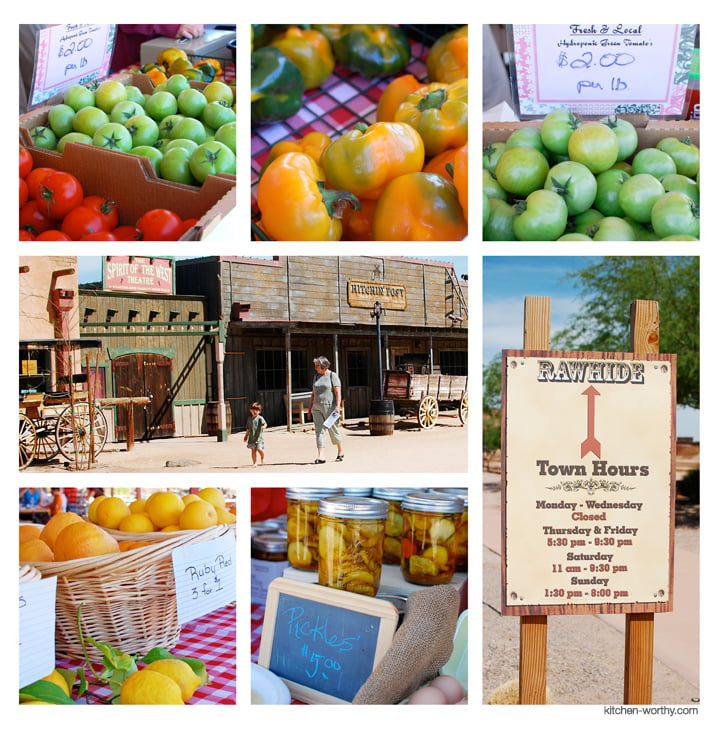 Apparently yes. We found hydroponic green tomatoes and lemons the size of mini Nerf footballs. Being the Southwest, there were, of course, peppers galore. But there were also lettuce, lemongrass, squash, carrots and beets, as well as curiosities such as chocolate and pineapple mint.
Set in an 1880's Western town, the farmer's market at Rawhide provides a quaint setting for locals and tourists alike to have access to local Arizona produce, experience the Rawhide organic garden, and explore Native American culture through demonstrations and handicrafts. The market is not overwhelmingly large, but there is so much to explore, and you can't help but be drawn in as soon as you see the sight of fresh tortillas being lovingly formed and fried by well worn hands. You can even take in a cooking demonstration!
The market was filled with energy from the live music, and we decided to listen while eating a hearty brunch from the grill. My sister and I tried a vegetable frittata smeared with a tangy goat cheese that made for a perfect pre-wedding meal, along with some of the excellent fresh citrus that we purchased from one of the vendors.The market was also a fantastic place to find handmade jewelry and handicrafts from the area, and to scout local prepared foods such as artisanal breads, salsas, and pickles. But there was one in particular that stood out.
In that dusty, gravely, old western town, we struck gold. Liquid gold.
It was honey.
Not just any old honey. Forget about those kitschy bear-shaped squirt bottles with the familiar tasting honey. This was unlike any other honey we had ever tasted.
They came in varietals, depending on the bee's primary source of pollen. I never thought about it before, but the flavor of the honey is affected by the blossoms from which they gather pollen and nectar. Makes sense, doesn't it? You are what you eat, as they say! But who knew that the honey that results from a bee that lives among orange blossoms could be so vastly different in color and taste from one that lives among meadow foam?
We tasted about eight different varietals of the aptly named Honey & Gold. Each one was so delicious, so different, so unlike the honey I grew up eating. Even my daughter, who is not exactly one to dip her finger in the honey jar, was a veritable Pooh Bear, sampling each one with such enthusiasm, I couldn't help but laugh!
And really, the warmth of the Arizona sun had warmed those honey jars to just the right, drippy, gooey, delectable consistency, it was like eating candy.
Actually, one of the best sellers (indeed, it was sold out), is the Meadow Foam varietal, which tastes like pure marshmallow.
That day, we sampled Creamy Wildflower, Eucalyptus, Avocado, Mountain Wildflower, Snowberry, Strawberry/Raspberry, and Palo Verde.
So, would you like to know which one I brought home? My pick for the day was the Avocado Honey and Gold.
The Avocado varietal had such a fabulous depth of flavor, it was delicate yet powerful, a dark color reminiscent of molasses, but with a flavor just so unique, I hope that one day you'll be able to try it. I envision using this in everything from marinades to oatmeal to scones. But to be honest, I'll probably just eat it plain.
According to the The Health Foodie, the parent company of Honey & Gold, they are working towards having their honey available at national natural food markets such as Whole Foods. I hope they do. Until then, I'll have to fly back to Arizona or beg my cousins who live there to bring me back some bottles when I run out.