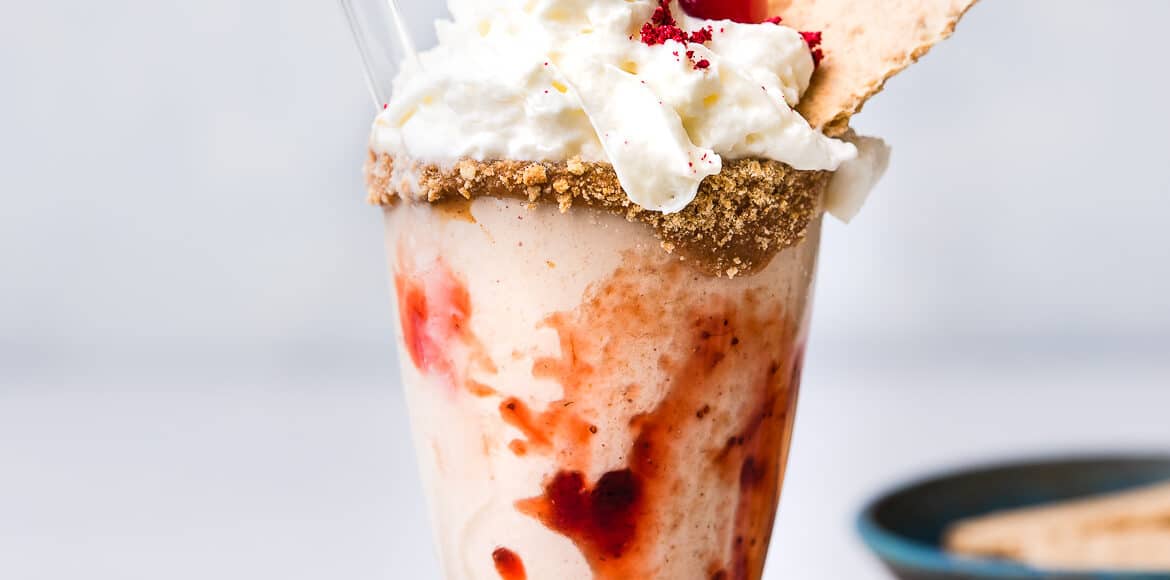 Almond Butter and Jelly Vegan Milkshake
Almond Butter and Jelly Vegan Milkshake – an AB&J meets a rich and creamy milkshake made with almond milk and plant-based ice cream!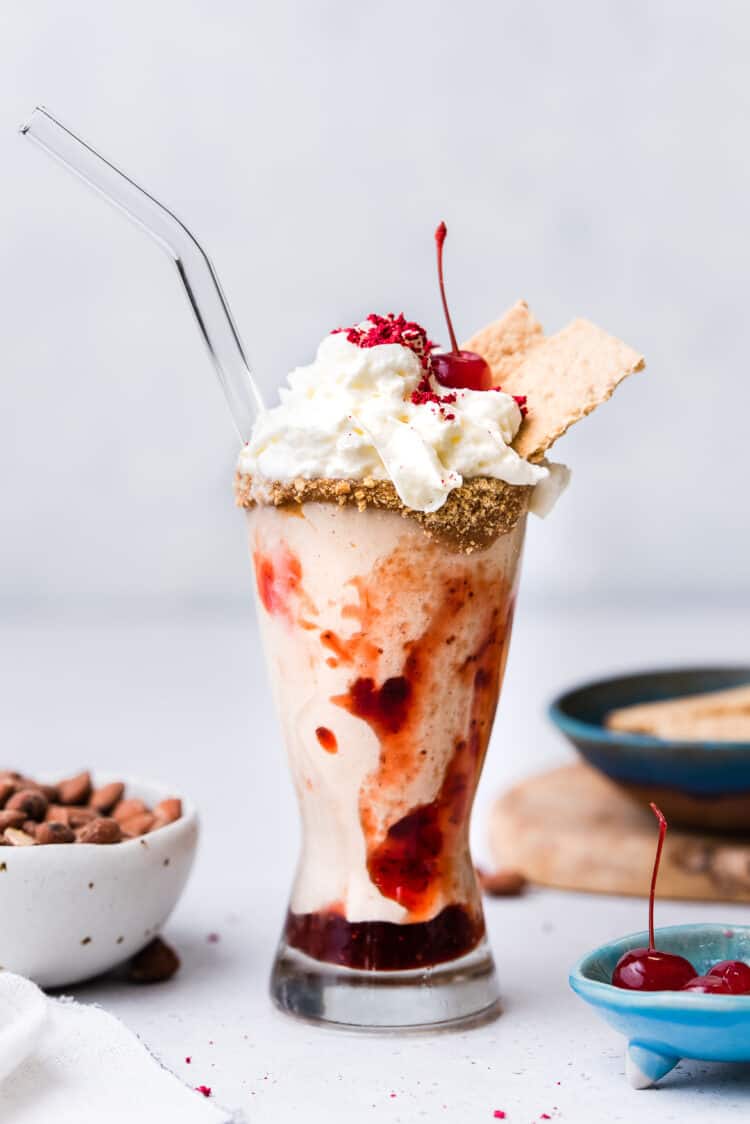 Almond Butter and Jelly Vegan Milkshake
This is a sponsored post written by me on behalf of Safeway. All opinions are 100% mine.
Almond Butter and Jelly Vegan Milkshake – an AB&J meets a rich and creamy milkshake made with almond milk and plant-based ice cream!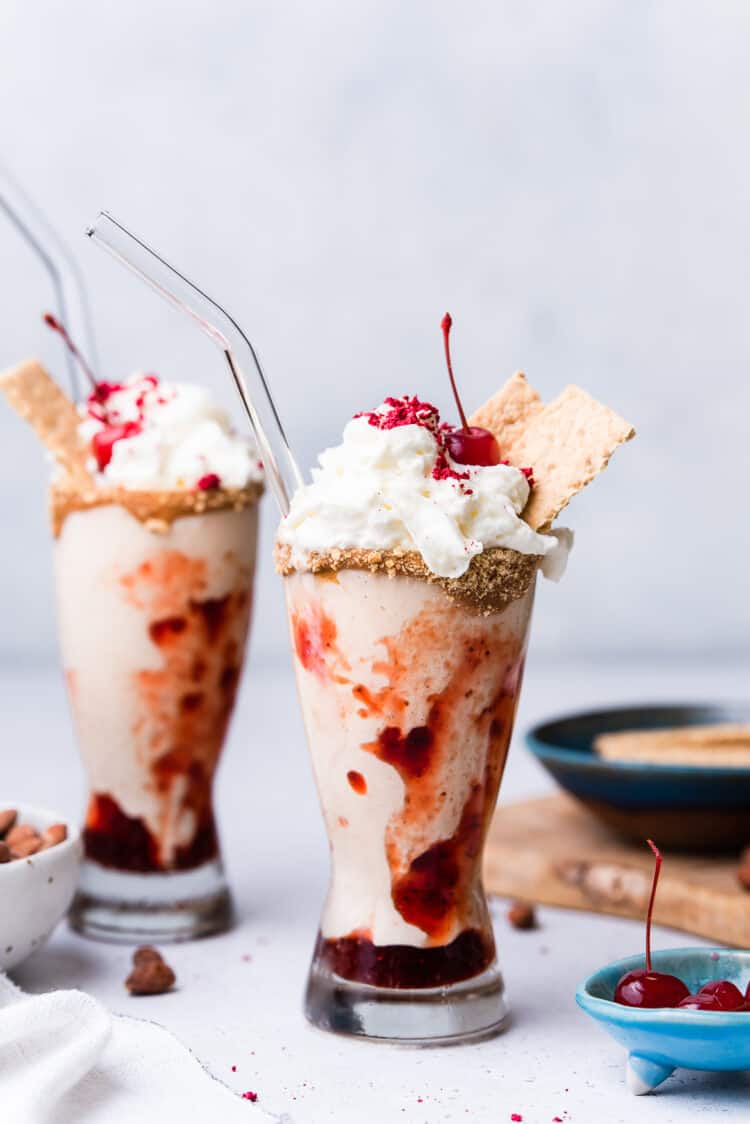 You could say that milkshakes and I go way back. You might even say that milkshakes were my first food — my mom had massive cravings for milkshakes when she was pregnant with me, which I always found so interesting, compared to my own cravings for trail mix and grapefruit when I was pregnant myself. Clearly, she had the more exciting craving!
So now that it's been established that I'm somewhat of an expert on milkshakes, I will admit that despite this distinction, milkshakes are a once in a while treat. When you have plant-based eaters in the family, it's easy to understand why.
But now that school is back in full swing in our household, I wanted to surprise the kids with the ultimate plant-based milkshake! After a long day of online classes, they deserved a pick-me up, and let's be honest, my husband and I did, too. In the spirit of back-to-school, I thought an AB&J milkshake would be just the thing.
You all know the PB&J, but the AB&J is a favorite at our house, too! Almond butter is a staple at our house, and back when we had the kids' friends over, it was always good to know we had peanut-alternatives for anyone with allergies. I love the extra creaminess and protein it adds to snacks, and it is especially delicious in this vegan milkshake, along with O Organics® and Open Nature® brands' plant-based products!
Plant-Based Ingredients from O Organics and Open Nature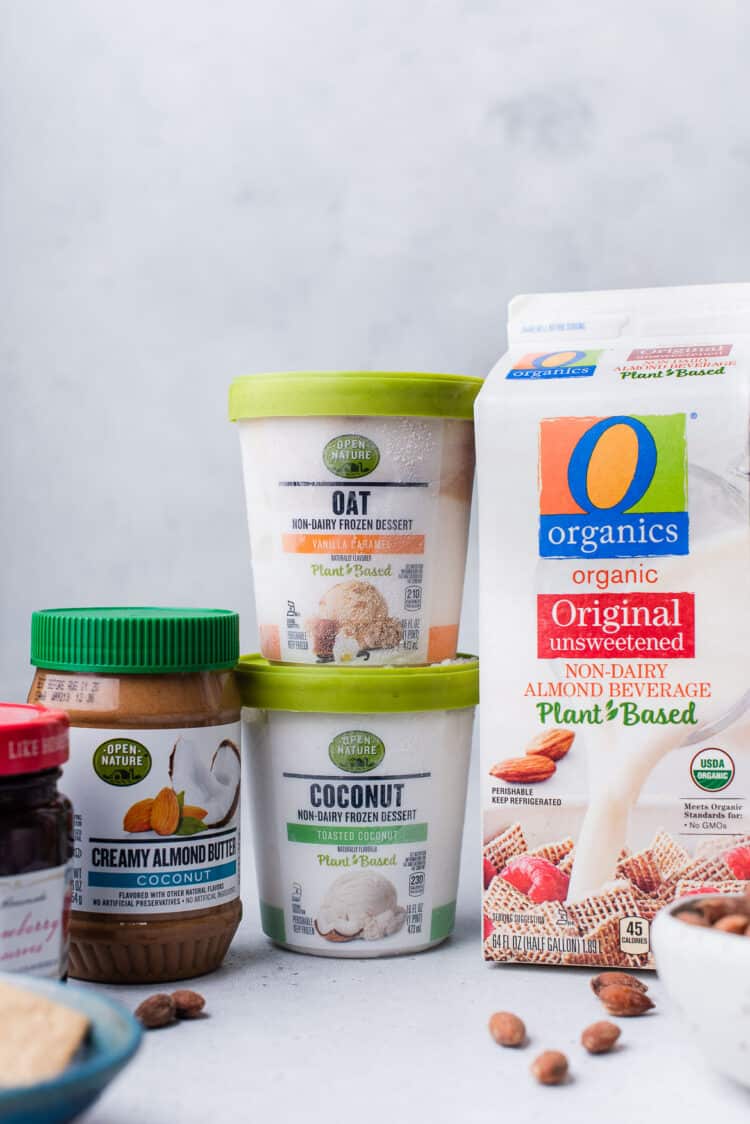 O Organics® and Open Nature® brands have extensive lines of "better for you" plant-based products including non-dairy milk alternatives, nut butters, and frozen ingredients, meal solutions, and desserts. I love that O Organics® offers high-quality, 100% USDA-certified organic products in every aisle of the store and Open Nature® offers minimally processed, high quality products for everyone in the family, including plant-based, high protein, and gluten free options.
From non-dairy milk alternatives to nut butters, frozen ingredients and even dessert, I love stocking up when I shop at my local Safeway! We go through so much almond milk, and all love the plant-based, high protein options — all the eaters in my family love it, which made it so convenient.
Speaking of convenient, Safeway also offers Grocery Delivery and Drive Up & Go™ for convenient ways to shop – I use this service weekly and it's such a timesaver to shop online and drive up and go!
I shopped at Safeway in my local area, but you can also find O Organics® and Open Nature® plant-based products at the Albertsons Companies family of stores, including Albertsons, Safeway, ACME Markets, Jewel-Osco, Vons, Randalls, Shaw's Supermarket, Star Market, and Tom Thumb.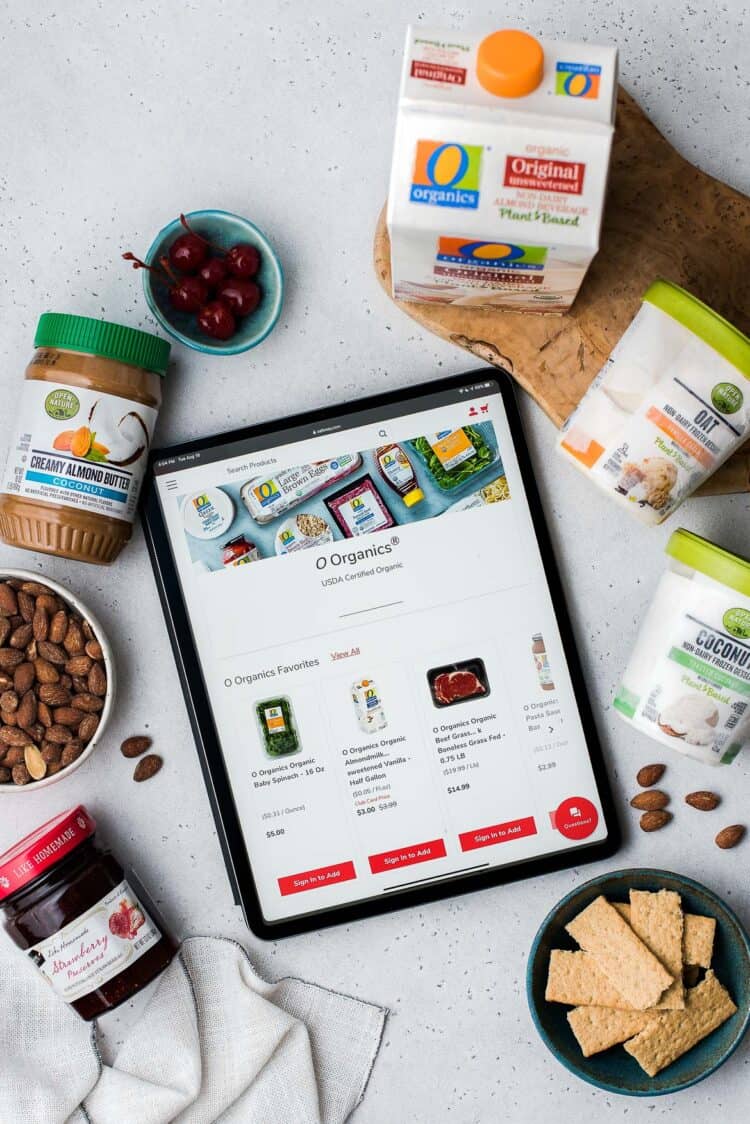 For this high-protein vegan milkshake, I use the O Organics Plain Unsweetened Almond Milk, Open Nature Almond Butter in the delicious Creamy Coconut flavor, and the Open Nature Non-Dairy Oat Vanilla Caramel Frozen Dessert! And we can't forget the jam — I used Safeway Signature's Strawberry Jam for those ribbons of jammy goodness.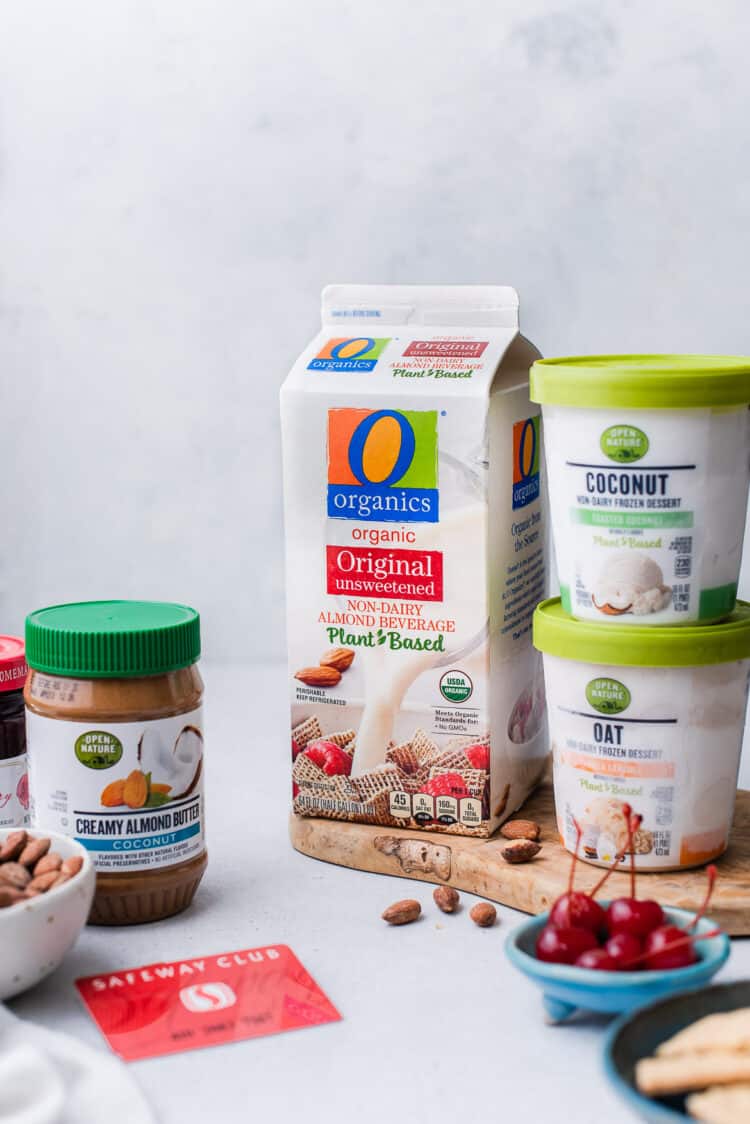 How to Make a Vegan Milkshake
The secret to any milkshake, vegan or otherwise, is in the ratio of ice cream to milk. For that extra thick, creamy shake, you want 1 cup of ice cream to 1/3 cup of milk. You'll know it's right when your straw stands up straight in the shake, but you can still slurp it up without going cross-eyed!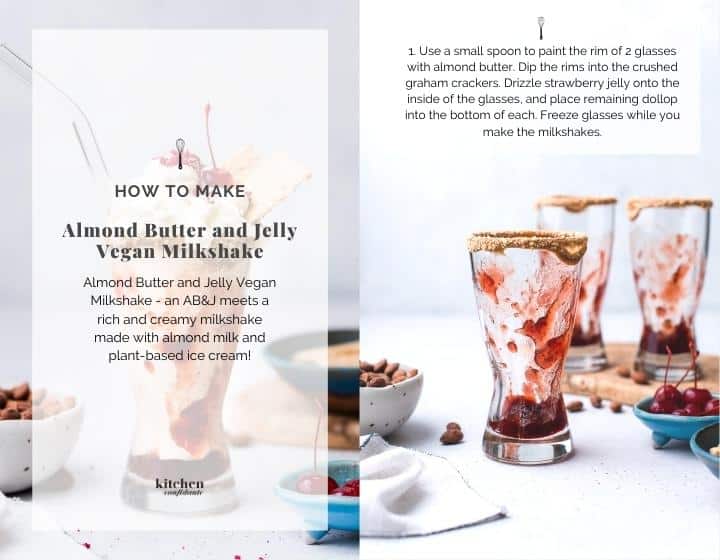 To make your vegan milkshakes, start by prepping those glasses. If you want to make it extra fancy, paint a little almond butter on the rim of your glasses and dip in some crushed graham crackers. Then the important part: smear some strawberry jam inside the walls of the glasses to create the swirls and drop some in the bottom of the glass.
Then it's time to blend the almond milk and non-dairy ice cream with a dollop of almond butter! You can use a jar blender or an immersion blender. And that's it! Pour into your glasses, top with non-dairy whipped cream if you wish, and top with a maraschino cherry!
More Plant-Based Treats
Carrot Cake Cupcakes
Strawberry Shortcake (Vegan)
Strawberry Rhubarb Crisp (Vegan-Friendly)
Blueberry Almond Butter Muffins (Vegan)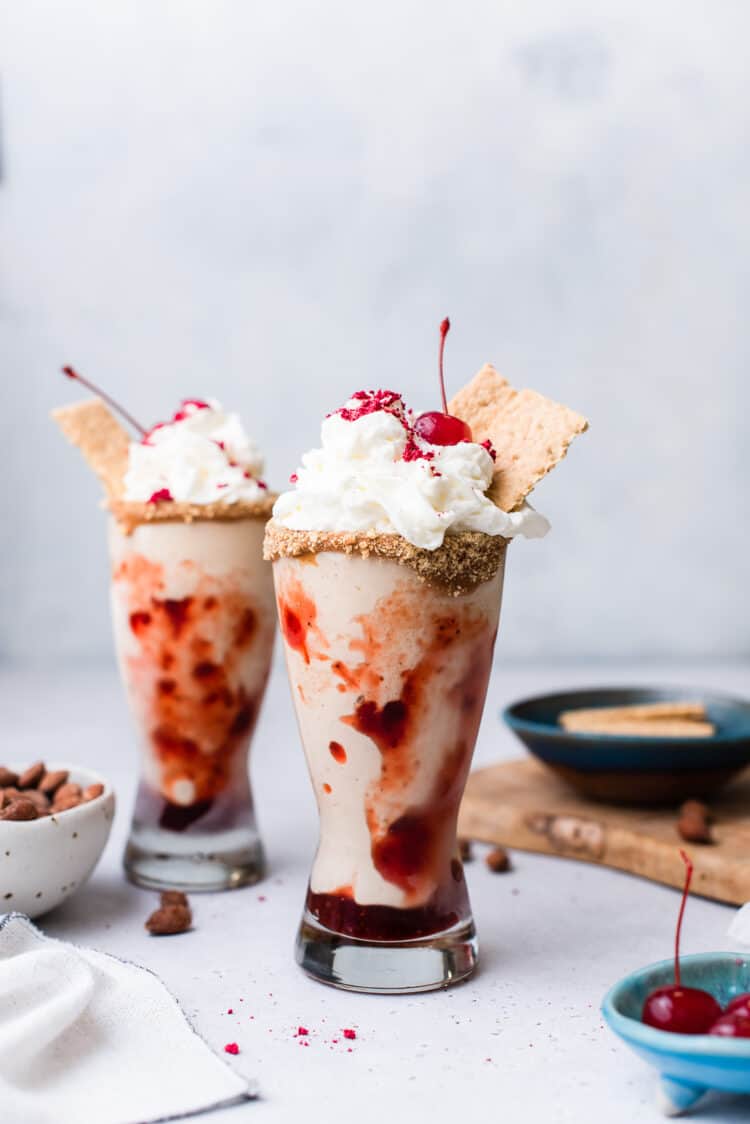 Disclosure: This post was created in partnership with Safeway. Thank you for supporting brands that matter to me; sponsored posts such as this help behind the scenes at Kitchen Confidante. All opinions in this post are, as always, my own.
Almond Butter and Jelly Vegan Milkshake
Almond Butter and Jelly Vegan Milkshake – an AB&J meets a rich and creamy milkshake made with almond milk and plant-based ice cream!
Ingredients
1/4

cup

graham cracker crumbs

1/4

cup

almond butter

divided

1/4

cup

strawberry jelly

1

pint

plant-based ice cream

(170 g or 6 oz)

2/3

cup

almond milk

Non-dairy whipped cream

for garnish

Graham crackers

for garnish

Maraschino cherry

for garnish
Instructions
Use a small spoon to paint the rim of 2 10-oz glasses with some almond butter. Dip the rims into the crushed graham crackers to coat. Drizzle strawberry jelly onto the inside of the glasses in your desired pattern, and place remaining dollop into the bottom of each. Place glasses in the freezer while you make the milkshake.

Place the plant-based ice cream, almond milk and remaining almond butter into the jar of a blender. Blend until smooth.

Pour into prepared glass and garnish with non-dairy whipped cream, graham crackers and a maraschino cherry. Enjoy!
Nutrition
Calories:
560
kcal
|
Carbohydrates:
57
g
|
Protein:
16
g
|
Fat:
32
g
|
Saturated Fat:
3
g
|
Sodium:
322
mg
|
Potassium:
563
mg
|
Fiber:
7
g
|
Sugar:
29
g
|
Vitamin A:
464
IU
|
Vitamin C:
12
mg
|
Calcium:
448
mg
|
Iron:
3
mg