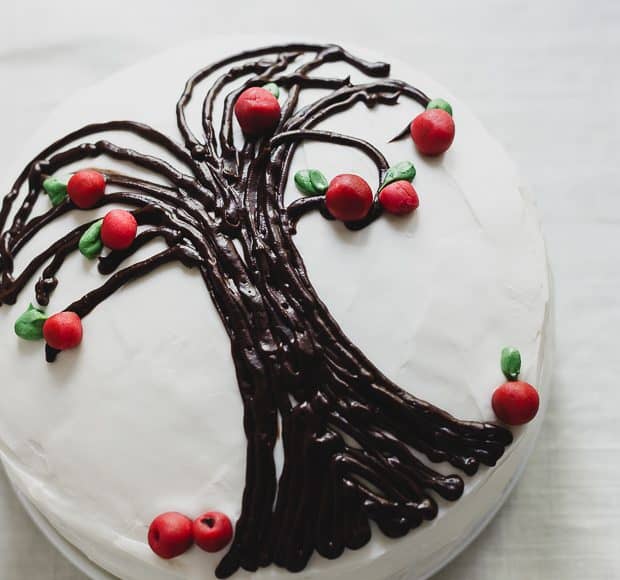 Sweet Potato Apple Cake
I'll never forget it. I was working in a small marketing firm, our office predominantly female, and one by one, we were following each other down the path of engagement, marriage and babies. Showers were the thing. It was the first baby shower, and in…
Sweet Potato Apple Cake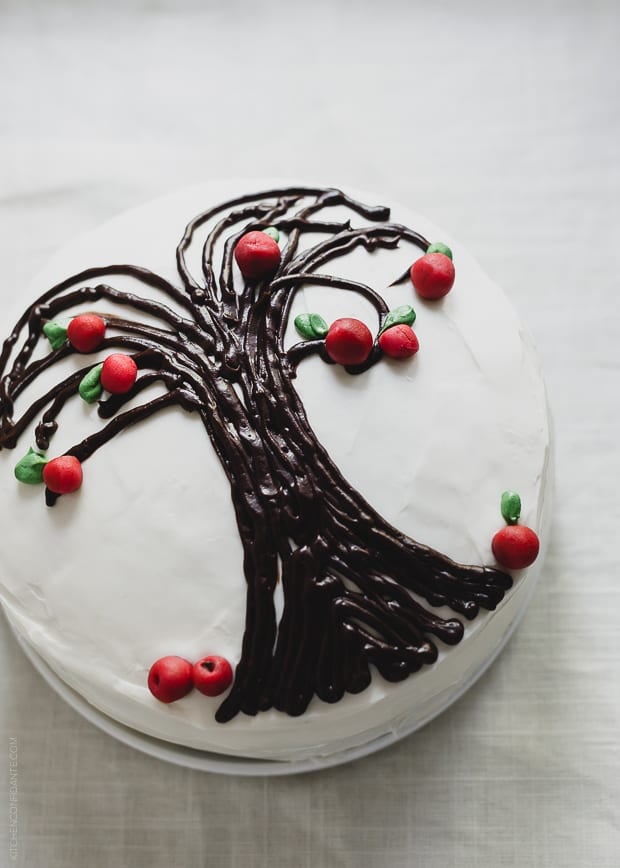 I'll never forget it. I was working in a small marketing firm, our office predominantly female, and one by one, we were following each other down the path of engagement, marriage and babies. Showers were the thing.
It was the first baby shower, and in our excitement, the ladies rallied to celebrate – someone organized the games, another the food, and of course, there were presents. Somehow, and I'm not exactly sure what possessed me, I volunteered to bake the cake.
Not just a cake, but a Noah's Ark cake, adorably decorated with star tipped animals smiling with their big eyes in a boat. At least that was the idea pictured on the cake pan. I thought, "How hard could it be? All I need are a couple of frosting tips!"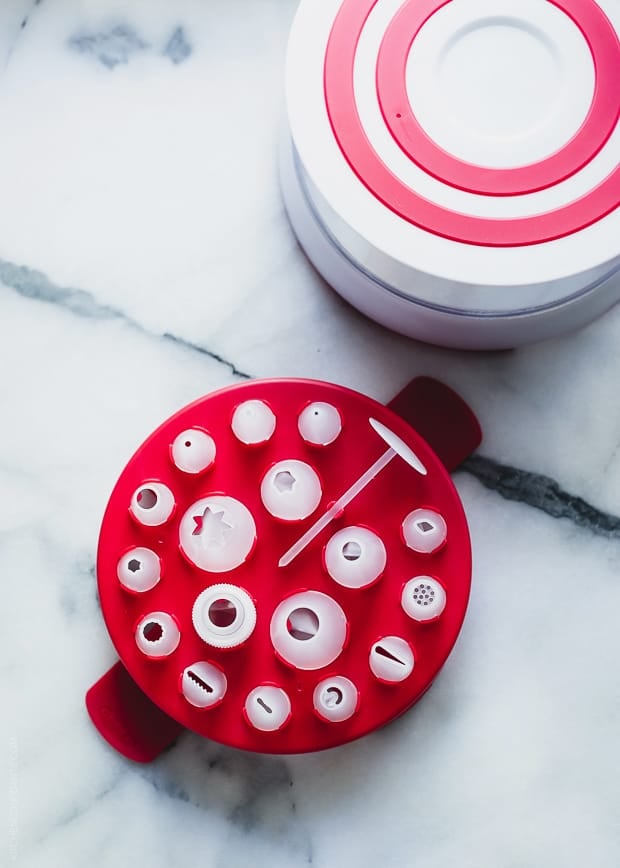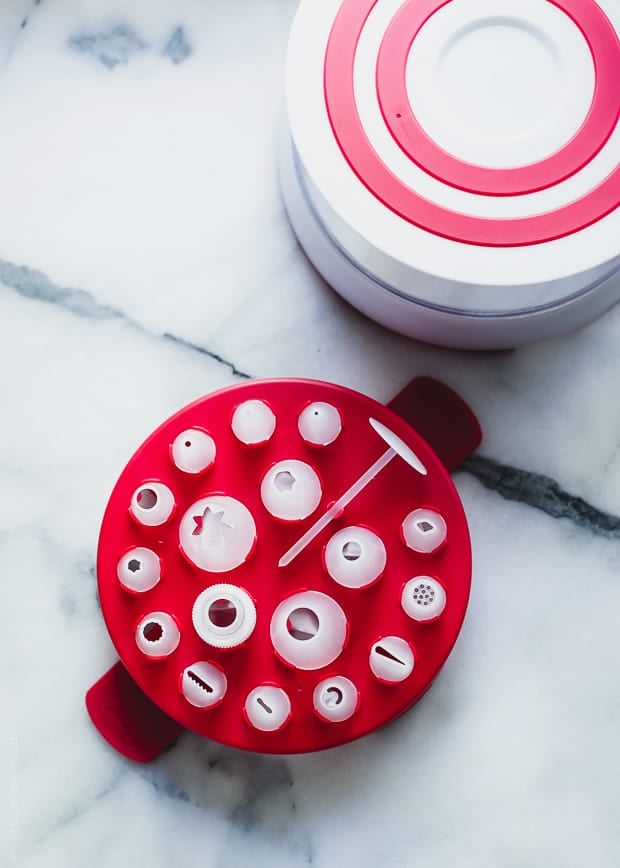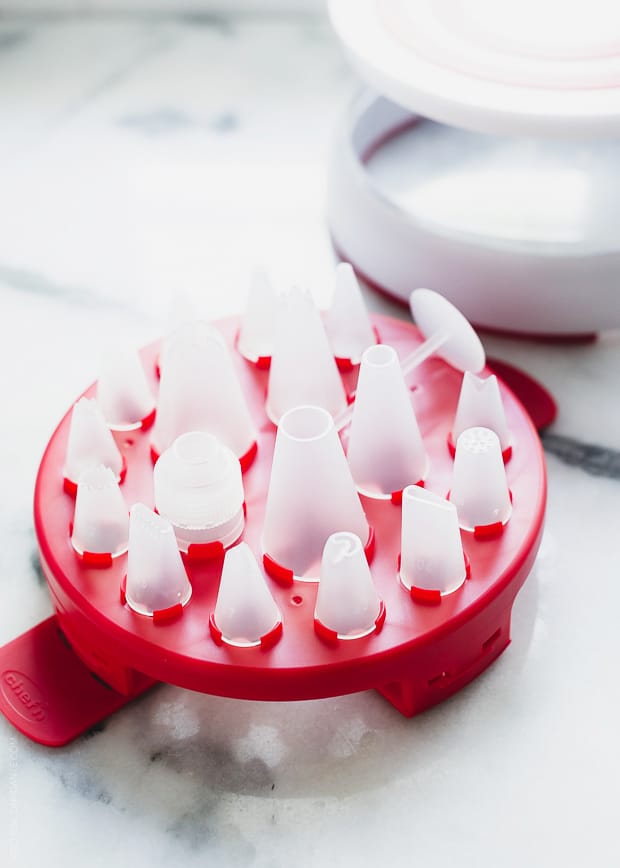 It didn't go exactly as planned.
The cake part was a breeze. But boy was I humbled by the frosting. I had never taken a class, and YouTube wasn't around then to usher me through the world of cake decorating. What was I thinking??? I found myself the morning of the baby shower struggling, my hands cramped, my technique sorely lacking. I arrived late to the party, cake miraculously finished, my heart deflated and my ego definitely bruised.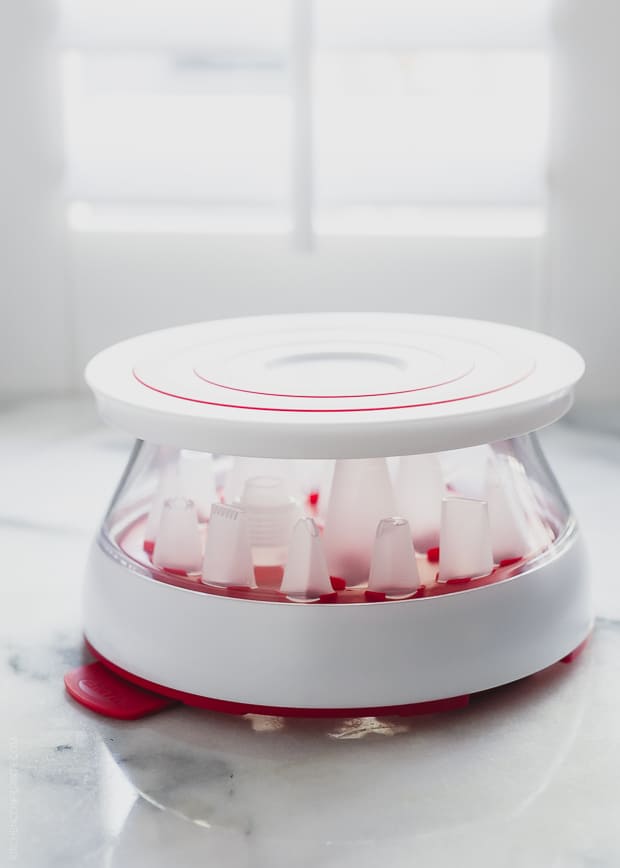 My husband watched me from afar and a few months later, for Christmas, what did he get me? A toolbox of cake decorating items. I'm so grateful that I didn't ban cakes from the kitchen forever. In fact, I still love it and wish I had more time to learn more! I'm far from mastering cake decorating, but for me, it's more about fun than perfection!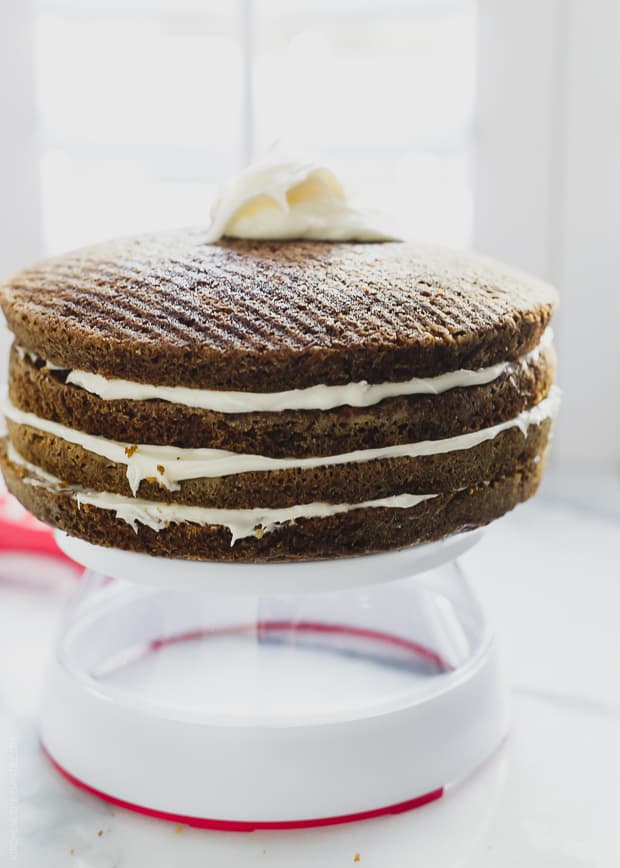 There's a new product by Chef'n that I wish existed back then – the Chef'n Cakewalk, which is a handy cake decorating kit that has everything you need, whether you are a complete novice or an accomplished baker. Housed underneath a smooth rotating platform is a set of decorating tips, along with disposable pastry bags. It's sleek, it doesn't take up a ton of room, and it's dishwasher safe. I can't tell you how eager I was to test it out!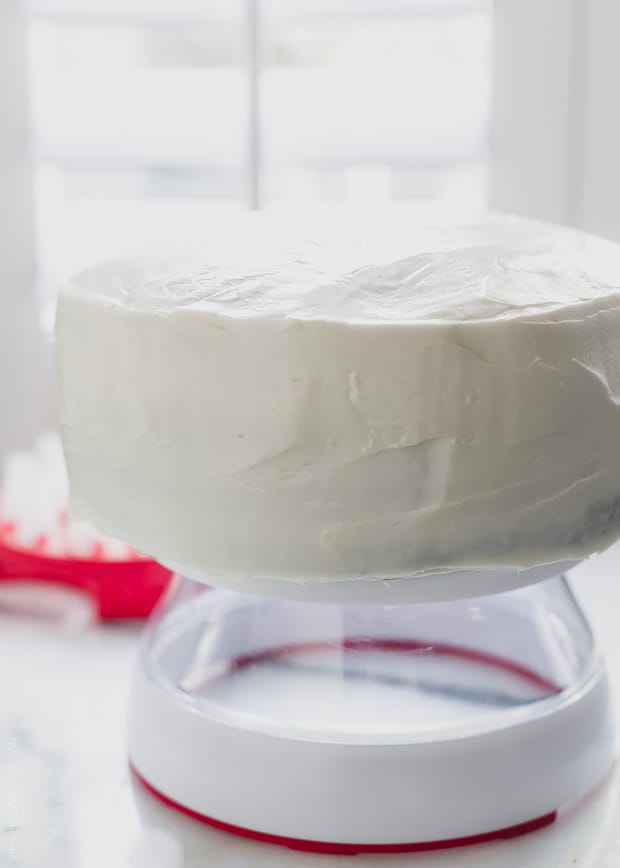 For starters, the spinning platform is fantastic, and makes decorating your cake so easy. It doesn't budge, and it rolls so smoothly, making a huge difference for frosting and decorating! And I love that it's all contained – truly, I can get rid of my clunky toolbox and all the assorted gear, and I would have everything I need in the Cakewalk!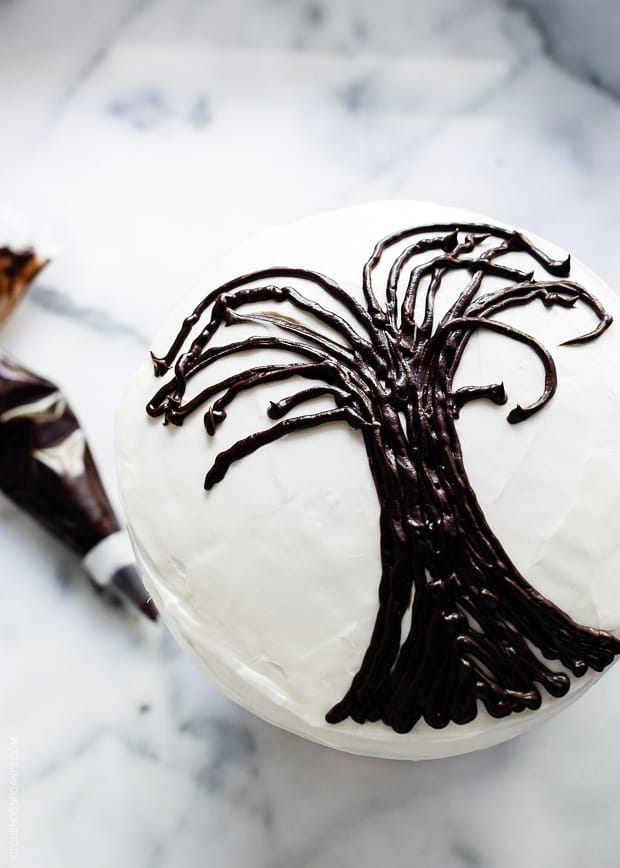 To give it a whirl, I made this Sweet Potato Apple Cake with Cream Cheese Frosting. The smooth rotation of the Cakewalk made it easier to evenly frost the cake, and I loved the quality of the decorating tips and the disposable pastry bags! The pastry bags were heavy weight, which I appreciate after having used many flimsy bags in the past; it makes a huge difference!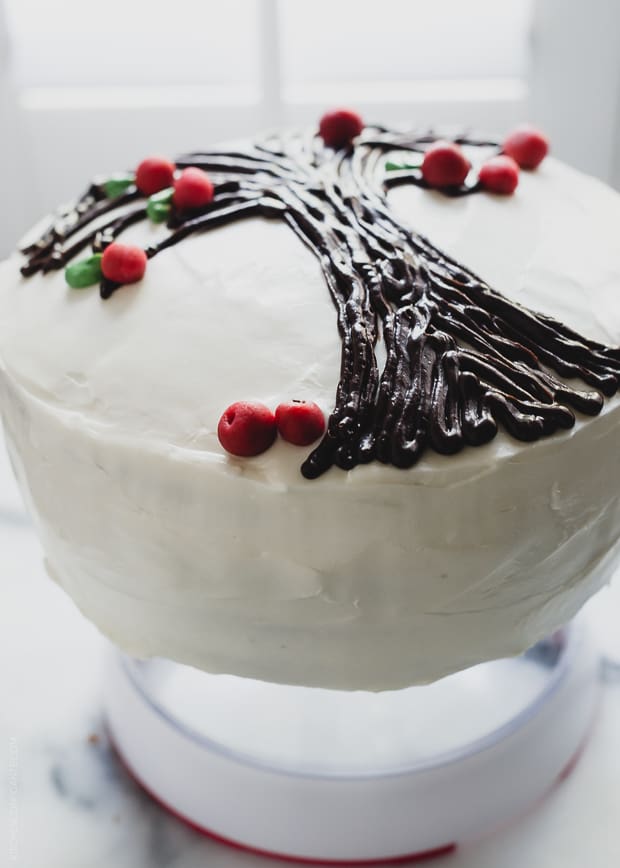 To make the branches of the tree, I used the Chef'n round tip (#4), and for the leaves, I used the teardrop tip (#10). The apples were formed with marzipan to give a little 3D effect!
I may not have the best decorating skills, but it was the most fun I've had cake decorating in a long while.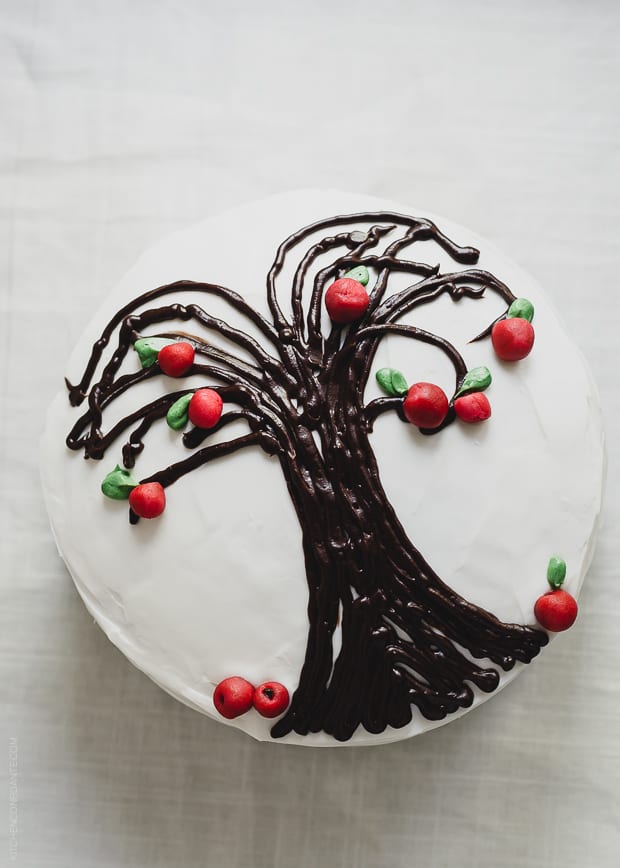 This Sweet Potato Apple Cake will be going towards my little one's Fall Carnival cakewalk this weekend – so I guess that means I'll just have to bake another one again real soon. And I'm totally looking forward to it!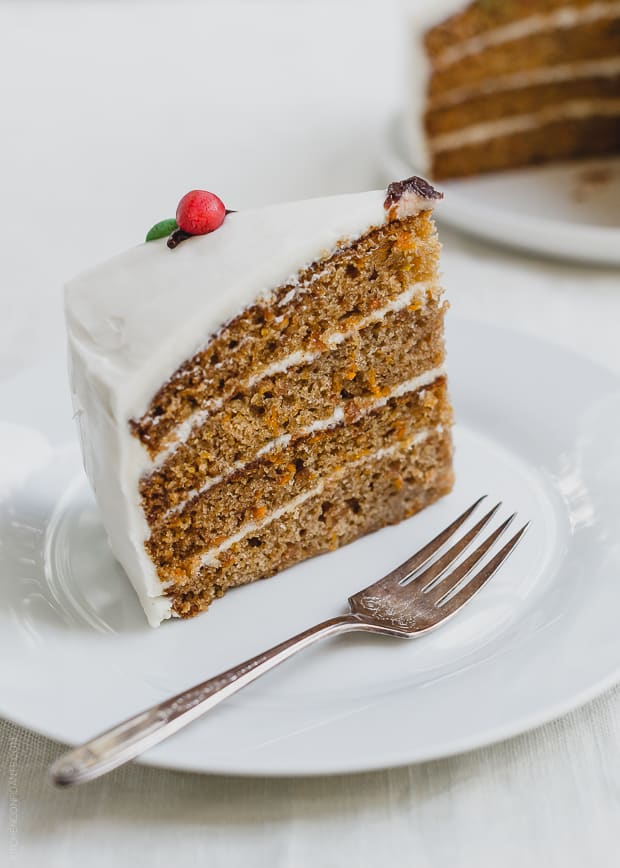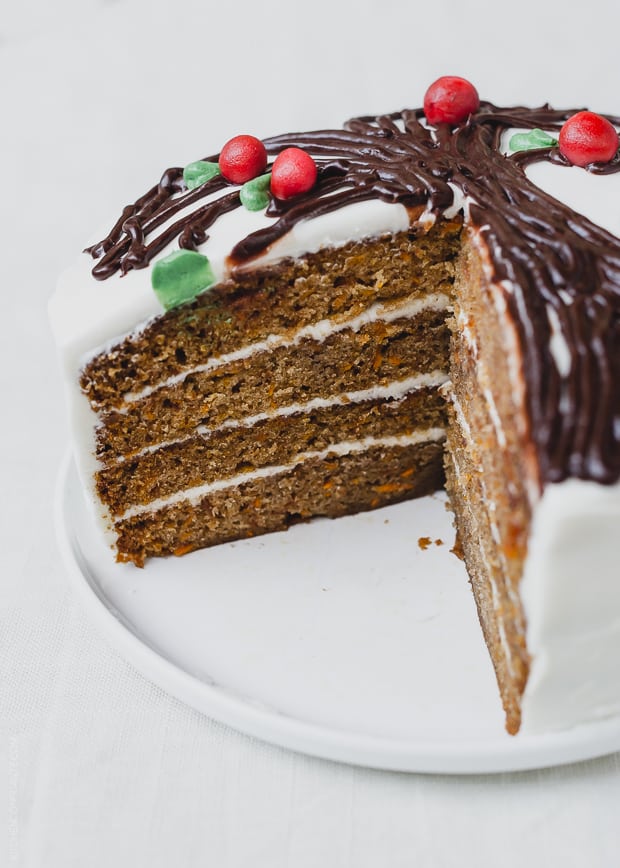 Giveaway
I am excited for one of you to give the Chef'n Cakewalk a whirl! One winner will be selected. Here's how to enter:
Please leave a comment letting me know: Have you ever decorated a cake before? Was it fun? and click on the widget below.
Entries/Comments accepted until 12 a.m. Pacific, Tuesday, November 11, 2014.
One winner will be randomly selected and notified by email. The winner will have 48 hours to respond to email notification, otherwise an alternate winner will be selected.
Disclosure: This post and giveaway was made possible by Chef'n. As always, all opinions are my own. Sponsored posts such as these help support the work behind the scenes on Kitchen Confidante. Thank you so much for your visits and making my blog part of your day.
This is a cake that will win the hearts of carrot cake lovers (and sweet potato doubters!). It is definitely one of my favorite cakes for fall!
Print Recipe
Ingredients
For the cake:
2 cups sugar
2 cups all purpose flour
2 teaspoons baking soda
2 teaspoons cinnamon
1/2 teaspoon salt
4 large eggs
1 1/4 cups canola oil
1 1/2 cups grated sweet potato
1 1/2 cups grated apple
For the frosting:
1 cup butter, softened
16 oz reduced fat cream cheese, softened
4 cups powdered sugar
1 teaspoon vanilla
Instructions
Preheat the oven 350°F. Prepare two 8-inch round baking pans by coating with cooking spray or butter. Use parchment paper rounds, if desired, or dust with flour.
In a medium bowl, whisk together the sugar, flour, baking soda, cinnamon and salt. In a large mixing bowl, beat the eggs until light and frothy. Beat in the oil. Add the flour mixture in two additions, until just incorporated, scraping down the sides of the bowl. Stir in the sweet potato and apple.
Pour the batter into the pans and place in the oven. Bake for 30 minutes, or until the cake is springy and a toothpick comes clean.
When the cake is baked, remove from oven. Let it sit cool completely. Trim the top of the cake with a serrated knife for a flat surface. Invert onto your wire rack or serving plate. If preparing in advance, wrap the cake well and refrigerate until ready to frost. This can be done a day or two in advance.
Make the frosting by whipping together the butter and cream cheese. Add the vanilla. Slowly add the powdered sugar and whisk well. Frost the cake and refrigerate.
Remove the cake from the refrigerator about 10-15 minutes prior to serving.