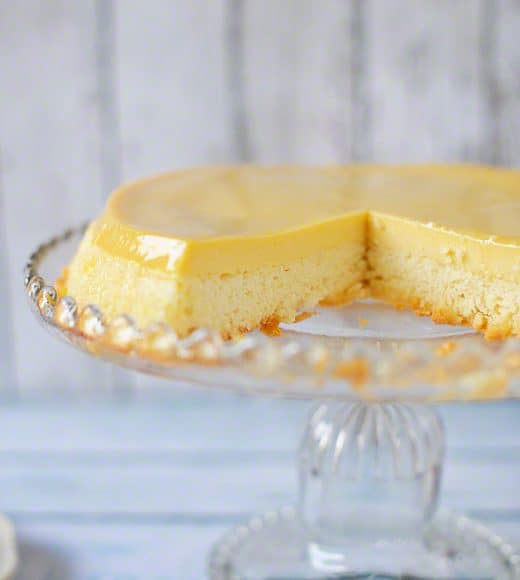 Turning Two with a Custard Cake
I had a bad day in the kitchen today. The kitchen is usually my happy place, my woman cave, if you will, where I can create and taste and lose myself in stirring cake batter or a steaming pot of soup. But today my dear…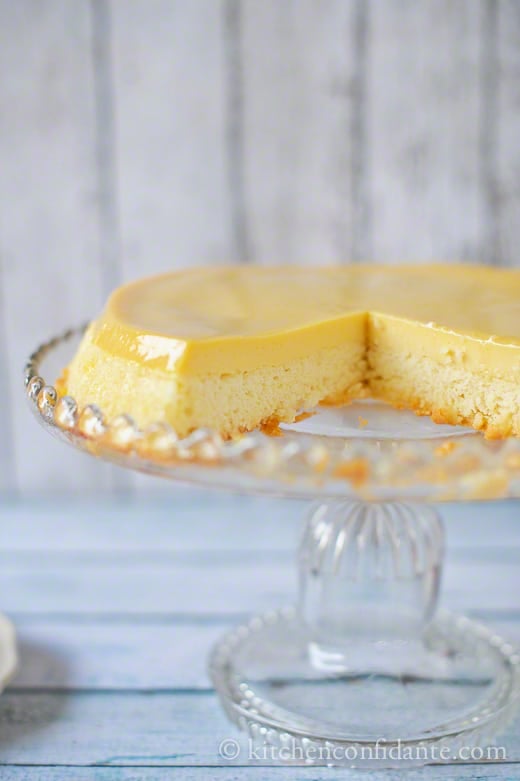 Turning Two with a Custard Cake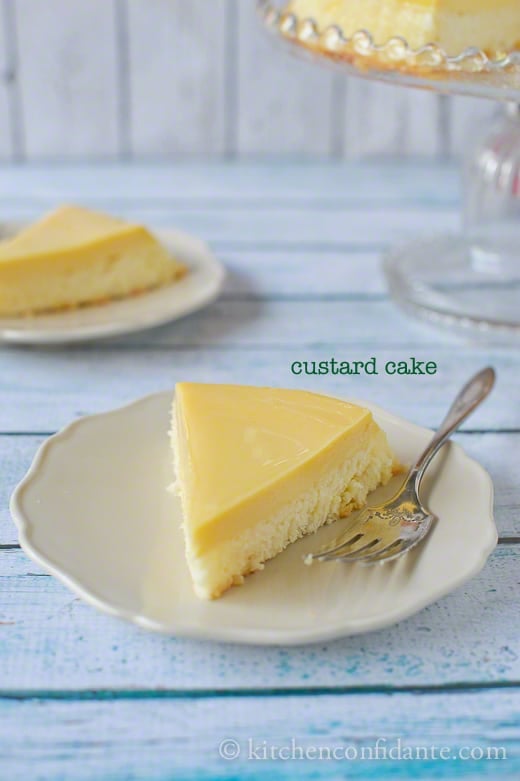 I had a bad day in the kitchen today.
The kitchen is usually my happy place, my woman cave, if you will, where I can create and taste and lose myself in stirring cake batter or a steaming pot of soup. But today my dear friends, oh today, I was having a terrible, horrible, no good, very bad day.
It all started when I set some sugar on the stove to caramelize. My heart started to beat a little wildly in my chest. Between you and me, I still get a little nervous when caramelizing sugar. It really is a silly fear – I'm not a stranger to caramel, after all. I've made it for garnishes and for flans, and for ice cream, but I've had my share of failures, too. Just when I think I've got this caramel thing all figured out, I go and somehow mess it up.
And today, that's exactly what happened.
Instead of going with my tried and true method, I decided to try yet another way of melting down my sugar. Three failures and many dish washings later, I finally returned to the way I know best and powered through. I was making a Custard Cake, not rocket science and quite simple when you break it down into its parts. I've made caramel flans, custards, and chiffon cakes – so all I had to do was bring those together into this dessert that is a sum of those parts. But the mishaps continued. There were spills and sticky messes, empty baking powder tins and rushes to the store for more supplies.
By the time my cake was in the oven, I was feeling quite defeated.
As I waited for my cake to bake and cleaned up messes and my wounded spirit, I reminded myself that perhaps it was appropriate that I chose to bake this particular cake to celebrate Kitchen Confidante's second birthday. For two years, I have shared with you — things that are delicious, things that are simple, things that are challenging, and all the wonderful successes we can enjoy in the kitchen. It has been a labor of love for me, and yes, there have been failures now and then. The failures are the ones you learn from, the reminders that doing what you love takes work and patience. Today was one of those reminders.
I opened up a fortune cookie a few weeks ago that read: "Failure is the only opportunity to begin more intelligently."
That perhaps, is the best way for me to head into my third year.
As I sit down to bite into this creamy cake, each forkful is rewarding, and for that, I want to thank you. Thank you for being a part of my labor of love. Thank you for learning with me along the way. Thank you for inspiring me to share.
It was really important for me to share this Custard Cake with you today. When I think of Kitchen Confidante, I think of the fusion of influences my life and my heritage has brought to the foods I eat. This Custard Cake is a classic dessert in the Philippines and reflects the complexity of its cuisine. The marriage of a classic Spanish-influenced Leche Flan (or creme caramel) with the American Chiffon Cake is match made in heaven. You will love the light cake layered with the rich, but not too sugary custard, the caramel sweetening it just so. It's just a lovely fusion of flavor and texture. I have updated my mom's recipe with a method that I feel is more reliable in obtaining an even caramel.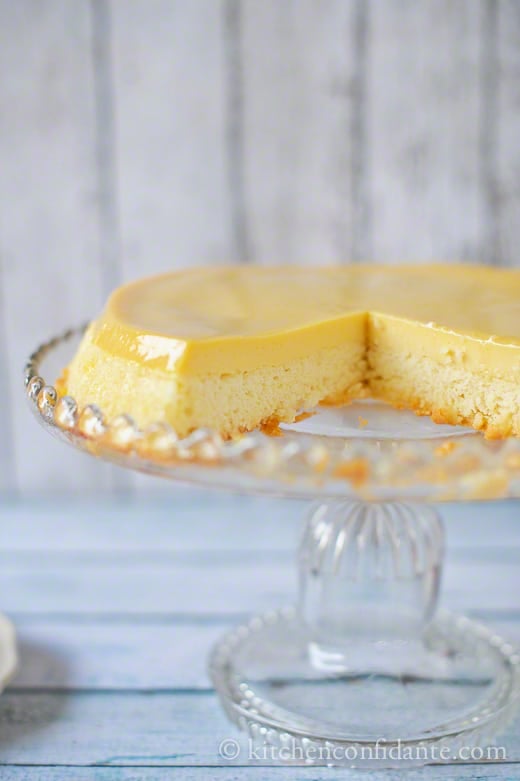 Print Recipe
Ingredients
Custard
1 cup sugar
1/4 cup water
5 egg yolks
2 large eggs
1 14-oz can evaporated milk
1 12-oz can condensed milk (fat free may be used)
1/2 teaspoon vanilla
Chiffon Cake
2 1/2 cups cake flour
1 cup granulated sugar (I prefer a fine baking sugar)
3 teaspoons baking powder
1 teaspoon salt
1/2 cup canola oil
5 egg yolks
3/4 cup water
1 cup egg whites
1/2 teaspoon cream of tartar
1/4 cup sugar
Instructions
Prepare the custard:
Heat a clean, heavy duty small sauce pan over medium-high heat. Add sugar and water, stir briefly justuntil sugar is dissolved, then allow to simmer (no more stirring!) until the sugar begins to caramelize and changes color to your desired shade of amber. Pour into baking pan, tilting so all sides get coated. Set aside.
In a bowl, blend the egg yolks, eggs, evaporated and condensed milks and vanilla. Strain into the prepared baking pan and set side.
Preheat the oven to 350°F.
Prepare the chiffon cake:
Sift the flour, sugar, baking powder and salt into a mixing bowl. Make a well in the center and add, in order: oil, egg yolks and water. Beat with a spoon until smooth. In the bowl of an electric mixer, beat the egg whites and cream of tartar until they form stiff peaks. Add the sugar and beat again. Power the egg yolk mixture in a thin stream over the egg whites, very gently folding with a spatula until the two are completely blended.
Pour the chiffon cake batter over the prepared custard and smooth the top with a spatula.
Bake for about one hour in a baine marie (water bath), until a toothpick inserted comes out clean when inserted in the center. Remove from oven and allow to sit for 15 minutes. Insert onto a serving dish/tray. Chill in the refrigerator and serve when nicely chilled.
Enjoy, it is especially wonderful with a strong cup of coffee.