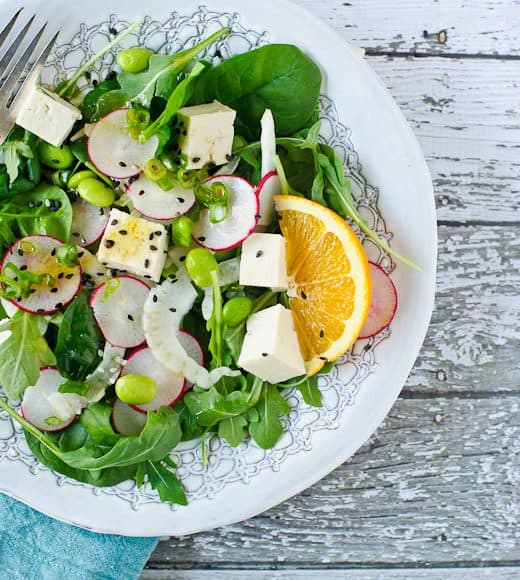 Simple Sundays | Tofu Salad with Orange Dressing
Big hug time? I met my son outside at the car as he was dropped off from school. As we turned and walked toward the front door, he answered: When we get inside, mama. Not in public! Not in public? I cried inside. Big hug…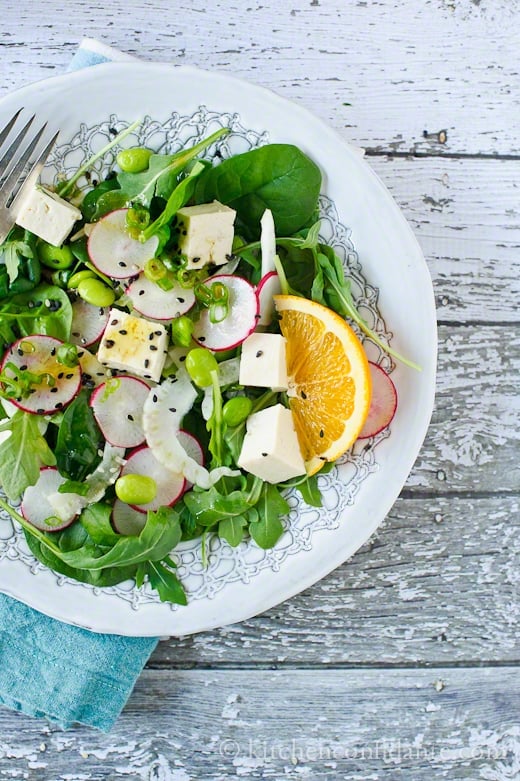 Simple Sundays | Tofu Salad with Orange Dressing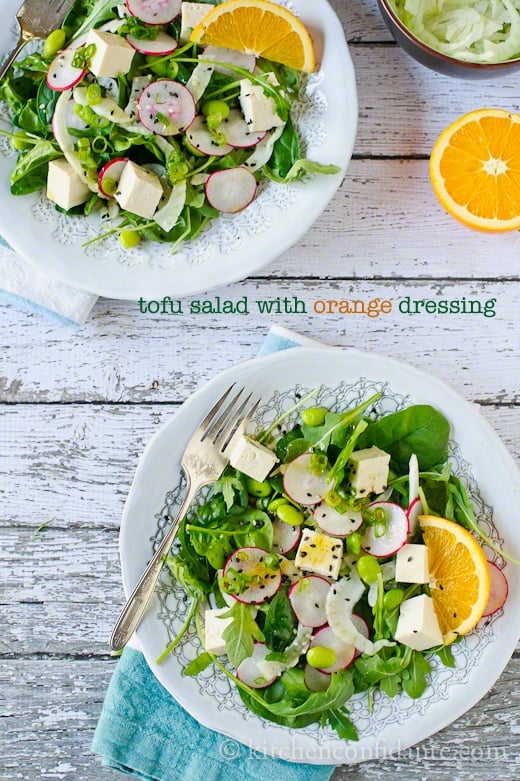 Big hug time?
I met my son outside at the car as he was dropped off from school. As we turned and walked toward the front door, he answered: When we get inside, mama. Not in public!
Not in public? I cried inside. Big hug time has been our tradition ever since he started preschool. I would pick him up and there would be what we dubbed Big Hug Time. That tight squeeze, the oh-I-missed-you-this-morning hug. Since when did my 6 year old get embarrassed about hugging his mom in public?
We crossed the threshold and as soon as the front door was shut, I got my big hug. Whew.
Then we settled down to have lunch.
I sliced oranges to go with his sandwich, which he likes warm, just so. As I nibbled a few slices, I sliced a few more oranges in half – I wanted their sweet and tangy juice in my salad dressing. I was craving something light, fresh and crunchy for my lunch, and I found the graceful radishes and frond-tipped fennel irresistible.
My plate was filled with spinach and arugula, the shaved fennel and radish, and scattered with little orbs of edamame. I pressed and sliced my tofu into bite sized cubes. And finally, my citrus dressing, seasoned with soy, sesame and scallions, was drizzled on my visual feast. I sat down at the table with my Tofu Salad and Orange Dressing to join my little guy and noticed that the fog of the morning had lifted. The sun had finally emerged.
Pretty soon, there won't be many lunches with my little guy. He'll be lunching with his buddies in the cafeteria next fall. So I need to enjoy these last mini dates with him.
How was your morning? It was good, he assured me. What was your favorite part of the day? I continued to prod.
Big Hug Time, he answered.
My heart melted.
Tofu Salad with Orange Dressing
There's nothing rigid about this salad at all. The orange dressing would pair well with whatever strikes your fancy in a salad. I just love the combination of leafy greens with the crispness of the radish and fennel, and the orange flavor always works well with fennel, somehow. For me, the best part is the tofu. High in protein, it absorbs the flavor of the dressing well, and I have been trying to incorporate tofu more into my salads. It's a nice alternative to eggs, as well.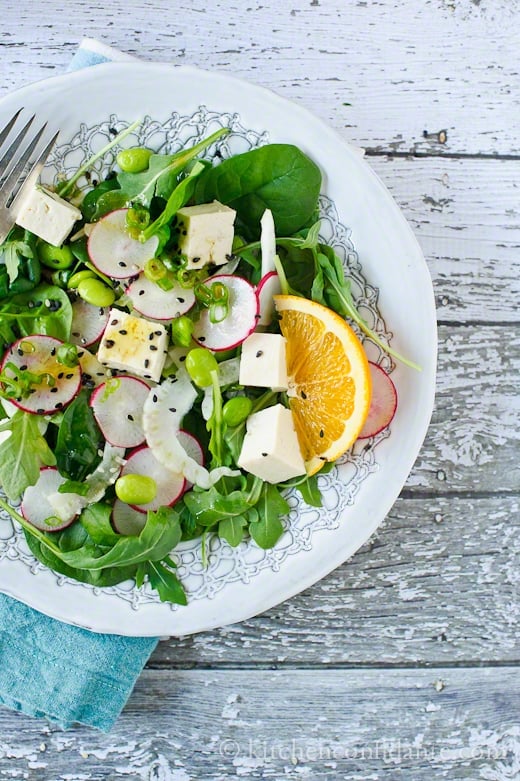 Print Recipe
Ingredients
For the Salad:
1 14-oz block firm tofu
assorted greens (e.g. spinach, arugula, mixed baby greens, butter lettuce, etc.)
1/2 bulb fennel, trimmed and shaved
4-7 radishes, trimmed and shaved
1/2 cup edamame
black and white sesame seeds
orange slices, for garnish
For the Orange Dressing:
1/4 cup freshly squeezed orange juice*, and a little zest
2 tablespoons olive oil
1/2 teaspoon sesame oil
1 tablespoon rice wine vinegar
1 tablespoon soy sauce (low sodium)
2 scallions, finely sliced
1/4 teaspoon freshly ground black pepper
course salt, to taste if necessary
Instructions
Place the block of tofu between several layers of paper towels and place a heavy pan or object on top to squeeze the excess liquid. Pat dry and slice into bite sized cubes, about 1/2 in size.
Assemble your salad with your desired greens, vegetables, edamame and tofu.
Combine the ingredients for your dressing and whisk well. Drizzle over the salads. Garnish with sesame seeds and orange slices. Enjoy!