Triple Chocolate Mousse
Light, creamy and perfect for chocolate lovers, this Triple Chocolate Mousse is a decadent treat with three layers of chocolate mousse: milk, white and dark.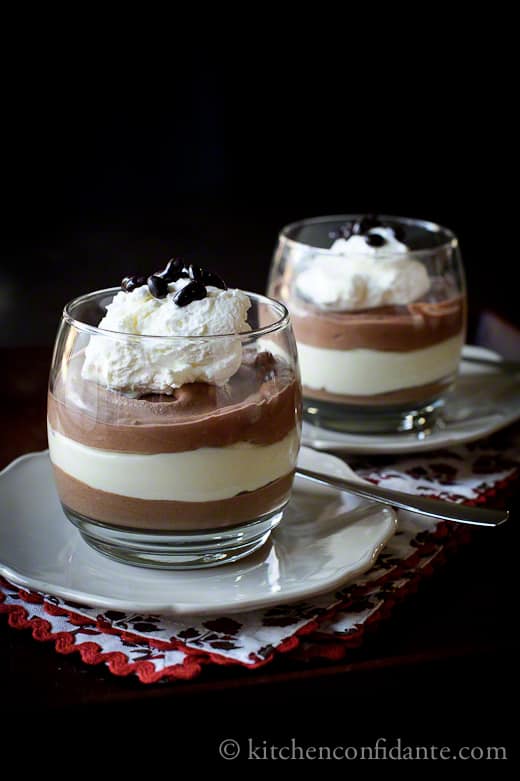 Triple Chocolate Mousse
Light, creamy and perfect for chocolate lovers, this Triple Chocolate Mousse is a decadent treat with three layers of chocolate mousse: milk, white and dark.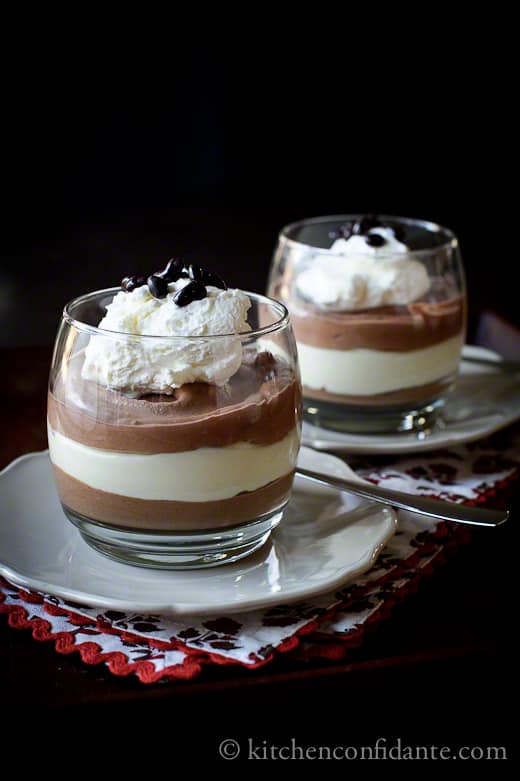 I was driving through town this morning, the sky blue with the promise of a warm day ahead. After several foggy daybreaks, it was refreshing to my soul. James Taylor was playing on the radio and I couldn't help but feel a little guilty.
The last couple of days, I have been feeling tired; I'm not sure if I was fighting something, but there was just a general lack of energy. Time seemed in rare supply and the gloom of the chilly mornings got under my skin. Even a good sweat at the gym couldn't cure my blues.
But as I listened to the song on the radio, I was transported to a place from long ago, back when I was newly graduated and trying to find my place in the corporate world. Back then, I spent my Thursday evenings at Beth Israel hospital – it was a long stopover from my eastward commute, and I would volunteer my time at a child life unit, where James Taylor would often play in the background. I would be humbled each time by the strength of the children and the smiles in their eyes. Despite their suffering, despite the shunts in their brain, despite the agony of chemotherapy, despite their encounters with death, they still managed to smile. And this grounded me.
How quick we are to complain, to whine, to feel sorry for ourselves. I'm just as guilty as the next person. Hearing Fire & Rain reminded me to go get some perspective. I know how fortunate I am. How lucky I am to have my health. A home. Love.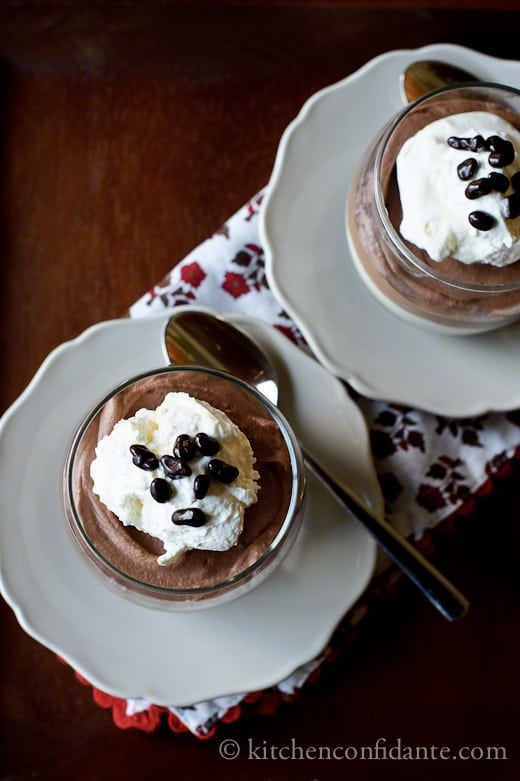 And maybe that's just it. I will admit it. I missed my husband this week and felt it keenly. I smelled his robe. I looked forward to his calls.
I made this Triple Chocolate Mousse.
I don't need to wait for Valentine's Day.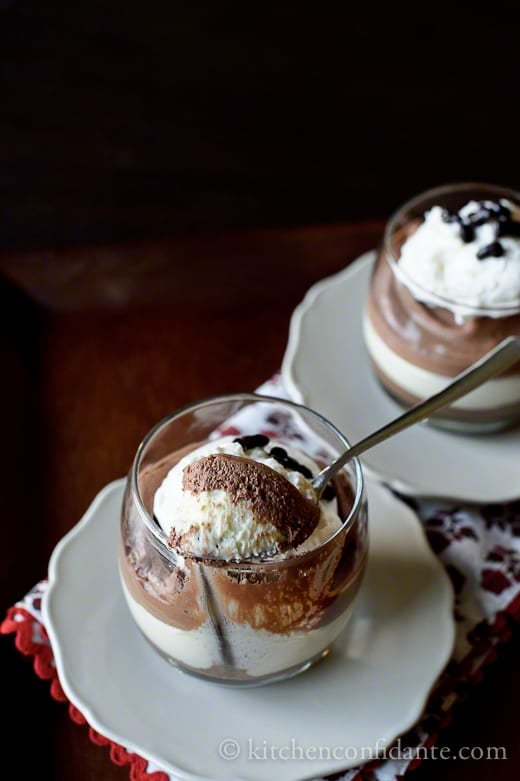 Three layers of fluffy richness – white, milk and dark chocolates – topped with a sweet whipped cream and crunchy chocolate-covered cocoa nibs – isn't this a perfect way to celebrate the ones you love? To say I missed you? Welcome home.
Can you just taste it? Here, let me help you.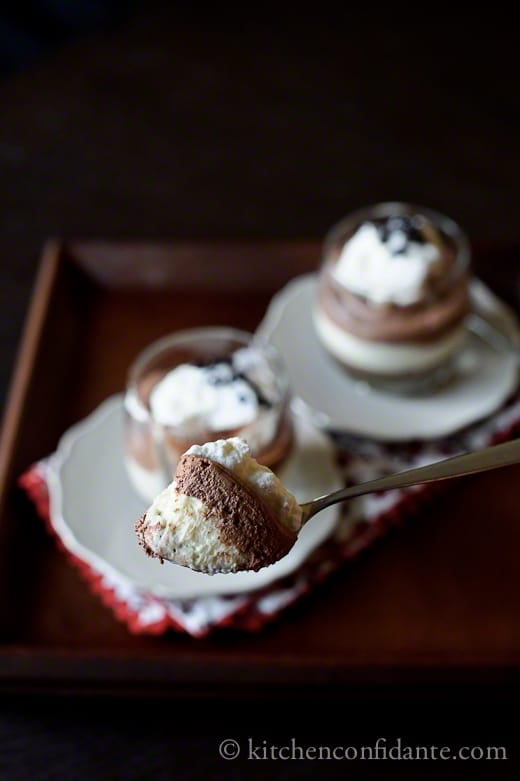 There now. All better.
Now you know me, I don't need a holiday as an excuse to make anything chocolate-y. But of course, this just screams Valentine's Day! The original recipe, was intended as a torte for a party of 12. All I have done is scaled it down to serve the extra special ones in your life (in my case, four, including myself!), and rather than molding into an elegant torte, I served it in casual, cozy individual glasses. No matter how your present it, the mousse is light, creamy and perfectly chocolate-y.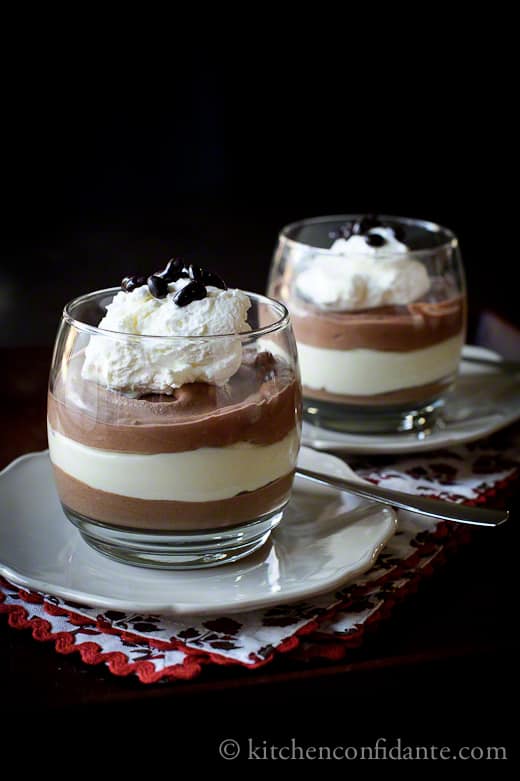 Print Recipe
Ingredients
1 pint heavy cream
2 ounces bittersweet or semisweet chocolate, chopped
2 ounces milk chocolate, chopped
2 ounces white chocolate, chopped
2 tablespoons cold water
1 teaspoon unflavored gelatin
2 large egg yolks
2 tablespoons granulated sugar
1/2 cup milk
Additional confectioners sugar for remaining whipped cream
Chocolate covered cocoa nibs, for garnish
Instructions
Using a mixing bowl and whisk attachment that has been chilled in the freezer, whip the heavy cream until stiff peaks form. Store in a tightly sealed container in the refrigerator until needed.
Place semisweet, milk and white chocolates in three separate small bowls.
In a small bowl, place cold water and sprinkle the gelatin. Let it stand for about 10 minutes, until the gelatin is soft.
In a medium bowl, beat the egg yolks and sugar with a whisk until the mixture is light yellow and creamy. Place the milk in a small heavy saucepan over medium heat and bring to a gentle simmer. Ladle out about 1/2 of the warm milk and add it in a steady stream to the egg yolks, whisking continuously. Pour the warmed egg yolk mixture into the saucepan with the remaining milk and whisk well. Stir over medium heat for about 2-3 minutes, until the custard thickens and coats the back of a spoon. If you run a finger through the coated spoon, it should leave a line down the middle.
Remove the custard from the heat and stir in the softened gelatin until it dissolves. Divide the custard amongst the three bowls of chocolate, pouring about 1/3 cup in each. Stir each chocolate well. If the chocolate does not melt, place on a double boiler/pan of simmering water and stir until melted. Allow the three chocolates to cool to room temperature.
Divide the whipped cream and fold in about 3/4 cup into each bowl of chocolate. There will be some whipped cream left over, set that aside momentarily.
Pour the first layer of chocolate mousse in the serving cups, spreading the top evenly. Freeze for 15 minutes. Continue this process with the remaining chocolate mousses. The mousse can be prepared up to two days in advance; cover each cup with plastic wrap and store in the refrigerator until ready to serve.
Sweeten the remaining whipped cream with a about a tablespoon of confectioners sugar, whisk well. Before serving, place a dollop of cream and sprinkle with chocolate covered cocoa nibs.