Video | How To Cook Rice {without the fancy stuff}
Place me in a cookware store, and I'm like a kid in a candy store. I could spend hours marveling over juicers and tart pans, or nifty gadgets that serve one single solitary purpose (you know, like that pasta measurer you have gathering dust in…
Video | How To Cook Rice {without the fancy stuff}
Place me in a cookware store, and I'm like a kid in a candy store. I could spend hours marveling over juicers and tart pans, or nifty gadgets that serve one single solitary purpose (you know, like that pasta measurer you have gathering dust in the back of your drawer?). When it comes to kitchen equipment, I am definitely one to drool all over the latest and greatest.
So you will probably be surprised to learn that I actually don't own a rice cooker.
What? No rice cooker? Sacrilege, you might say, especially considering my heritage!
Don't get me wrong: rice is a staple for me. It was practically its own food group growing up, and while I do not eat rice every day anymore, I still love my rice. Rice is basic, it's no frills, it's what many people around the world rely on for sustenance. And it doesn't take fancy equipment to make good rice.
Heck, it doesn't even require a measuring cup.
Let me show you in the best way I know how — I put together a quick little video (with silly goofs and all):
So, do you make rice this way? I would love to know! And also, for those of you who are lucky enough to have one of those fancy schmancy rice cookers, do you love it? Do tell!
[framed_box width="628″ bgColor="undefined" textColor="undefined" rounded="true"]
How to Make Rice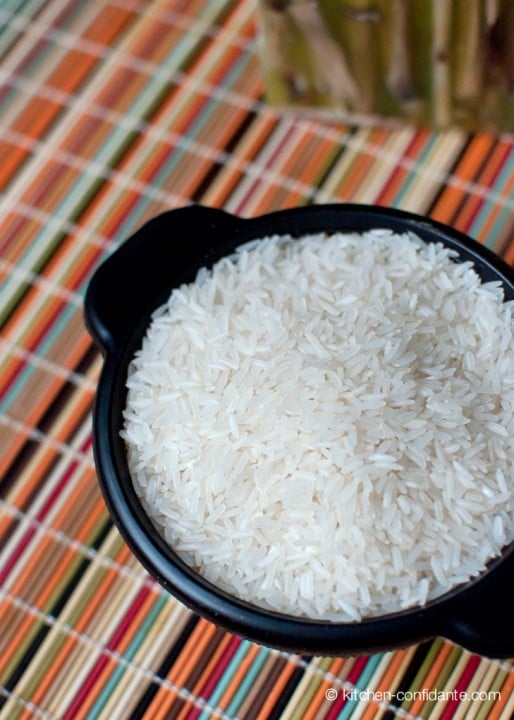 If you have never "measured" or made rice in the manner I demonstrate in the video, I completely understand if you are skeptical whether or not it will work. I assure you it will. Unless if you have gargantuan hands with oddly placed knuckles (if you're confused, be sure you watch the video), it will work.
I use this method on standard white rice, my preference being Jasmine. I have yet to fully test it on wild rice or other varieties.
And for those of you who still want to play it safe and measure, just remember, the ratio of rice to water is generally 1 part rice to 1 1/2 to 2 parts water. I prefer stickier rice, so I generally stay closer to the lower end of the water spectrum. [/framed_box]