Warm Wishes
From my kitchen to yours, I want to wish you and the special ones in your life a very Merry Christmas. Thank you for letting me into your home, for allowing me to share my stories and my food. Thank you for taking the time…
Warm Wishes
From my kitchen to yours, I want to wish you and the special ones in your life a very Merry Christmas. Thank you for letting me into your home, for allowing me to share my stories and my food. Thank you for taking the time to visit, for reading, and for your ever-thoughtful comments. I send you warm wishes for a sweet holiday, rich in flavor and the company of loved ones!
Nothing warms up the holiday season like Hot Chocolate. I have a weakness for hot chocolate in the winter months, and have been known to indulge in a nightly cup. There are, of course, many variations on this hot beverage all over the world, from the grocery cocoa mixes to those offered in artisanal chocolate shops. For everyday, cocoa mixes are fine, but I do hold all hot chocolates to a gold standard that I tasted when my family visited Milan.
For me, the cup of thick, sweet chocolate that I tasted one early morning in a humble bakery adjacent to Duomo di Milano (the Milan Cathedral) remains the standard by which I measure all other hot chocolates. I have yet to encounter Cioccolata Calda that holds a candle to it stateside. And when I read my children's favorite holiday story, The Polar Express, the scene in which the children on the train drink "hot cocoa as thick and rich as melted chocolate bars" reminds me of this divine libation. Clearly, author Chris Van Allsburg knows his hot chocolate.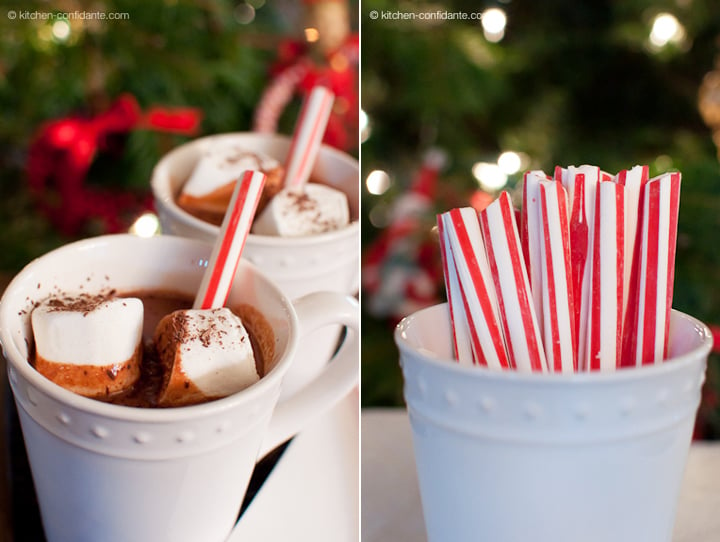 One day, I hope to return to Milan and track down this bakery and a recipe for their Cioccolata Calda. Until then, I make this version. I find it extremely rich and luxurious, certainly not for my nightly indulgence, but for Christmastime, it's just right.
Hot Chocolate
Serves 4.
1 quart milk (skim works well, especially when worrying about the calories from the chocolate!)
5 oz semi-sweet chocolate, chopped
5 oz milk chocolate, chopped
1 teaspoon vanilla
In a medium saucepan, heat milk over medium-low heat until just scalded. Whisk in chocolate and continue to simmer, whisking until the milk is thick and creamy. Stir in vanilla. Serve immediately. Top with your favorite toppings: whipped cream. marshmallows, cinnamon, peppermint, chocolate shavings.