Last Minute
Earlier this week, I finally sent off my holiday cards, protecting them from the blustery rain as I ran from my car to the post office. Slowly but surely, my to do list is getting shorter, and I can relax, bit by bit. As each day…
Last Minute
Earlier this week, I finally sent off my holiday cards, protecting them from the blustery rain as I ran from my car to the post office. Slowly but surely, my to do list is getting shorter, and I can relax, bit by bit. As each day passes and we get closer to Christmas, certain holiday songs play in my mind. Today, I woke up and started humming: Greeting cards have all been sent…the Christmas rush is through…but I still have…
Oh wait. I still have some last minute things to do!
Like make Persimmon Clementine Marmalade.
I've had a large bowl of clementines (aka mandarin oranges) on my counter for the last few weeks, and each time my eyes caught a glimpse of them, it was a reminder of how much I've been wanting to make a marmalade. I figured that with their sweet pulp and thin skins, they were good candidates for a marmalade, requiring less sugar than standard oranges. But I also had my eyes on the sunset hued persimmons in an adjacent bowl. I thought it might be fun to combine the flavors in a jam.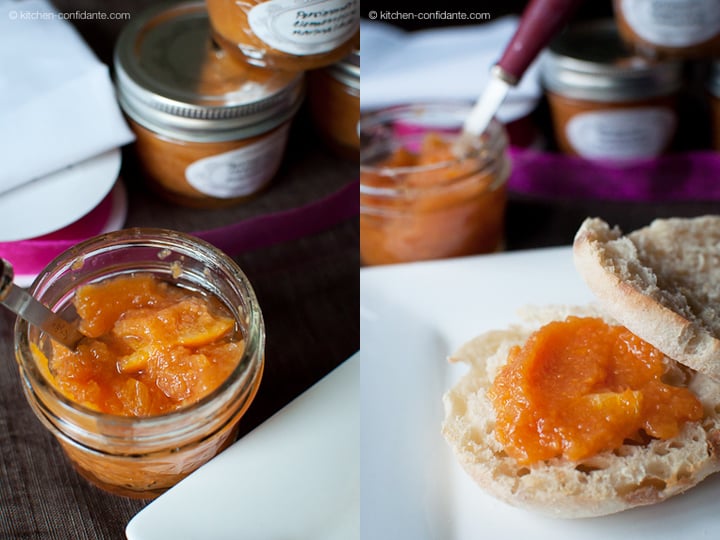 I really liked how it came out – you can clearly recognize the smooth, distinct flavor of persimmon, but the clementine flavor is robust, giving it a very marmalade tone. I immediately tried some on an English muffin, but I can't wait to use it in more of my baking and cooking.
Plus, it also makes nifty last minute presents.
Persimmon Clementine Marmalade
Makes 10 4-oz jars (or 5 8-oz jars). Recipe may be halved.
8 persimmons, peeled and quartered
2 cups granulated sugar
6-8 clementines, sliced very thinly, then quartered
In the bowl of a food processor, pulse the persimmons until it is a smooth pulp. This should yield approximately 2 cups of persimmon pulp.
Combine persimmon pulp and sugar in a non-reactive sauce pan and bring to a low boil over low heat, stirring occasionally. Allow to simmer for about 20 minutes, until thickened.
Add clementine slices and simmer for about 5-10 minutes more. Adjust sweetness if necessary.
Pour into sterilized jars and can according to the manufacturer's instructions.