Stealing Moments | White Chocolate Dipped Apricot-Pistachio Shortbread Cookies
I know I'm not the only one who has been having a whirlwind of a May. So, if you're dropping by to visit, hello. Steal a moment for yourself. Take a calming breath in. And out. Notice the flowers? Aren't they lovely? While you're here,…
Stealing Moments | White Chocolate Dipped Apricot-Pistachio Shortbread Cookies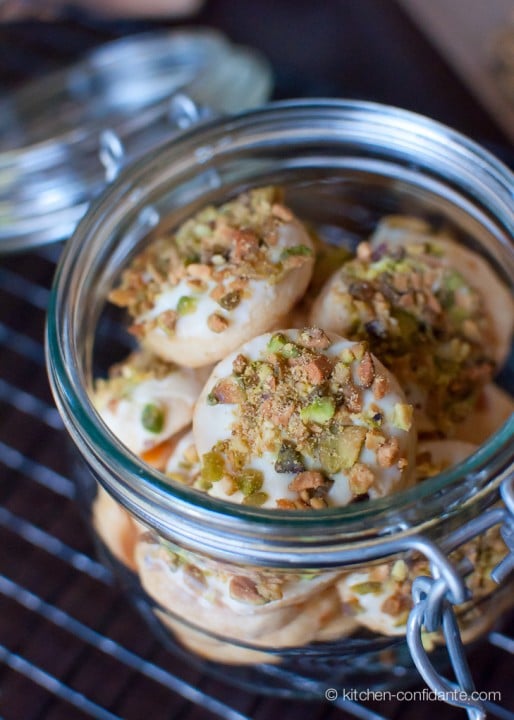 I know I'm not the only one who has been having a whirlwind of a May. So, if you're dropping by to visit, hello.
Steal a moment for yourself. Take a calming breath in. And out. Notice the flowers?
Aren't they lovely?
While you're here, have a cookie.
You like shortbread, don't you?
How about shortbread with wee bites of apricot, dipped in white chocolate and dotted with crumbled pistachio?
I thought you just might.
Don't these darling bites look like those viridescent blossoms in cookie form?
April showers may bring May flowers, but for me, it also brought a flood of activity. Nearly every moment, every second, has been accounted for. There are school plays (one for each child), field trips to chaperone, open houses, fund raisers, t-ball games, family visits, dinner with friends, weekend lunches, and all the normal everyday stuff besides. I have had to remind myself to steal moments for myself — by myself, with my children, with my husband — the ones who really matter…to keep our sanity. It may be five minutes to play a game, read a story, or work on an art project, but those little moments in all the craziness help.
When it comes to baking, I found myself stealing moments to make these White Chocolate Dipped Apricot-Pistachio Shortbread Cookies. The nice thing is, it can be made in those snippets of time you manage to carve out. You can do it piecemeal as you find the time in the kitchen. Minutes to make the dough to chill. Minutes to roll and cut the cookies. Minutes to pull them out of the oven. Minutes to dip in chocolate. Minutes to enjoy.
Hang in there. There's a long weekend just around the corner.
[framed_box width="628″ bgColor="undefined" textColor="undefined" rounded="true"]
White Chocolate Dipped Apricot-Pistachio Shortbread Cookies
Adapted from Shortbread Cookies by Ina Garten and Scotch Shortbread in Joy of Cooking by Irma S. Rombauer & Marion Rombauer Becker, 1975 Ed.
1 cup butter (2 sticks), room temperature
1/4 teaspoon vanilla extract
1/4 cup granulated sugar
1/4 cup confectioner's sugar
2 cups sifted all-purpose flour
a pinch of salt
3/4 cup minced fresh or dried apricots
5-6 oz of best quality white chocolate
1/2 cup crushed pistachios
Preheat the oven to 325°F.
In the bowl of an electric mixer, cream the butter until smooth and fluffy. Add the vanilla extract and the sugars, and cream until smooth. Add flour and salt, mix on low speed until just combined. Add apricots and mix until just incorporated. Lightly roll the dough into a ball on a floured surface and form a disk. Wrap the disk in plastic wrap, and chill in the refrigerator for about 30 minutes (or until ready to roll).
Roll the dough to about 1/4 inch thickness and use a 1 to 1 1/2 inch round cookie cutter to cut the cookies. Place on a Silpat or parchment paper covered baking sheet. Return to the refrigerator to chill for at least 15 minutes or until ready to bake.
Bake the cookies for about 20 minutes, or until the cookies are just golden. Let them cool completely on a wire rack.
Carve your white chocolate into small chunks or shavings and microwave in a microwave safe bowl in small increments (start with 20 seconds), stirring well to melt. Dip the tops of the cookies into the white chocolate, then into the crushed pistachios. Allow to fully cool. Store the cookies in an airtight container.
Find a moment of peace, and enjoy!
[/framed_box]