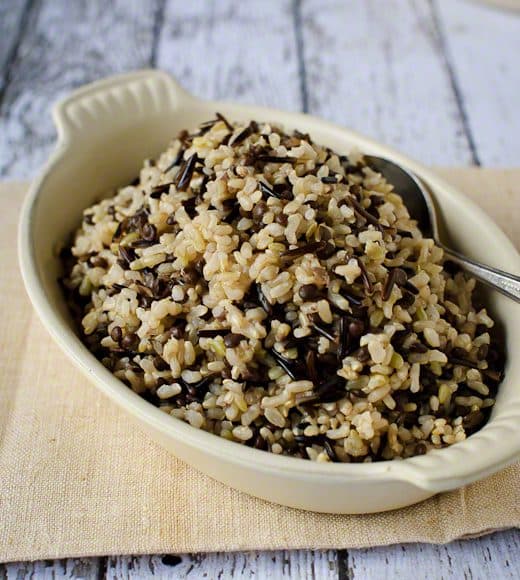 Wild & Brown Rice with Black Beluga Lentils
Ever feel taken for granted? Ever take a loved one for granted? It happens, both ways, often with the people who matter the most. Just ask any parent — its a thankless job. (Um, Dad, in the off-chance you are reading this, thank you. For…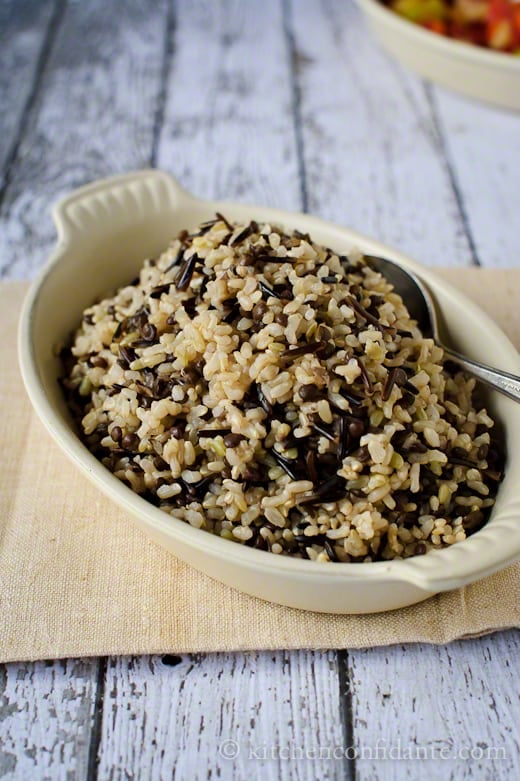 Wild & Brown Rice with Black Beluga Lentils
Ever feel taken for granted? Ever take a loved one for granted? It happens, both ways, often with the people who matter the most. Just ask any parent — its a thankless job. (Um, Dad, in the off-chance you are reading this, thank you. For everything.)
The sad thing is, the more you need someone in your life, chances are high that we go through moments where we neglect them. Then we realize it when they are gone.
I don't mean to be a bummer today, but I just realized that with food, it's no different. It is easy to overlook the basics, the cornerstones of our diet. When I decide what foods to share with you, it is far more exciting to talk about ooey gooey chocolate cookies and fall of the bone short ribs. Let's be honest, when you saw the title today, did you think, Whoopee! Wild rice!
Yeah, I didn't think so.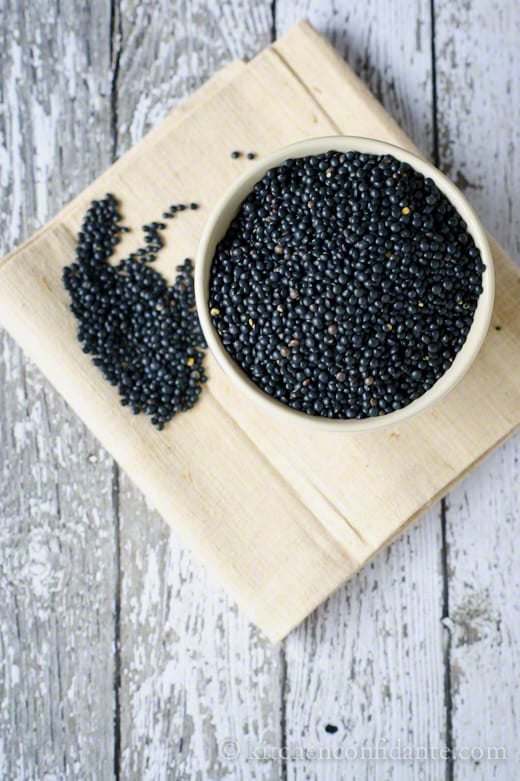 These whole grains deserve a little time in the spotlight. And I know there are a few of you who would like the recipe to this medley. When I posted my Pork Tenderloin with Cranberry Wine Sauce, I received several requests for the rice pictured on the dish. I realized I need to stop taking wild rice for granted.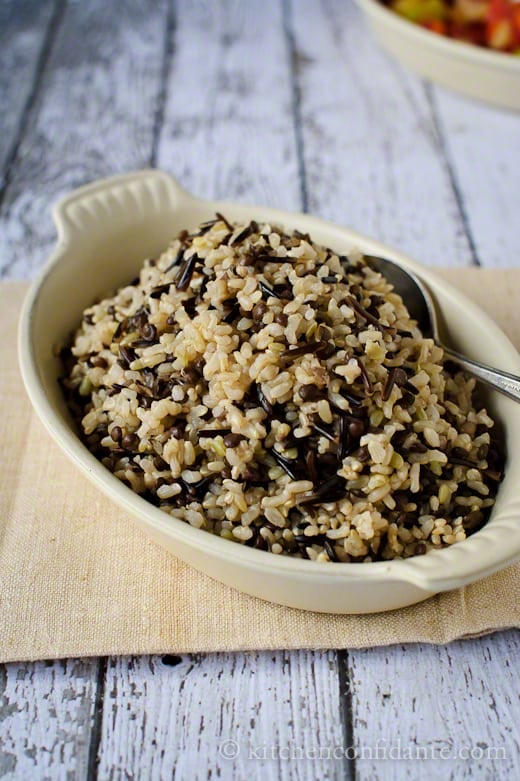 Forget for a moment that these grains and lentils are so healthy and nutritious. Forget for a moment how much better it is than plain old white rice. I have a new appreciation for their beauty. The Black Beluga Lentils are like dainty black pearls waiting to be strung. I love the shape of raw wild rice grains.
A great side to any meal, I love that you can easily transform Wild & Brown Rice with Black Beluga Lentils into something with a little more pizzazz. Remember those glazed carrots from not too long ago? Toss them in with a drizzle of sherry vinegar, a glug of olive oil and you have a hearty wild rice salad. I would say it is quite pretty, too.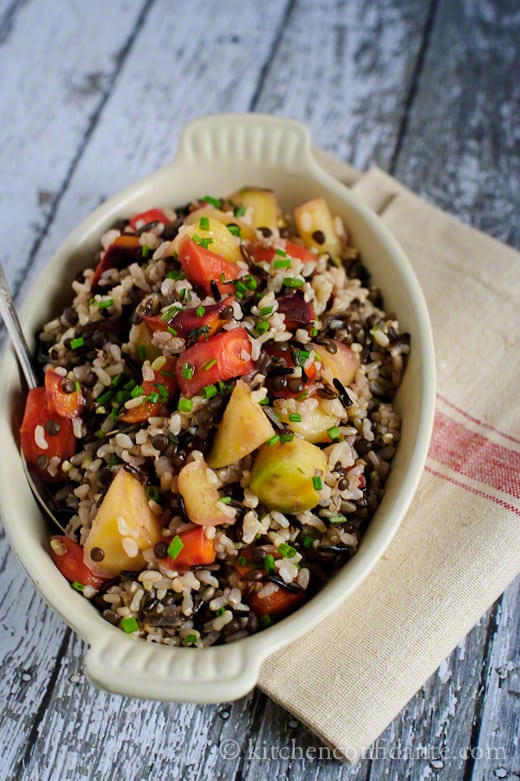 Wild & Brown Rice with Black Beluga Lentils
With three elements to cook separately, this may seem more hassle than it's worth, but the beauty of this rice dish is that you can cook them in advance, several days even. The cooked rice can even be frozen. With batches of each in your refrigerator, it's nice to have, lets say, cooked lentils for other meals.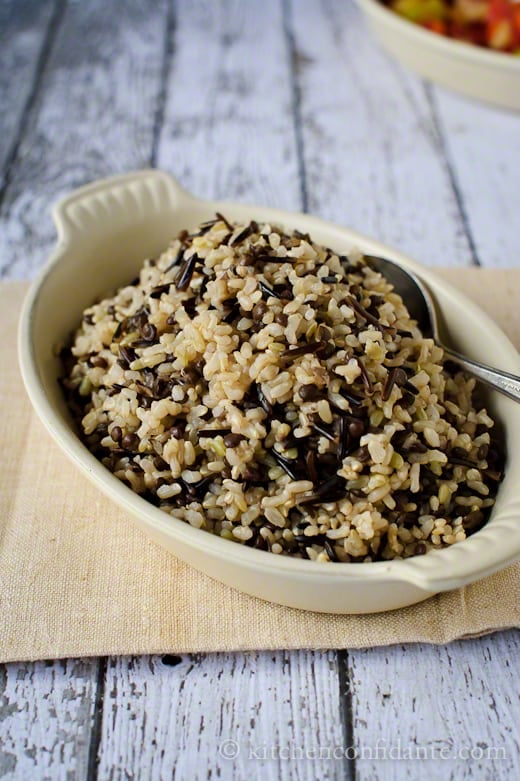 Print Recipe
Ingredients
8 oz uncooked brown rice
4 oz uncooked wild rice
4 oz uncooked black beluga lentils
2 1/2 cups vegetable stock
2 1/2 cups plus 1 cup water to cook brown rice and lentils, respectively
Kosher salt, to taste
Instructions
Cook each rice and the lentils separately:
Brown rice: Combine brown rice with 2 1/2 cups water in a saucepan and stir. Bring to a boil, then lower heat to a simmer. Cover and simmer for about 10-12 minutes, or according to the product instructions, until the water has been absorbed.
Wild rice: Combine wild rice with vegetable stock in a saucepan and stir. Bring to a boil, then lower heat to a simmer. Cover and simmer for 50-60 minutes. Not all the liquid will be absorbed. Drain the rice and reserve the stock.
Black Beluga Lentils: Combine lentils with 1 cup water and bring to a boil. Cover, lower heat and simmer for about 10 minutes. Drain.
Combine the cooked rice and lentils, adding some reserved vegetable stock from the wild rice if the mixture is dry. Season to taste with salt.