Almond Butter Oatmeal Cookies (Gluten Free, Dairy Free)
Almond Butter Oatmeal Cookies (Gluten Free, Dairy Free)
There's nothing better than chewy, gooey Almond Butter Oatmeal Cookies. These cookies are gluten free, dairy free and versatile to whatever nut butters and mix-ins you have on hand.
I just glanced at the clock. In about five minutes, the solitary hum of the refrigerator will be replaced by outside voices, my son and daughter competing with one another to share stories from their day, the dog scrambling to get their attention for a belly rub, and probably even the squawking of the cat who will have woken from her morning long nap. My newfound peace and quiet from the early start to the school year will be replaced by cabinets slamming and refrigerator door beeps from the door being held open for too long as everyone suddenly realizes they are famished – no matter how much I pack in their lunches, I swear they descend like locusts in the kitchen and eat in a frenzied whirlwind before finally heading off to do homework.
My plan today is to head the locusts off. If I've got some cookie dough made, or better yet, in the oven, I may be able to get a head start on restoring the peace a little sooner.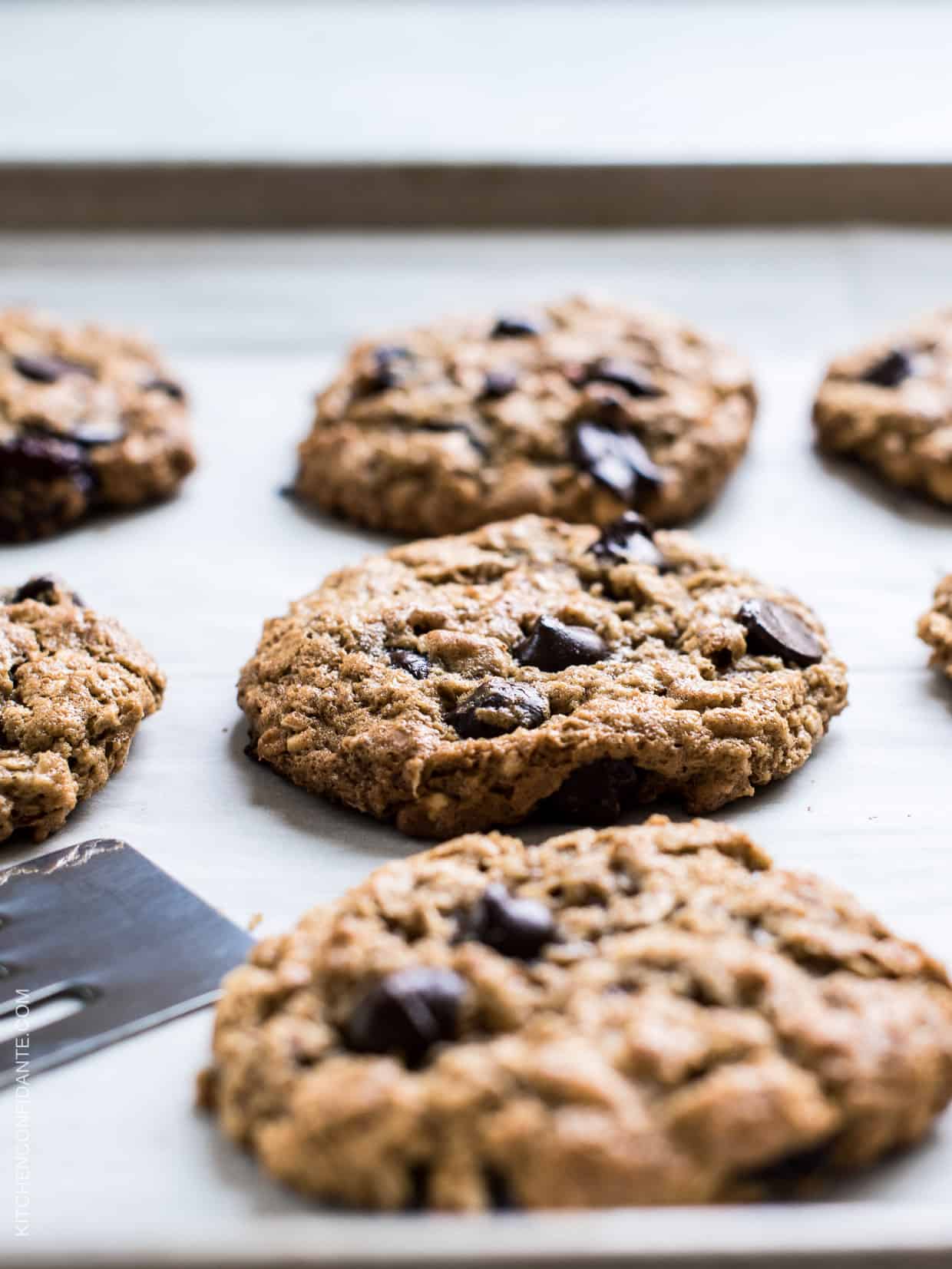 I'm not embarrassed to have resorted to cookie warfare, if it means preserving the peace.
These cookies actually started out on the back of a bag of Trader Joe's rolled oats – I never paid attention to it until one morning, when I was checking out, and the smiling man in the Hawaiian shirt asked me if I had tried it yet. After he gushed and told me what the store's favorite mix-ins were, I began experimenting with it. I've even photographed it each time…many times. But this final iteration is my favorite. Almond butter – crunchy is a must – is the star, with a hint of coconut from the coconut oil, along with tangy dried cranberries and sweet chocolate chips — I keep the dough ready in the freezer for those cookie cravings…and to sooth my little army into quiet submission.
Almond Butter Oatmeal Cookies (Gluten Free, Dairy Free)
There's nothing better than an chewy, gooey oatmeal cookie, and these Almond Butter Oatmeal Cookies are gluten free and dairy free, and a sure winner! It's also versatile – substitute nut butters and mix-ins to what you have on hand. Peanut butter, coconut, butterscotch chips – the possibilities are endless! I keep the cookie dough in the freezer so a sweet treat is just a bake away.
Print Recipe
Ingredients
1/4 cup coconut oil
3/4 cup granulated sugar
3/4 brown sugar
2 large eggs
1 tsp vanilla
1 1/4 tsp baking soda
1 cup crunchy almond butter
3 cups rolled oats
1/2 cup dried cranberries
6 oz semisweet chocolate chips (use vegan chocolate chips if you want to make this dairy free)
Instructions
Preheat the oven to 350°F with a rack in the center of the oven. Line a baking sheet with parchment paper.
In the bowl of an electric mixer, cream together the coconut oil, granulated sugar and brown sugar until smooth. Scrape down the sides of the bowl with a spatula, then mix in the eggs, vanilla and baking soda. Add the almond butter and mix until smooth. Stir in the oats, cranberries and chocolate chips.
Use a cookie scoop to portion out about 1 1/2 tablespoon sized balls of cookie dough onto a lined baking sheet. If you wish to freeze the dough for later baking, place the entire cookie sheet in the freezer, let it freeze for at least half an hour, then transfer the cookie dough into a freezer bag or air tight container.
To bake, place the cookie dough on a lined baking sheet about two finger widths apart. Bake for 12-15 minutes (12 minutes for room temperature dough, and closer to 15 for dough straight from the freezer), or until golden. Remove from oven and let it sit for about 3-5 minutes; the cookies will flatten and continue cooking as they rest.
Transfer to a wire rack to cool completely.
Notes
Adapted from Trader Joe's Peanut Butter Oatmeal Cookies.