Simple Sundays | Chocolate Banana Fig Bread
Simple Sundays | Chocolate Banana Fig Bread
With the return of rain came an insatiable urge to stay indoors and bake. That, coupled with the fact that I was recovering from back to back trips in just this week alone, and all I wanted to do was spend the morning feeling the dust of flour on my hands. I wanted to crack eggs into a bowl and whisk them until the yolks disappeared into a frothy light yellow. No need for the electric mixer. This was about spending the morning quietly, with just my whisk and a spatula, and a sharp knife.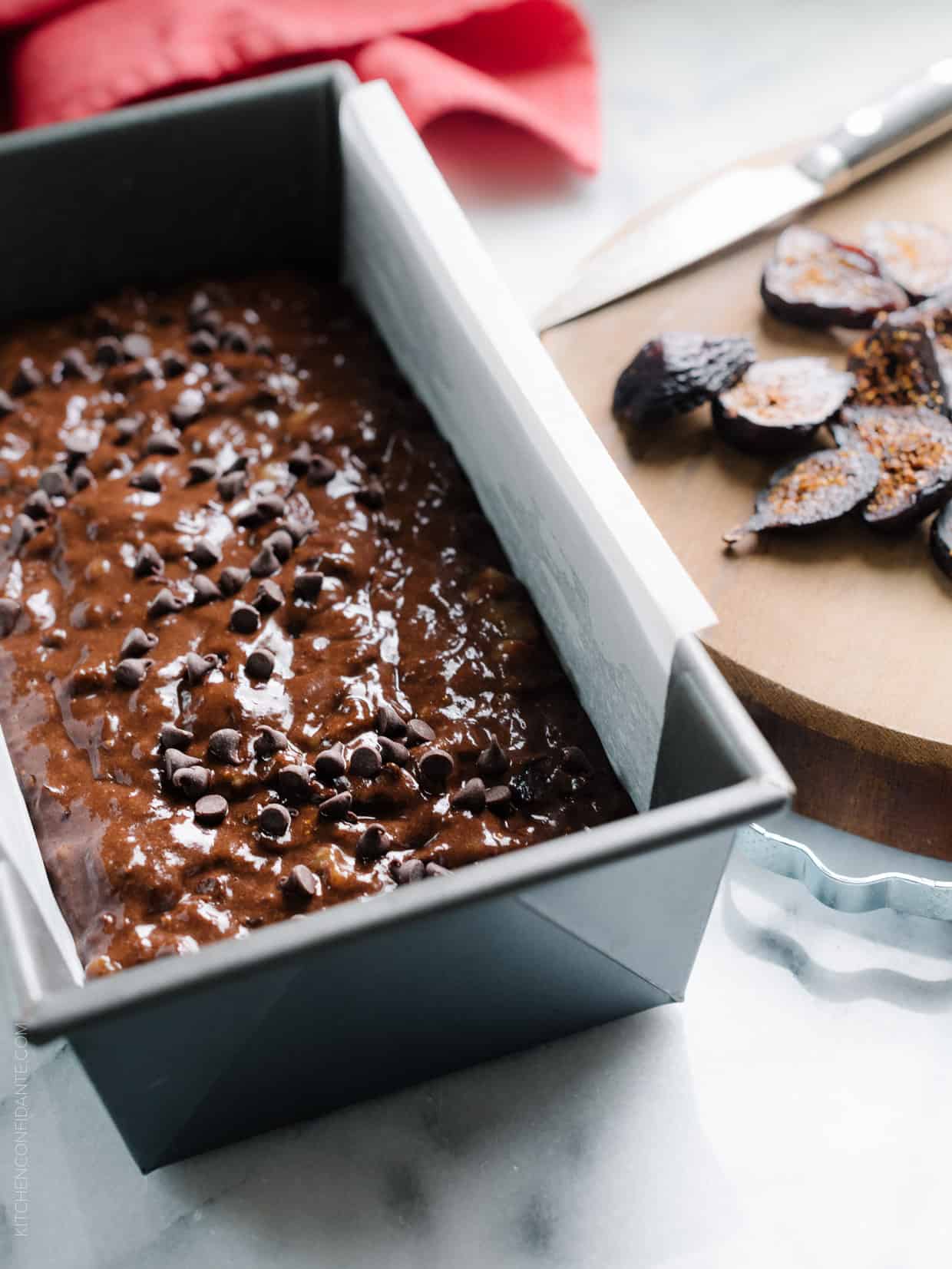 I had set aside a few ripe bananas – hid them, practically – since even the speckled brown ones never last long enough in our house. They are usually smoothie-bound, but the buttermilk banana bread craving was calling.
I didn't have quite enough to do my usual double batch, but I did bring back from LA some beautiful dried black mission figs. Between you and me, fresh figs are always my preference, and my true love. I rarely dabble with dried, simply because I would often rather wait for the abbreviated fig season to get my fill. But since we are several months away, and because I did happen to encounter dried California figs at my conference, I started dreaming up all things fig and chocolate.
One thing I do love about using dried figs is how it brings its natural sweetness. Harness that goodness in this Chocolate Banana Fig Bread for a treat that is rich and inviting. A warm slice out of the oven is all you need with a cup of tea on a rainy weekend, or if you're like my family, with a scoop of vanilla flecked ice cream.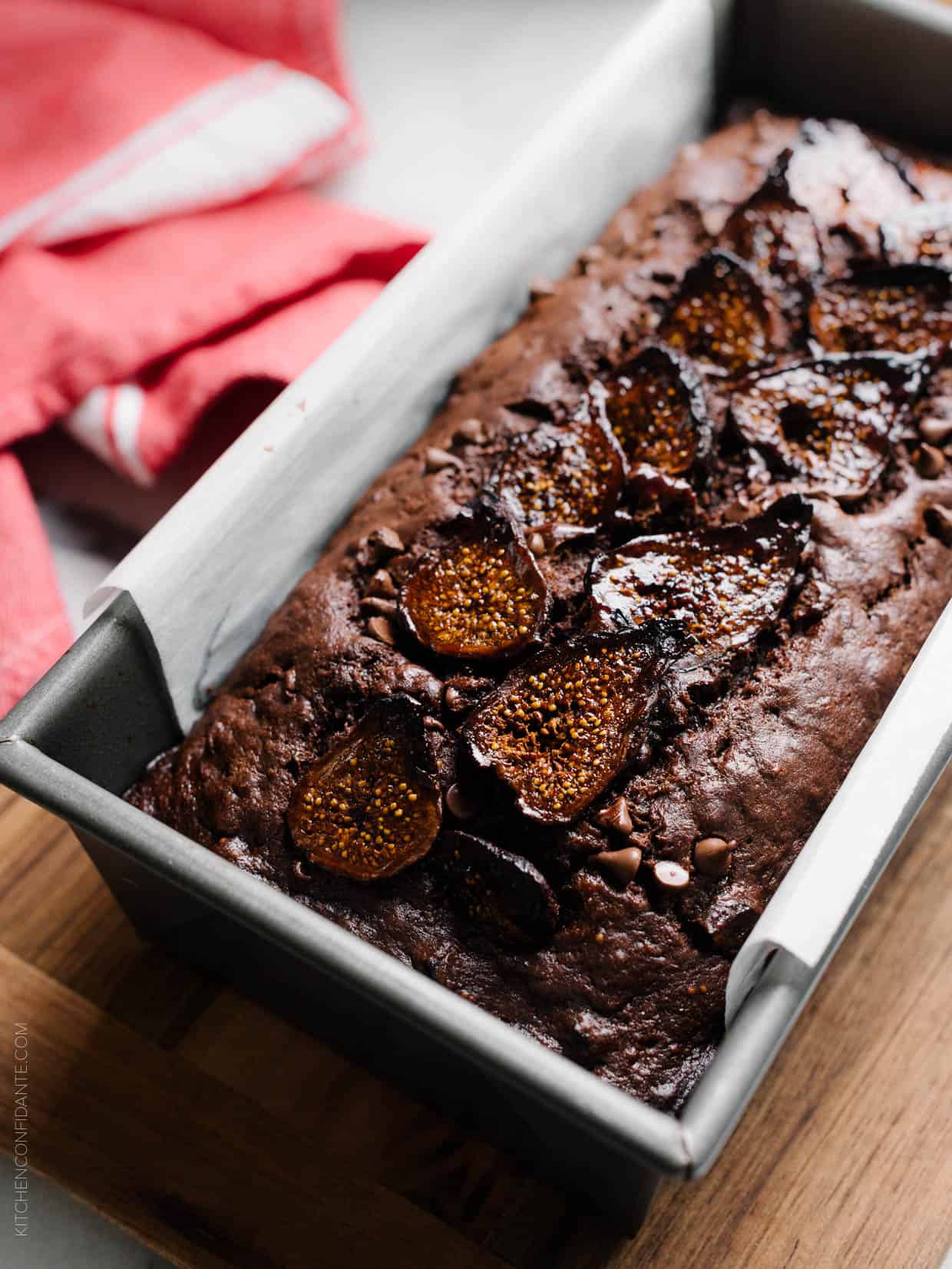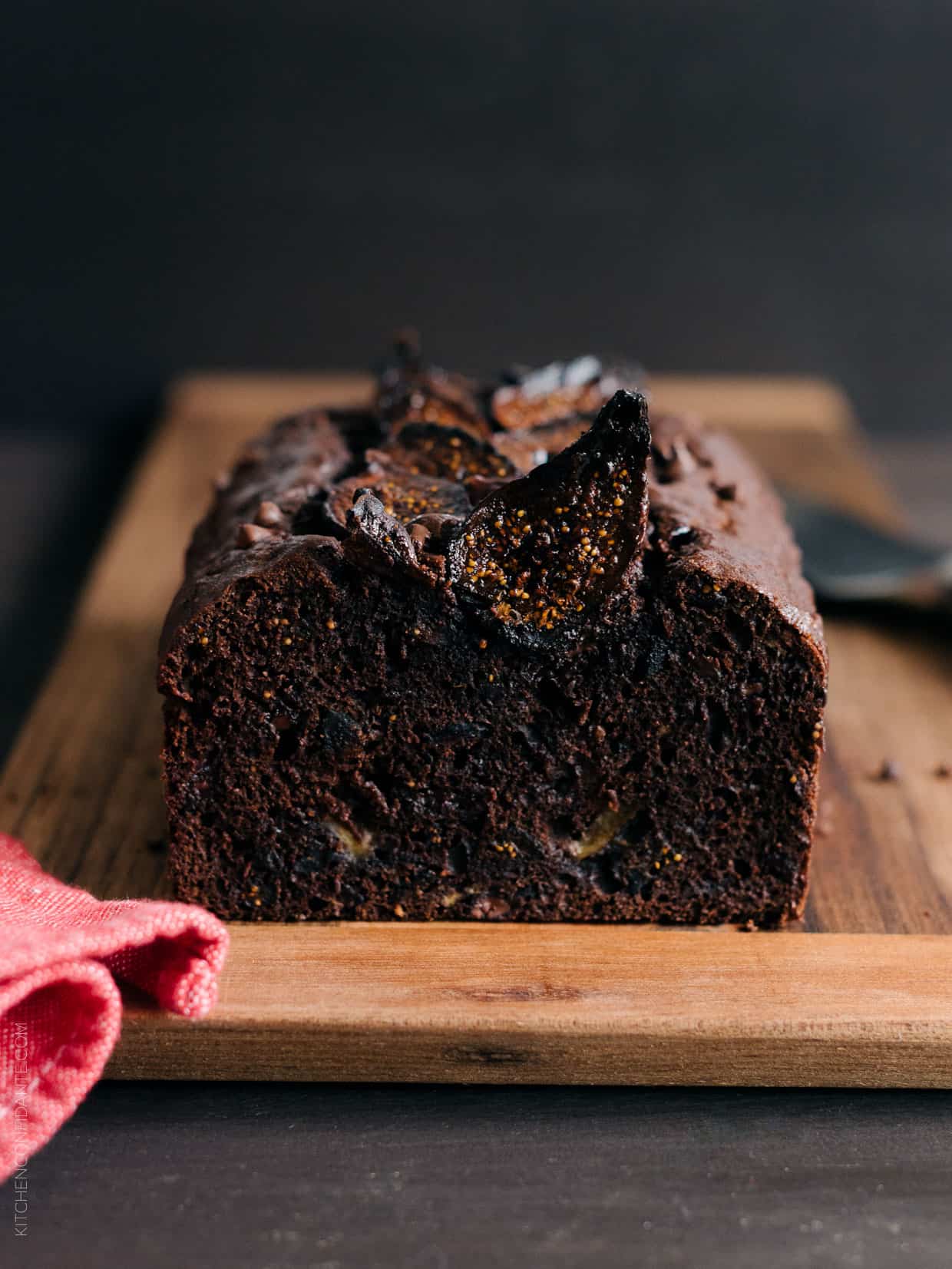 The loaf disappeared a little too quickly here, but the rain is holding on. Time to get my hands dusty again.
Chocolate Banana Fig Bread
Chocolate Banana Fig Bread – simply sweet and wholesomely indulgent. Dried figs lend its natural sweetness to this dark and decadent quick bread!
Print Recipe
Ingredients
1 1/2 cups mashed banana (about 3 bananas)
1 cup chopped figs, plus 8 more figs, halved, divided
1/2 cup dark brown sugar
2 large eggs
1/3 cup canola oil
1/2 teaspoon vanilla
1 1/4 cups all-purpose flour
1/3 cup unsweetened Dutch process cocoa powder (I like E. Guittard Cocoa Rouge Cocoa Powder)
1/2 teaspoon salt
1/2 teaspoon baking soda
1/4 teaspoon baking powder
1/2 cup mini semi sweet chocolate chips
Instructions
Preheat oven to 350°F. Grease a loaf pan, line it with parchment paper, and set aside.
In a medium bowl, mix banana, figs, sugar, eggs, oil and vanilla. Take halved figs and soak them in a bowl of hot water to plump them up a bit and prevent burning in the oven.
In a separate large bowl, whisk together the flour, cocoa powder, salt, baking soda, and baking powder. Add the banana-fig mixture and mix until just combined. Stir in the chocolate chips. Pour the batter into the prepared loaf pan. Drain and arrange the halved figs on top and nestle into the batter.
Bake for 45-50 minutes, or until a toothpick inserted in the center comes out clean. Let the bread cool in the pan for five minutes, then transfer to a wire rack to cool. Cut with a serrated knife. Serve warm or at room temperature.