Crab and Corn Chowder (Dairy Free)
One of the ironies of the Filipino culture is how the concept of family is both highly revered and loosely defined. Growing up in a household where everyone is family, every eligible grown up is a Tita or Tito (aunt or uncle), regardless if we…
Crab and Corn Chowder (Dairy Free)
One of the ironies of the Filipino culture is how the concept of family is both highly revered and loosely defined. Growing up in a household where everyone is family, every eligible grown up is a Tita or Tito (aunt or uncle), regardless if we are truly related or not. Western labels like "second cousin twice removed," are considered unnecessary details. Simply put, family is family.
Yesterday, I found myself trying to figure out how exactly to describe how I was related to my second cousin's daughter and quickly gave up. I'll just call her my niece – but what is even more interesting to me is that I discovered that we share an unusual middle name! I'm not sure how I never knew that until now, but when you have a unique name (or in my case unique first and middle names!), you pay attention.
In case you are wondering, my middle name is Maryse. I'd love to know if you have met any others.
Speaking of relatives and names, I've been thinking of another set of cousins lately. Dungeness crabs are finally in season here in the Bay Area – quite late by normal standards, but very welcome. It's the only crab variety my children have really known, and I found myself telling my son all about the blue crabs back east, how we would feast on large crab boils and settle at the table with clean hands and dipping sauces and how sweet and delicious it was.
By comparison, Dungeness crabs are their monster tall cousins, kind of like those distant relatives that make you wonder: how are we even related?
Anyway, Crab and Corn Chowder seemed appropriate for these chilly spring evenings, and I made one that reminded me of the creamy chowders I grew up with, but without the guilt of heavy cream. This dairy free chowder is instead chock full of potatoes, sweet potatoes, yellow squash and sweet corn, with just a touch of coconut milk. I made enough for a crowd – or for all those distant relatives, you know, just in case they decided to visit.
Crab and Corn Chowder (Dairy Free)
Part of what makes a chowder so good is when it is creamy and chock full of potatoes. This version of Crab and Corn Chowder nixes heavy cream and is a delicious dairy free alternative, getting its creaminess from coconut milk and pureed corn and potatoes.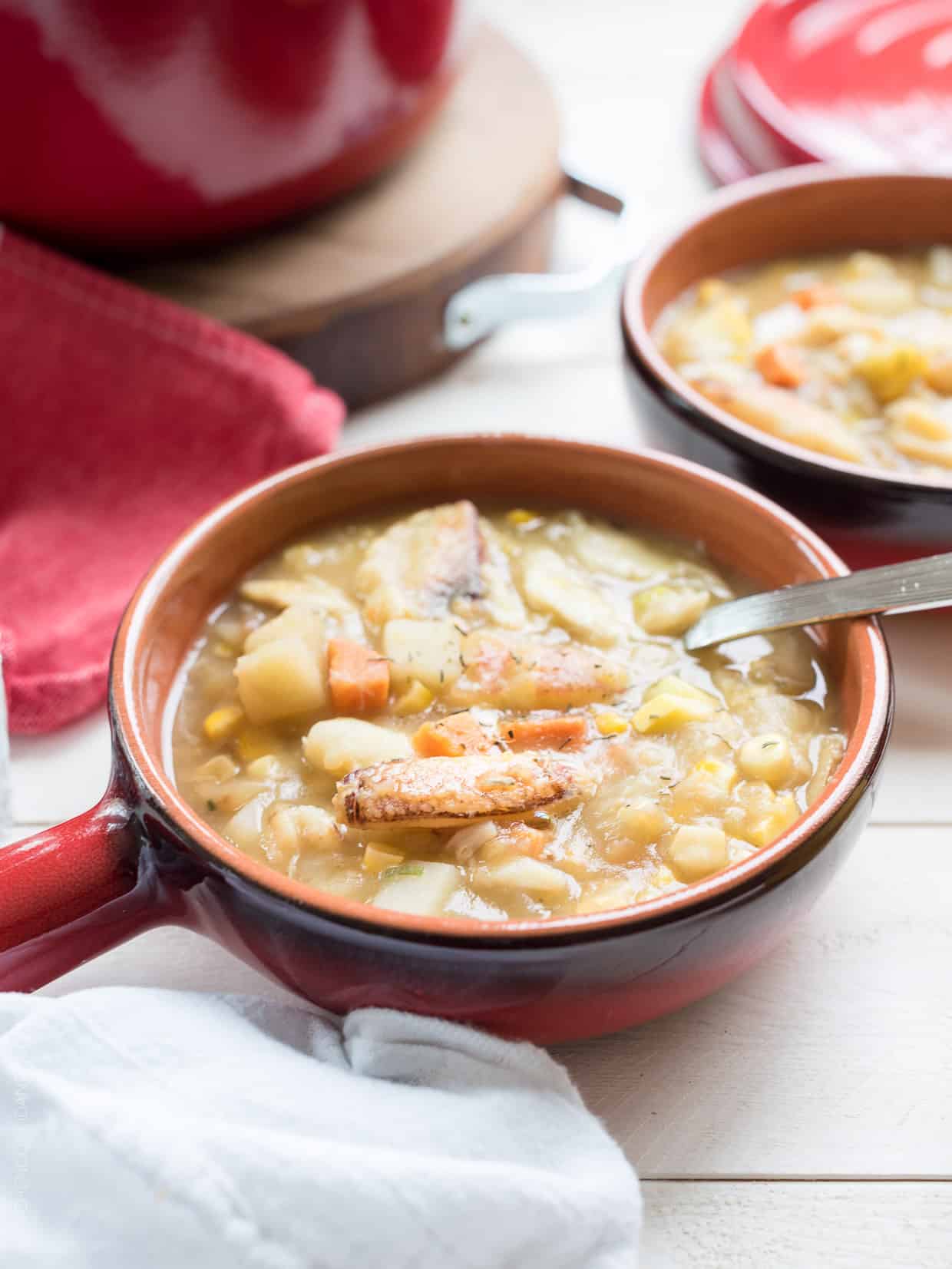 Print Recipe
Ingredients
1 tablespoon olive oil
1 large yellow onion, diced
3 cloves garlic, minced
4 ears of corn, kernels removed, divided
4 potatoes, peeled and diced, divided
1 15 oz can light coconut milk
2 cups clam stock
2 cups chicken stock
kosher salt
freshly ground black pepper
2 tablespoons cornstarch
1/4 cup water
1 sweet potato, peeled and diced
4 yellow squash, diced
1 bay leaf
1 teaspoon thyme
1 1/2-2 lbs cooked crab meat (preferably Dungeness)
Instructions
In a large pot or Dutch oven heat the olive oil over medium heat. Stir in the onion and garlic, and cook for about 2 minutes, or until the onion is translucent. Stir in about half of the corn kernels and half of the potatoes, followed by the coconut milk, clam stock, and chicken stock and bring to a boil over medium heat. Let it cook for about 5 minutes, or until the potatoes are fork tender, then use an immersion blender to blend the soup until creamy. You can also use a blender, working in batches – blend for a few seconds on low speed, taking care to hold cover down with a towel to prevent any spills with the hot liquid. The soup should still have some body, and not too smooth. Return the soup to the saucepan.
Season the soup with salt and pepper, to taste. Make a slurry by whisking the corn starch and water in a small bowl until smooth, then whisk into the soup. Bring to a boil, then add the remaining potatoes and corn kernels, along with the sweet potato and yellow squash. Return the soup to a boil, then lower to a simmer. Stir in the bay leaf and thyme. Cook until the potatoes are fork tender, about 10 minutes, stirring periodically.
Add the crab meat and stir until it is just heated through. Ladel the soup into bowls and enjoy immediately.