Simple Sundays | Cognac Butterscotch Pudding
Once in a while I get a special request. And being that I never want to disappoint anyone, I honor my family's appetite. It just might take me a little while. It may have been a few months ago when my husband first filed his…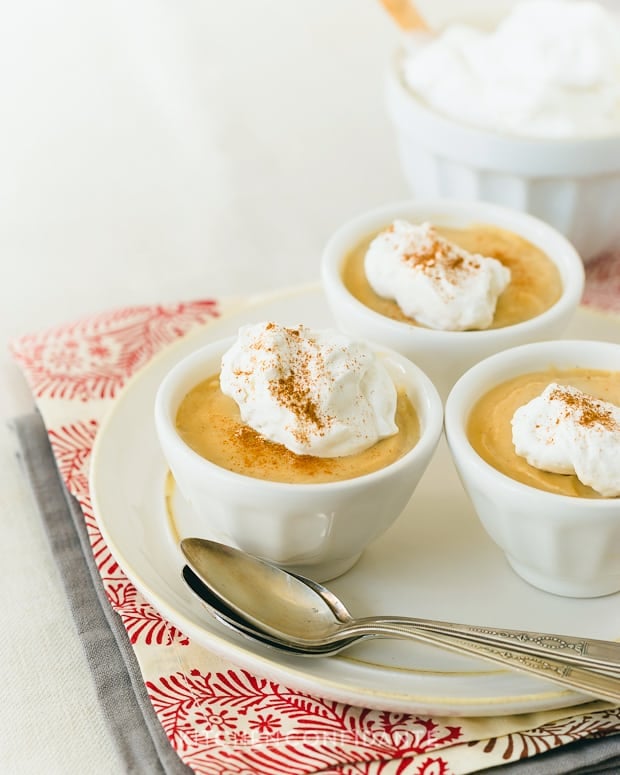 Simple Sundays | Cognac Butterscotch Pudding
Once in a while I get a special request. And being that I never want to disappoint anyone, I honor my family's appetite. It just might take me a little while.
It may have been a few months ago when my husband first filed his request for butterscotch pudding. To be frank, this was not a dessert that stirred cravings in me whatsoever; my past experiences with butterscotch pudding go hand in hand with plastic cups and foil top lids. But I eventually learned that for others, butterscotch puddings can rouse deep desire. Soon after that first request, we were out to dinner with friends when butterscotch pudding came up in conversation, and I made a mental note to push the darn thing up on my to make list.
Three holidays and two seasons later, I finally fulfilled my promise. Amber, vanilla speckled, and clinging to my spoon with purpose, I can understand now how a good Cognac Butterscotch Pudding can be haunting, how it can make you dream of sitting quietly, dipping into each heavenly bite. I just wish it didn't take me so long.
Cognac Butterscotch Pudding
I was never a believer in butterscotch pudding until I made it from scratch. A shot of cognac helps, too.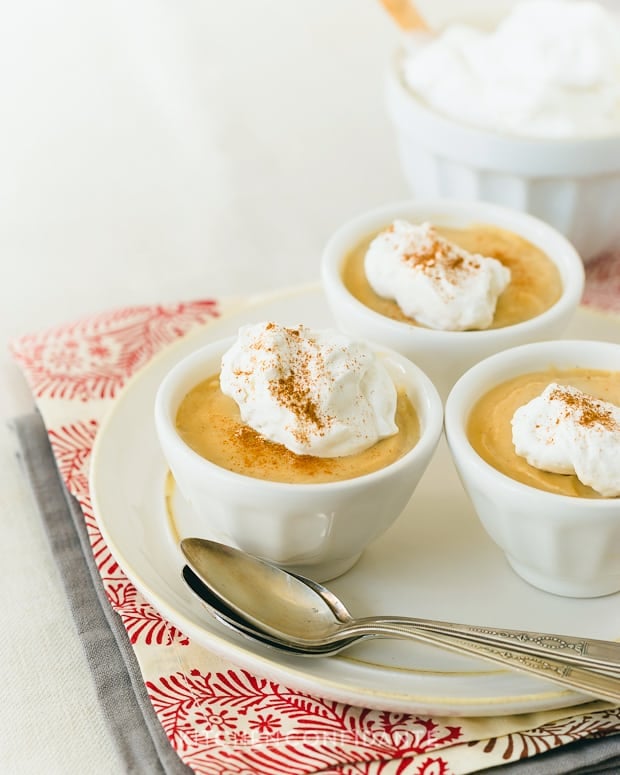 Print Recipe
Ingredients
For the Cognac Butterscotch Pudding:
1/4 cup (4 tablespoons or 1/2 stick) butter (I prefer salted, but unsalted is good too)
1 vanilla bean
1 cup brown sugar
1/2 teaspoon kosher salt
2 1/2 cups whole milk
1/2 cup heavy cream
3 tablespoons cornstarch
3 egg yolks
1 tablespoon cognac
For the Cognac Whipped Cream:
1 cup heavy cream
1/4 cup confectioner's sugar
1 tablespoon cognac
Instructions
Begin by melting the butter in a medium saucepan over medium-low heat. Split open the vanilla bean and scrape out the seeds with the back of a small paring knife. Drop the bean and the seeds into the melting butter. Once the butter begins to bubble and brown, stir in the brown sugar and salt until the sugar is coated with the butter. Turn off the heat for a moment.
Whisk together 1/4 cup of the milk with cornstarch until smooth and free from lumps. Add the egg yolks and whisk until blended.
Pour the remaining whole milk and heavy cream into the brown sugar while whisking. Whisk in the cornstarch-milk-egg yolk mixture. Turn the heat back on and bring it to a boil over medium heat, whisking frequently. Once the pudding begins to bubble and thicken, lower the heat to a simmer, and whisk constantly, allowing the pudding to thicken a little more until you are able to coat the back of a wooden spoon. Remove from the heat, discard the vanilla bean, and stir in the cognac.
Pour the custards into your serving cups and top each with a square of waxed paper or plastic wrap to prevent a skin from forming on the puddings. Place in the refrigerator for at least 4 hours to cool and thicken.
Make the whipped cream by whisking the heavy cream in the chilled bowl of an electric mixer until thickened and soft peaks form. Add the sugar and cognac and whisk a little more. Keep chilled in a tightly sealed container.
Serve with a dollop of cognac whipped cream.