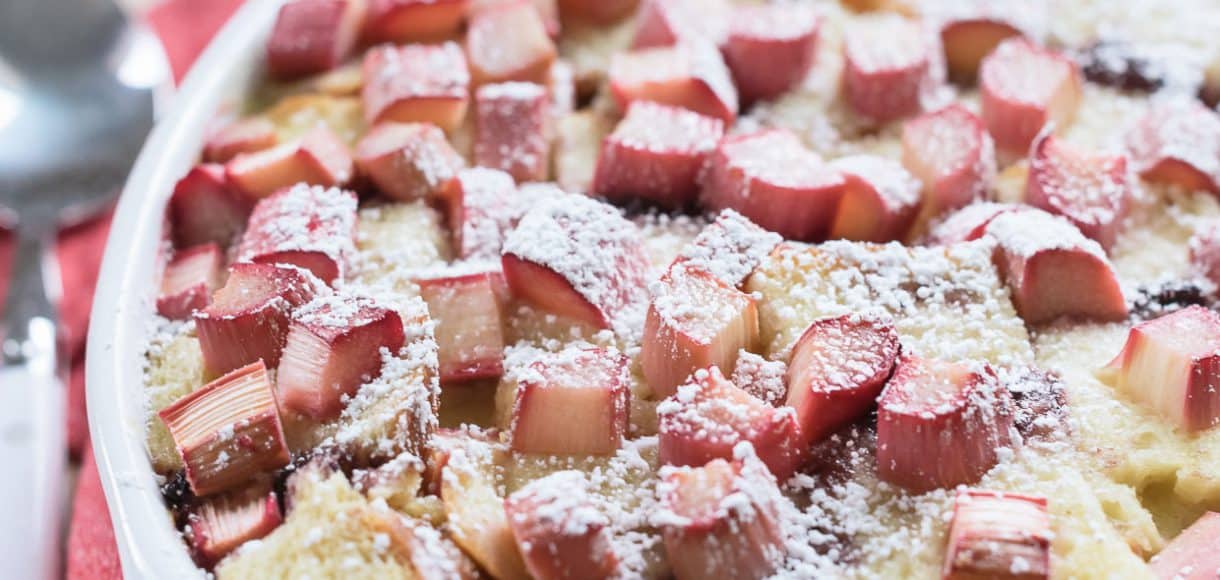 Rhubarb Bread Pudding
This recipe combines tangy rhubarb, indulgent custard, spongy brioche and sweet swirls of strawberry jam to create a decadent Rhubarb Bread Pudding.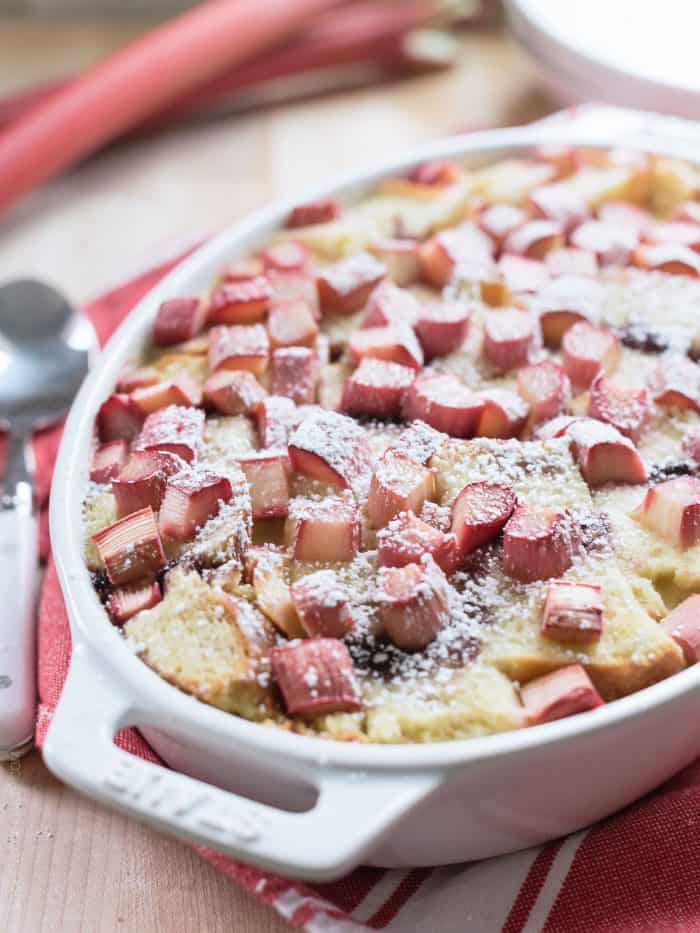 Rhubarb Bread Pudding
Looking for rhubarb recipes to use up that bumper crop of rhubarb? Try pairing tangy rhubarb with sweet strawberry jam in this decadent Rhubarb Bread Pudding!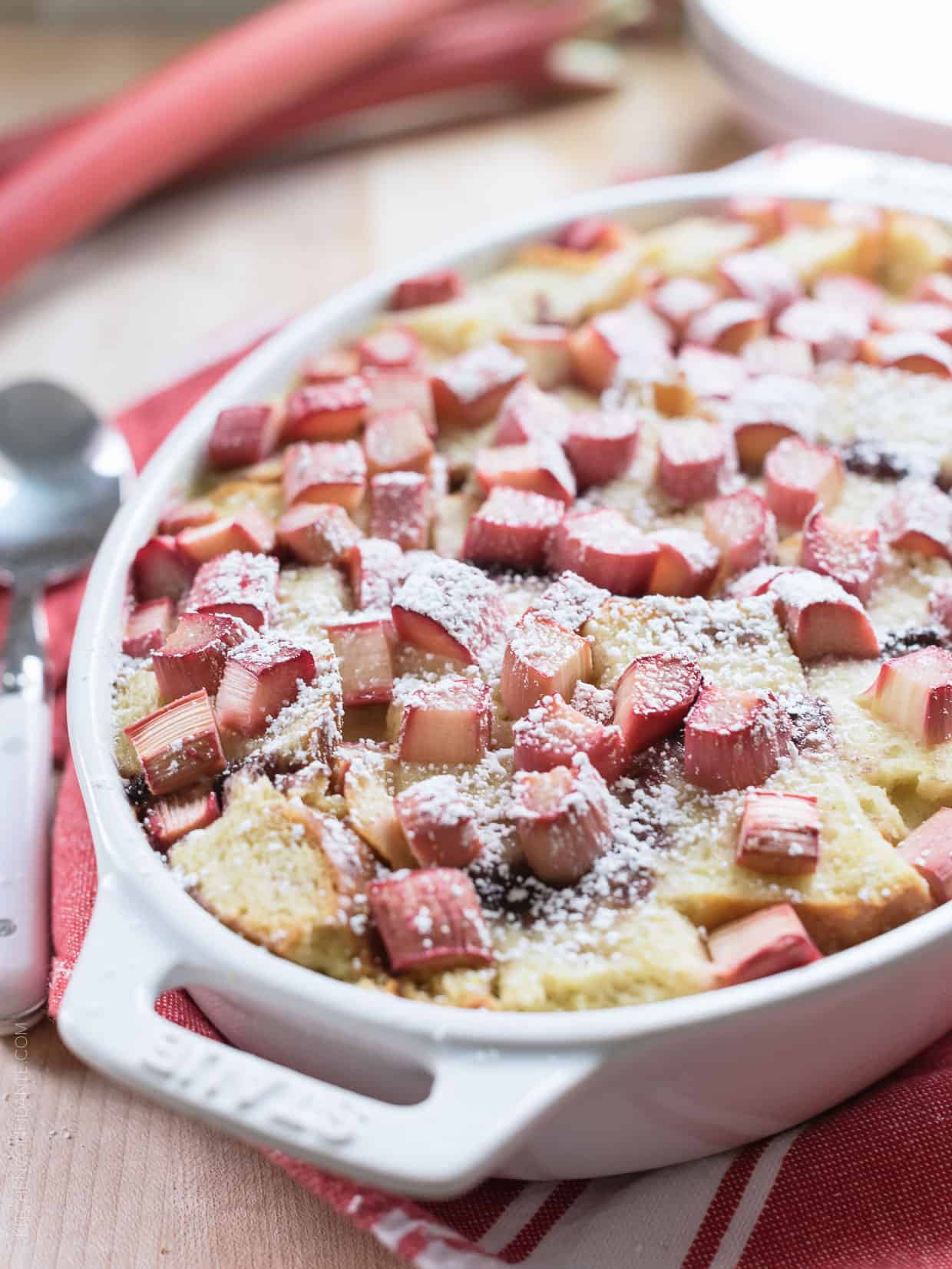 My dad was here for a short visit this past weekend. He watched as I pulled the bread pudding out of the oven and set it on the counter. "What kind is it?" he asked, peering over his glasses to get a better look.
"Rhubarb Bread Pudding, Dad," I told him, not expecting him to even know what rhubarb was, since I don't recall ever eating it growing up. "Ah! Rhubarb! Remember all the rhubarb in the garden?" he gushed.
Well, that threw me for a loop. "We grew rhubarb?" I was incredulous. Of all the things my mom grew in our little house in New York, I couldn't recall any rhubarb in that garden. Maybe it was hidden behind the sweet peas and the asparagus?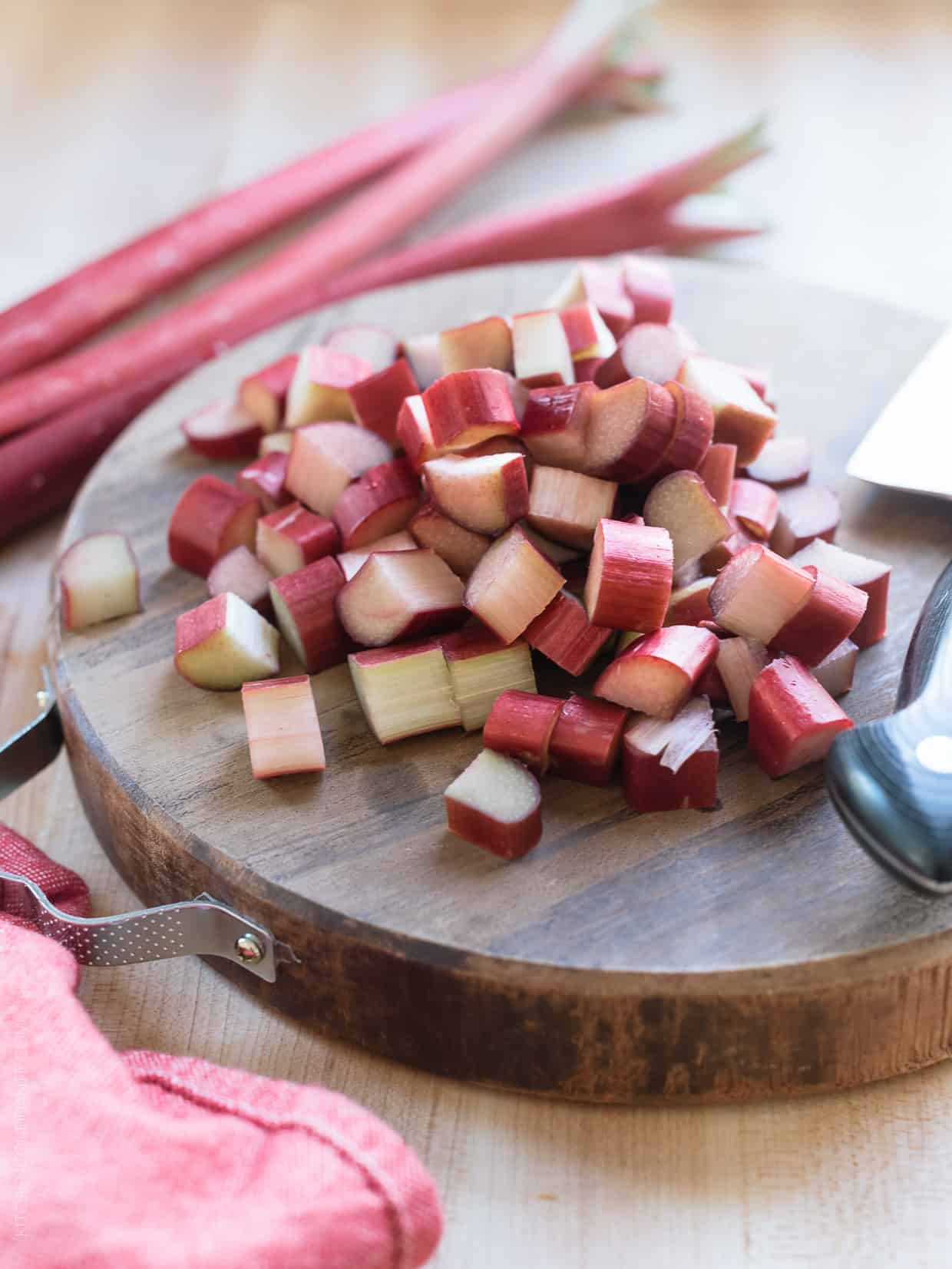 Turns out, there was a bumper crop of rhubarb from the previous owners when my parents bought the house. They cooked with it once, then proceeded to remove the plants, way before I could even remember. And now I think back to what a shame that is, since it took a few decades for me to encounter rhubarb again. My love for rhubarb could have started much sooner, imagine that?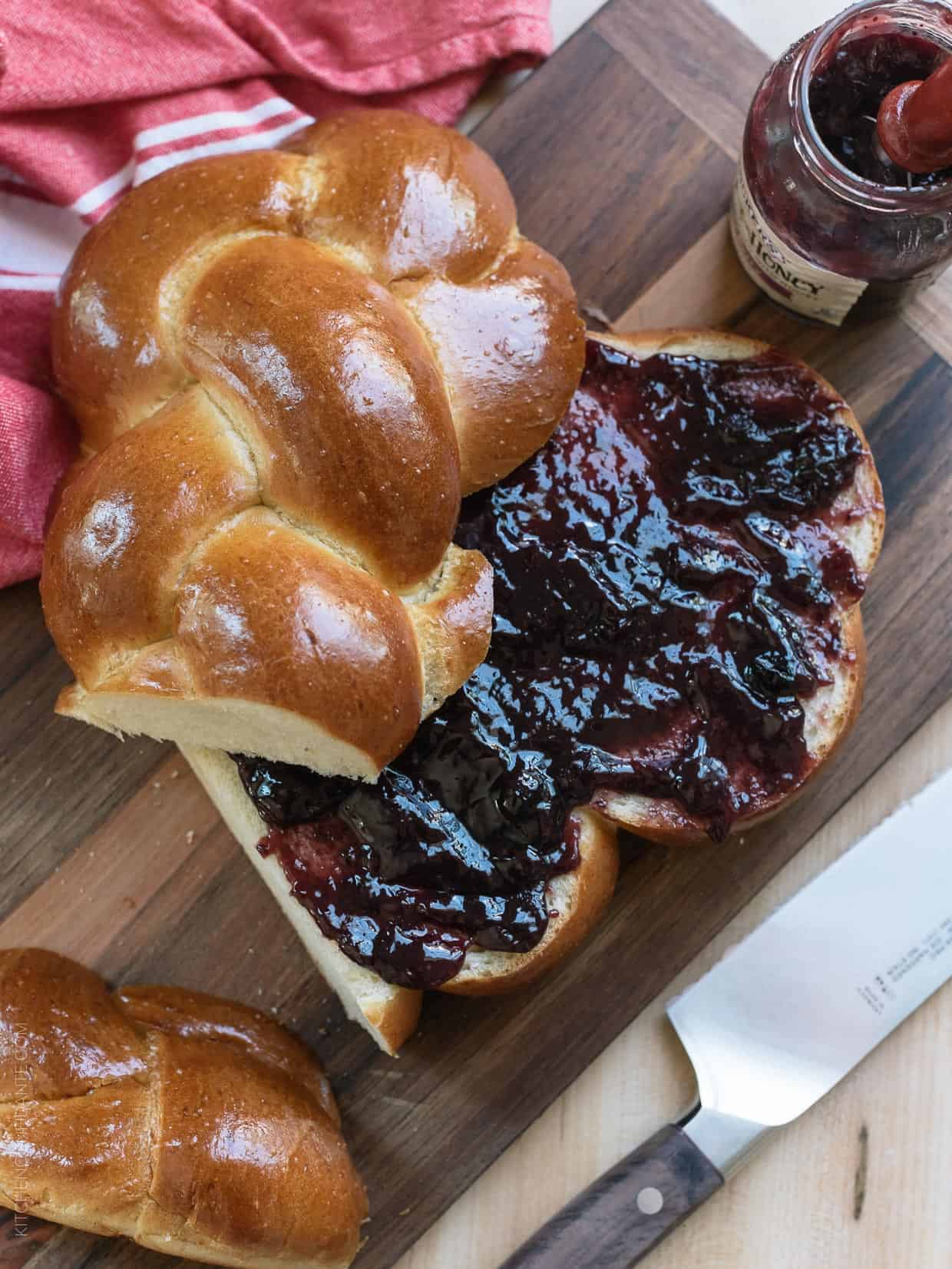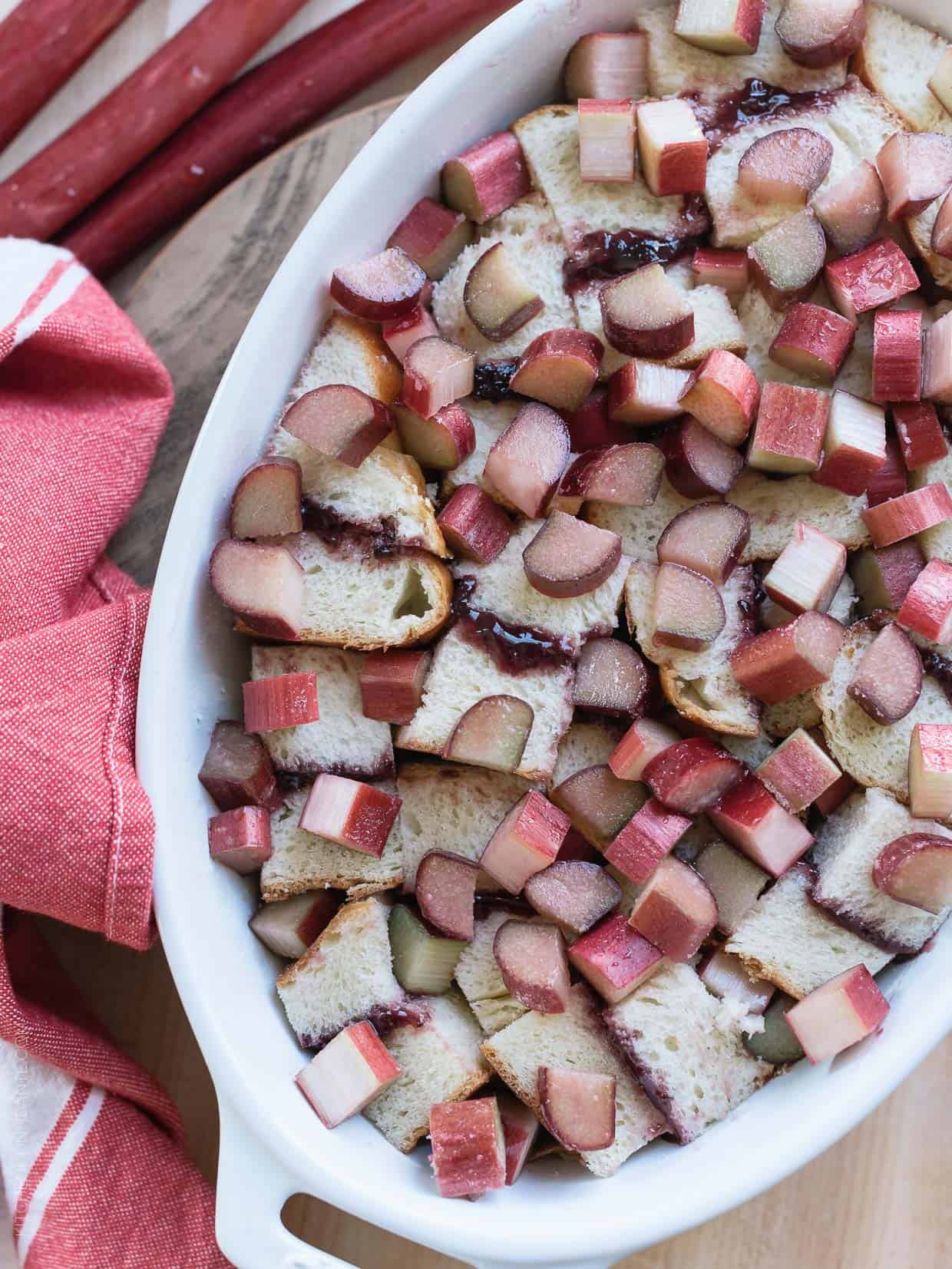 The first thing I will make as soon as I see rhubarb in the markets is the cake that started it all for me – the rhubarb cake that reminds me of my friend Liz and the adventures we had in Chicago years ago. As we were eating it, my husband suggested that I should make rhubarb bread pudding.
Well, he was onto something.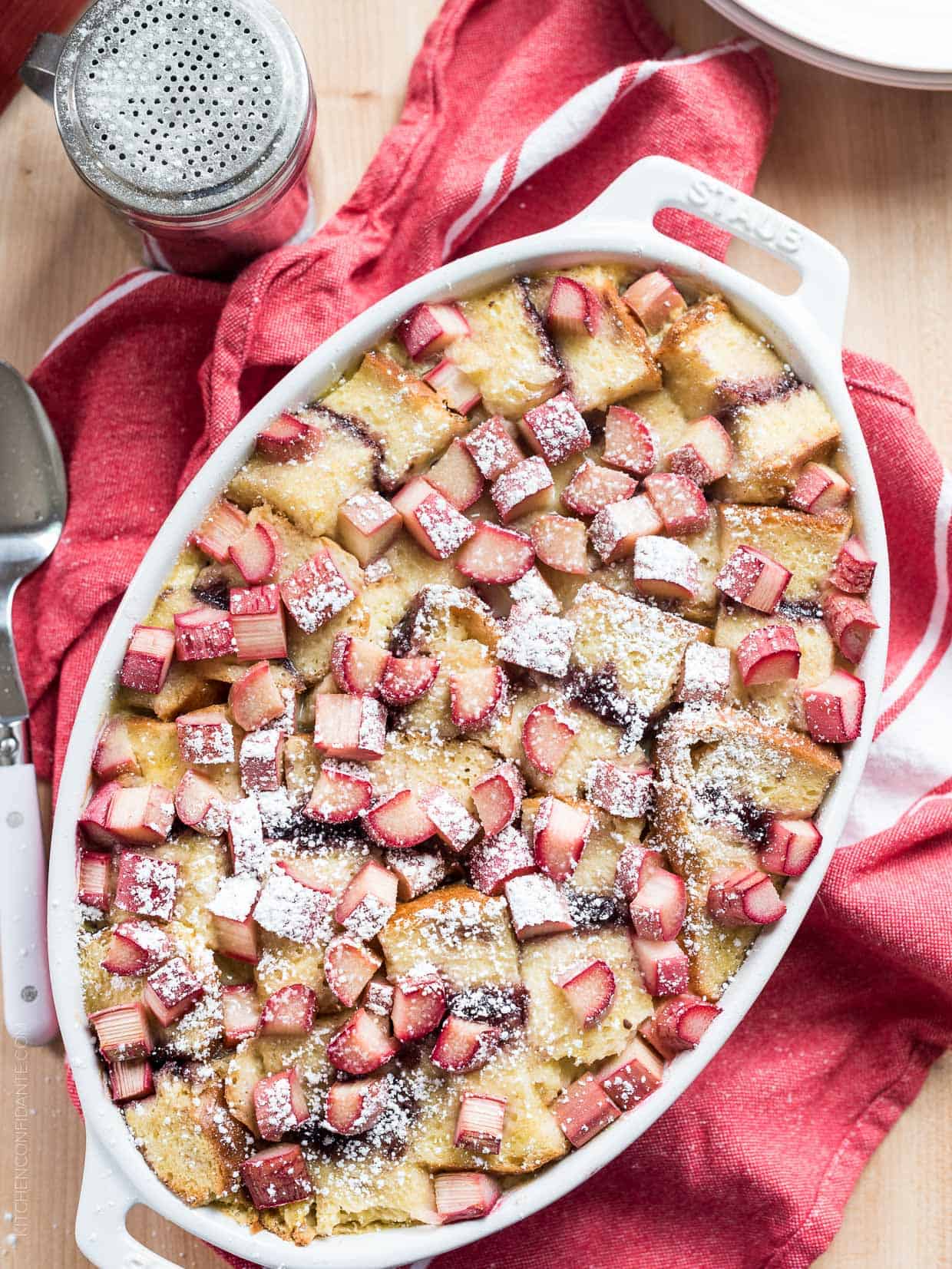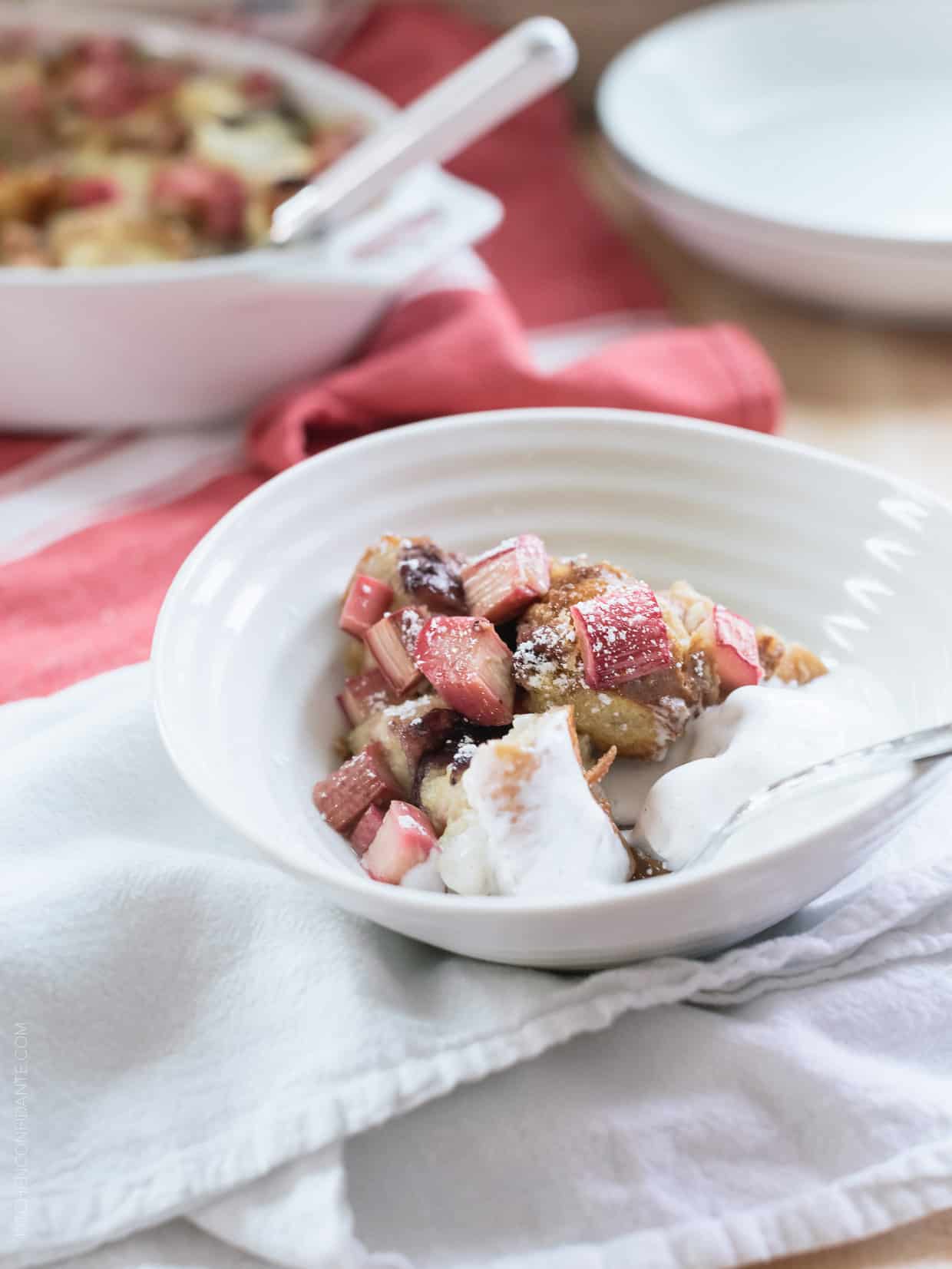 I made several batches before I got it just right – the perfect amount of custard to spongy brioche, studded with tangy rhubarb and swirls of strawberry jam. Served with a scoop or two of creamy vanilla ice cream, each spoonful is decadence and definitely worth making. This one is staying in the rotation during rhubarb season, that's for sure.
And in case you're wondering, my dad did approve.
MORE RHUBARB RECIPES TO TRY
Strawberry Rhubarb Crisp (Vegan-Friendly)
Rhubarb Mint Margarita
Rhubarb Frangipane Cake
Rhubarb Upside Down Cake
Blueberry Rhubarb Cobbler
Rhubarb Empanadas
Rhubarb Bread Pudding
Looking for more ways to enjoy rhubarb? Try it in this decadent Rhubarb Bread Pudding! Don't forget the vanilla ice cream!
Ingredients
1

16-oz

loaf day-old brioche

1/2

cup

strawberry jam

3

stalks rhubarb

leaves trimmed, and chopped into 1/2 inch pieces

1

cup

plus 3 tablespoons granulated sugar

divided

1

tablespoon

butter

for baking dish

2

cups

heavy cream

1

cup

half and half

4

large eggs

1/4

cup

rum

1

teaspoon

vanilla

1/2

teaspoon

cinnamon

vanilla ice cream

for serving
Instructions
Preheat the oven to 350°F and place the baking rack in the center of the oven.

Slice the brioche in half lengthwise, as if you were making a large sandwich or making a layer cake. If the bread is especially lofty, you may consider slicing it into three layers, about 1 inch thick each. Spread the jam between the layers of bread, then reassemble the brioche. Cut into 1 inch crosswise pieces, then crosswise again, until you have cubes of jam filled bread.

Toss the rhubarb in 2 tablespoons of sugar.

Prepare a 9″x13″ baking dish by buttering the dish and sprinkling with 1 tablespoon of sugar. Arrange the brioche in the baking dish, and nestle the rhubarb in the nooks and crannies. Scatter the remaining rhubarb over the bread.

In a medium bowl, whisk together the remaining cup of sugar with the heavy cream, half and half, eggs, rum, vanilla and cinnamon. Pour if over the bread and rhubarb and let it sit in the the refrigerator for at least 30 minutes, periodically pressing the bread so that it gets evenly saturated.

Place the baking dish in the oven and bake for about 50 minutes, or until the bread pudding has puffed and is set in the center. Remove from the oven and let it sit for 10 minutes. Serve warm with scoops of vanilla ice cream.
Nutrition
Calories:
668
kcal
|
Carbohydrates:
66
g
|
Protein:
9
g
|
Fat:
40
g
|
Saturated Fat:
17
g
|
Cholesterol:
178
mg
|
Sodium:
87
mg
|
Potassium:
186
mg
|
Fiber:
1
g
|
Sugar:
36
g
|
Vitamin A:
1164
IU
|
Vitamin C:
4
mg
|
Calcium:
103
mg
|
Iron:
1
mg