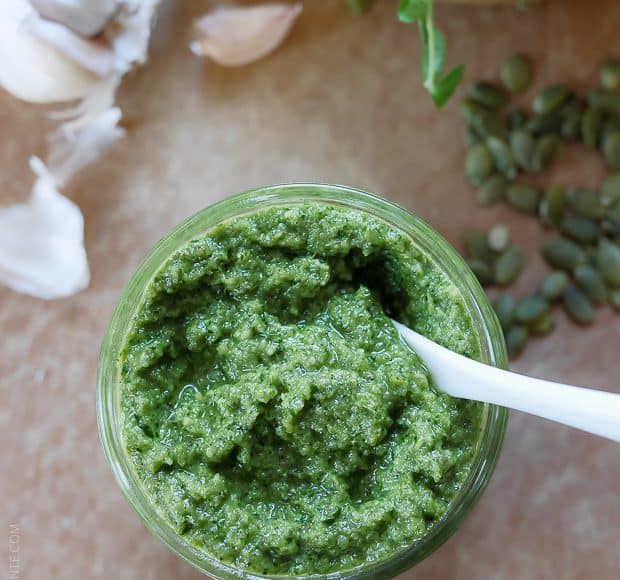 Pea Shoot and Pumpkin Seed Pesto
I handed my son his shoe this morning as he finished tying the other, and caught myself humming. As I bent down to help him unknot the laces, I smiled and sang out loud, "you are my sunshine, my only sunshine, you make me happy,…
Pea Shoot and Pumpkin Seed Pesto
I handed my son his shoe this morning as he finished tying the other, and caught myself humming. As I bent down to help him unknot the laces, I smiled and sang out loud, "you are my sunshine, my only sunshine, you make me happy, when skies are grey!" We sang the rest together, and all of a sudden, I remembered my mom.
She used to sing that tune, and after I saw my little guy off to school, I found myself deep in thought. My children are my everything, *my* sunshine. My memory of her singing this song to me suddenly changed. It made it all the more special.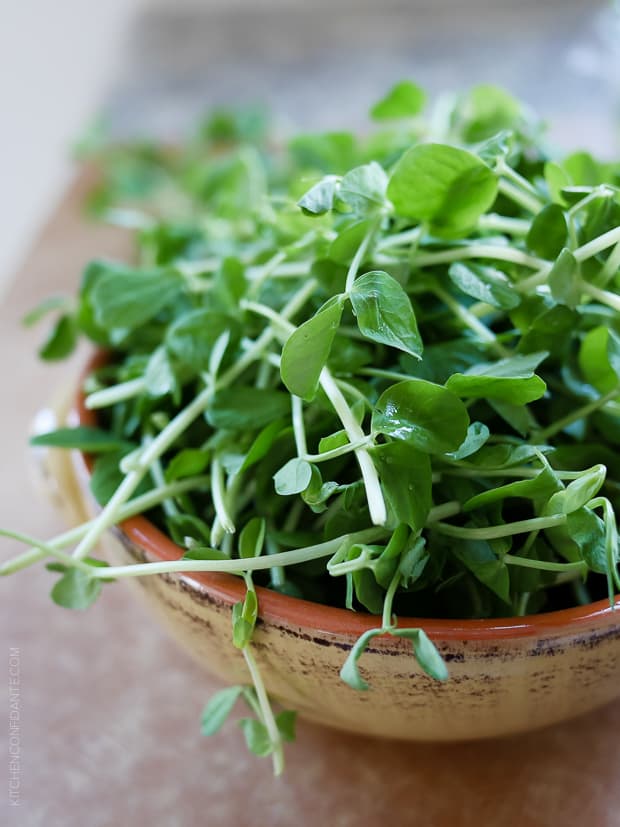 When I see the spring peas in the markets, I always think of her. She grew them in the garden, and I used to marvel at the tendrils that would climb high, curling their delicate stems and leaves around the walls she would fashion. It wasn't until many years later that I began cooking with pea shoots, and now, with such a short season, I grab them anytime I see them at the market.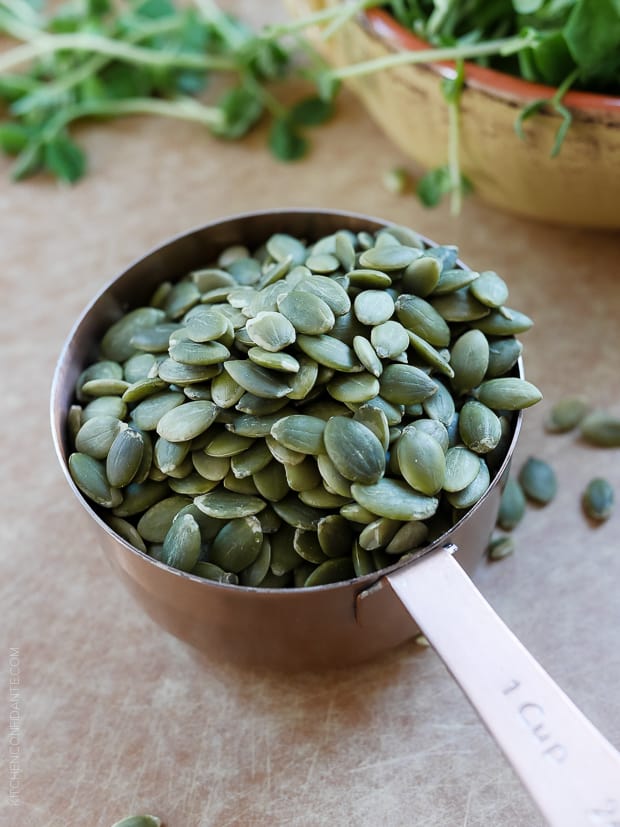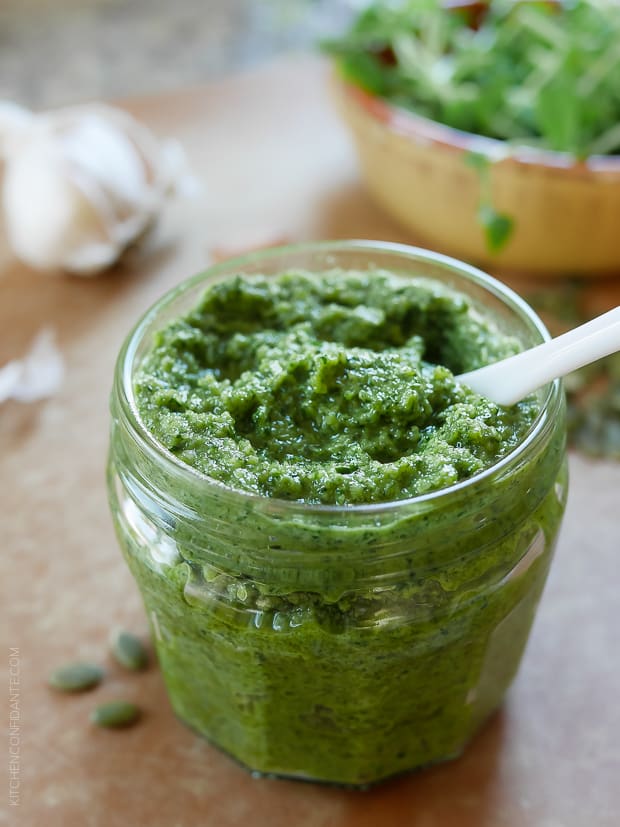 I pulsed some brilliant green pumpkin seeds in the food processor last night, followed by some of the delicate tendrils I found. I was cooking some fish en papillote, on a bed of quinoa and peas, and I wanted to add some zing. The pea shoots added a touch of spring to a classic pesto, giving the red snapper the life and earthiness I was looking for. You might say it also brought some sunshine.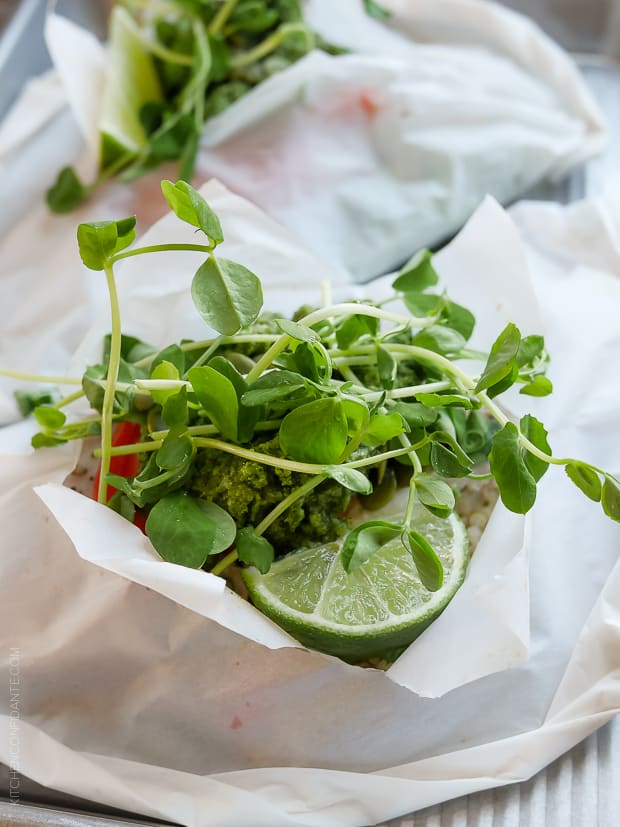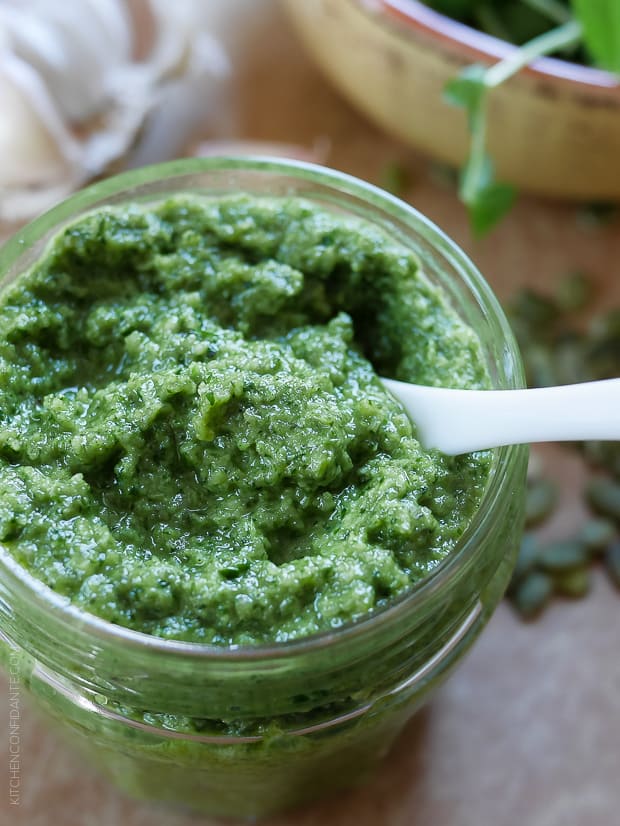 Pea Shoot and Pumpkin Seed Pesto
Add a touch of spring to pesto.
Print Recipe
Ingredients
1 cup pumpkin seeds
2 cloves garlic, peeled
3 cups pea shoots
1/4 cup basil leaves
juice of 1 lime
1 1/2 teaspoons kosher salt
1/2 cup olive oil, plus more if necessary
1/2 cup grated parmesan
Instructions
In the bowl of a food processor, pulse the pumpkin seeds and garlic until finely chopped. Add the pea shoots, basil, lime juice and salt, and process until fine. With the processor running, add the oil until it is creamy, adding more if necessary. Add the parmesan and pulse until combined.
Keep stored in the refrigerator.