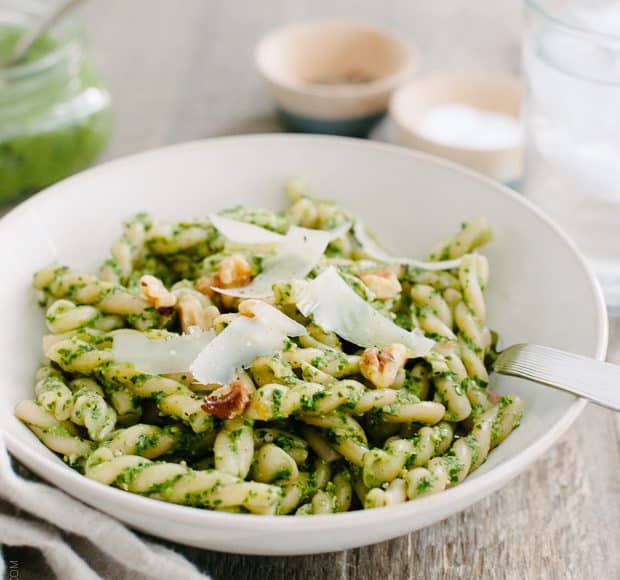 Swiss Chard Walnut Pesto Pasta
We're in the homestretch. Seven more days to go, and we can all breathe a little easier. Alarm clocks, packing lunches, correcting homework, and all the minutiae of the school year can be forgotten, for a few weeks, at least. I'm hopeful that summer will…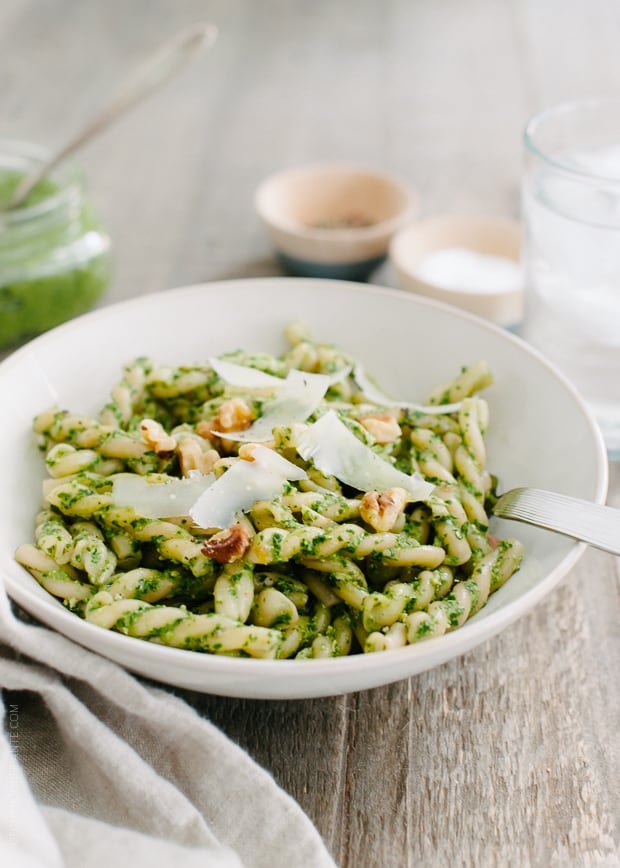 Swiss Chard Walnut Pesto Pasta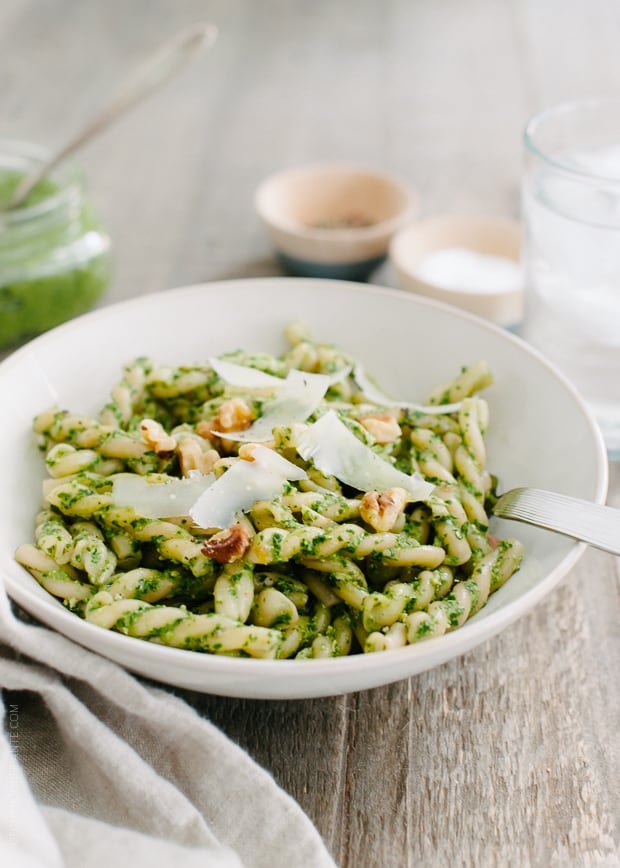 We're in the homestretch. Seven more days to go, and we can all breathe a little easier. Alarm clocks, packing lunches, correcting homework, and all the minutiae of the school year can be forgotten, for a few weeks, at least. I'm hopeful that summer will eventually feel like summer here in the Bay Area, and I am looking forward to picnics at the park with the kids and easy dinners on the grill each night.
Either way, I am embracing simple meals, and this Swiss Chard Walnut Pesto Pasta is something that can straddle this transition. With a jar of freshly blended pesto, I can easily make a pasta for lunch or dinner, with some shredded leftover chicken to round it out for a simple supper. A smear on some flatbread or tortilla with some roasted vegetables makes for a satisfying lunch, and a sprinkle of goat cheese on a cracker is an easy snack.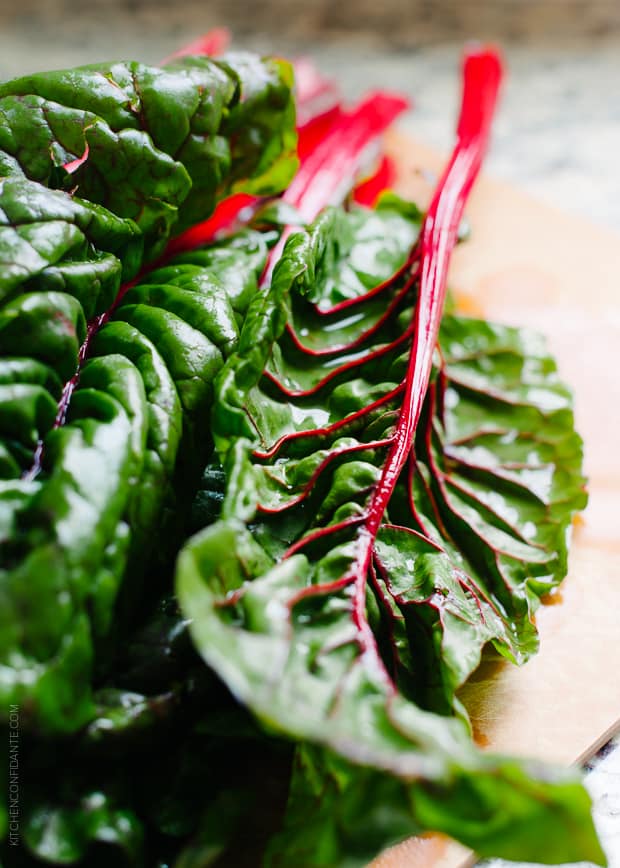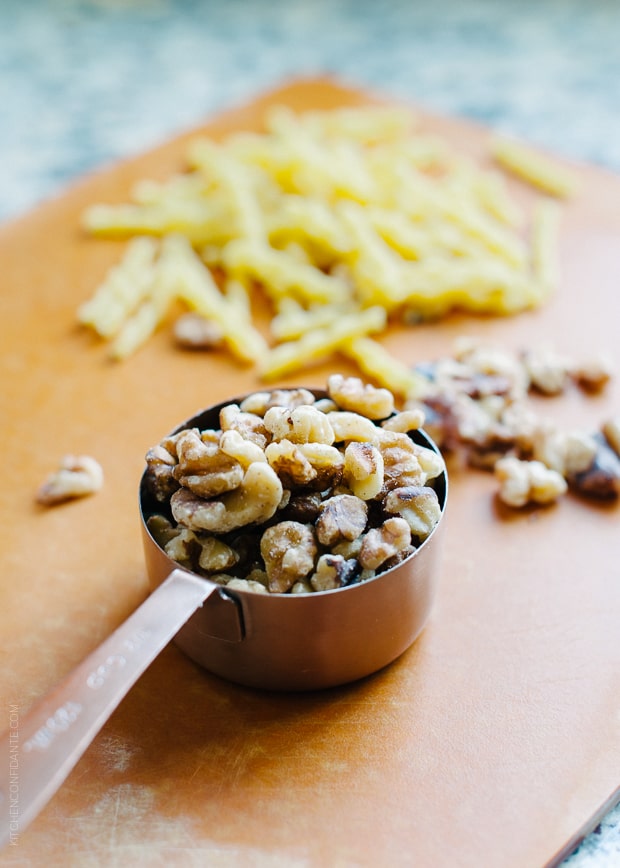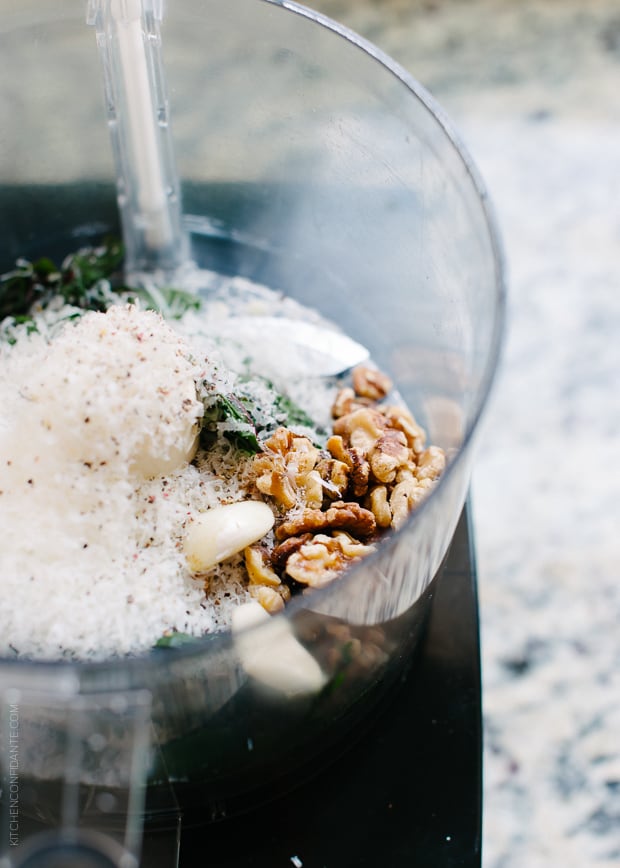 It all starts with some Swiss chard, quickly blanched and dried. A quick spin in the food processor blends it with some toasted walnuts and salty cheese, and of course, there's some garlic and olive oil.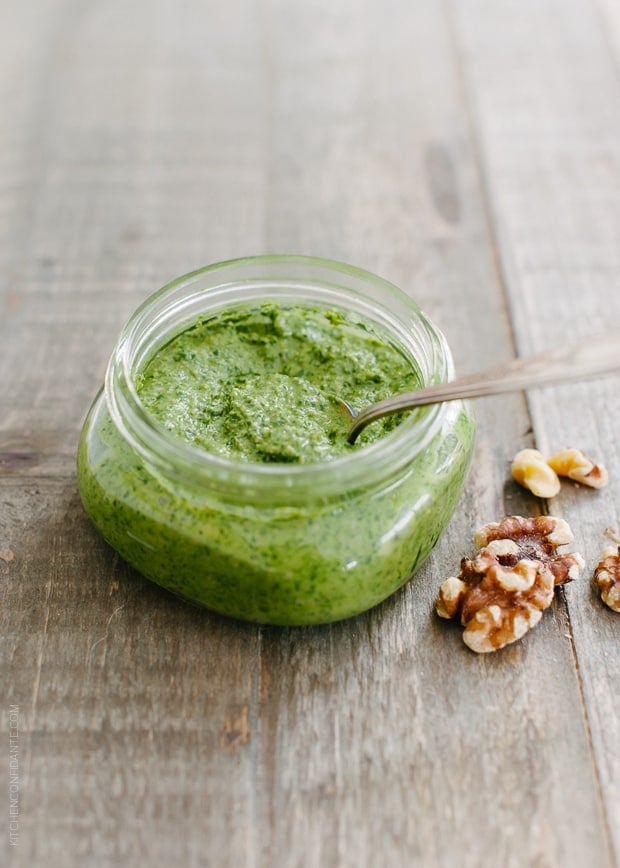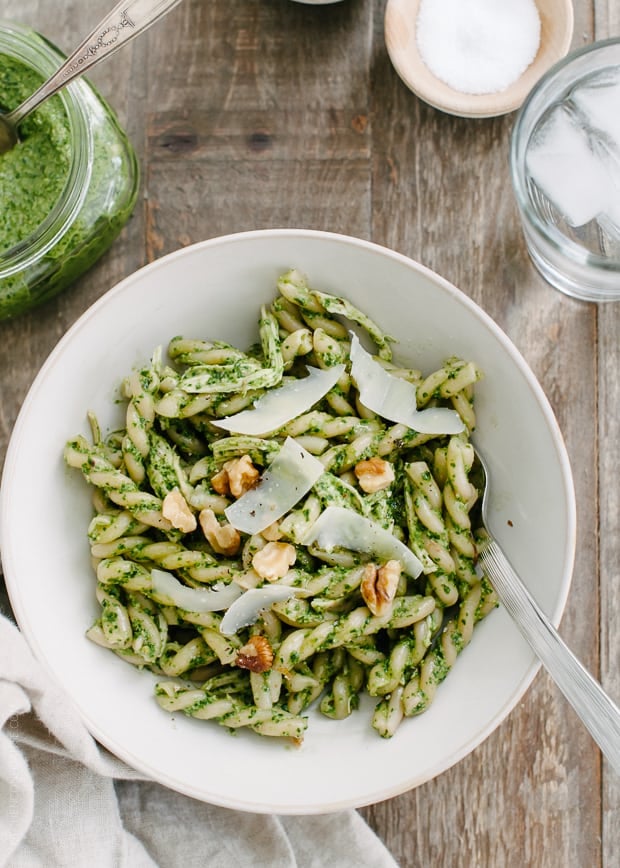 It's so simple, yet so versatile, and this jar will take me to the finish line. Summer, here we come.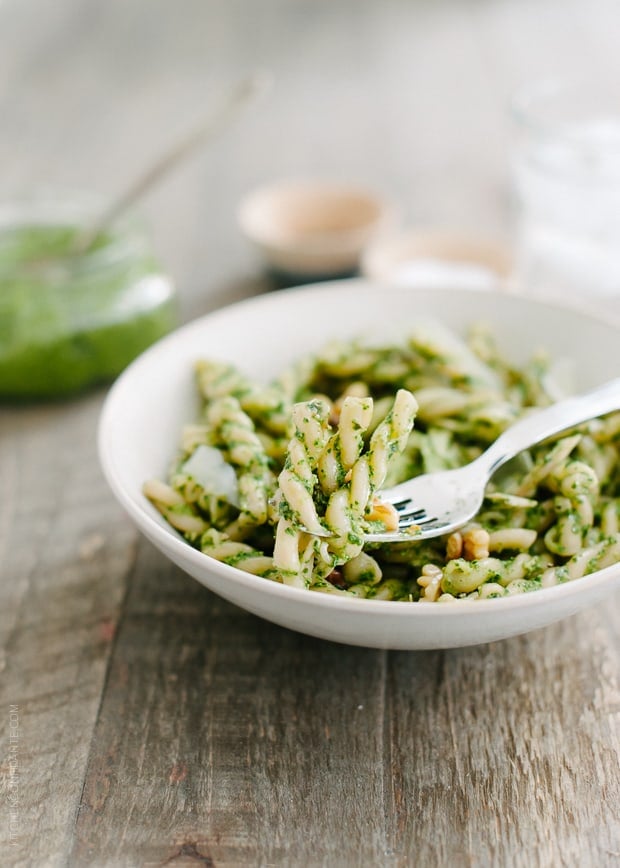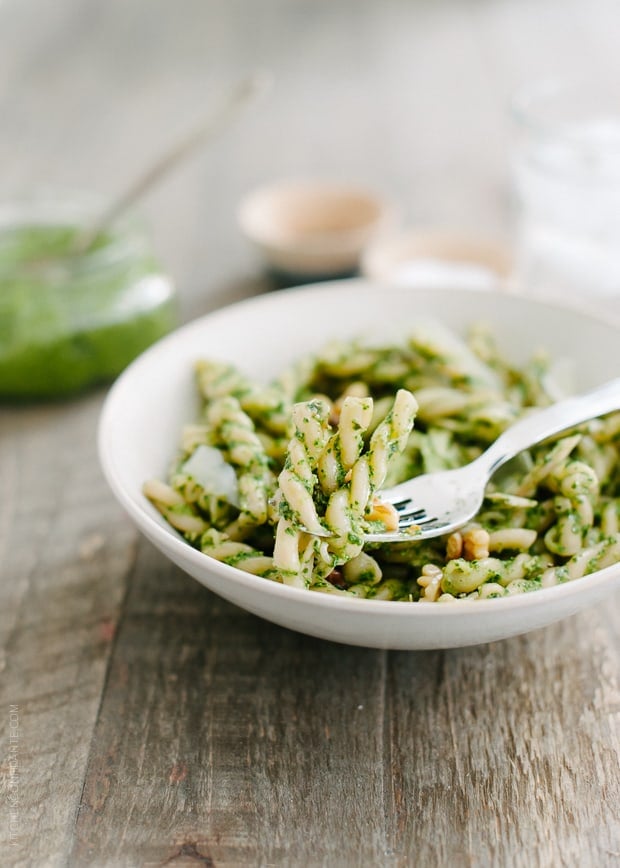 Swiss Chard Walnut Pesto Pasta
A versatile pesto transforms into a simple meal with pasta and leftover shredded chicken!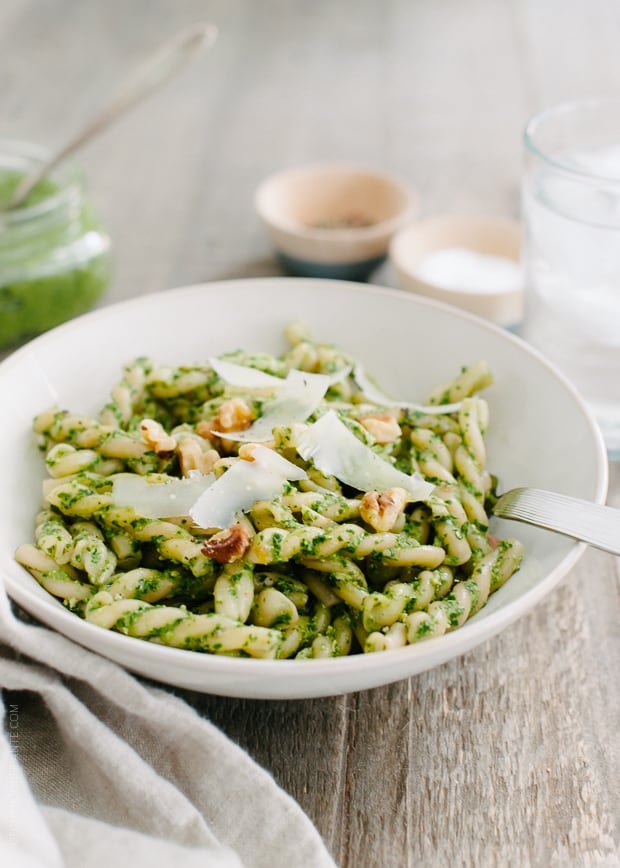 Print Recipe
Ingredients
6 stems Swiss chard, thoroughly washed
1/3 cup toasted walnuts, plus more for serving
1/2 cup Parmigiano Reggiano cheese
1/2 cup Piave Vecchio cheese (or substitute more Parmigiano Reggiano)
2 cloves garlic, peeled
1/2 cup olive oil
3 teaspoons kosher salt, more or less to taste
freshly ground pepper, to taste
1/2 cup olive oil
1 lb pasta (Gemelli shaped works well)
1 cup leftover shredded roast chicken (optional)
Instructions
Bring a large pot of water to a rolling boil. Salt the water. Prepare an ice bath and set aside.
Remove the Swiss chard leaves from the stems and blanch in the boiling water for about 1-2 minutes. Retrieve the Swiss chard with a strainer or tongs and transfer to the ice bath. Drain the Swiss chard well - if you have a salad spinner, this helps. Roll the Swiss chard in a clean kitchen towel to remove any excess water, and try to dry as much as possible.
Place the blanched Swiss chard (you should have about 1 1/2 to 2 cups) in the bowl of a food processor, along with the toasted walnuts, Parmigiano Reggiano and Piave Vecchio cheese and garlic and process until smooth. With the food processor running, add the olive oil slowly, until it is well blended. Season to taste with salt and pepper.
Meanwhile, in the same large pot that you blanched the Swiss chard, cook the pasta according to the package directions. Drain, reserving about a cup of the pasta water. Transfer the cooked pasta to a large bowl.
Add the shredded chicken to the pasta, if you are using. Use about 1 cup of the pesto to dress the pasta, and toss well until it is evenly coated. Use some of the reserved pasta water to make it easier to coat the pasta, adding in small increments. Season to taste with salt and pepper and serve with additional toasted walnuts and shaved Parmigiano Reggiano cheese. Serve immediately or at room temperature.
Notes
To toast the walnuts, spread the nuts on a baking sheet and roast in a 350 degree F oven for 8-10 minutes.