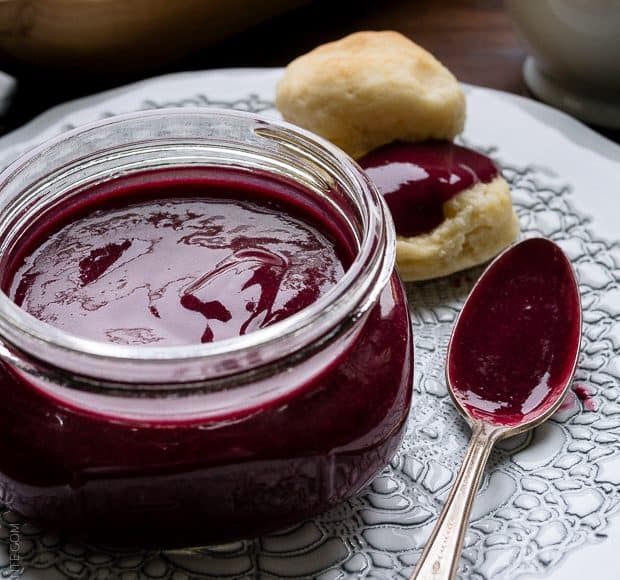 Blueberry Lemon Curd
Learn how to make Blueberry Lemon Curd with this easy recipe. It's delicious drizzled over biscuits, pancakes, swirled in yogurt…pretty much anything.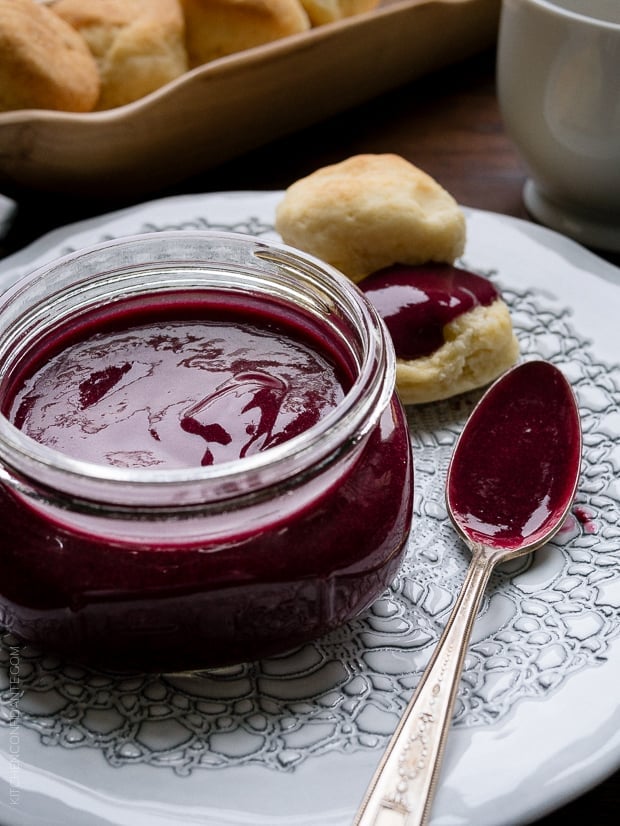 Blueberry Lemon Curd
Learn how to make Blueberry Lemon Curd with this easy recipe. It's delicious drizzled over biscuits, pancakes, swirled in yogurt…pretty much anything. Plus, scenes from Blueberry Culinary Bootcamp at the Culinary Institute of America in St. Helena.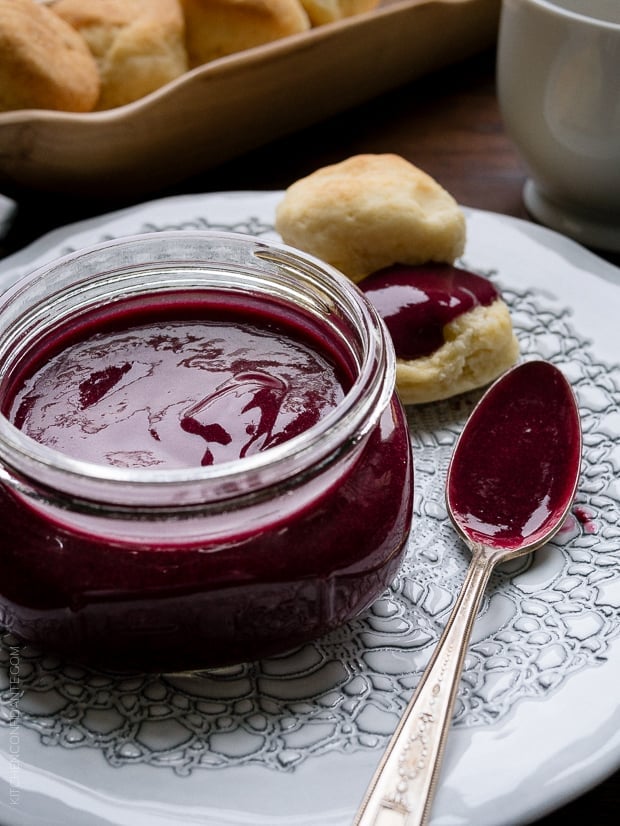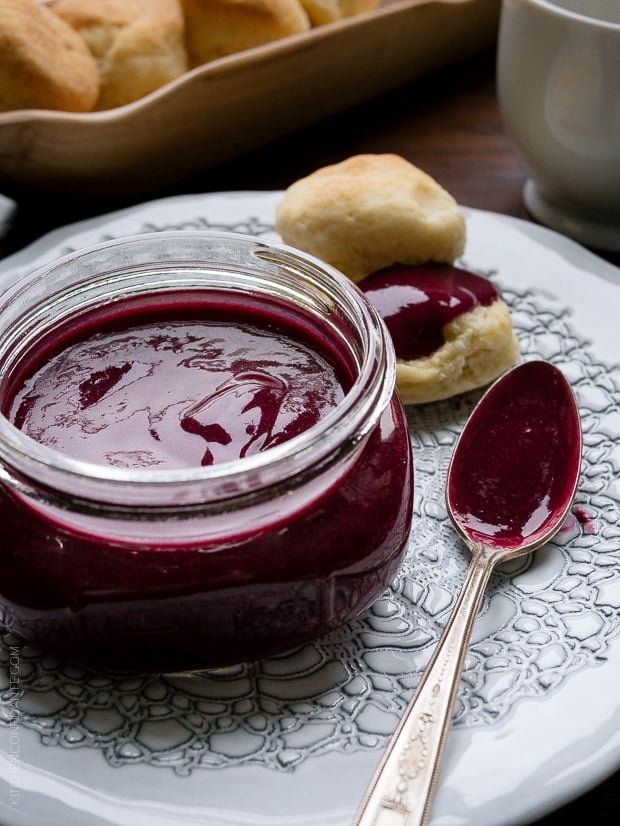 I received the best email the other day. It was a comment from a reader named Donna (hi, Donna, if you're out there!), and it went something like this:
I made this and it was fast…..easy ……and delicious…..omg…..I had a one year old under my feet……and it turned out wonderful…..first time every making this and first time commenting……praises to you…..never will I buy store bought again…..it was between your recipe and the Barefoot Contessa on the food network….glad I chose you. Thanks for sharing !!!!!
Since I adore Ina and I adore lemon curd, this was the ultimate compliment, and truly a joy to know that I brought a little sunshine to someone's day.
My lemon curd remains one of my most popular recipes, and with good reason: it's quick, it's simple, and it's so ridiculously good.
But lately, I've been thinking of blueberries a lot. It's one of those fruits we, or at least I, take for granted. They're kind of like bananas to me: easy to find, available year round, and they just land in my basket, by rote. They get tossed into my morning oats or yogurt, my afternoon smoothies, and Sunday pancakes. Come summer, there are galettes and crisps.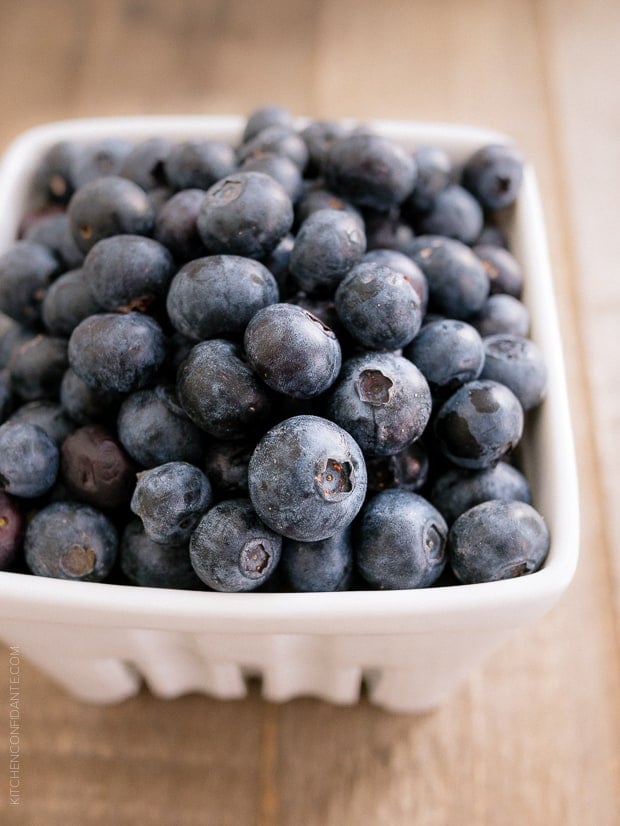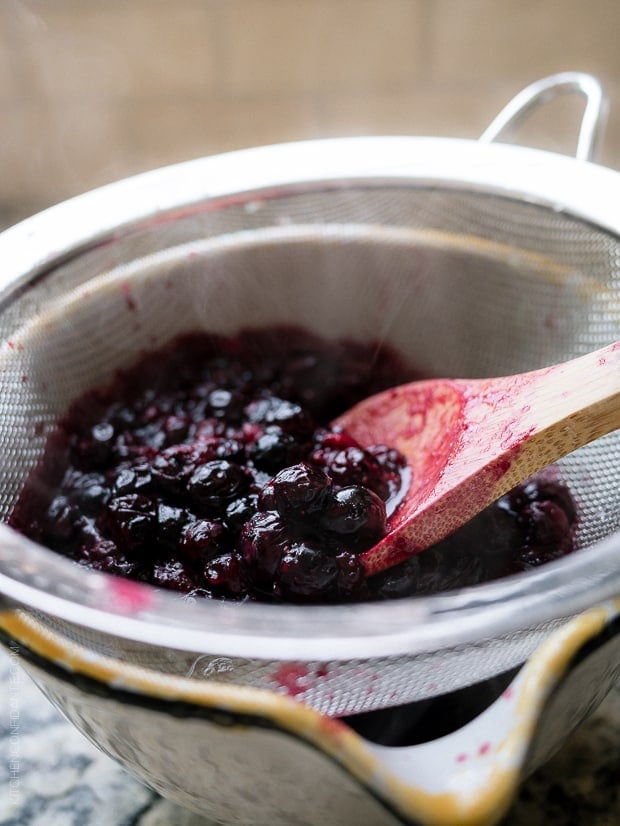 But Blueberry Lemon Curd? I was ready to transform a pint of blueberries into a vivid, purplish custard, with a little tang from Meyer lemons. Just a few minutes in the saucepan and the magic happened.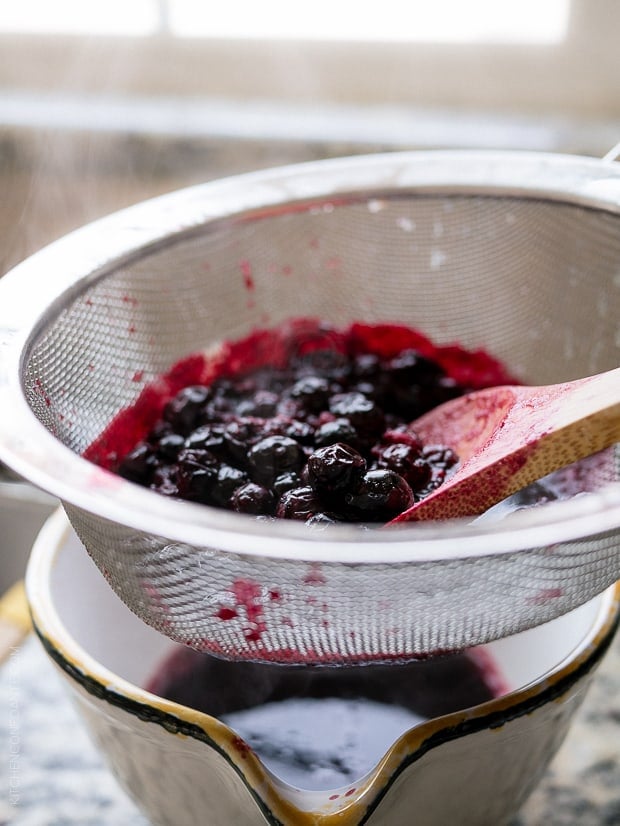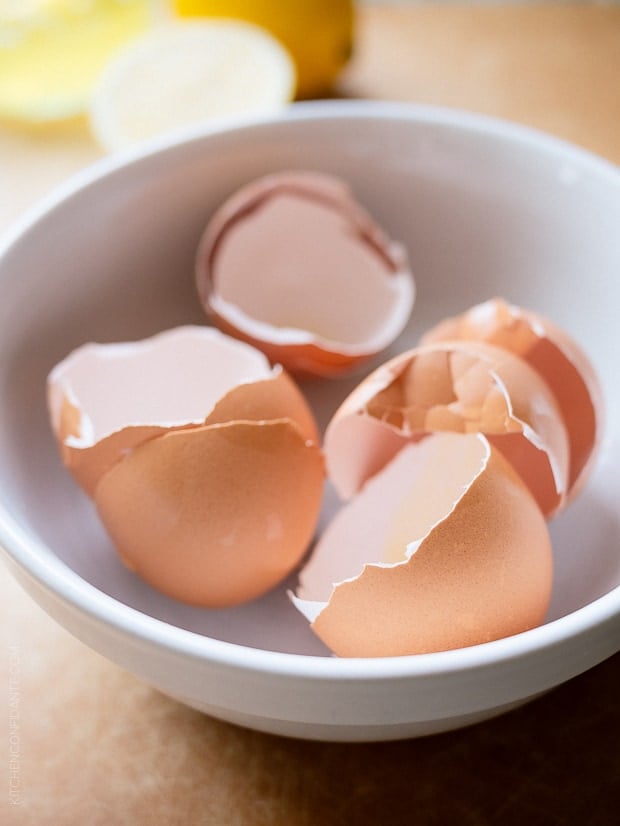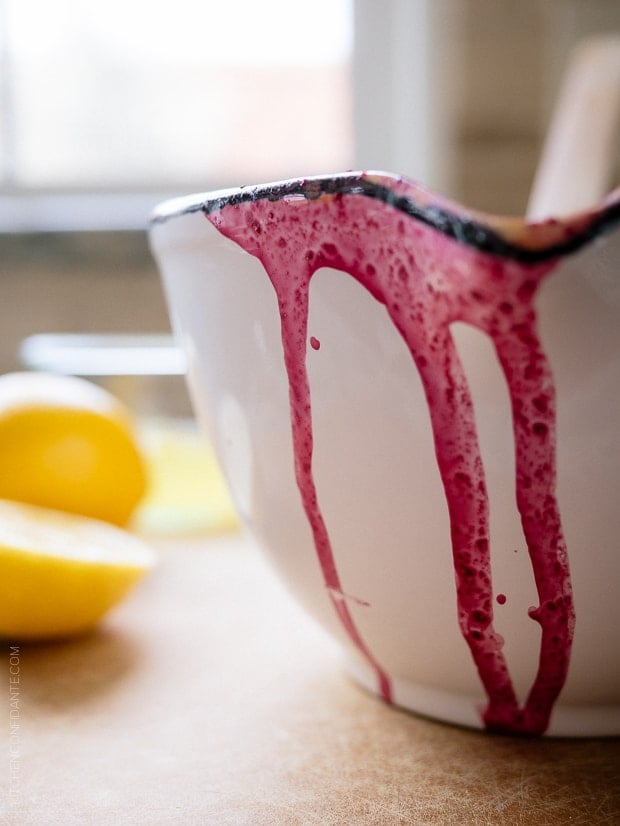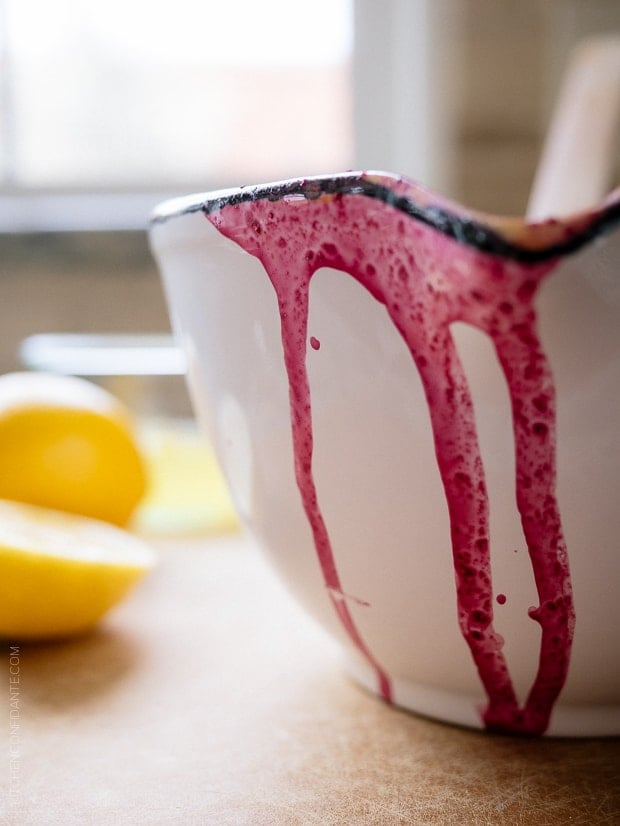 BLUEBERRY BOOTCAMP
So why have I been thinking of blueberries lately? Well a few weeks ago, if you might remember, I was in St. Helena. Nestled in that adorable little valley is the Culinary Institute of America, and I was invited by the US Highbush Blueberry Council to their Blueberry Bootcamp.
This generated giggles from personal friends when I told them why I was away, but blueberry bootcamp is just as it sounds – a delicious weekend dedicated to all things blueberries! Chefs were invited from across the country to learn more about blueberries, using them in different formats (powdered, pickled, as a vinegar, and more), and to hone their skills incorporating blueberries into all kinds of savory dishes.
For me, it was a chance to watch them work in the CIA's massive Viking kitchen, to taste their creations, and even enjoy wine pairings with dishes highlighting blueberries. You can see images of my trip below.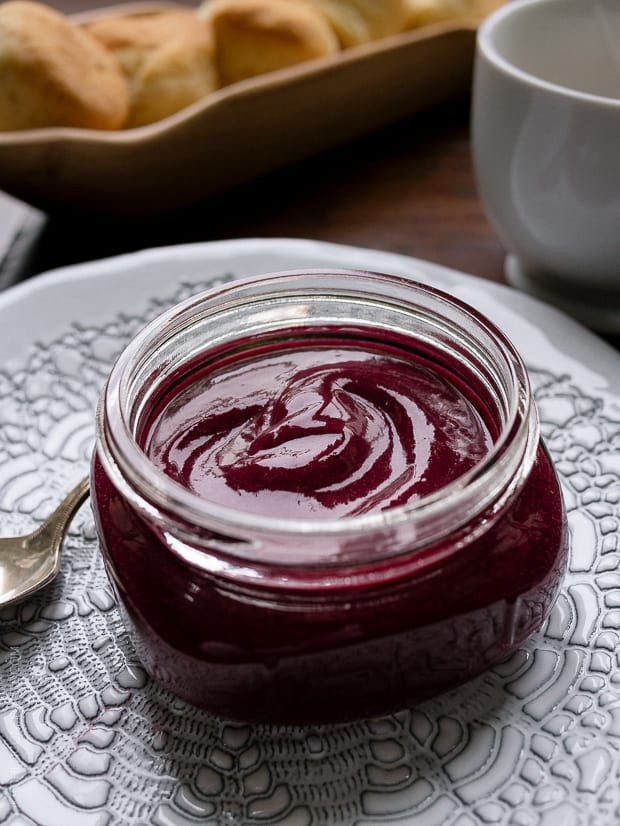 HOW TO USE BLUEBERRY LEMON CURD
Needless to say, I returned home with all sorts of ideas, and have been creating some recipes of my own ever since. But for now, Blueberry Lemon Curd is something I really think you must try. I was so excited as the curd cooled in the refrigerator that I whipped up a batch of quick buttermilk biscuits, and we went to town eating the warm buttery goodness with the tangy-sweet blueberry lemon curd.
There's just a little bit of curd left now, we've been swirling it over everything – I'm loving it in yogurt and oatmeal, and it's wonderful over pancakes and waffles, too. Funny how little changes can make a big difference.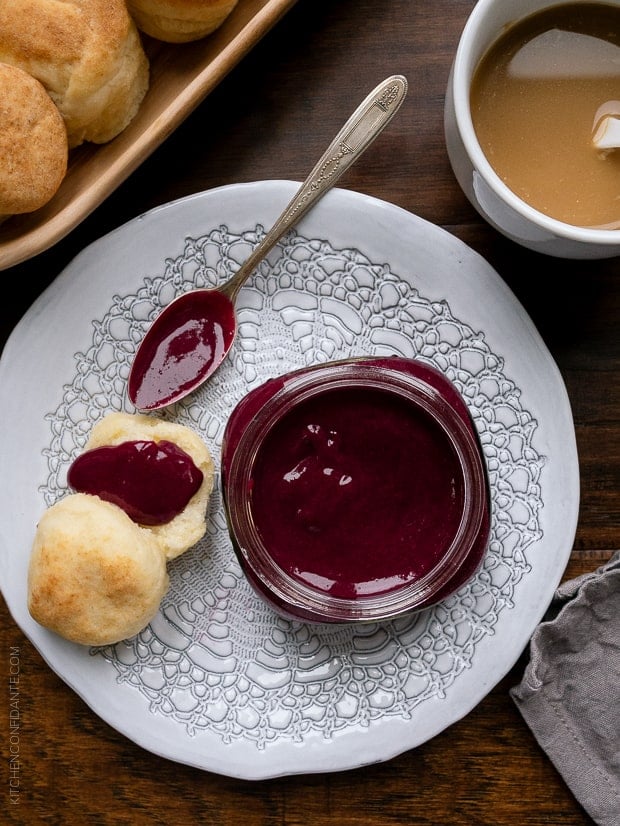 SCENES FROM THE 4th ANNUAL BLUEBERRY BOOT CAMP
Culinary Institute of America, St. Helena
Springtime in Napa is one of my favorite times to visit, and it was fun to join chefs, fellow food media and the US Highbush Blueberry Council at this year's Blueberry Boot Camp. It was a weekend full of exploring creative new ways to make little changes to integrate more blueberries in our meals.
From bulgogi-style Korean beef lettuce cups topped with pickled blueberry, to oysters in a blueberry mignonette, to fresh salads and refreshing blueberry agua fresca, it was a tasty way to see how nutrient rich blueberries can be a part every meal! By the way, one amusing thing I learned was that chefs like to take pictures of their food, too. Scroll down below and you'll see what I mean. Glad to know I'm not alone!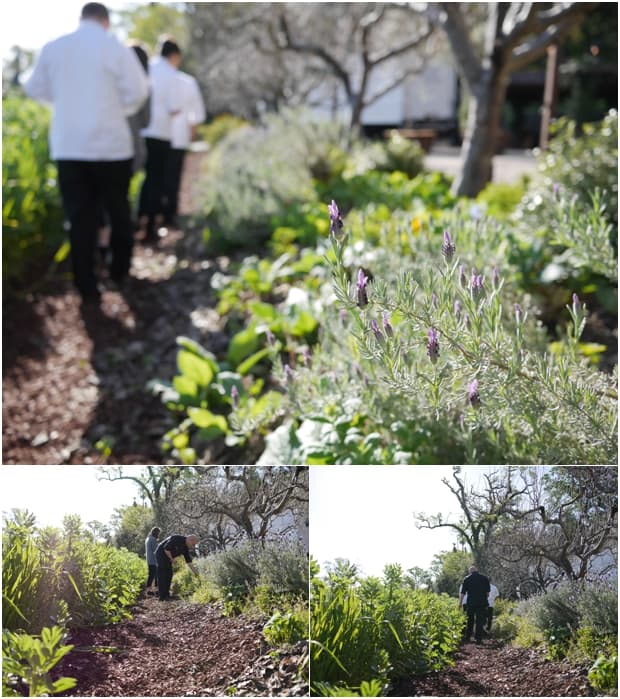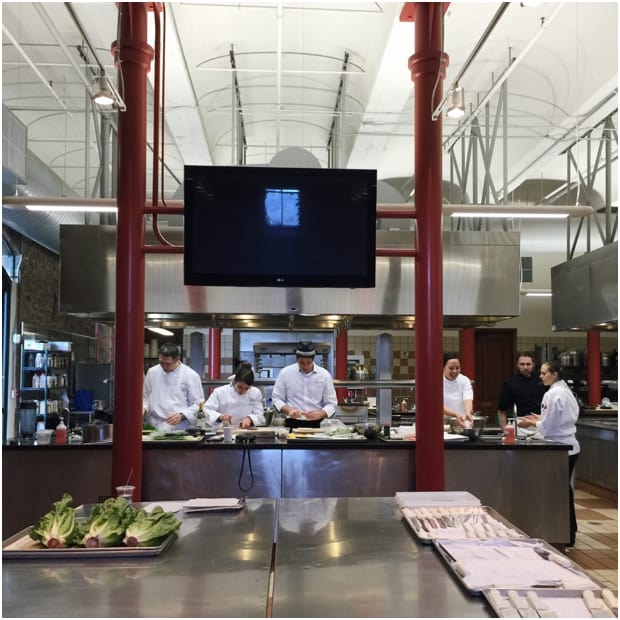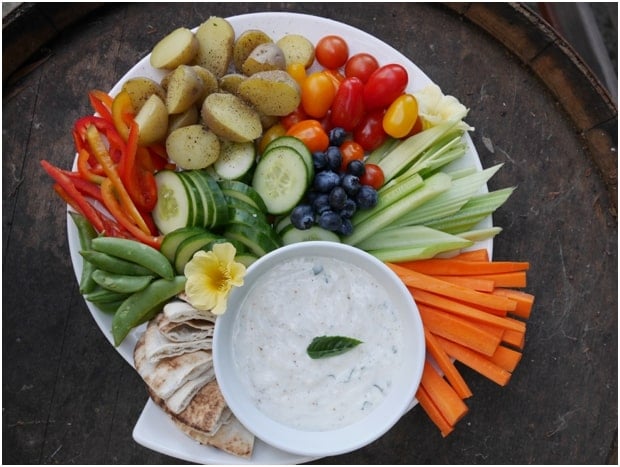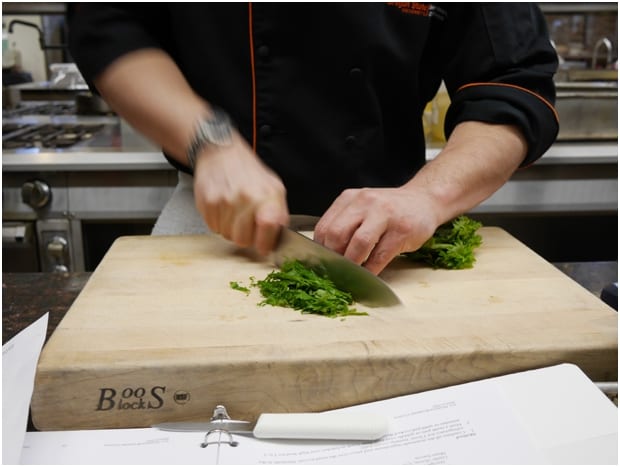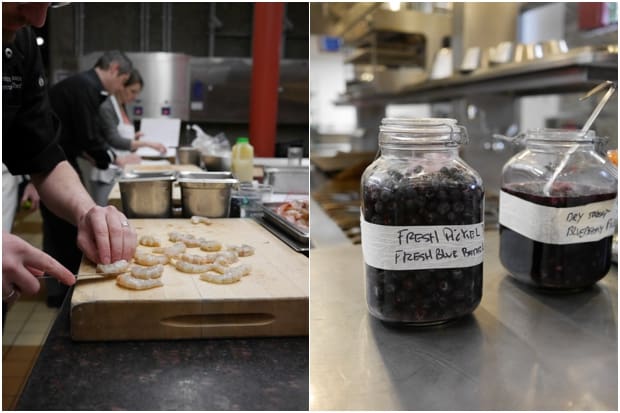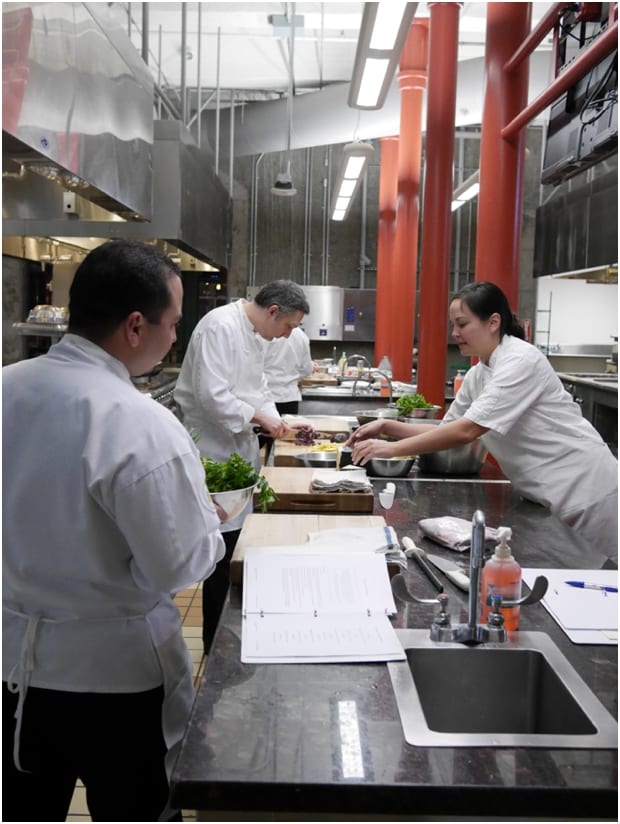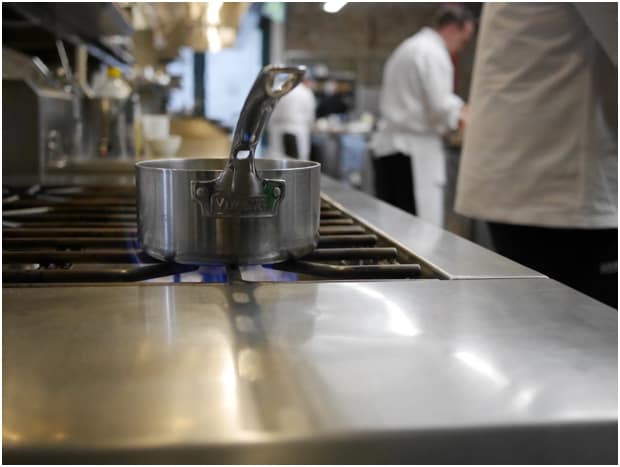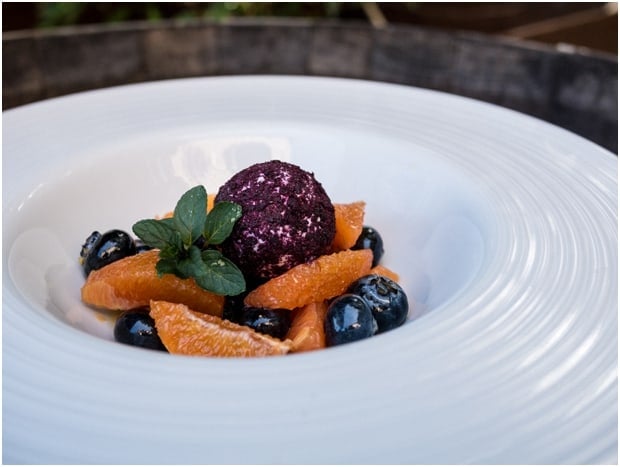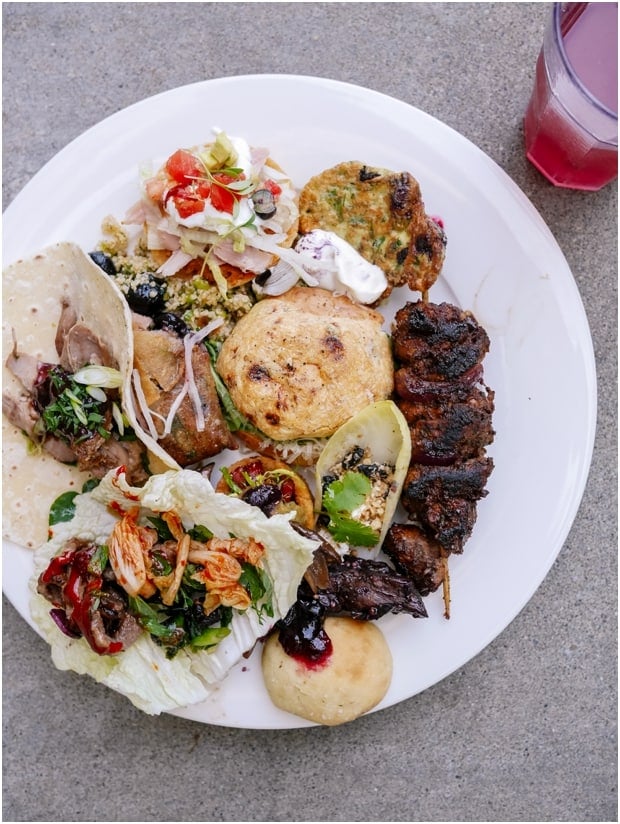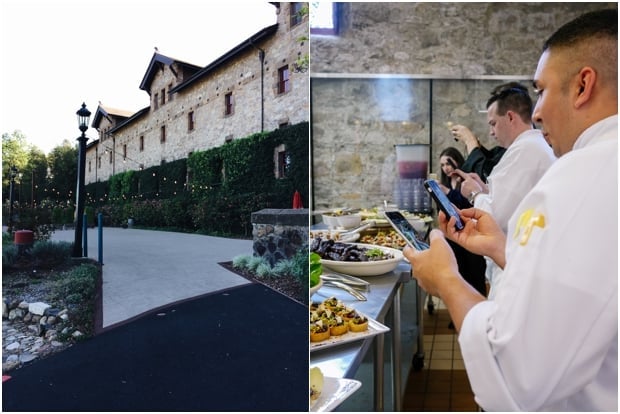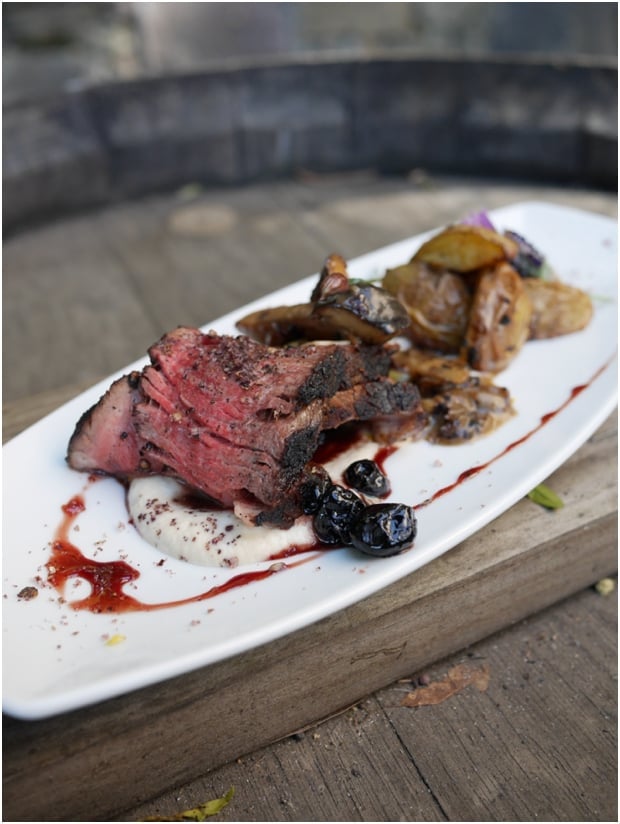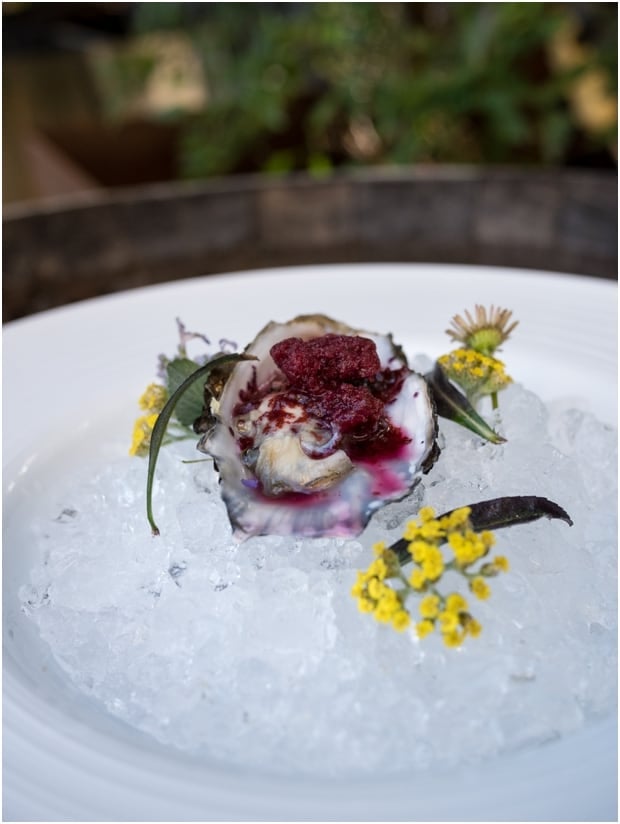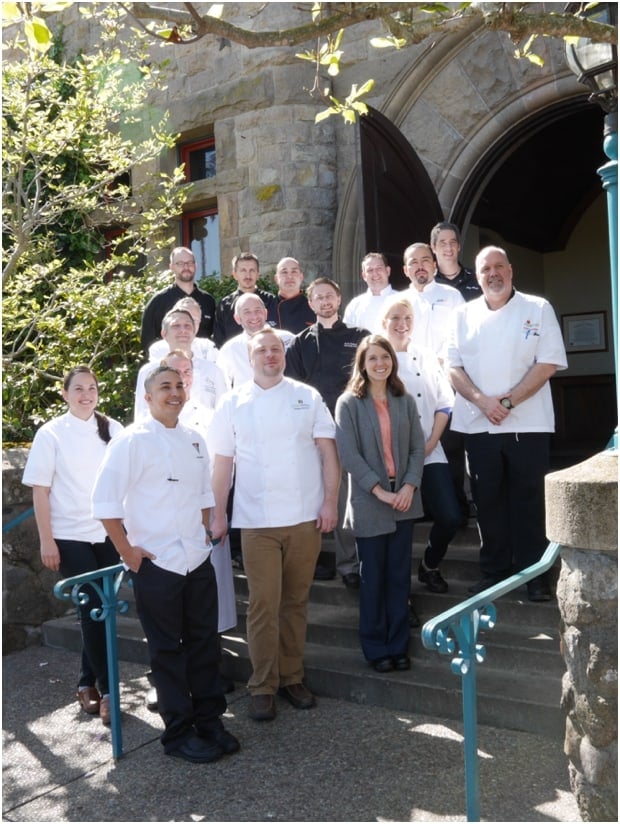 For more blueberry inspiration, visit littlebluedynamos.com and check them out on Facebook, Twitter, Instagram and Pinterest.
Disclosure: I was invited on this trip as a guest of the US Highbush Blueberry Council. All opinions in this post are my own.
WHAT TO SERVE WITH BLUEBERRY LEMON CURD
Oatmeal Pancakes
Apple Oatmeal Blender Waffles
Sunday Morning Pancakes
MORE BLUEBERRY RECIPES
Blueberry Crisp Ice Cream
Blueberry Ginger-Basil Soda
Blueberry Almond Butter Muffins (Vegan)
Blueberry Crisp
Blueberry Acai Frozen Yogurt
Grilled Halloumi Blueberry Salad
Bakery Style Buttermilk Blueberry Muffins
Blueberry Lemon Curd
Whip up a batch of Blueberry Lemon Curd. It's delicious drizzled over biscuits, pancakes, swirled in yogurt, and...pretty much anything.
Ingredients
2

cups

fresh blueberries

1/2

cup

fresh lemon juice

Meyer lemons are especially wonderful, if you have them

3

egg yolks

1

whole egg

3/4

cup

sugar

4

tablespoons

unsalted butter

cut into small cubes
Instructions
In a small saucepan, combine the blueberries and lemon juice, cover, and place over medium heat. Cook until the blueberries pop and the liquid bubbles, about 5 minutes. Pass the blueberries through a strainer, pressing well with a spoon. Be sure to scrape all the brilliant purple puree on the underside of the strainer into the bowl to use. Pour the blueberry puree back into the saucepan and set aside to cool.

Whisk together the egg yolks and egg until combined. While whisking, pour in sugar and whisk until a light yellow color. Add the egg mixture to the blueberry puree in the sauce pan, and continue whisking until creamy and well incorporated, about one minute. Place over medium heat, whisking constantly, until the custard thickens and can coat the back of a wooden spoon, about 8-10 minutes. Remove the pan from the heat, and stir in the butter, one cube at a time.

Strain into a bowl or jars, cover the surface with plastic wrap, and chill in the refrigerator for at least one hour.
Notes
Adapted from my recipe for homemade Lemon Curd.
Can Blueberry Lemon Curd Be Canned?
Many people ask if blueberry lemon curd can be processed in a hot water bath for long-term storage, similar to jams and jellies. I know friends who do make and can fruit curds. In general, what I have learned is frozen lemon curd can be kept much longer (up to 1 year) than lemon curd that is preserved by canning (3-4 months), but the key in doing it the latter way is using bottled versus fresh lemon juice. The worry is that fresh lemon juice lacks the acidity to make the canning safe.
I recommend checking out these two links that have info/recipes for canning lemon curd:
http://www.uga.edu/nchfp/how/can_02/lemon_curd.html
http://www.uga.edu/nchfp/publications/nchfp/factsheet
Nutrition
Calories:
1414
kcal
|
Carbohydrates:
204
g
|
Protein:
17
g
|
Fat:
65
g
|
Saturated Fat:
15
g
|
Cholesterol:
750
mg
|
Sodium:
460
mg
|
Potassium:
473
mg
|
Fiber:
7
g
|
Sugar:
183
g
|
Vitamin A:
1176
IU
|
Vitamin C:
76
mg
|
Calcium:
112
mg
|
Iron:
3
mg