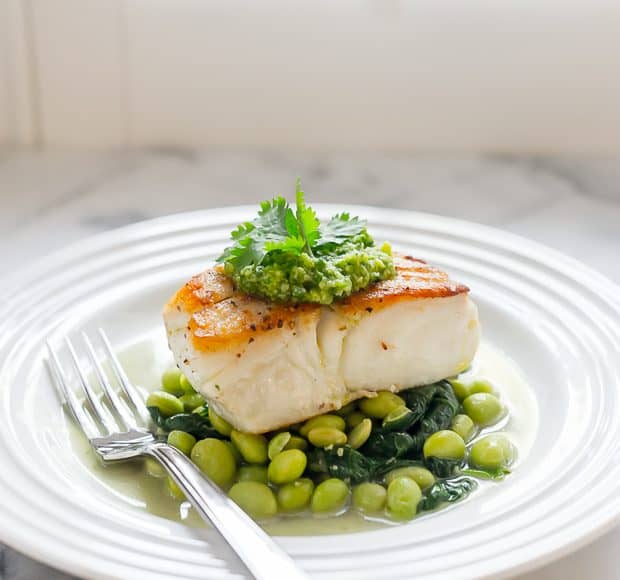 Simple Sundays | Pan-Roasted Halibut with Cilantro Edamame Pesto
"Did you feel that?" I can't tell you how many times I wake in the middle of the night, 100% convinced that the house is shaking. I wake up my husband, and check my phone to confirm my suspicions. But as convincing as the shaking…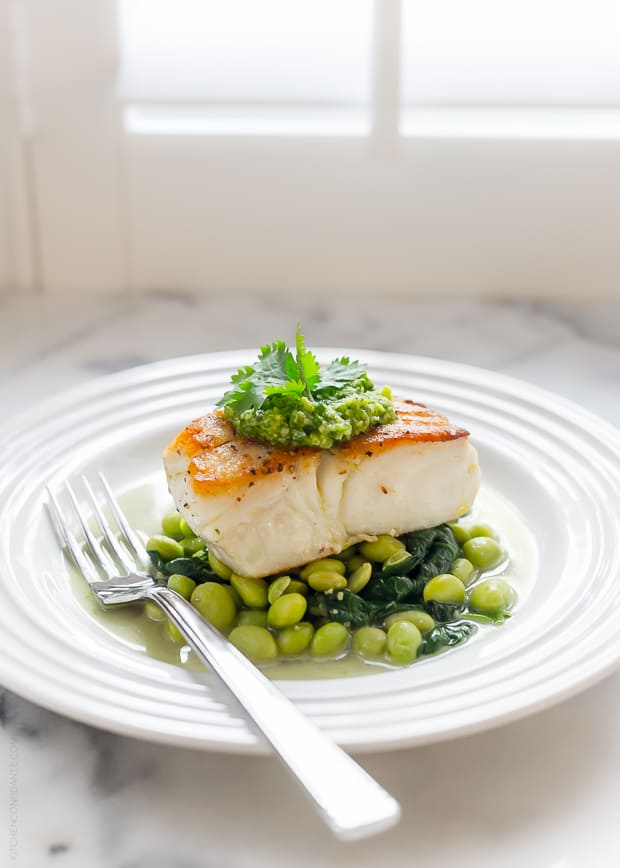 Simple Sundays | Pan-Roasted Halibut with Cilantro Edamame Pesto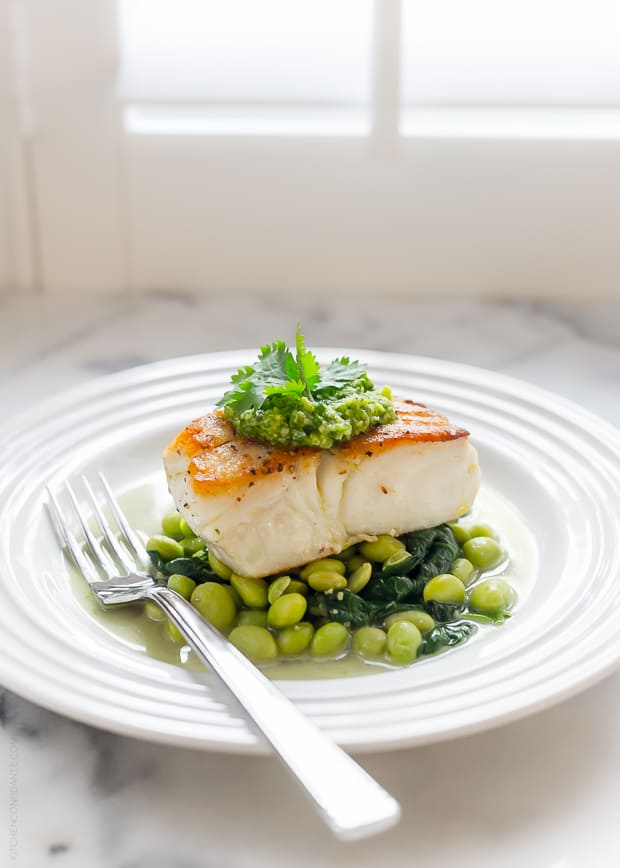 "Did you feel that?" I can't tell you how many times I wake in the middle of the night, 100% convinced that the house is shaking. I wake up my husband, and check my phone to confirm my suspicions. But as convincing as the shaking bed is to me, it turns out to be a recurring nightmare. It's not just tucked away in my cozy bed, here in California. The last time I awoke to this recurring imaginary earthquake was when we were in Maui a month ago. I've learned to not wake my husband anymore.
Last night was different.
"Did you feel that? We're having an earthquake!" This time it was my husband who roused me, at 3:20 am. I thought it was just another of my dreams, but he felt it, too. And when I woke this morning, we learned it was a rather big one, not far at all from where we used to live when we first moved to California.
Mother Nature's wake up call. It can be serious for some. For the rest of us who live here, it's a reminder to be prepared. For me, it's a reminder to value the simple things in life.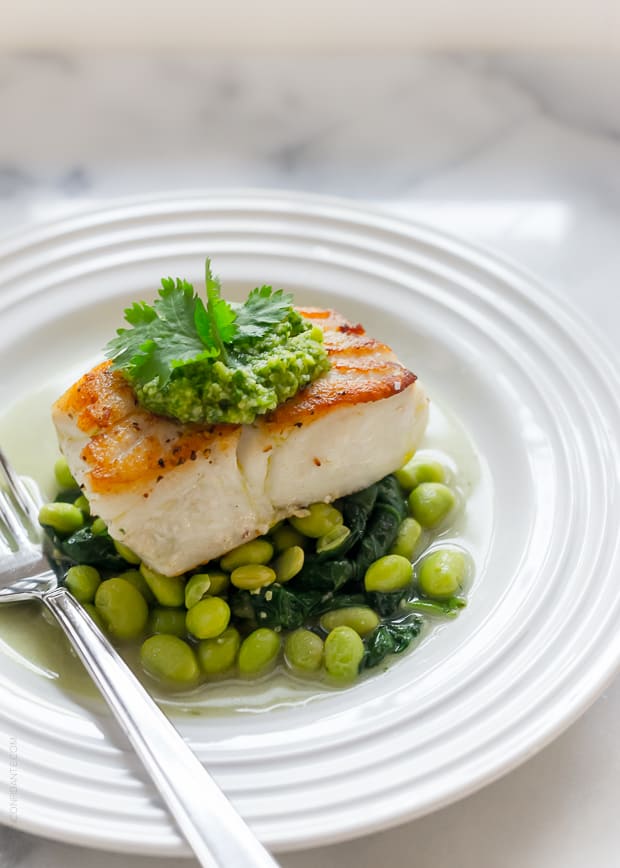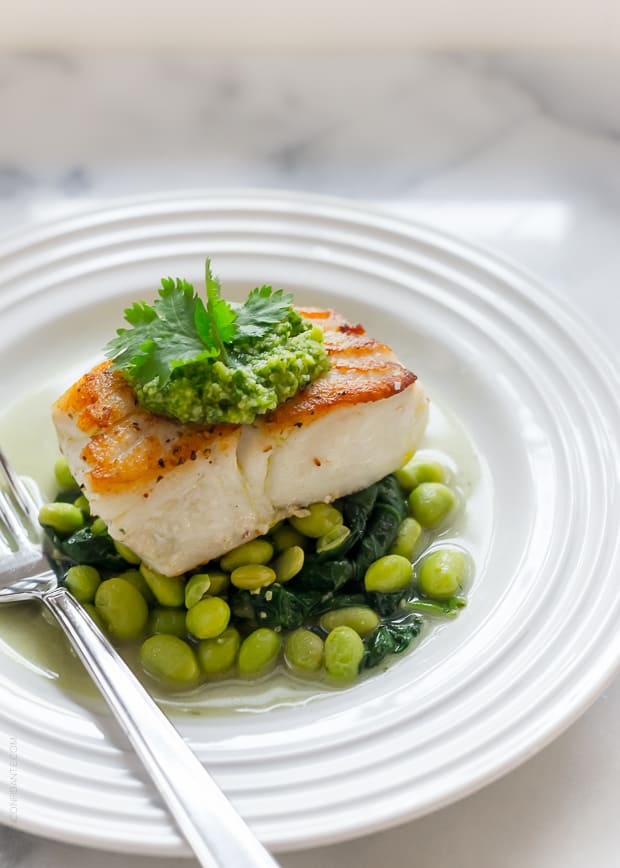 Last night I made this Pan-Roasted Halibut with Cilantro Edamame Pesto. Halibut is one of our favorite fishes, and I'm learning that pan roasting is one of my favorite preparations. I love the crust on the fish, and how the last 5 minutes of cooking in the oven is just the time I need to stir some pesto into some spinach and edamame. Topped with cilantro edamame, it adds a garlicky zest to each bite.
Pan-Roasted Halibut with Cilantro Edamame Pesto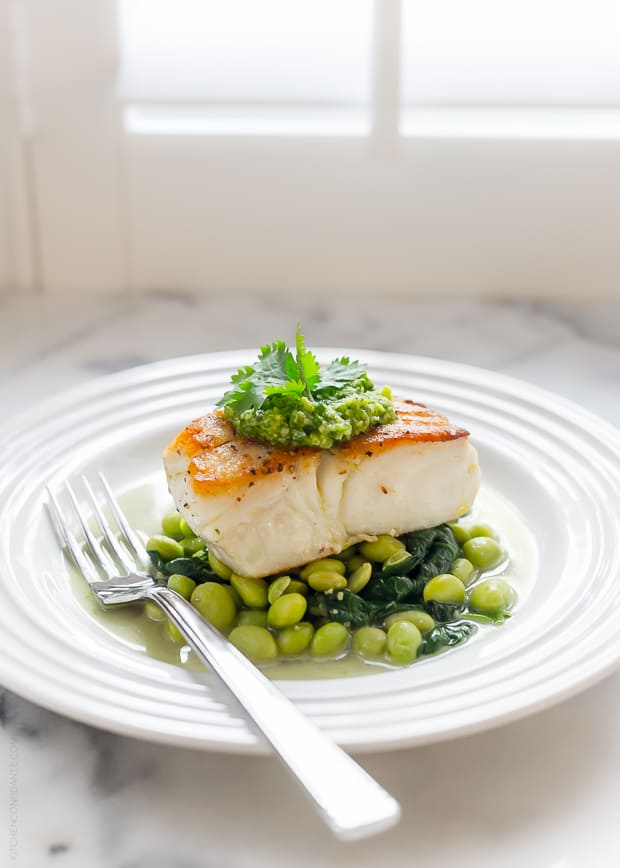 Print Recipe
Ingredients
3 cloves garlic
2 cups edamame, divided
1 cup cilantro leaves, plus more for garnish
1/2 teaspon kosher salt
1/4 cup extra virgin olive oil, plus 2 tablespoons
juice of half a lemon
4 4-oz halibut fillets
kosher salt
freshly ground black pepper
2 cups spinach
3/4 cup chicken stock
1 tablespoon butter
Instructions
Preheat the oven to 400°F.
In the bowl of a food processor, process the garlic, 1/4 cup edamame, cilantro and salt until it becomes a paste. With the food processor running, add 1/4 cup olive oil. Season to taste with lemon juice, salt and pepper. Set the pesto aside.
Season the halibut on both sides with salt and pepper. Heat 1 tablespoon olive oil in a non-stick oven-safe pan over medium high heat. Sear the halibut on one side for about 3 minutes. Gently turn the fillets and place in the oven to roast for about 4-6 minutes, depending on the thickness of the fish. The halibut should just be flaking but not dry.
Heat remaining tablespoon of olive oil in a small pan over medium heat. Add remaining edamame to the pan, along with the spinach. Pour the chicken stock in and let it come to a bubble. Season with salt and pepper and stir in the butter and 1-2 tablespoons of the pesto.
To serve, divide the edamame and spinach between 4 plates. Top with the halibut, and put a dollop of pesto on top of the fish. Garnish with cilantro, if you wish. Serve immediately.