Five Little Things
Well, it's Friday, my friends, and I hope you have recovered from the week of chocolate! I'm half kidding, since I love chocolate so much, but I will admit that since we've had so many candy focused holidays since Halloween, I personally can't wait until…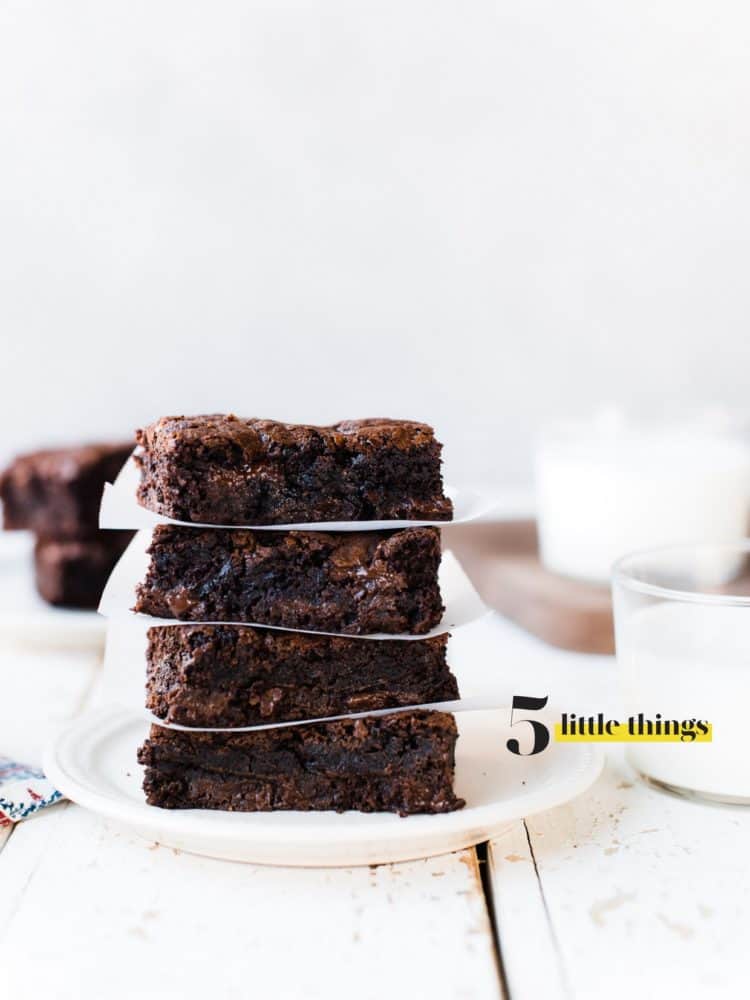 Five Little Things
Well, it's Friday, my friends, and I hope you have recovered from the week of chocolate! I'm half kidding, since I love chocolate so much, but I will admit that since we've had so many candy focused holidays since Halloween, I personally can't wait until Easter is over so we can have a bit of a break!
Here are Five Little Things I loved this week:
1. Ditch the Box
Sometimes you just need an ooey-gooey brownie. This week, for example, was prime brownie week. I can't tell you the last time I made brownies from a box, though, because I always turn to my go-to recipe for simple (but in my mind, perfect) brownies.
2. Sing in the Morning
I love listening to podcasts throughout the day, whether I'm in the middle of developing a recipe, washing the dishes, packing lunches, or in the car running errands. My newest fave is Oprah's SuperSoul Conversations, and in her chat with Gretchen Rubin on her 8 Rules to Happiness, I loved how they mentioned that singing in the morning (or anytime during the day!) can set the tone and bring happiness to your day. It's true! Give it a try!
If you prefer to watch while listening, here's the video!
3. Adrenaline
I haven't watched as much of the Olympic games as I would like, but I hope to make up for that over the weekend. Just watching this skeleton racer gives me an adrenaline rush — I can't image the real thing!
4. Get Traveling
Exploring the world is my favorite part of life, something I am so grateful my parents gifted us as a family when we were growing up. Sal Lavallo has been to every country in the world, and has me itching to pack my bags!
5. Date Night
If you have kids, you know the struggle is real when it comes to going out for date night. I LOVE how this husband takes date night in into his own hands!
Wishing you a happy (long) weekend!