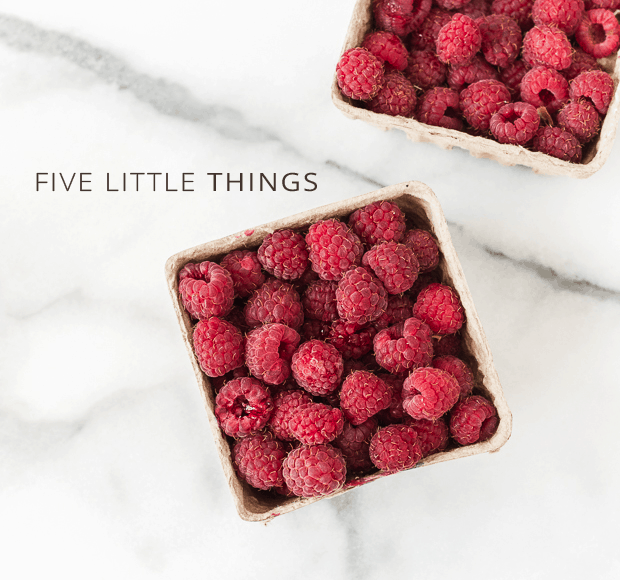 Five Little Things
Five little things I loved this week: Raspberries Oh the raspberries. They are perfect this time of year. Plump and juicy, sweet and plentiful in the markets. This really is the best time for them! I love it in so many ways, from salad dressing,…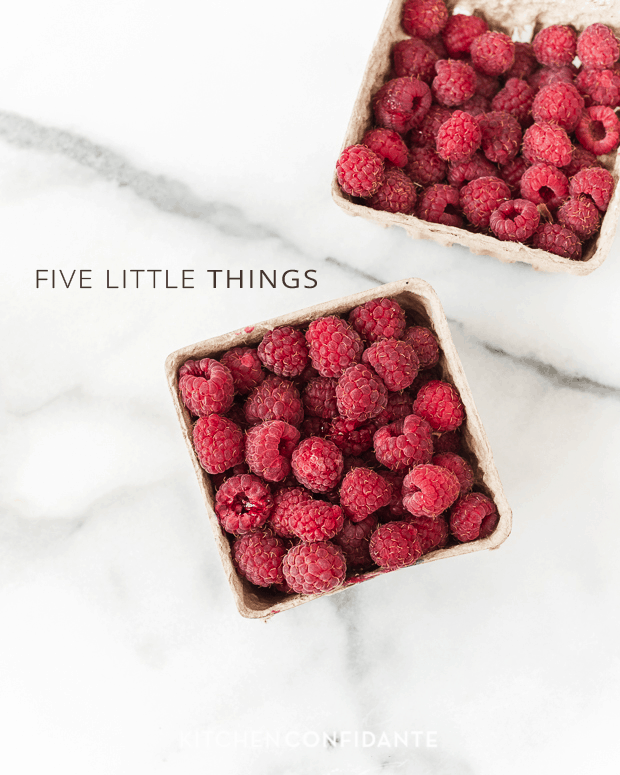 Five Little Things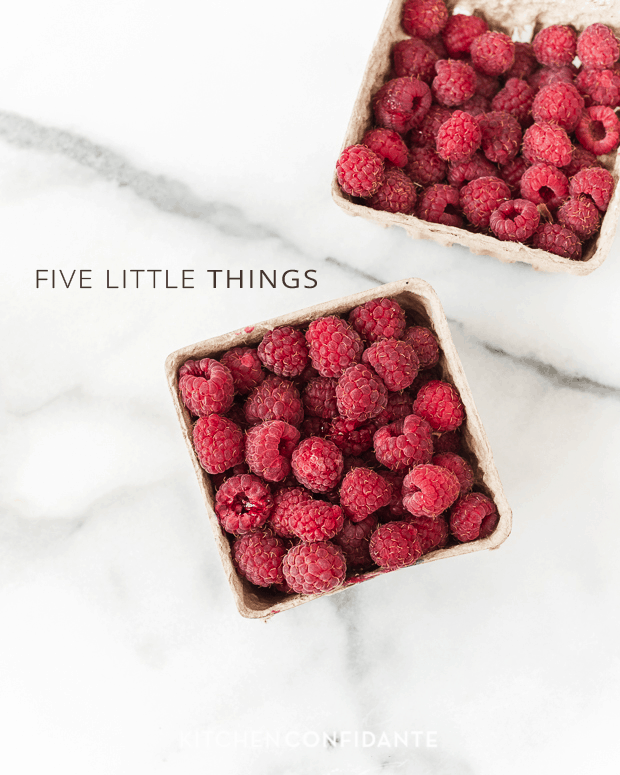 Five little things I loved this week:
Raspberries
Oh the raspberries. They are perfect this time of year. Plump and juicy, sweet and plentiful in the markets. This really is the best time for them! I love it in so many ways, from salad dressing, to Berry Crisp Parfaits, to Raspberry Jam Brownies. I'm also smitten with Sukaina from Sips and Spoonful's Raspberry and Coconut Summer Cake, Barb from Creative Culinary's Raspberry Vodka Mojito, and Kankana from Playful Cooking's Raspberry Ricotta Chocolate Cake. Berry inspirational. (Sorry, I get my corny humor from my dad.)

Neighbors and Sangria
Speaking of berries, I used a bunch in a delicious sangria last weekend as we gathered with neighbors to toast the beginning of summer. I just love these last minute block parties, relaxing by the fire pit, and letting the little ones play to their heart's content without a bedtime in mind. I can't wait to share the sangria recipe with you, do stay tuned.
Instavideo – Yay or Nay?
When Instagram rolled out their new video capabilities, I was really put off. I even resisted. The main reason I am a huge fan of Instagram is because it is peaceful, scrolling through images, little time capsules of lives connected through the interwebs. But I was curious. So I upgraded my app. And watched the first video. It was a pinch-worthy, chubby baby, and I have to admit, it was nice to see families come to life. So, I'm torn. Do I love it or hate it? Not sure yet. But I did give it a try, with some Italian Wedding Soup. Not sure if I'll do more videos, but it was fun!
Thelma & Louise
I'm not talking about Geena Davis and Susan Sarandon. I'm talking about the adorable two-headed turtle that recently hatched at the San Antonio Zoo. Aptly named Thelma and Louise, I think they should make friends with the two-faced cat, don't you?
This is 200 Calories
A fun (or perhaps not so fun) way to visually appreciate 200 calories, from the minds behind AsapSCIENCE. (Click here if the video does not appear in your browser.)
Happy Friday, everyone! Can you believe it's almost July??? What do you have planned for the 4th!?
As you may already know, Google Reader will be obsolete as of July 1st. If you love following your favorite blogs via RSS feed like I do, and are still looking for a new rss reader, you may remember that I love Feedly and Bloglovin' – clean, easy to use, and it makes my feeds look like I'm flipping through a glossy magazine. You can find me there, and if you have been a subscriber, I thank you and hope you'll follow me there.
Also…if you are an email subscriber, you will have noticed that starting today, the email updates are shiny and new. I am so excited to offer a better looking way for you to receive updates via email. If you would also like to receive posts and updates in your inbox, please consider signing up. Thank you!