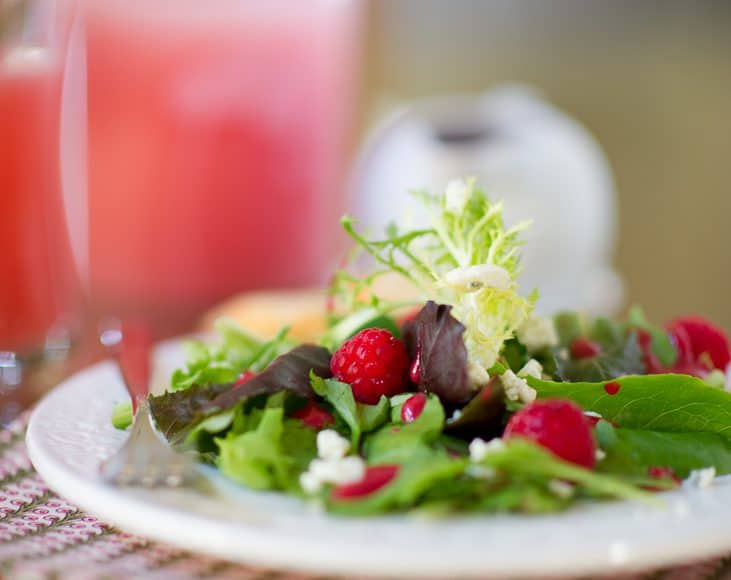 Raspberry Salad Dressing
I'm wearing my first sweater of the season. Yes, it is official, autumn is finally here (or perhaps I should say, it finally feels like autumn), and my fingertips are even chilled as I type this morning. Everywhere I turn, there are pumpkins and squashes,…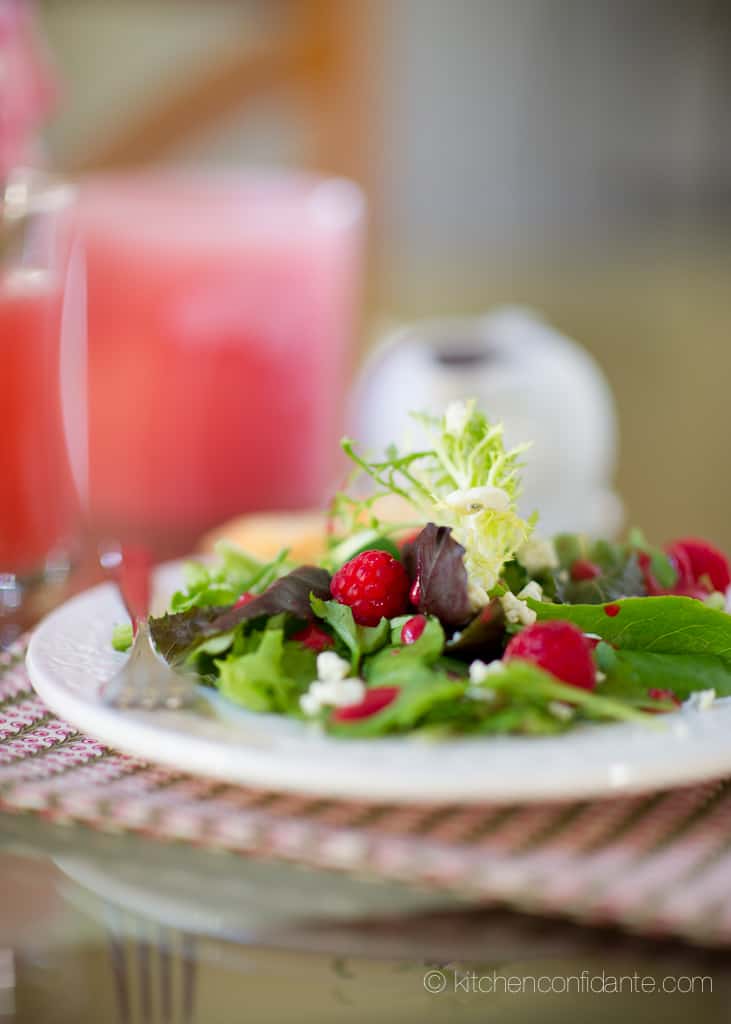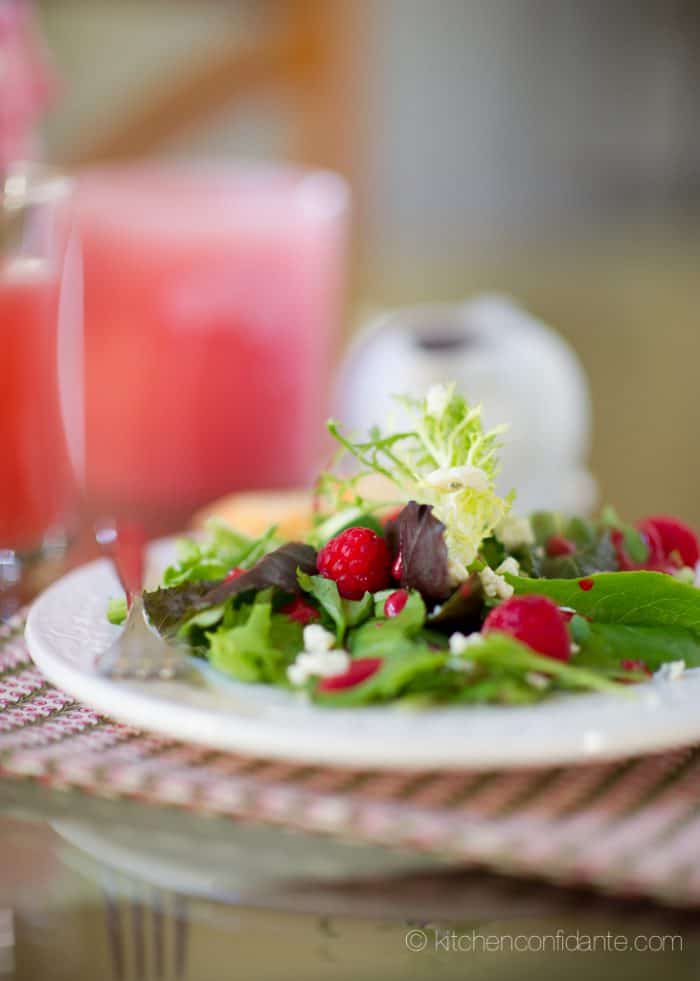 Raspberry Salad Dressing
I'm wearing my first sweater of the season. Yes, it is official, autumn is finally here (or perhaps I should say, it finally feels like autumn), and my fingertips are even chilled as I type this morning. Everywhere I turn, there are pumpkins and squashes, pears and apples, and the crisp thin air of fall. I may have officially embraced the autumn season, but I have to tell you, I snuck in a little taste of summer recently.
At last week's Eggland's Best Pink Party, my tabletop was composed of varying shades of pink – from the napkins to the flowers, the cookies and the cupcakes. Even the salad was dressed in a shocking, but lovely, shade of fuschia – the Raspberry Salad Dressing was definitely a head turner with its sweet and tangy flavors. Drizzled over fresh greens punctuated by fragrant (read: deliciously stinky) Gorgonzola cheese and slivers of pecans, it was a fabulous salad to go with the savory bread pudding. So even though summer is, by now, a fond memory, if you ever feel like sneaking in a bit of sunshine, put some frozen raspberries to work and make this gorgeous salad dressing. You won't tan, but it will hold you over till next year.
Frozen raspberries make this dressing enjoyable all year round! Drizzle it over your favorite greens, and highlight it with some delicious Gorgonzola or goat cheese.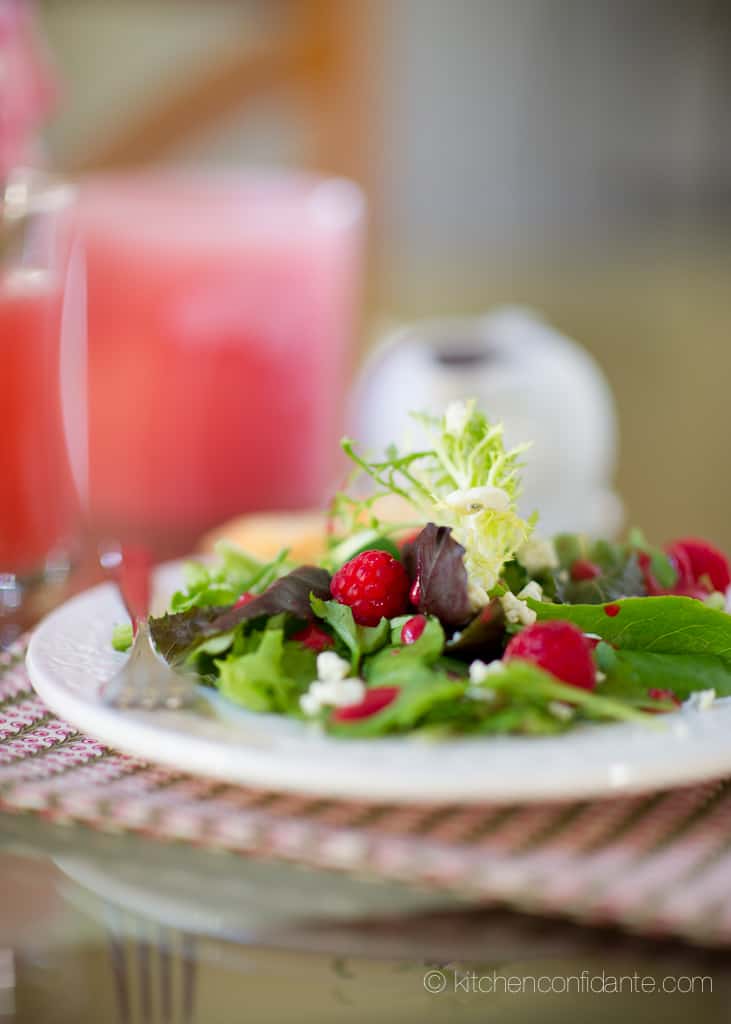 Print Recipe
Ingredients
2/3 cup frozen raspberries, thawed
1/2 cup sugar
1/4 cup red wine vinegar
1 tablespoon dry mustard
1/2 teaspoon salt
1/2 teaspoon lemon juice
1/2 to 1 cup olive oil
Instructions
Blend the raspberries, sugar, vinegar, mustard, salt and lemon juice in a food processor. With the motor running, drizzle in the olive oil until it emulsifies into a creamy consistency. Drizzle over your favorite greens and serve. If preparing in advance, refrigerate in a sealed container, and do whisk well before serving.