Five Little Things
Five Little Things I loved the week of September 3, 2021: tomatoes, a big anniversary, 100 year beauty, and more!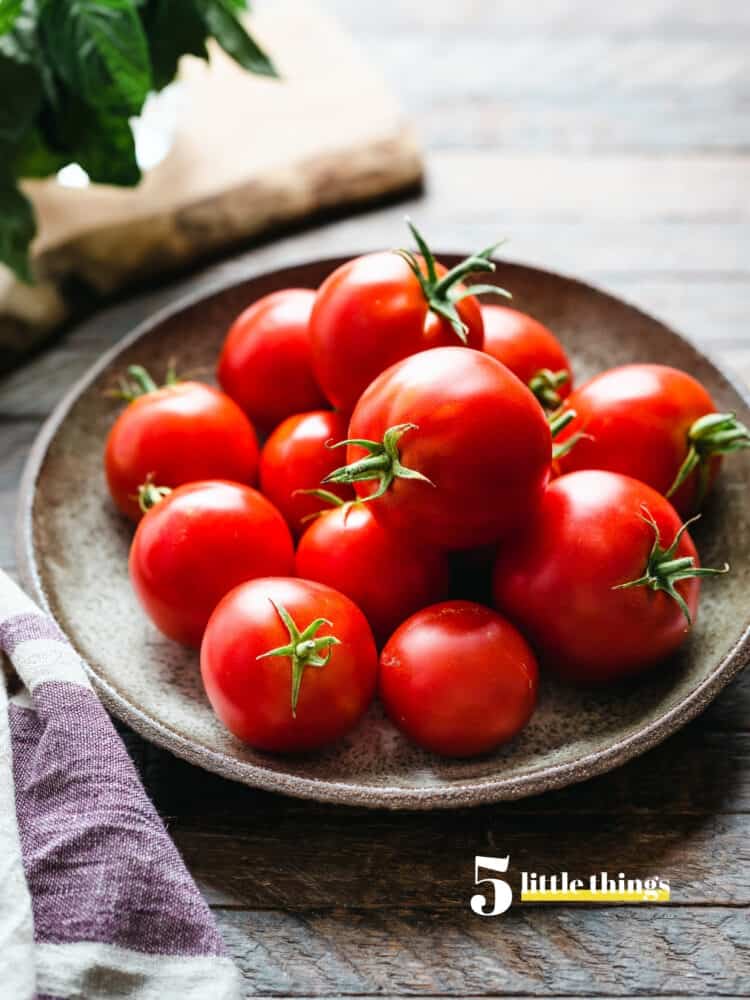 Five Little Things
Happy Friday, everyone! Are you ready for the long weekend? I hope that wherever you are in the world, that you are doing ok. There have been many areas that have been hard hit this week, so please know that my thoughts and prayers are with those who are suffering. It makes me appreciate all the little things even more, and I hope I can give you something to smile about.
Here are Five Little Things I loved this week:
1. Tomatoes and Basil
The tomatoes have been so lovely, and I was lucky enough to get a batch of vine-ripened beauties from our friend from the old neighborhood who has been gardening up a storm! What are you favorite ways to enjoy tomatoes? I plan on making Roasted Tomato, Garlic and Herb Soup, one of my son's all-time favorites! I also plan on feasting on Burrata with Heirloom Tomatoes this weekend.
Also, you can't have tomatoes without basil. If you want to grow abundant, healthy basil, check out these tips from Daisy Creek Farms with Jag Singh.
2. 20 Years
My husband and I celebrated twenty years of marriage this week. 20! It sounds like such a huge number, I can hardly believe it. Honestly, it seems like we were just celebrating our 5th anniversary not too long ago. Time can be precious and cruel, but all I know is that I am so very grateful.
3. 100 Year Beauty
Each day we have is a gift, so we should embrace each day we receive. As we get older, I must remind myself to treasure all the reminders that we get to live on this earth another day, so I love how Vogue Korea shared the piece "Introducing My Grandmother Who Is as Beautiful as a Flower" last year in the September 2020 issue.
View this post on Instagram
4. Edible Education
"Change what you eat, and you'll come back home." I loved listening to this conversation between Joanne Weir and Alice Waters.
5. Sweet and Savory Filipino Flavors
My podcast guest this week was Melody Lorenzo, of San Francisco-based Sweet Condesa Pastries.
Melody has been creating a stir here in the Bay Area with her Filipino- and Latin-inspired pies and pastries, and I chatted with her on this week's podcast about her journey from her career working for the state to her reign as the Pinay Pie Lady! I loved chatting with her about the inspiration behind the flavors she shares and how she is spreading ube, calamansi, guava and more with everyone who tastes her pastries! I hope you tune into Melody's episode!
We can't have sweet without the savory, and I am putting this Southern California Filipino BBQ spot, The Park's Finest on my bucket list:
Stay joyful!!