Burrata with Heirloom Tomatoes
"I can't live without cheese," my mother used to say, when she would indulge in a sliver of her favorite cheese. I grew up nibbling on the cheeses she loved best – those that were sharp and mellow, savory and strong. The Di Bruno Brothers…
Burrata with Heirloom Tomatoes
"I can't live without cheese," my mother used to say, when she would indulge in a sliver of her favorite cheese. I grew up nibbling on the cheeses she loved best – those that were sharp and mellow, savory and strong. The Di Bruno Brothers House of Cheese Cookbook would describe these cheeses as "Mountain Men." Bold. Cheeses that are your hiking buddies.
I now picture my mom in our old kitchen, chatting it up with some burly Swiss mountain men, as they slice into a wheel of Emmentaler.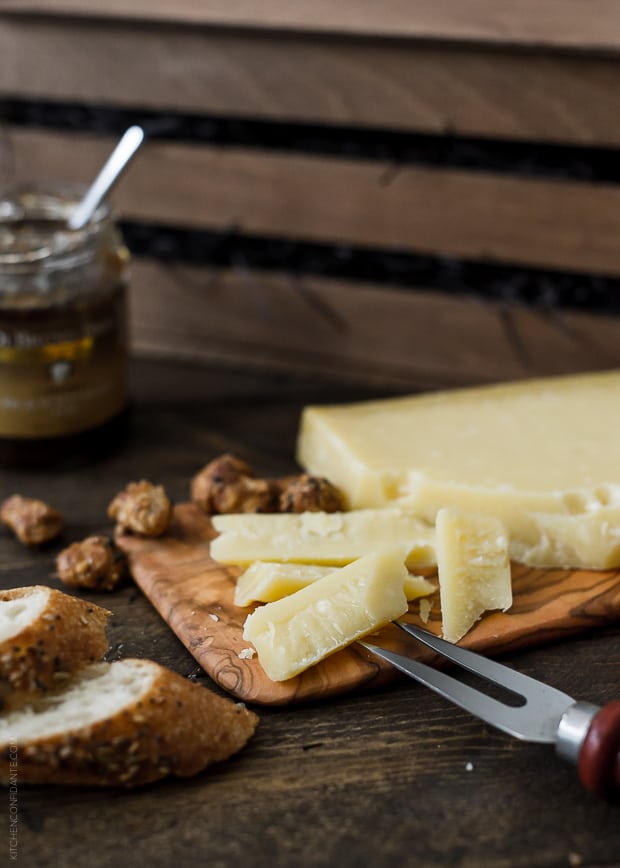 It was precisely a wheel of Emmentaler in Switzerland that captivated Italian immigrants, Danny and Joe Di Bruno, inspiring them to transform their Philadelphia grocery into an emporium dedicated to the world of cheese. Back in 1939, they created Di Bruno Brothers House of Cheese, and this year marks their 75th year as not only a family business, but as a destination for impeccable cheeses, meats, and specialty products.
I received a lovely copy of their cookbook to review, as well as an incredible giveaway (more details below) to help celebrate this milestone. The first thing I noticed was the personal message from 3rd generation Di Bruno Bros. president, William Mignucci, Jr. inside my copy's cover. In his script, I felt the pride with which he spoke of his family business, and the philosophy of service they embrace with each customer, whether in personal or their online store. This personal touch was handed down from generation to generation, and I truly felt it, as I read his note and the story behind Di Bruno Bros.
Here was a cookbook that was as much a family history heirloom as it was a love story about cheese.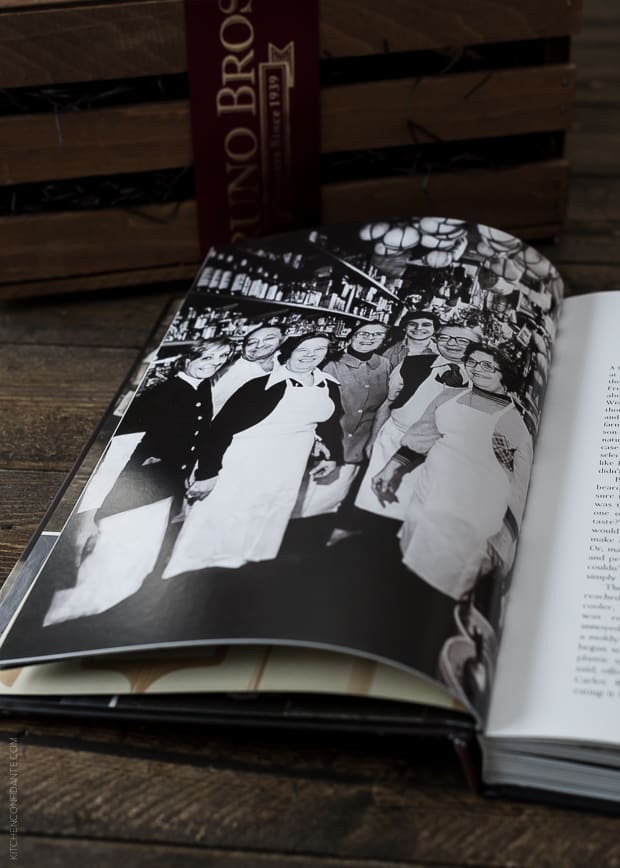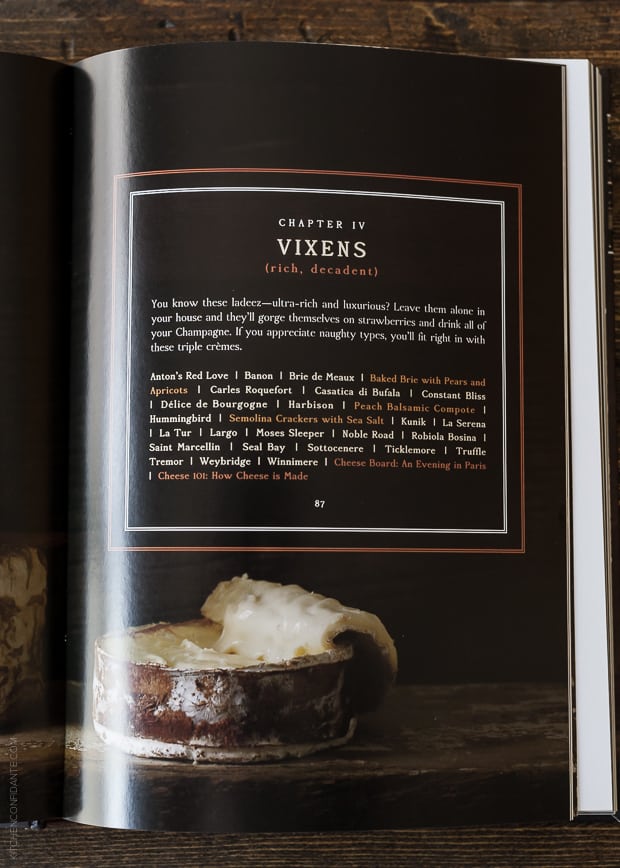 Have you ever thought of cheeses as having personalities? Just as my mother loved cheeses Di Bruno Bros calls "Mountain Men," I favor the "Free Spirits:" cheeses that are made from goats milk, sunshiny and herby, and are "great picnic mates and beach buddies…friendly and summery." I love that! It's so true. The House of Cheese cookbook talks about The Vixens and The Stinkers, The Quiet Types and the Wise Guys, The Rockstars and the Pierced Punks, to name a few.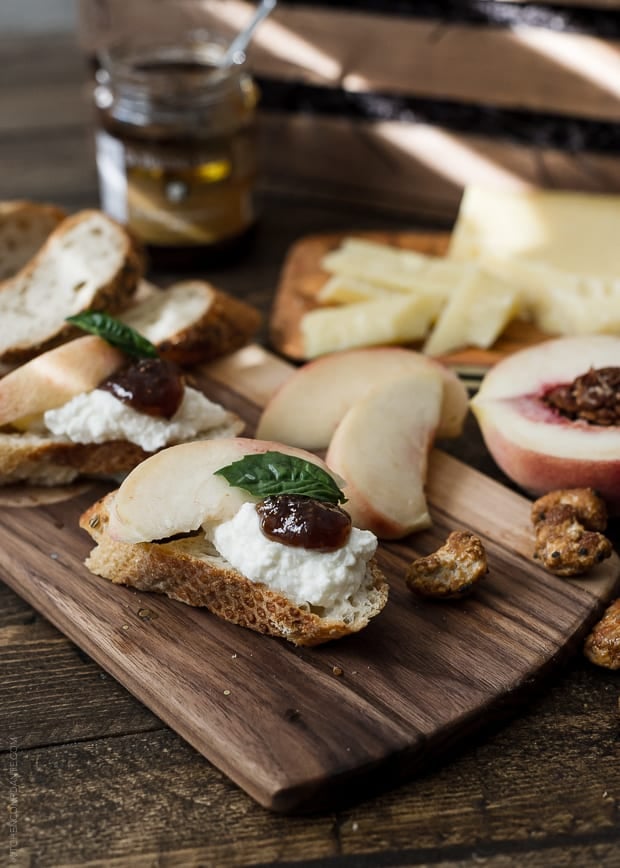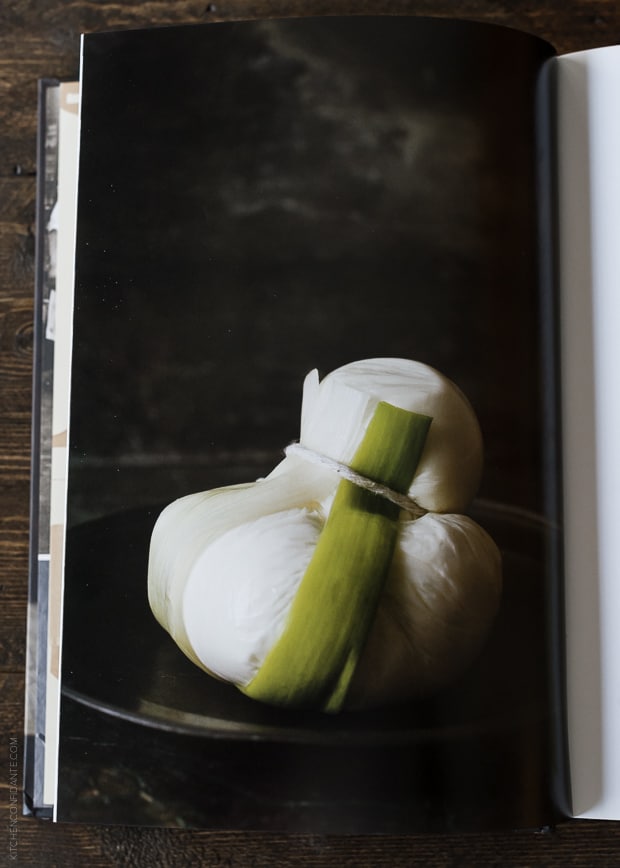 I'll tell you what else I love. The Baby Faces. The cookbook is full of amazing recipes and pairing suggestions, and I was eager to try them. I was inspired to pair sweet tender peaches with pillow of ricotta, sprig of fresh basil and a dollop of their delicious Fig Jam.
And I knew I had to make the Burrata with Heirloom Tomatoes. Burrata has a special place in my heart, and with all the gorgeous summer tomatoes out there, it was the perfect dinner last week as we settled into hot evenings when cooking sounded impossible.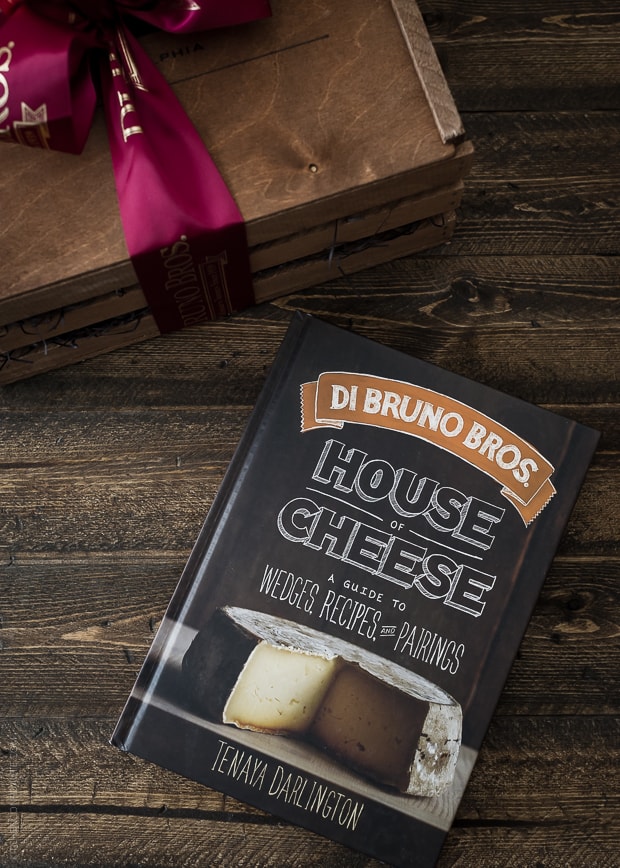 I can't tell you how excited I am to be able to share all the cheesy goodness with one of you! This generous gift basket includes a copy of Di Bruno Bros House of Cheese Cookbook, a $25 gift card to pick out your own goodies at Di Bruno Bros, and a selection of their signature cheese and meats, gourmet jarred goods, crackers and delightful snacks. Everything in it is exceptional. All you would need is to invite some good friends over and open a bottle of wine.
Also, I'm not the only one with this delicious giveaway. Be sure to check out Katie at the Kitchen Door, Dine and Dish and All Day I Dream About Food for the recipes and pairings they loved, as well another chance to win this gorgeous cookbook and basket. Of course, you can also dig right in and order Di Bruno Bros. House of Cheese: A Guide to Wedges, Recipes, and Pairings here
, too!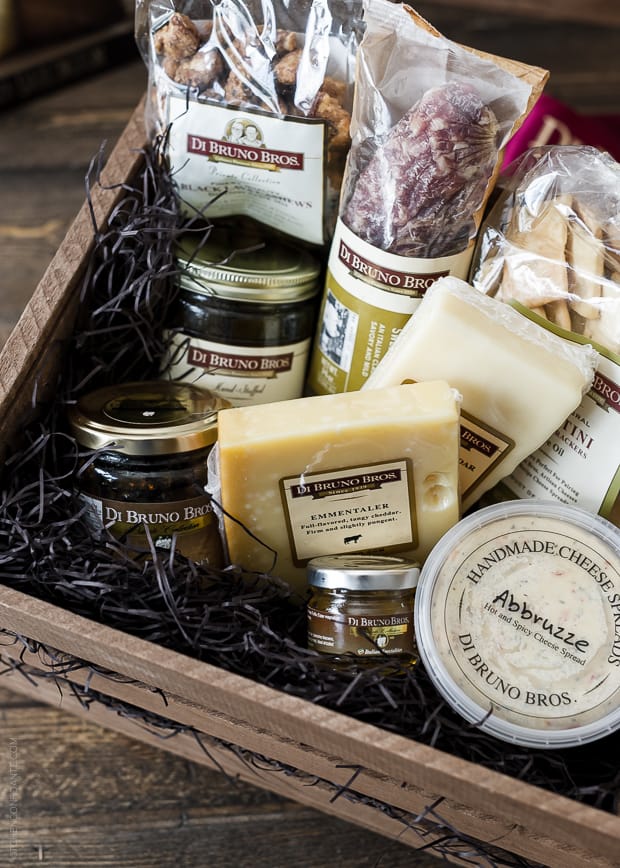 Giveaway
I would love for you to win a copy of Di Bruno Bros House of Cheese and the Di Bruno Bros Gift Basket! Here's how:
Please leave a comment letting me know: What is your favorite cheese? and click on the widget below.
For additional entries, use the widget below.
Entries/Comments accepted until 12 am Pacific, Monday, 11 August, 2014.
One winner will be randomly selected and notified by email. The winner will have 48 hours to respond to email notification, otherwise an alternate winner will be selected.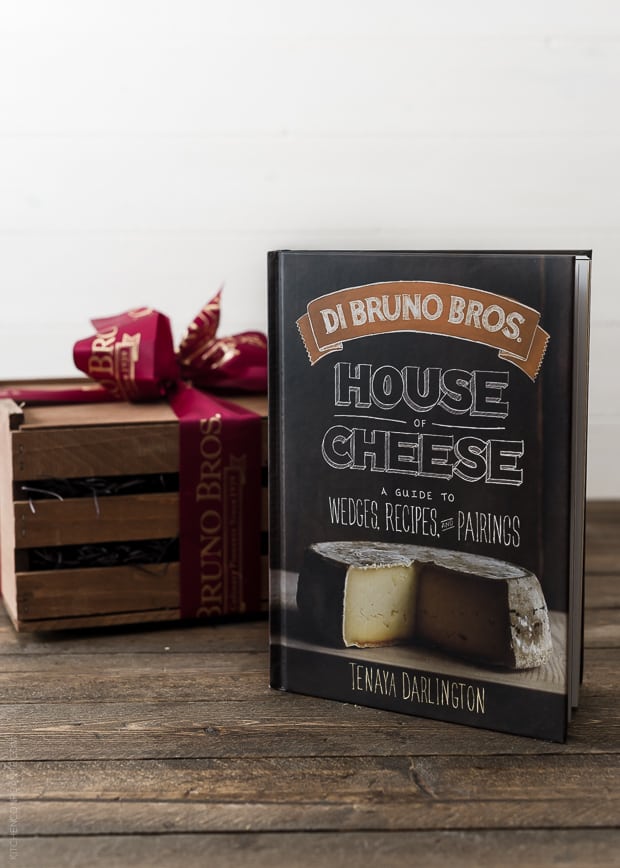 Disclosure: I received a copy of Di Bruno Bros House of Cheese and gift basket for review, however, I was not compensated to write or review the book. All opinions are always my own. Giveaway furnished by Di Bruno Bros.
Burrata with Heirloom Tomatoes
Summer tomatoes, fresh basil, and creamy burrata. To me, this is the perfect summer meal. Recipe reprinted from DiBruno Bros. House of Cheese, courtesy of DiBruno Bros. and Running Press.
Print Recipe
Ingredients
2 cups halved cherry tomatoes or 1 pound heirloom tomatoes, cut into 1 inch pieces
8 basil leaves, sliced in ribbons
1/2 cup balsamic vinegar
3 tablespoons extra-virgin olive oil
2 garlic cloves, minced
sea salt and freshly ground black pepper
2 burrata, about 12 ounces each
1 baguette or rustic loaf, cut into slices and toasted or grilled
Instructions
In a medium bowl, stir together the tomatoes, basil and balsamic vinegar. Set aside as you make a garlic oil.
In a small pan, heat the olive oil over medium-high heat for one minute. Add the minced garlic, and let it become fragrant, but take care not to let the garlic brown. Remove the pan from the burner just as the garlic begins to sizzle, and pour over the resting tomatoes. Stir and season with salt and pepper to taste. Divide the tomatoes between 4 salad plates.
In a shallow bowl or cutting board, slice each burrata lengthwise. Place the burrata halves on top of the tomatoes. Serve with slices of toasted or grilled bread.
Recipe reprinted from DiBruno Bros. House of Cheese courtesy of DiBruno Bros. and Running Press.