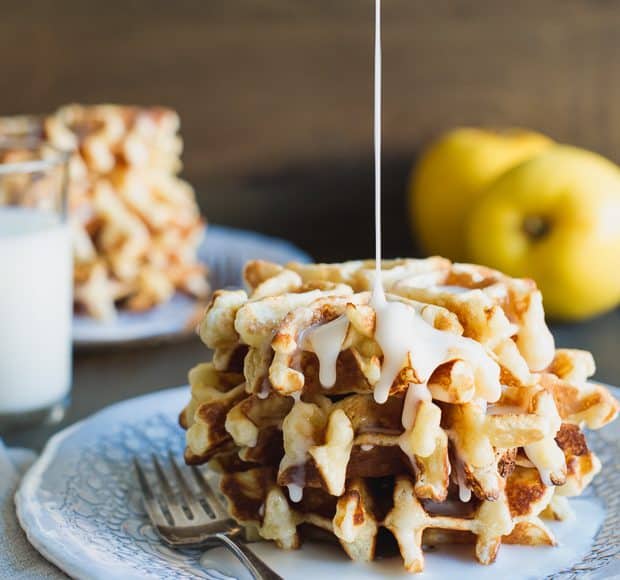 Apple Stuffed Belgian Waffles
I learned not too long ago that there are people out there who find the idea of cooked fruit absolutely detestable. It was a little shock to my system, as I had heard of and even very much understood deep aversions to things like onions,…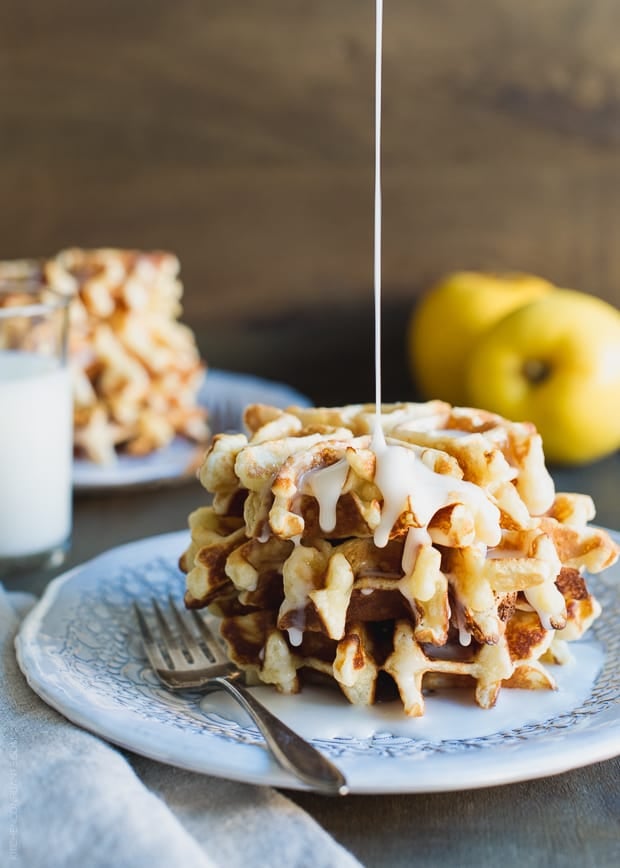 Apple Stuffed Belgian Waffles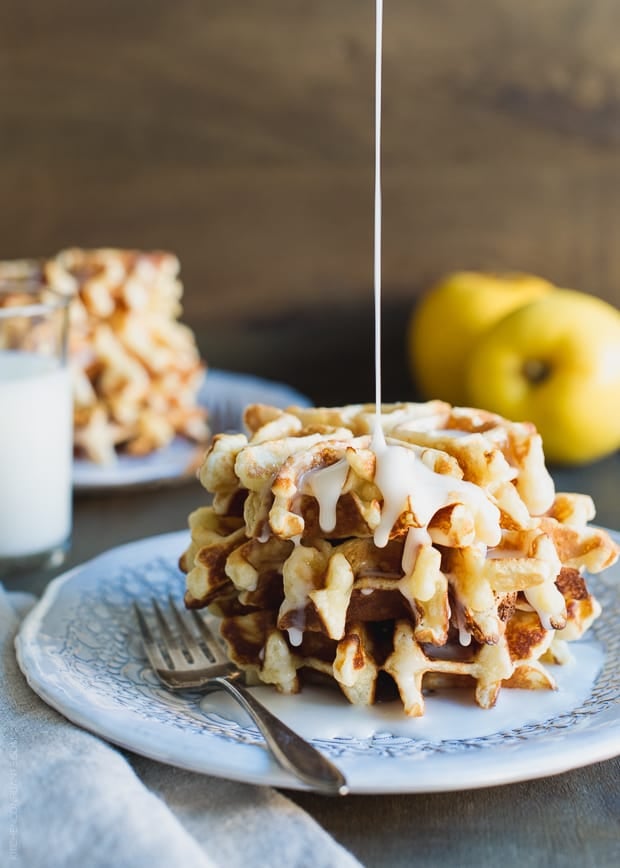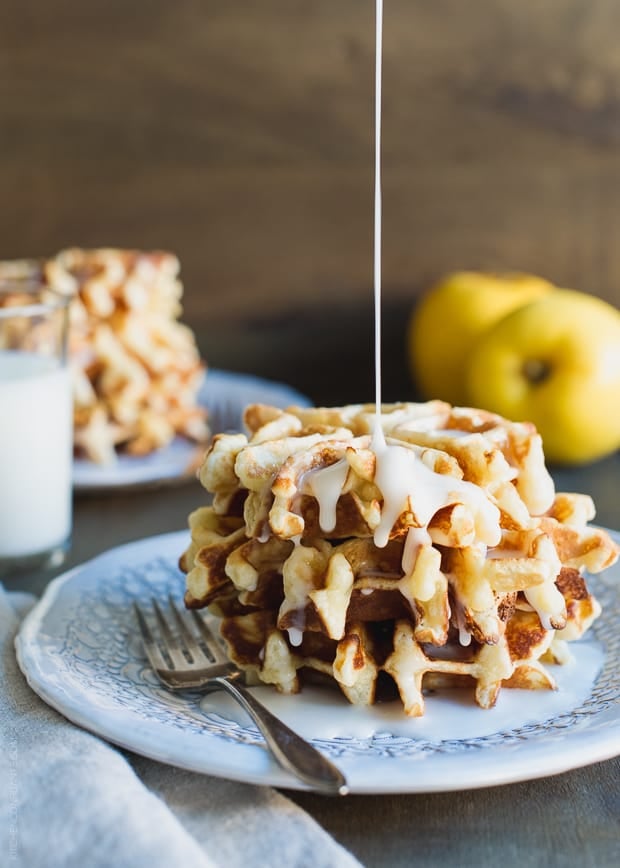 I learned not too long ago that there are people out there who find the idea of cooked fruit absolutely detestable. It was a little shock to my system, as I had heard of and even very much understood deep aversions to things like onions, or mushrooms, or liver. But when I was thinking of a dessert to make for dinner with friends one day and this little detail came out, I was intrigued.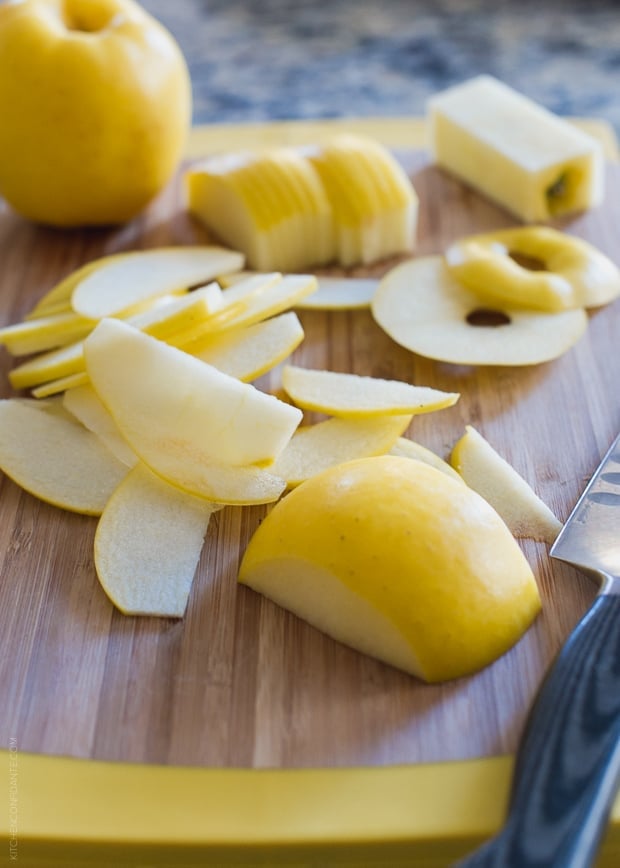 No to apple pie or berry crisp? Not even a fruit compote to top ice cream?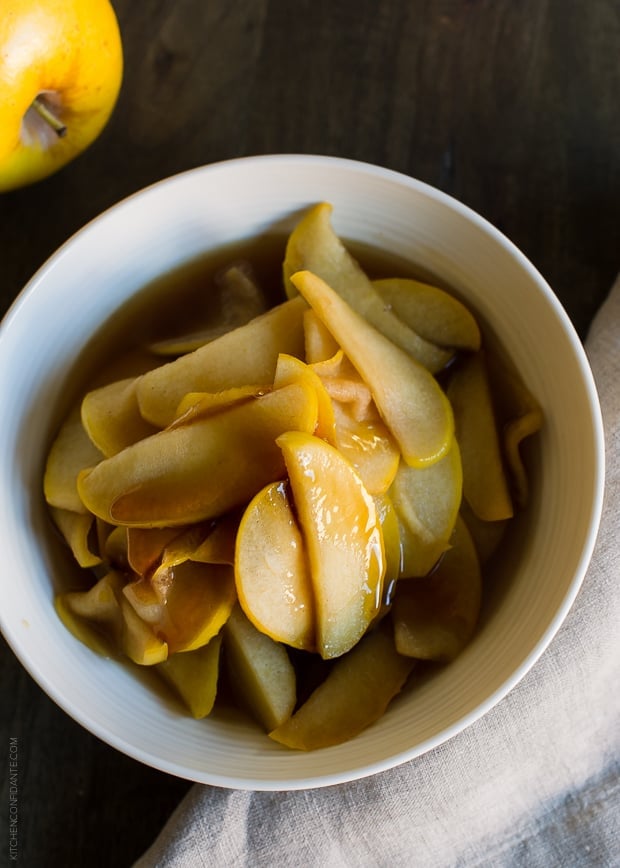 I felt a little sadness inside. So I turned to chocolate and made something gooey.
I certainly love my fruit fresh, but I love the magic of making something tempting with them. Opal apples are nearing the end of their stay with us this season, so I have been savoring every moment I can, whether it is sliced fresh and crisp, or sautéed in a little butter and sugar, and sandwiched in batter, crisping into doughy Belgian waffles.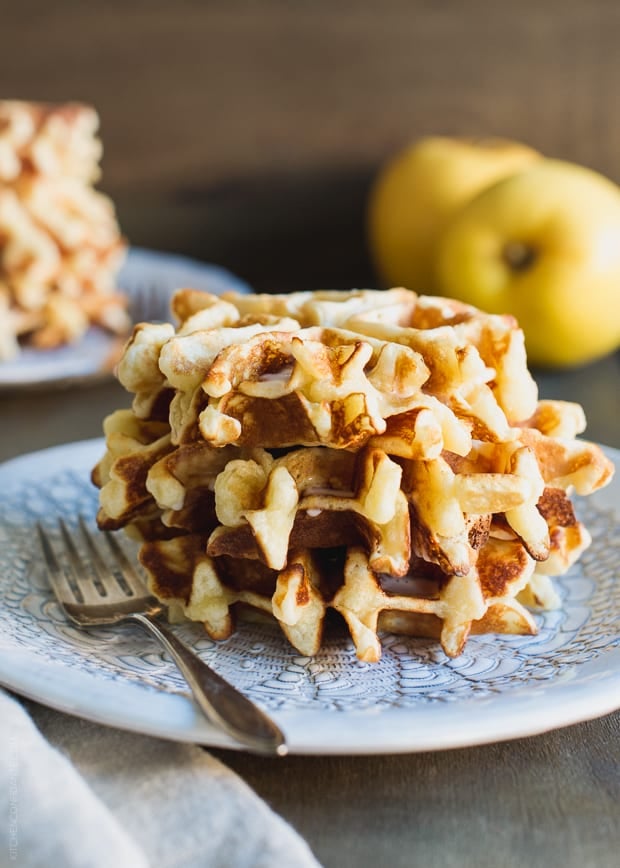 I think part of the secret of cooking or baking with fruit is not cooking them to mushy oblivion, and that certainly isn't a problem with Opal apples. Crisp and naturally sweet, they hold up to cooking beautifully, without the need for too much sugar, keeping their crisp texture. When you bite into these waffles, you know you are biting into an apple.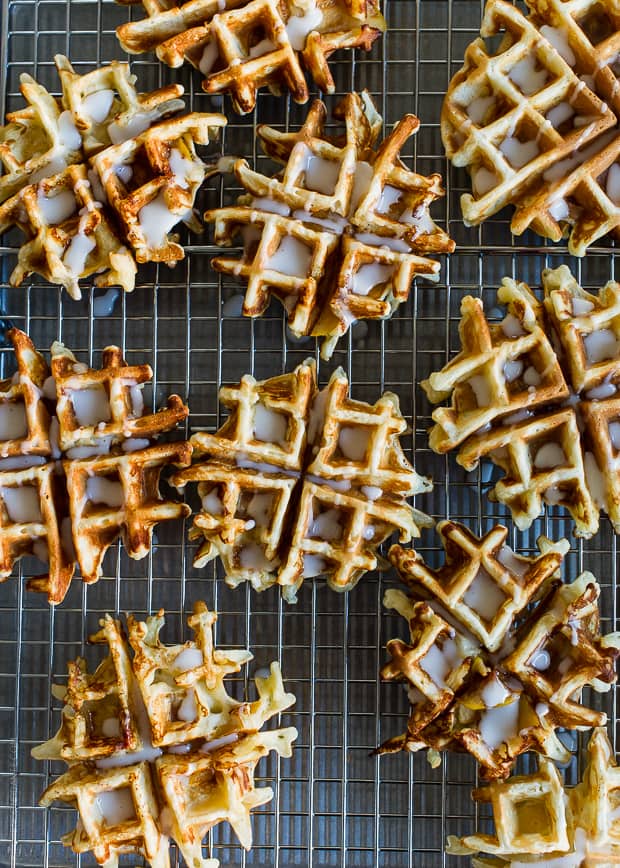 Apple Stuffed Belgian Waffles are as lovely as they sound. When they come out of the waffle maker, they are crisp and tender, and very willing under a drizzle of glaze. It's like apple fritters meeting Belgian waffles for the first time and giving each other a warm hug. And who can say no to a warm hug?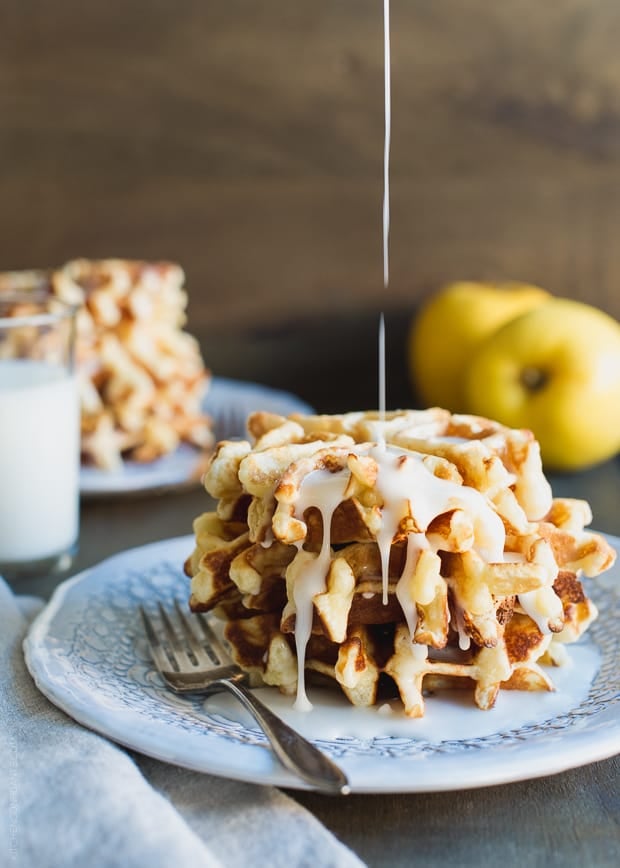 Disclosure: This post was brought to you by Opal Apples. Sponsored posts such as these help behind the scenes at Kitchen Confidante. Thank you so much for supporting brands that matter to me and for making my blog part of your day!
Apple Stuffed Belgian Waffles
Treat yourself for breakfast. It's like apple fritters and Belgian waffles in one bite.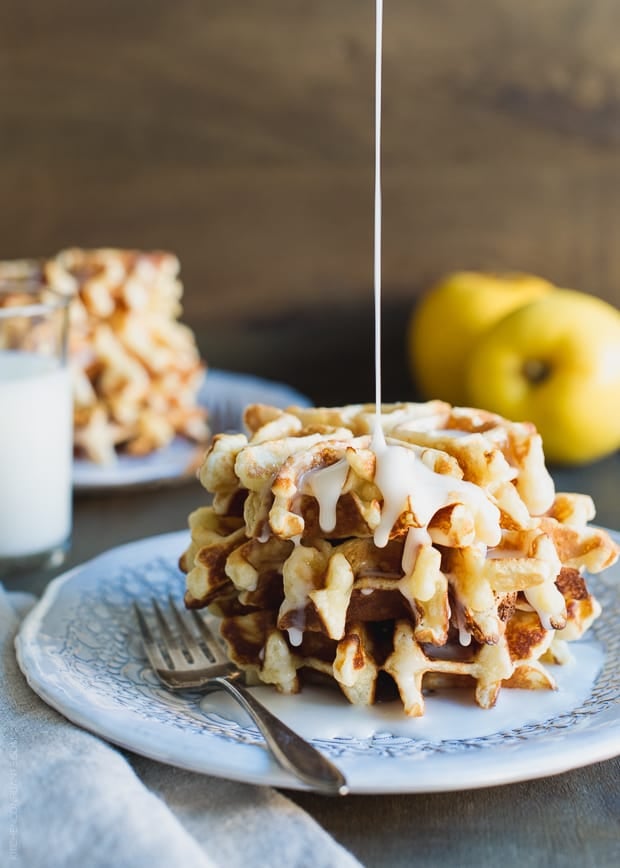 Print Recipe
Ingredients
2 tablespoons unsalted butter
2 apples, sliced (Opal Apples were beautiful in this)
1/4 cup apple juice
juice of half a lemon
2-3 tablespoons brown sugar, to taste
3 cups all purpose flour
3/4 cups granulated sugar
5 1/4 teaspoons baking powder
3 large eggs, separated
3 cups buttermilk
3/4 cups unsalted butter, melted
1 1/2 teaspoon vanilla
1 1/4 cups powdered sugar
2-4 tablespoons skim milk
1 teaspoon lemon juice
Instructions
Heat the butter over medium heat in a deep sided saute pan. Stir in the apples, apple juice, lemon juice and brown sugar, and bring to a bubble. Cook for about 7 minutes, stirring occasionally, until the apples are tender and the juices are thickened slightly. Transfer to bowl and let it chill in the refrigerator.
Preheat the waffle iron.
Sift or whisk together the flour, sugar, and baking powder in a large bowl. In a small bowl, whisk the egg yolks with the buttermilk, melted butter and vanilla. Stir into the flour mixture and mixed until just combined. Using a hand blender or stand mixer with whisk attachment, whisk the egg whites until fluffy and voluminous (this can also be done by hand). Fold in the egg whites into the waffle batter.
Make the glaze by whisking together the powdered sugar, skim milk and lemon juice, adding more or less milk until you have a glaze that is your preferred consistency.
Pour about 1/2 cup batter into the waffle maker, and add about 3-4 cooked apples (be sure to drain any liquid). Top with another tablespoon of batter then close the waffle maker lid. Repeat on other side if you have a two sided waffle maker. Cook for about 3 minutes or until golden. Transfer to a wire rack. Serve immediately if possible, with a drizzle of glaze.