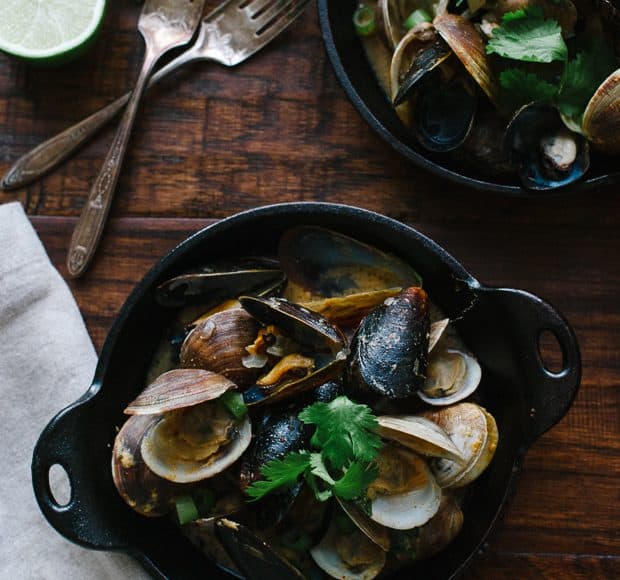 Simple Sundays | Steamed Clams and Mussels in Coconut Curry Broth
I swore before I had children that I would never fall prey to becoming a short order cook. I never understood parents who would prepare multiple meals, perhaps a more elaborate "grown up" meal for the parents, and "kid food" – pasta with butter, for…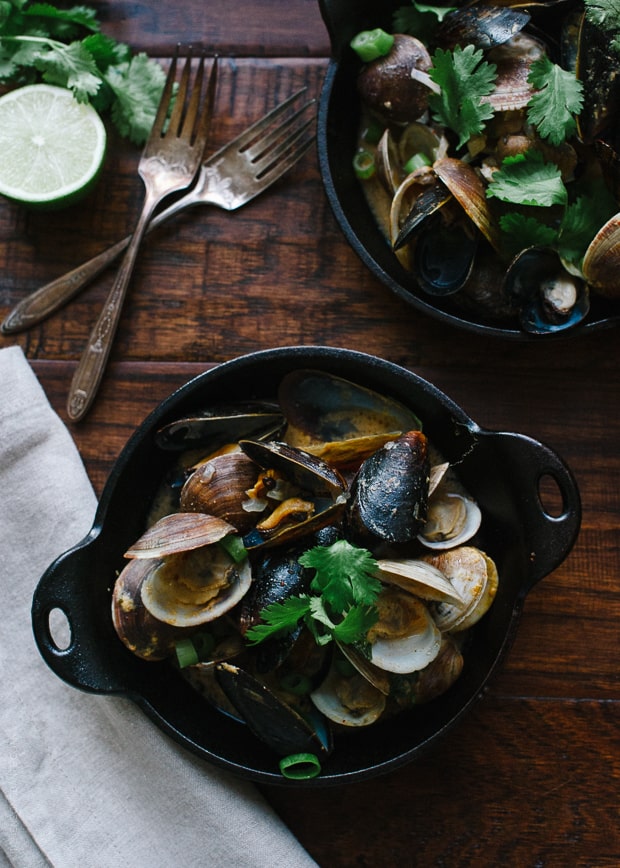 Simple Sundays | Steamed Clams and Mussels in Coconut Curry Broth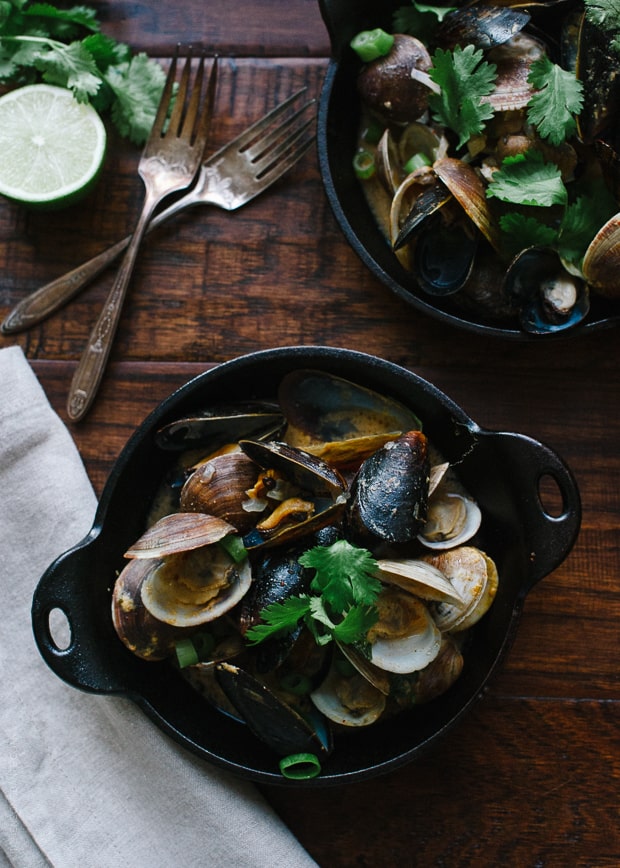 I swore before I had children that I would never fall prey to becoming a short order cook. I never understood parents who would prepare multiple meals, perhaps a more elaborate "grown up" meal for the parents, and "kid food" – pasta with butter, for example – for the children. I was raised eating whatever my parents ate, and my children would do the same.
If there's anything about parenthood, you learn that nothing is that simple. I remember this when I see the judgmental traveler casting evil eyes at the mom juggling diaper bags, carseat and toddler on board a flight. I am reminded when I hear the child in the next grocery aisle melting down when he learns that he can't have potato chips. It all comes back to me when new parents who thought they had it all figured out before they even bought a crib succumb to cosleeping in the family bed.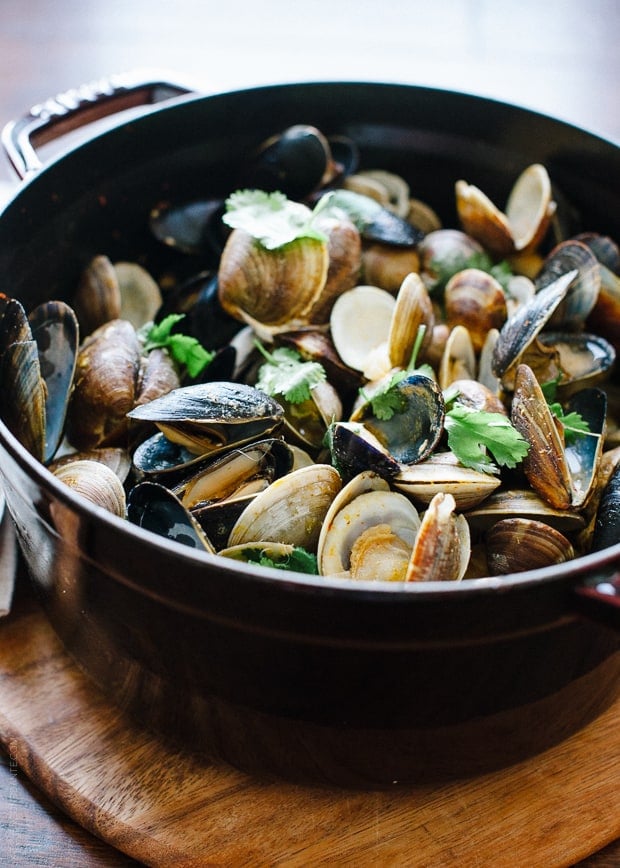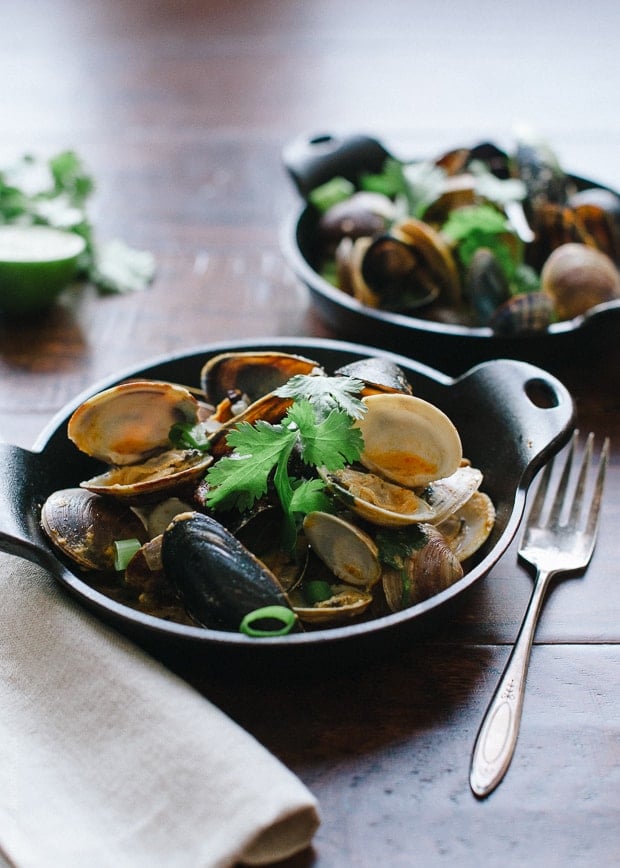 Parenthood is hard. It's something I silently pray about each day, hoping for the wisdom and patience to make each day count with my children. So when it comes to mealtimes, I've relaxed a little. I still stand by my wish that we all eat together as a family, the same meal. But I have also come to accept that there are some things my children are not fans of.
Last Friday, I was craving one of our old favorite dishes, a halibut in a coconut curry broth. But experience has taught me that my daughter struggles with the fish in this dish. So when I was buying the halibut, I picked up clams and mussels. As I cooked dinner that night, I made this concession for her: same broth, but there would be clams for her.
The mussels were for me. Or so I thought.
As I stirred the Steamed Clams and Mussels in Coconut Curry Broth, the fragrant broth beckoning, I thought that I would enjoy all the mussels myself. I personally love them more than clams, and until now, I was the only one in the family who loved them. But that all changed when my daughter tried them for the first time. "They're sweet! Like crabs!" she exclaimed. And then she surprised me by eating all of it.
And there is the other lesson from parenthood: your children will always surprise you. Just as much as you surprise yourself.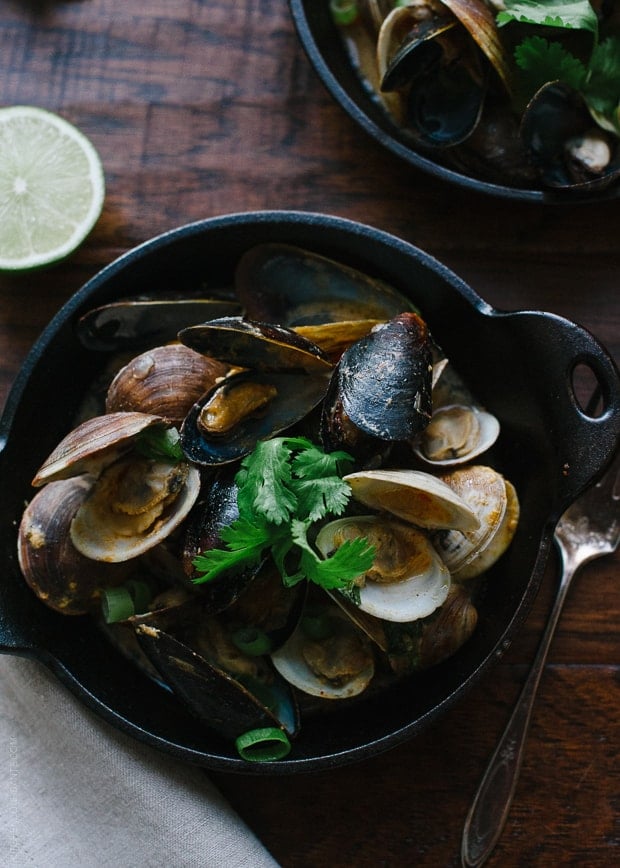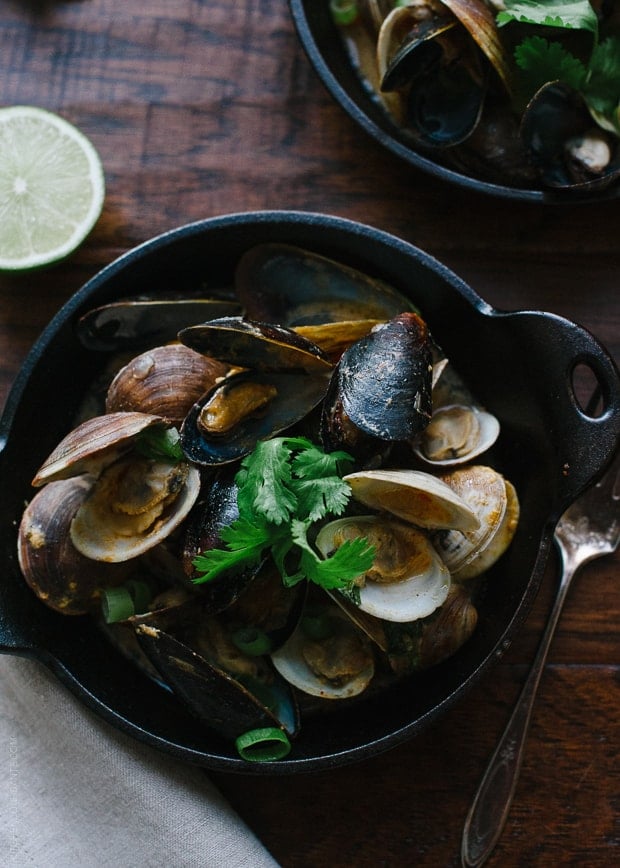 Steamed Clams and Mussels in Coconut Curry Broth
There's nothing more satisfying than tucking into a big bowl of steamed clams and mussels and dipping bread into the fragrant broth. This Thai-style dish is perfect for appetizers or a simple, rustic meal.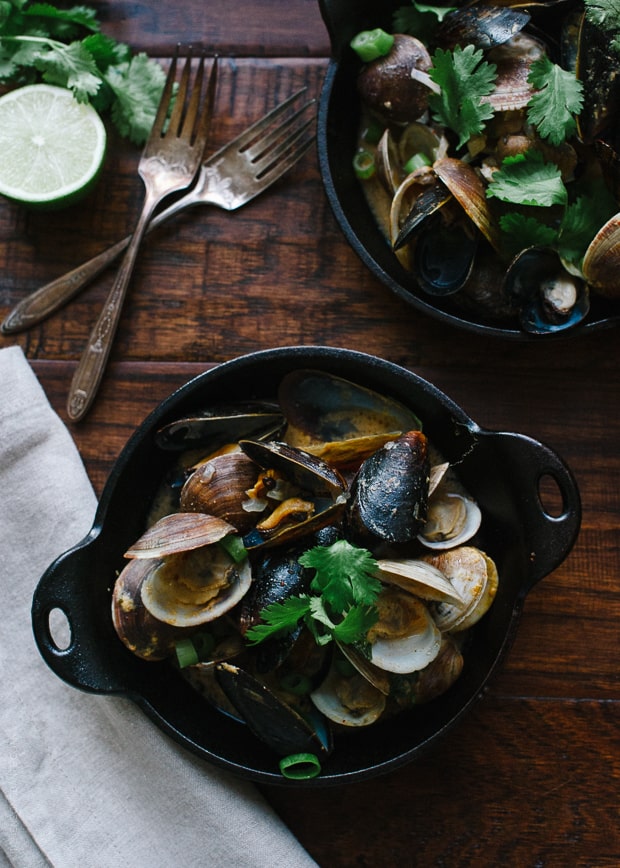 Print Recipe
Ingredients
2 teaspoons canola oil
2 large shallots, finely chopped (about 3/4 cup)
1 1/2 tablespoons red curry paste
1 lemongrass stalk, cut into pieces and crushed (optional)
2 cups low sodium chicken broth
1/2 cup unsweetened coconut milk
1 teaspoon fish sauce
3 lbs clams, scrubbed and cleaned
1 lb mussels, scrubbed and cleaned
1/3 cup coarsely chopped fresh cilantro
1 scallion, chopped
lime wedges for serving
Instructions
In a large pot such as a Dutch oven, heat the oil over medium low heat. Cook the shallots for about 2-3 minutes, stirring occassionally, until the shallots are translucent. Stir in the red curry paste and lemongrass and cook for about 30 seconds. Stir in the chicken broth, coconut milk and fish sauce and bring to a boil. Add the clams and mussels and cover the pot with a lid. Cook for about 5-10 minutes, stirring occassionally, until the all the shells open. Discard any unopened clams and mussels. Adjust the broth seasoning to taste with additional curry paste or fish sauce, as desired. Stir in the cilantro and scallion, and serve with fresh lime wedges.
Coconut Curry broth adapted from Thai-Style Halibut with Coconut-Curry Broth from The Food You Crave: Luscious Recipes for a Healthy Life, by Ellie Krieger. See the Food Network version here.