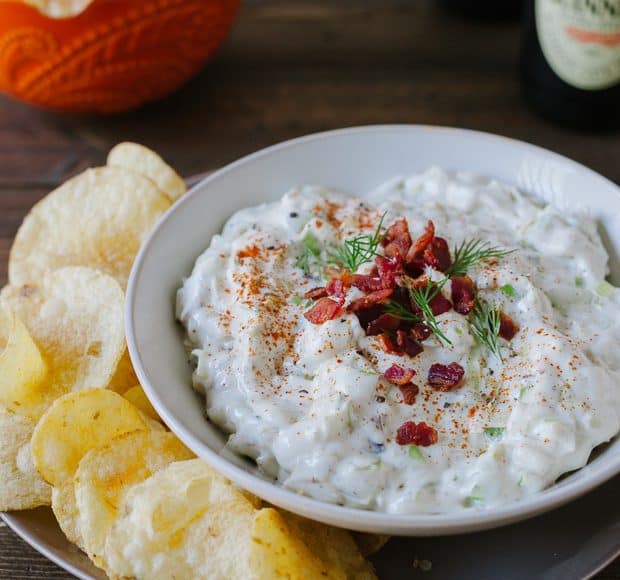 Simple Sundays | Bacon Leek Dip
We met in Chicago, where the river runs green on St. Patrick's Day, where leprechauns brave the bitter cold, and where, it seemed, the whole city would go out for drinks, Irish or not. The first time I opened his refrigerator, there were two things:…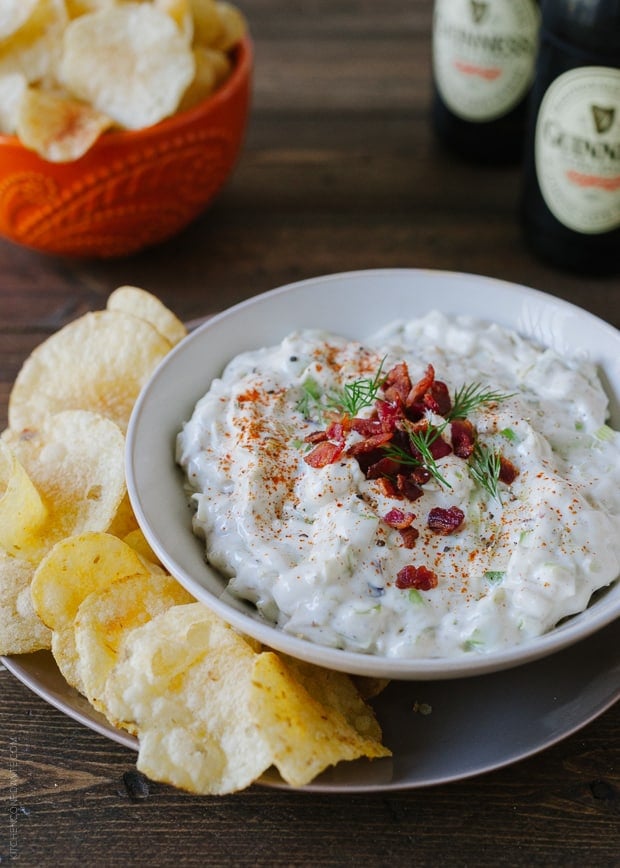 Simple Sundays | Bacon Leek Dip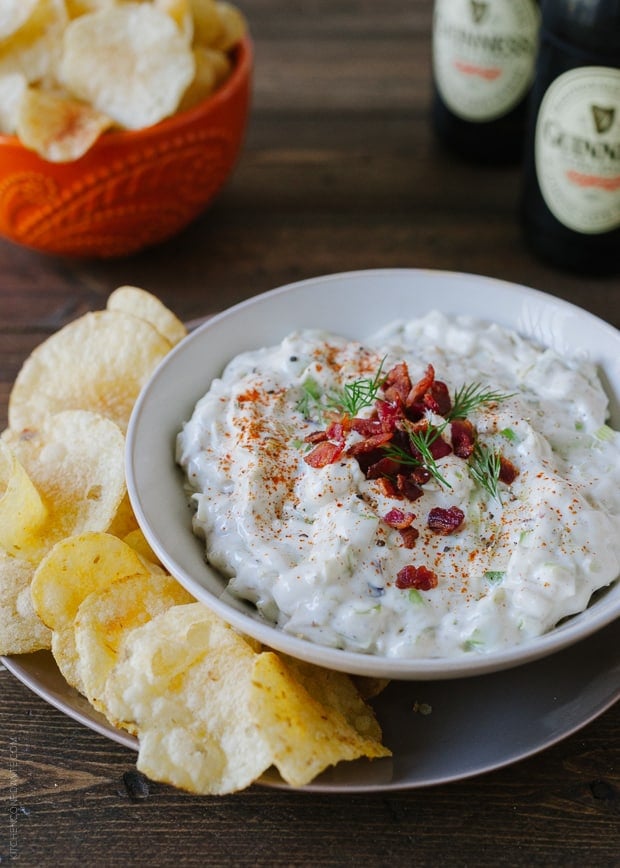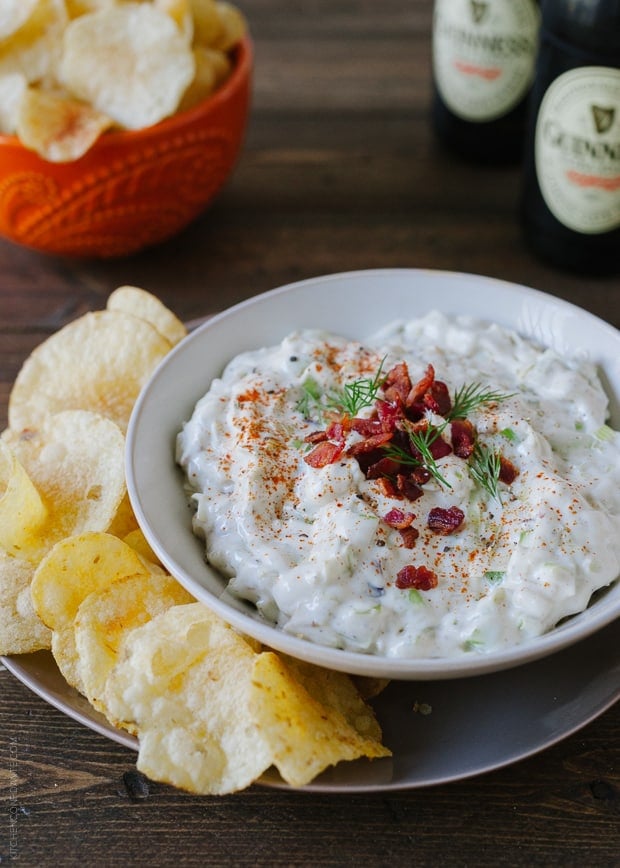 We met in Chicago, where the river runs green on St. Patrick's Day, where leprechauns brave the bitter cold, and where, it seemed, the whole city would go out for drinks, Irish or not.
The first time I opened his refrigerator, there were two things: Guinness and a big bowl of cherries. They say you can tell a lot about someone by looking into their fridge (or medicine cabinet, but that actually freaks me out, so rest assured, if you ever invite me to your house, I am not the kind of friend who goes nosing about your business when I go to the bathroom).
My husband-to-be clearly had his priorities in order!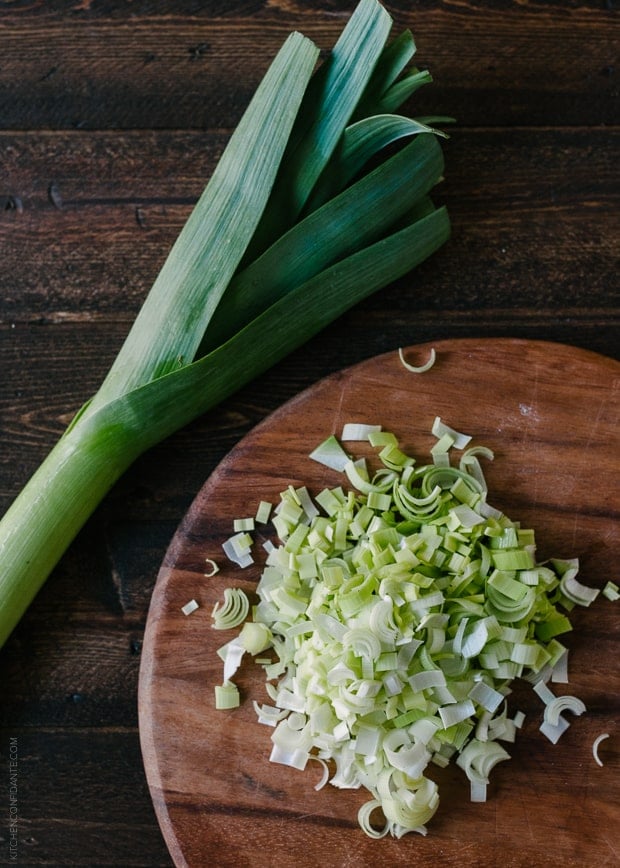 Now, on the How-Irish-Are-You-Spectrum, neither of us can claim any roots (do in-laws count?), but that's part of the fun on St. Patrick's Day, isn't it? Getting to celebrate! (And taking silly tests like these.)
There's nothing more Irish than the "tayto," so I'm excited to share this Bacon Leek Dip that I made to pair with Kettle Brands Chips this St. Patrick's Day. Cheddar Beer chips and Sweet and Salty potato chips call for something that reminds me of Irish classics, and for me, this dip is it. Chunks of smokey bacon swirled with leeks caramelized in rendered bacon go with the tang of creme fraiche, cream cheese and goat cheese. Yes, it's indulgent. But indulging is allowed when you're celebrating, right?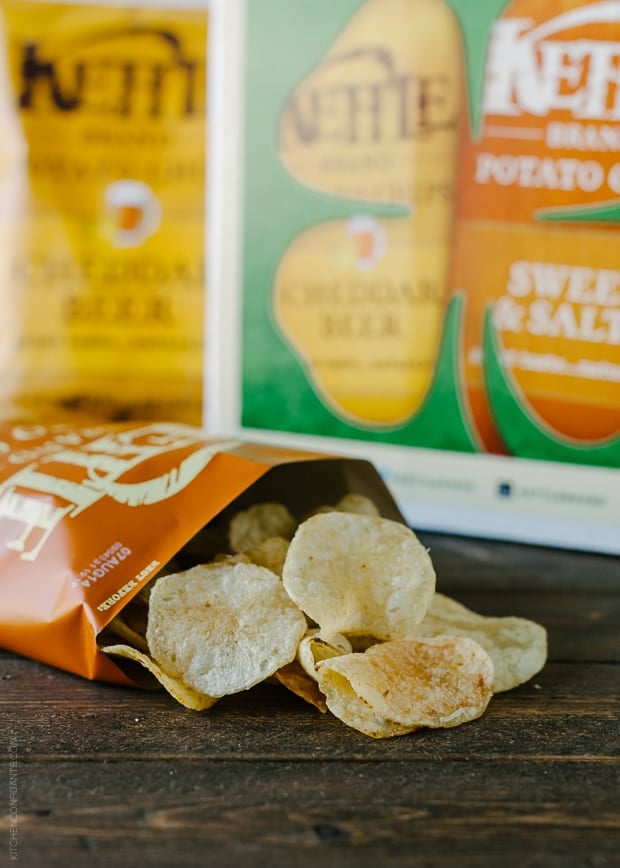 Chips and dip is not complete without a tall glass of something cold and foamy to wash it down. I paired it with, you guessed it, stout. Dark and dreamy, this stout is a robust beer to toast like an Irishman. It's also pretty darned good with Cheddar Beer chips loaded with Bacon Leek Dip.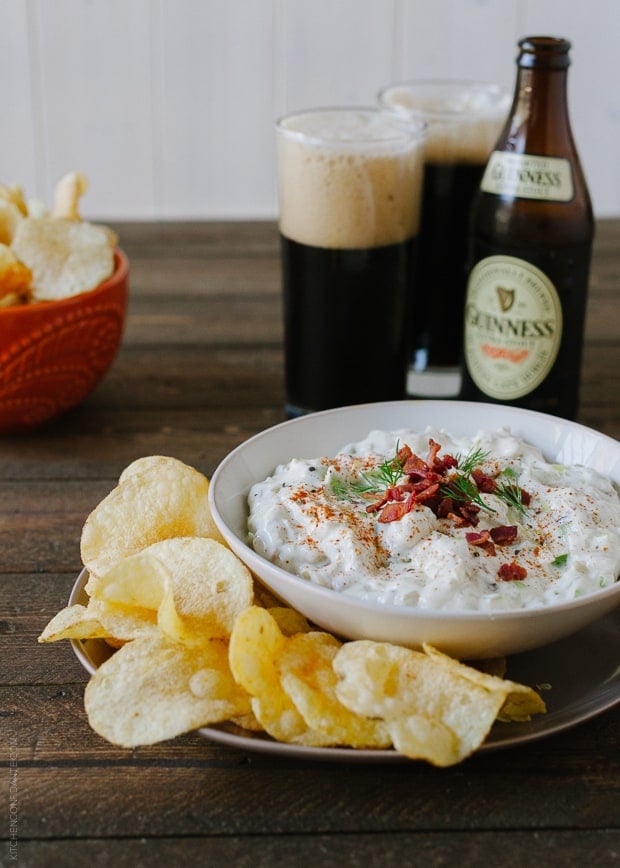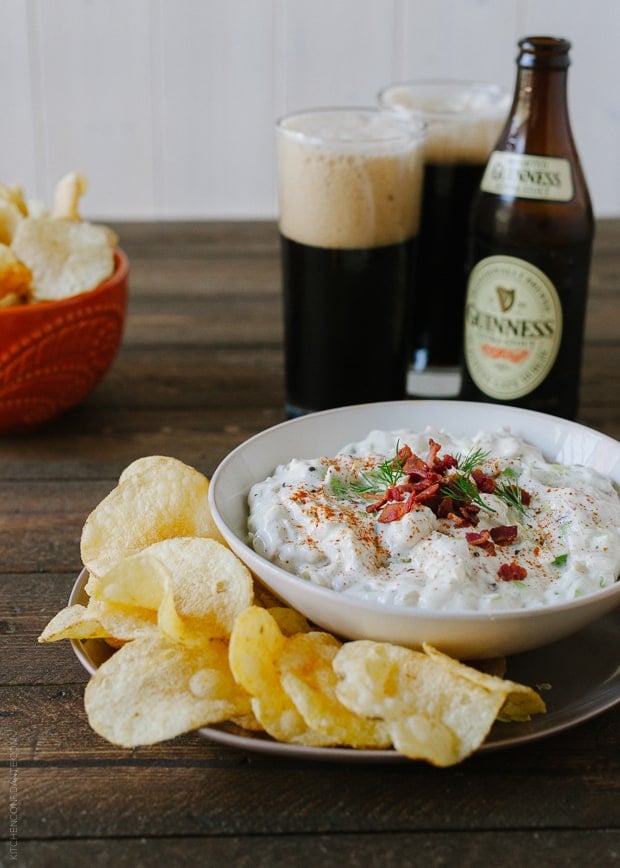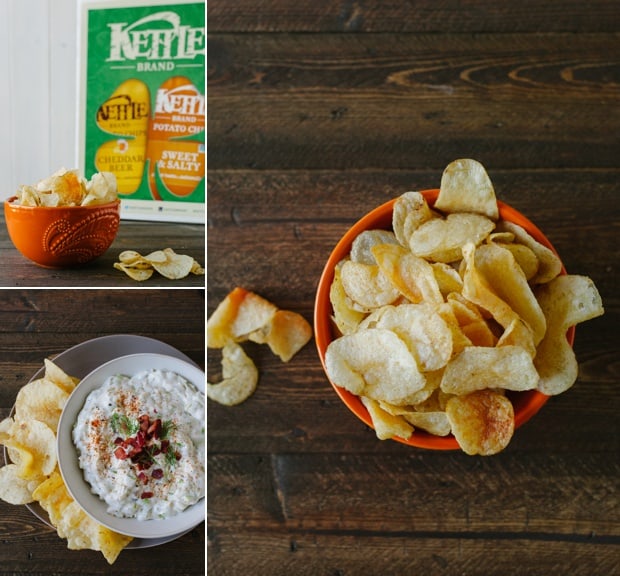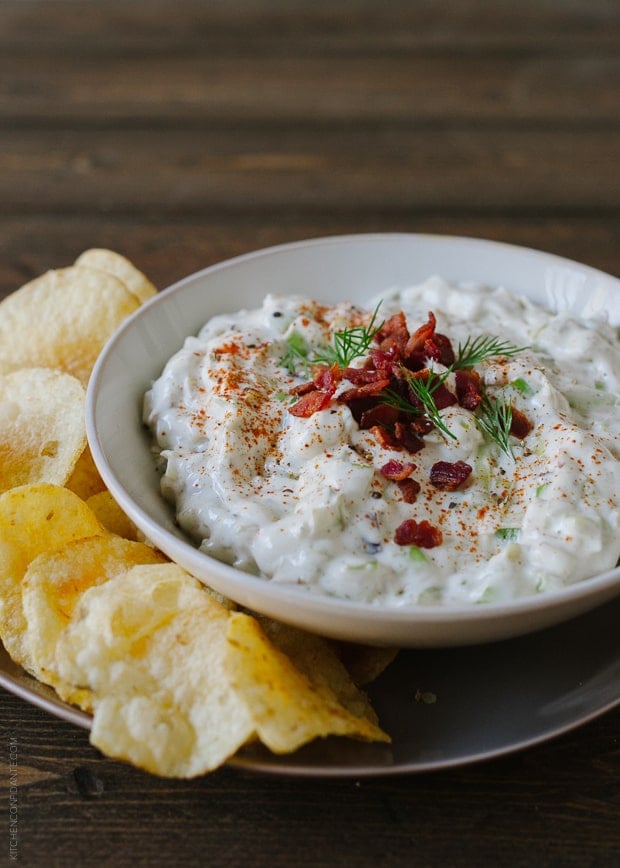 Are you celebrating St. Patrick's Day with something delicious? Wearing green from head to toe? Expecting a visit from the leprechaun? Do share, I'd love to know!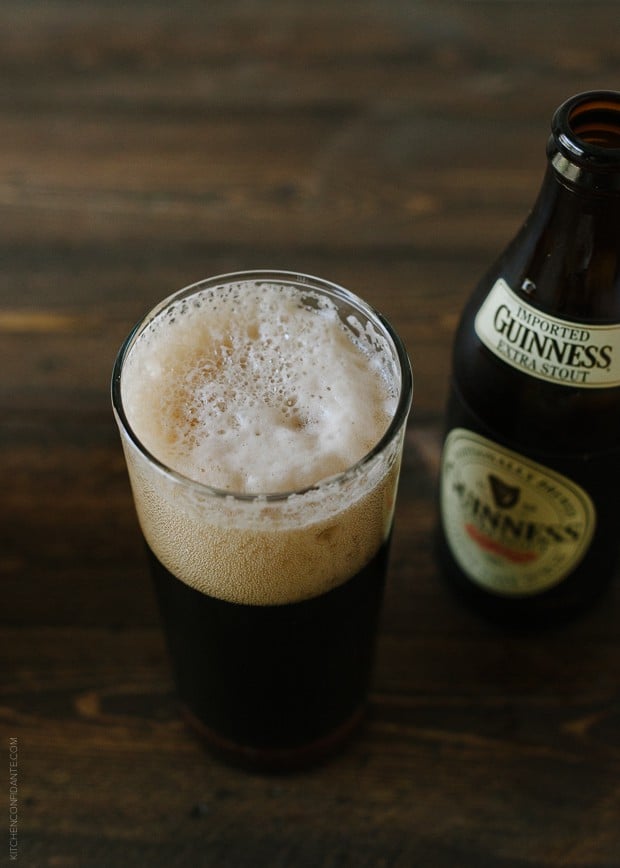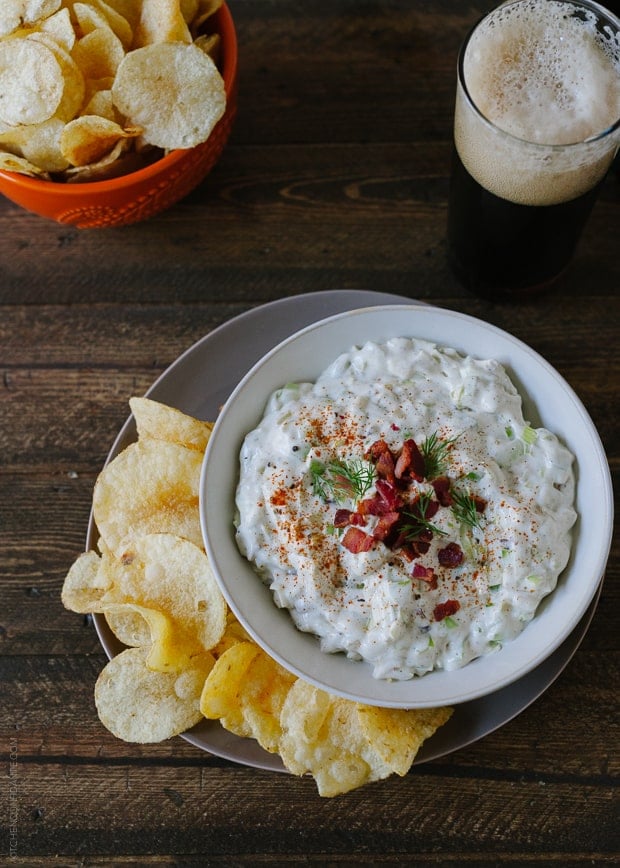 For more festive beer and chip combos this St. Paddy's Day, check out Kettle Brand Pairings!
Disclosure: This was a sponsored partnership with Kettle Brands Chips. Sponsored posts such as these help support the work behind the scenes on Kitchen Confidante. Thank you so much for your visits and making my blog part of your day. As always, all opinions are my own.
Think sour cream and onion...times 1000.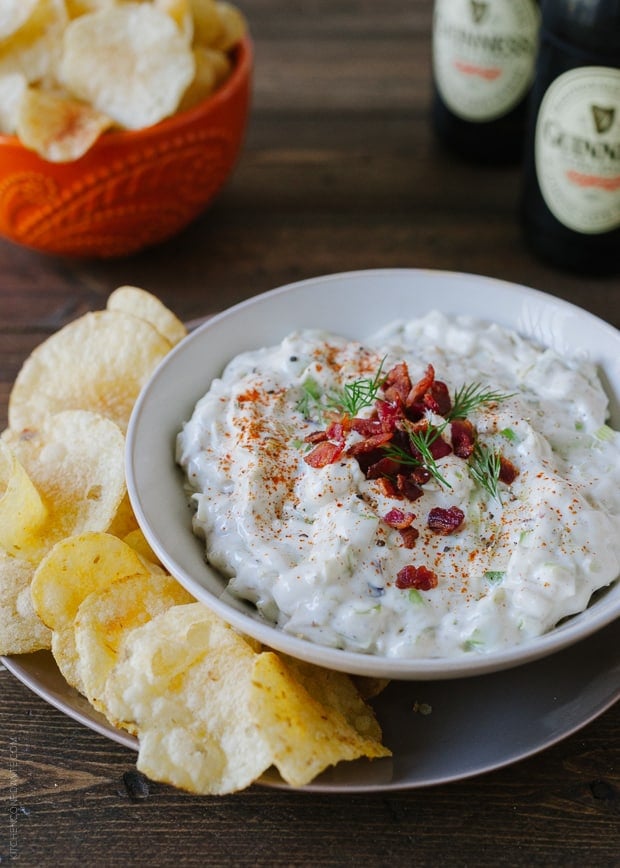 Print Recipe
Ingredients
6 oz center cut bacon
2 large leeks, dark leaves removed, quartered, sliced and cleaned
2 teaspoons kosher salt
4 oz 1/3 less fat reduced fat cream cheese
4 oz creme fraiche
4 oz creamy goat cheese
freshly ground black pepper
1/4 teaspoon cayenne pepper
1 tablespoon dill
Instructions
In a medium saute pan over medium heat, cook the bacon until browned. Drain on paper towels and crumble/finely chop the bacon.
Drain the bacon fat, reserving about 1 tablespoon in the pan. Add the leeks and season with 1 teaspoon of salt. Let it cook for about 10 minutes, stirring periodically, until the leeks are tender and caramelized. Set it aside to cool.
Place the cream cheese, creme fraiche, goat cheese, remaining 1 teaspoon of salt, and cayenne pepper in a medium bowl. Using a hand blender, blend until smooth. Add the leeks and bacon and stir until combined. Adjust seasoning with additional salt and pepper, as desired. Stir in sprigs of dill.
Best served warm or at room temperature.