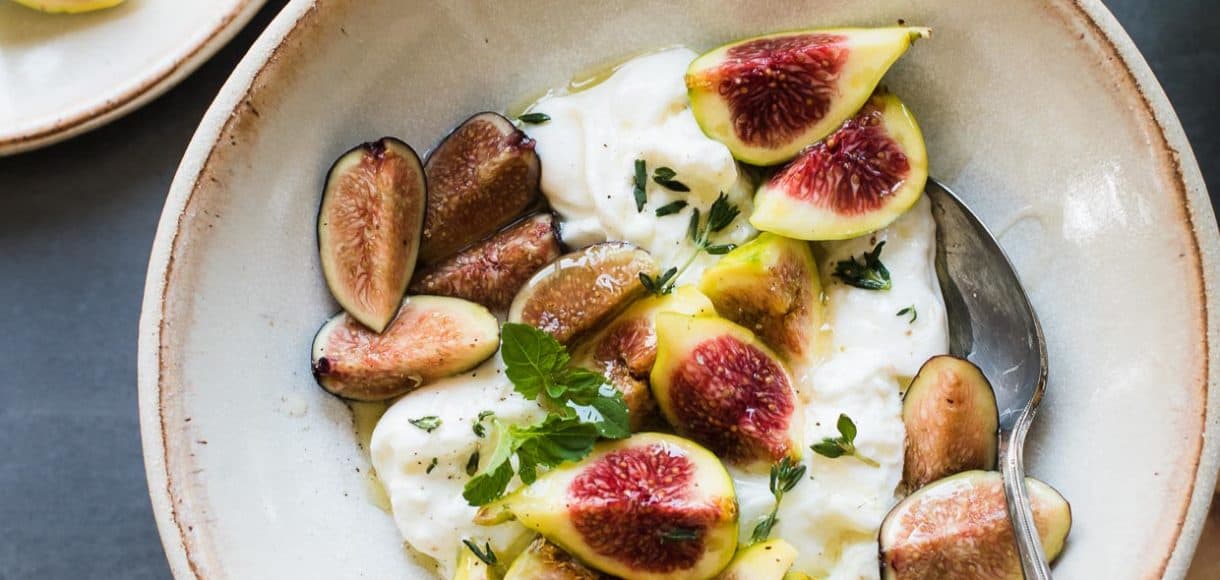 Honey-Balsamic Figs with Burrata
Honey-Balsamic Figs with Burrata is an elegant appetizer or snack when figs are in season! A glaze made with honey and white balsamic vinegar bring out their natural sweetness.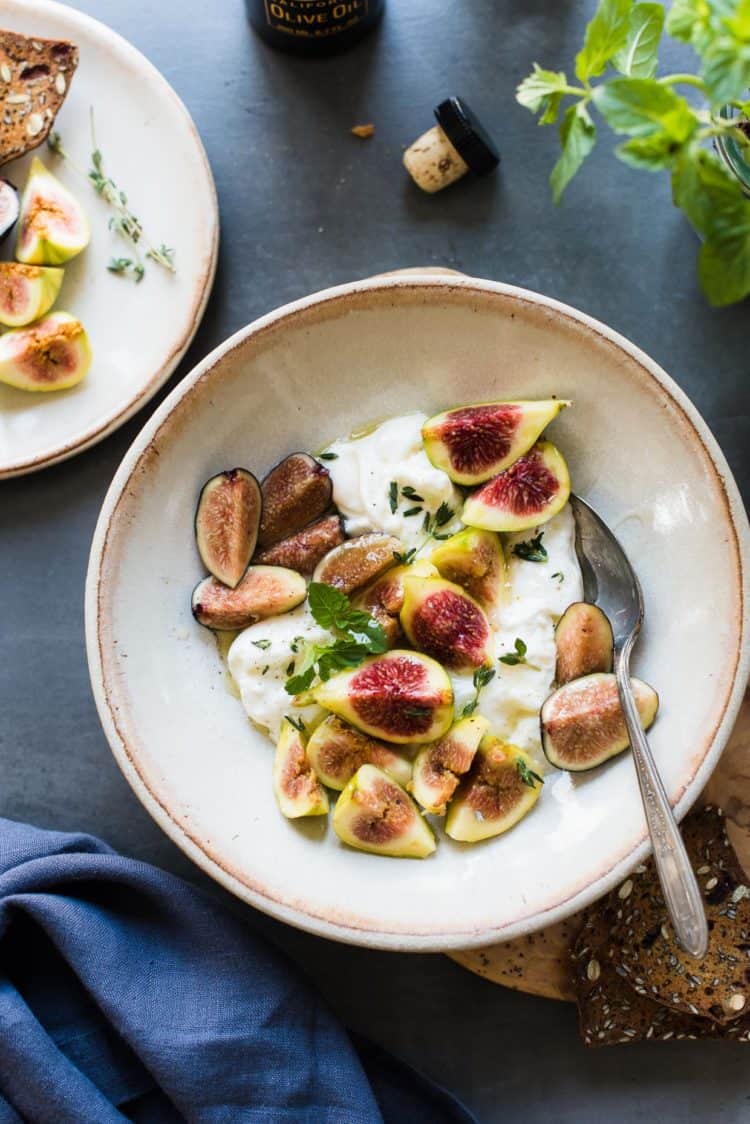 Honey-Balsamic Figs with Burrata
Looking for a fig recipe? Honey-Balsamic Figs with Burrata is an elegant appetizer or snack when figs are in season! A glaze made with honey and white balsamic vinegar brings out their natural sweetness.
My love affair with figs began when I first moved to California, just as my husband and I were starting to build our life together. It was love at first bite, from the moment I tasted the sweet, rosy flesh.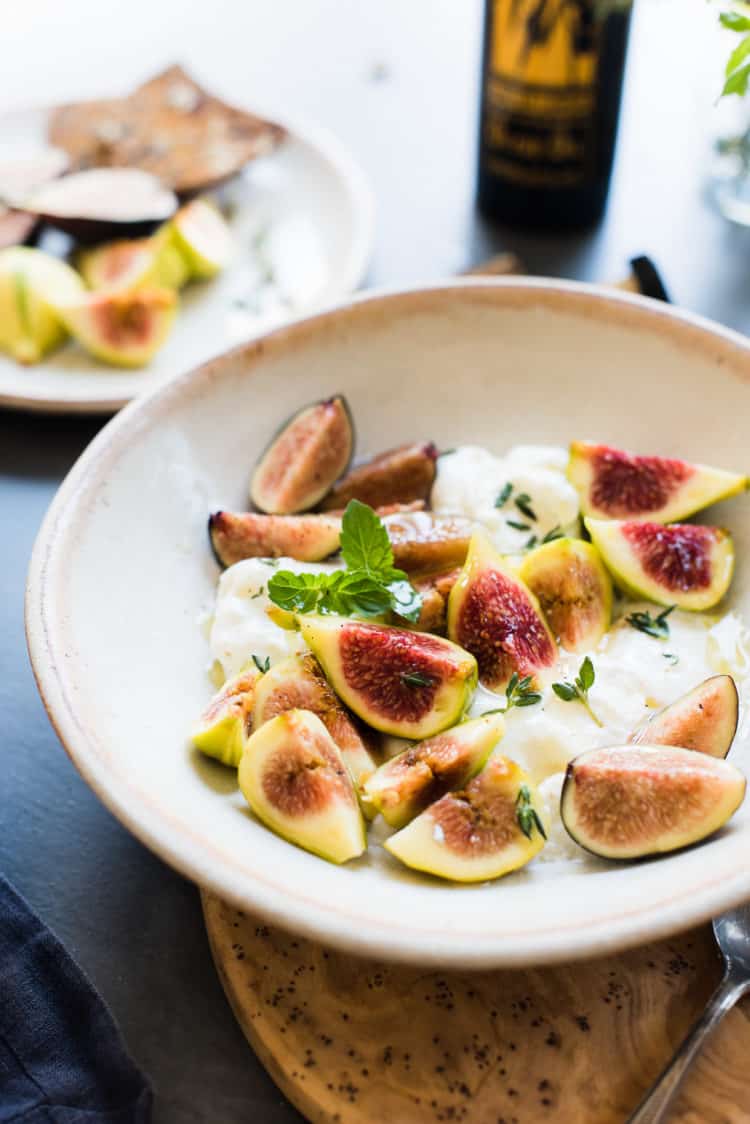 But it wasn't until this summer that the world of figs as I knew it changed forever. It took a flight to Paris, followed by a high-speed train to Nice, and a morning stroll into the Coeurs Saleya in the middle of the old town where I discovered not just the most magnificent farmer's market, but perhaps the sweetest figs I have ever tasted.
They were plump, and not quite as photogenic as the ones I am used to seeing. Don't get me wrong, they were still beautiful (because are there any ugly figs?), but they were a little mushier, a little less sturdy, and I understand now, picked at just the right moment of ripeness. Even at the best farmers markets in San Francisco, you never find them this way; it's almost as if Bay Area farmers play it a little safer, and understandably so, since figs inconveniently tend to turn too quickly.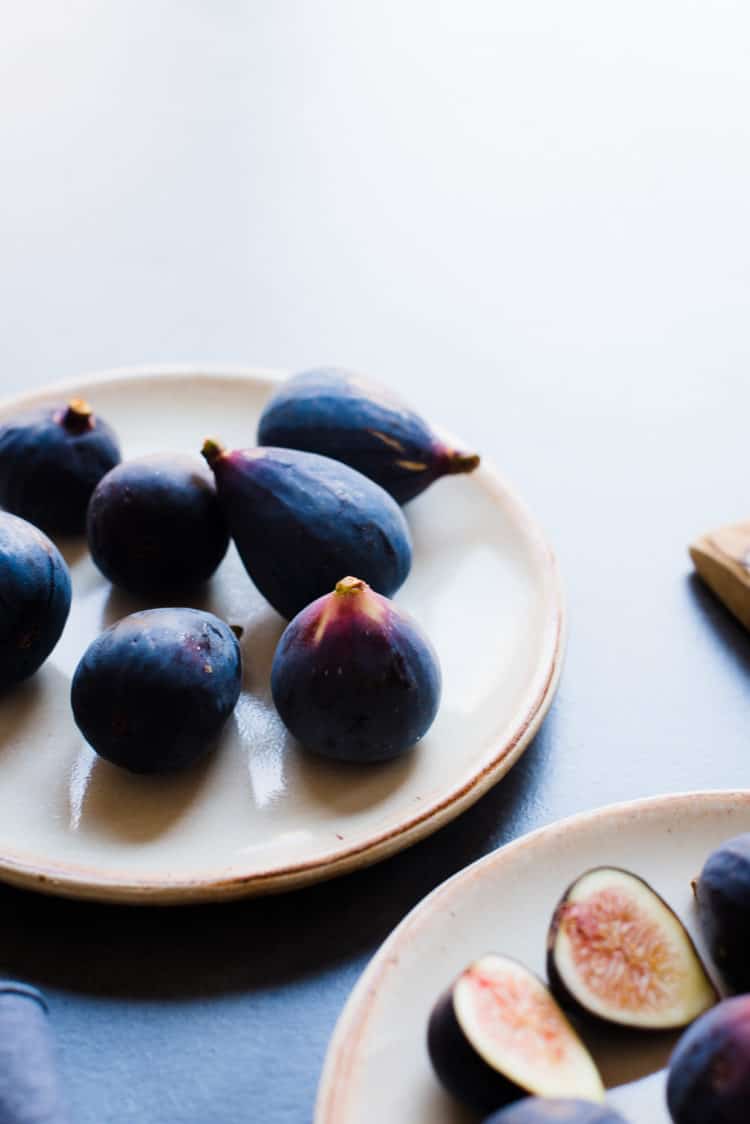 But in Nice, they understand the right moment to pick for the ripest flavors. I'll never forget biting into that fig, it's supple skin wielding easily, and my eyes widening as I tasted the sweetest fig ever, as if honey were oozing out of it.
As soon as I recovered, I handed it to my husband. "You must taste this, it's the best fig I've ever tasted."
I wasn't sure if he would understand. You see, I've been the primary fig lover in the family. Actually, until that moment, I don't know if I've ever seen him eat a fig, unless if it was in a Fig Newton or baked in banana bread.
But he did. With a big, "wow," he reached for another and exclaimed, "we have to go back tomorrow and get more figs!"
California may have made me a fig lover, but it was Nice that won over my husband.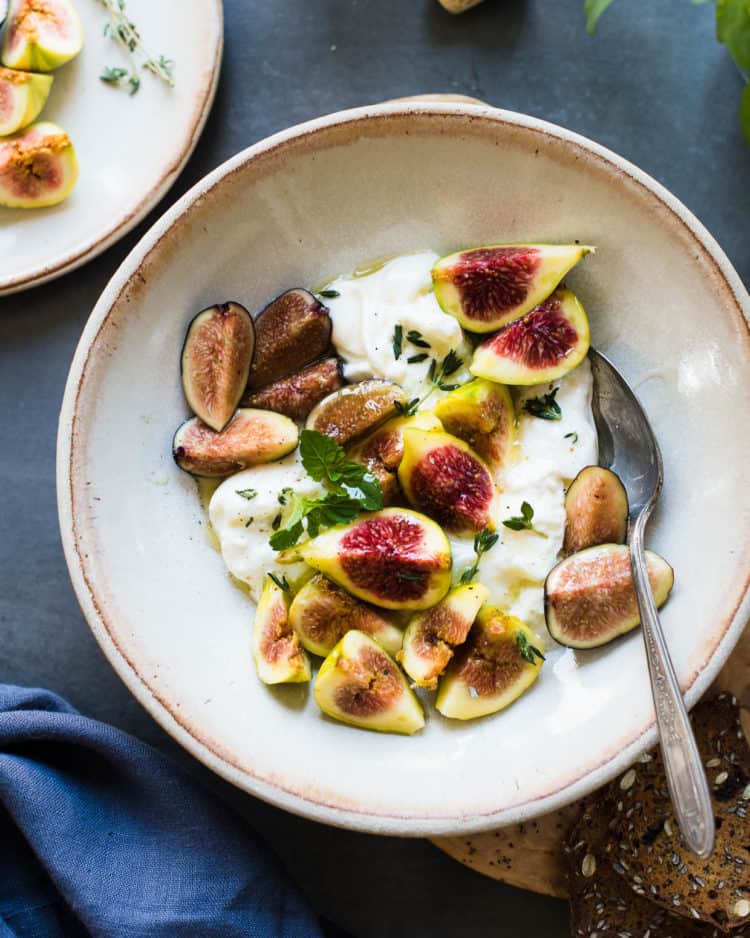 Finally, we can love figs together!
Now that we're back home, we dream of the figs in France, and right now, the markets are brimming with them. We buy pints tentatively because we've been spoiled. We temper our expectations, but have found some beautiful ones…not quite as perfect, but still so good. Even better, I have someone to enjoy who understands my deep love for figs, making it even more fun to find new ways to enjoy them.
Honey-Balsamic Figs with Burrata is a blend of some of my favorite ingredients in a bowl, the silky, creamy burrata harmonizing with the sweet figs that are glazed with a honey and white balsamic syrup. A touch of thyme brings some earthiness for the ultimate snack that is elegant enough to serve as an appetizer. Or if you're us, a hearty snack. When figs are perfect, they don't need much, other than, perhaps, someone with whom you can savor them.
Love Figs? More Fig Recipes to Try
Fig, Honey and Goat Cheese Galette
Chocolate Banana Fig Bread
Fig and Almond Butter Smoothie
Fig, Jalapeño Jam and Blue Cheese Pizza
Fig Balsamic Jam
Overnight Oats with Figs, Honey and Toasted Coconut
Honey-Baslamic Figs with Burrata
A light glaze made with honey and white balsamic vinegar brings out the natural sweetness of figs and is delicious with dollops of creamy burrata cheese! This is an elegant appetizer or snack for fig season!
Ingredients
3/4

cup

white balsamic vinegar

3

tablespoons

honey

burrata cheese

torn

1

pint

figs

sprig

fresh herbs, such as thyme and mint

crackers or bread

for serving
Instructions
In a small saucepan, combine the white balsamic vinegar and honey over medium heat, stirring until the honey dissolves. Let it simmer for about 10 minutes or until reduced by about half and it coats the back of a spoon. Remove from heat.

Tear the burrata cheese into smaller portions into a bowl. Sprinkle with kosher salt to taste.

Slice the figs and arrange over the burrata. Drizzle with honey-balsamic glaze.

Garnish with fresh herbs and serve with crackers or bread.
Nutrition
Calories:
177
kcal
|
Carbohydrates:
43
g
|
Protein:
1
g
|
Sodium:
12
mg
|
Potassium:
327
mg
|
Fiber:
3
g
|
Sugar:
39
g
|
Vitamin A:
170
IU
|
Vitamin C:
2.4
mg
|
Calcium:
54
mg
|
Iron:
0.8
mg