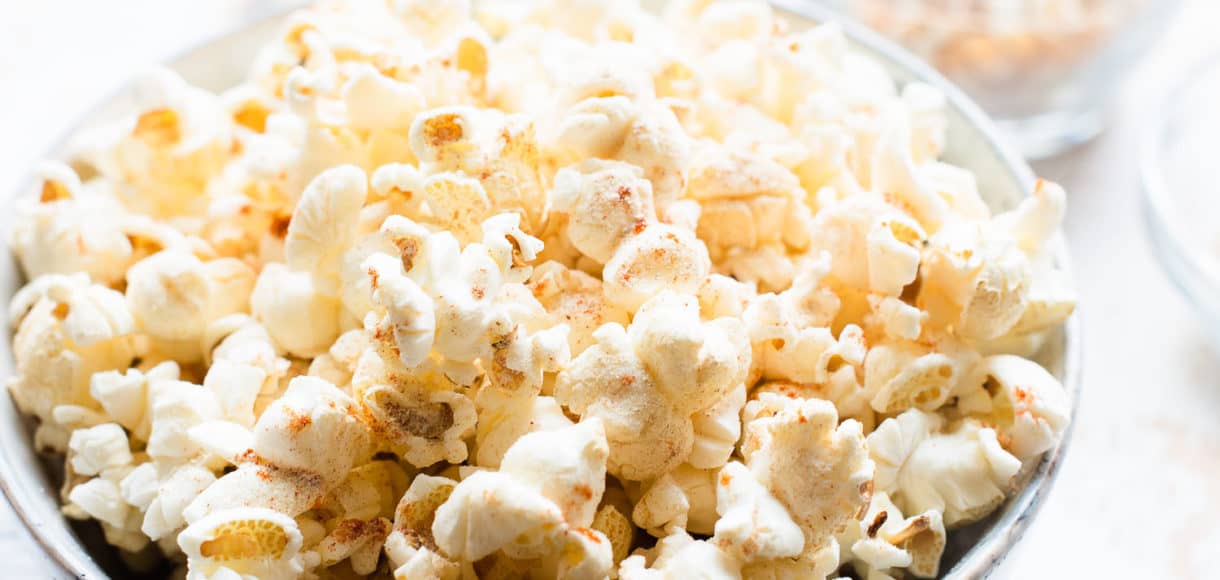 Sweet and Spicy Wasabi Popcorn
Have fun with your spices and make popcorn more fun! Sweet and Spicy Wasabi Popcorn is a perfect snack for a cozy night in!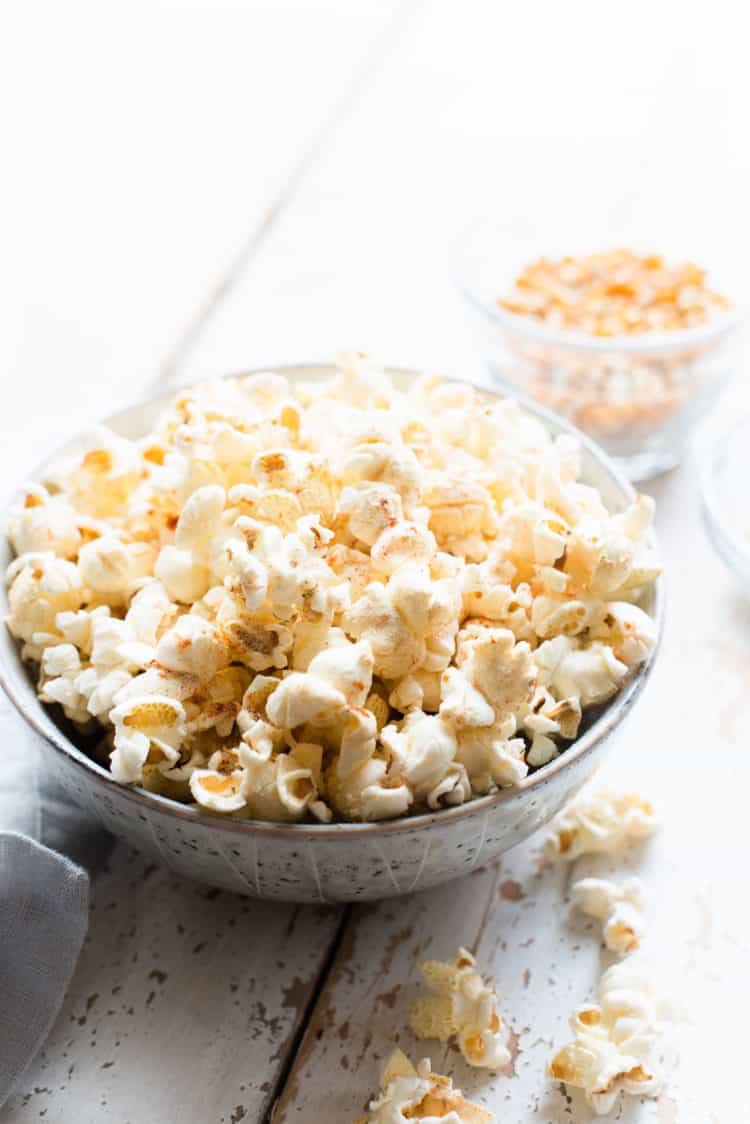 Sweet and Spicy Wasabi Popcorn
Note: This recipe for Sweet and Spicy Wasabi Popcorn was originally published on February 12, 2012 as part of the Simple Sundays series here on Kitchen Confidante. It has been updated with improved kitchen notes, recipe annotation, and photography. I hope you enjoy this favorite from my kitchen!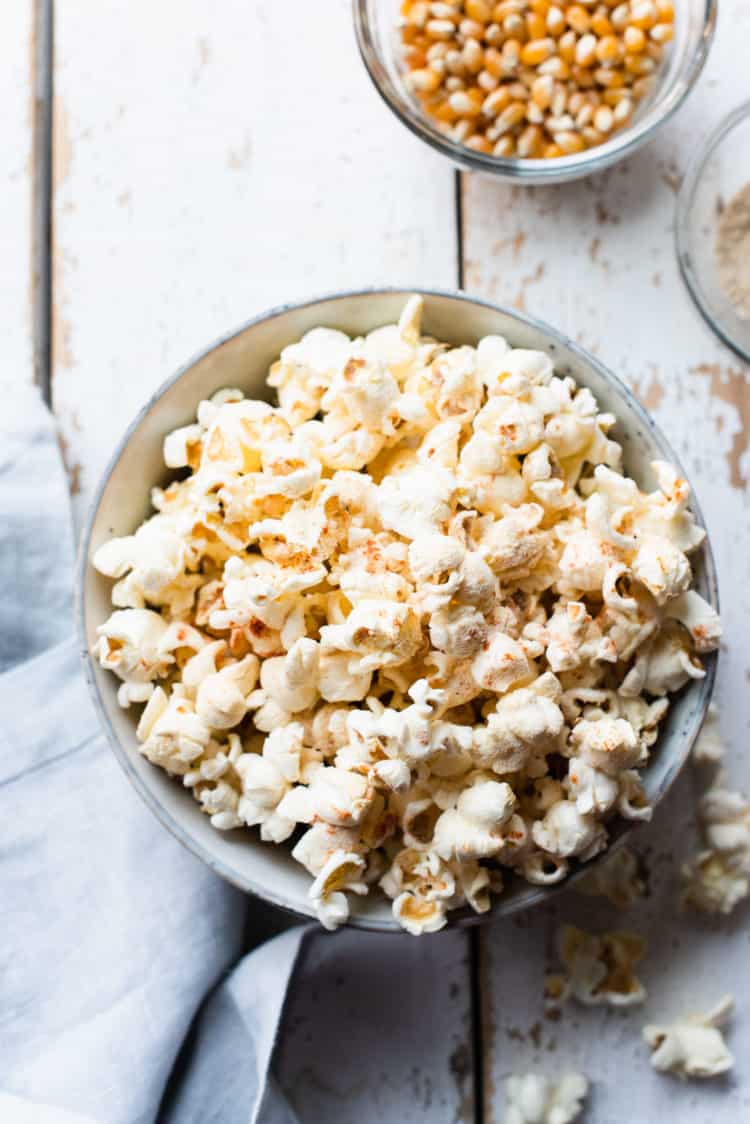 My dad proudly sliced through the packing tape with a utility knife as we all looked on in excitement. The carton was larger than our television, and inside was the future. I set eyes on our very first microwave with awe: a clumsy box with buttons that promised to heat, even to cook, saving time and energy. Wow.
Don't look into it! my mom would beg us, as we would stare, mesmerized by the bowl of food rotating in the microwave. She was certain it could not be good for us. I was in elementary school and thought she was being too silly. But I still look away whenever a microwave is on, even today.
I may have a microwave, but I realize I use it for the most basic things: reheating leftovers, defrosting, boiling water, warming my cold cup of coffee. I never did bake a cake in it, as I imagined I might decades ago. (Correction: since I wrote this post, I have baked a Banana Caramel Mug Cake in the microwave!)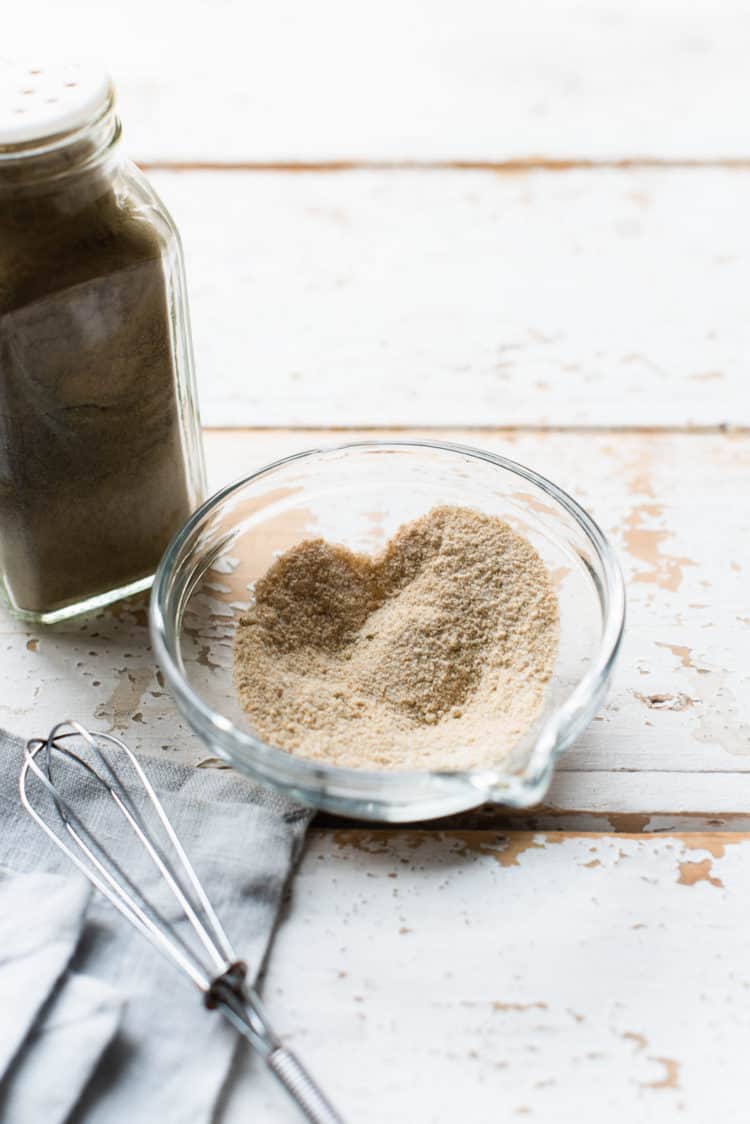 Lately, I've noticed that my microwave doesn't seem right. The door doesn't latch all the way sometimes, leaving it to stop without warning once in a while. And last night, it began to hum a funny noise as I boiled some water. I hopped onto Facebook and thought I'd pick your brains:
Motivated by your comments, I have decided to start something I have long considered. I am going on a No-Microwave Diet. It shouldn't be so hard, right? My resolve was first tested at lunchtime when I wanted to heat up some leftovers. One little sigh, and I pulled out a small pan and warmed my lunch on the stove. Yes! No more nuking! Success #1.
This afternoon, I tackled something I haven't done since I was my daughter's age: stovetop popcorn. Like everyone else, I have come to accept microwaved bags of popcorn as essential as liquid body wash. The days of Jiffy Pop and old fashioned popcorn were a very distant memory. But over the last couple of years, there has been growing awareness that microwaved popcorn is not exactly good for you. Toxins, from the diacetyl that coats the inner bag and imparts a buttery flavor, to the dyes in the bag print, have been receiving bad press.
When a microwave's high temperatures cook the popcorn, it also heats and vaporizes the diacetyl, making it toxic. There is also concern that PFCs found in microwave popcorn may affect vaccine efficiency in children. It just doesn't seem worth it to me anymore.
So, the last time I went shopping, I picked up some popcorn kernels. I'm going old school.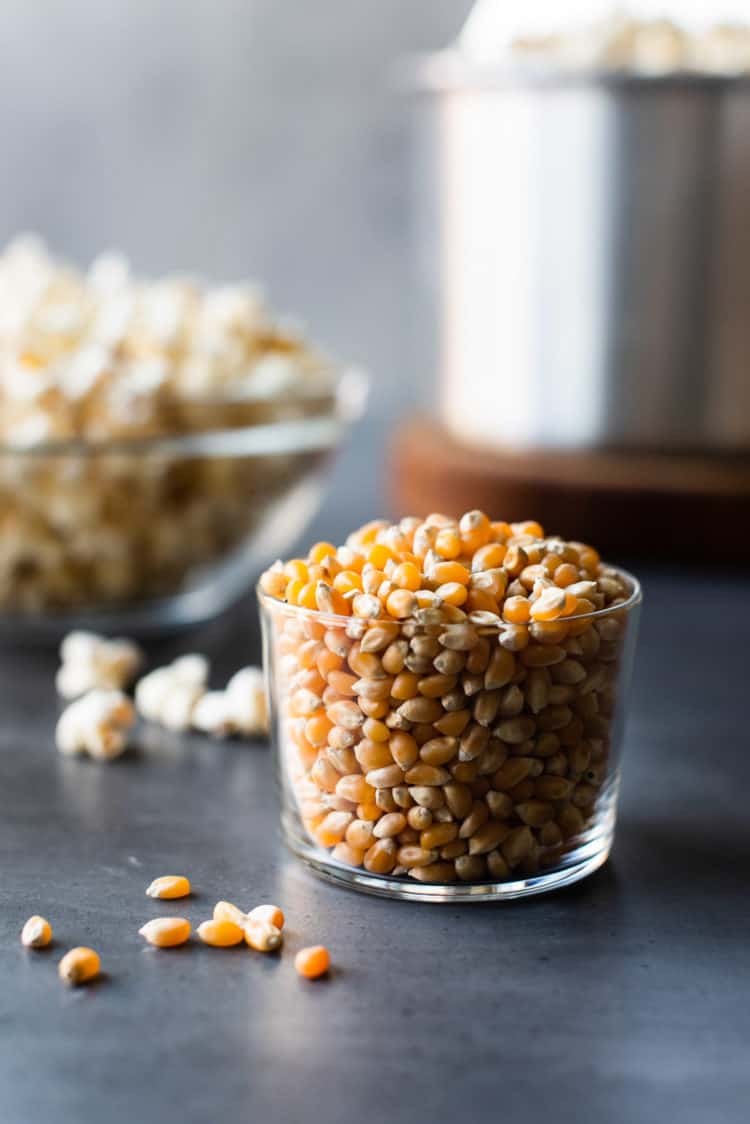 As I poured the kernels into the pot, I felt like a little girl again, the anticipation of hot popcorn resting in my own hands as I shook the pot vigorously over the heat. Each pop gave me a feeling of satisfaction and I couldn't wait to give my old school popcorn some new school flavors. Potent wasabi powder and sugar-coated my popcorn with some grown-up zest, and I just loved each bite of sweet and spicy crunch. Success #2 (!).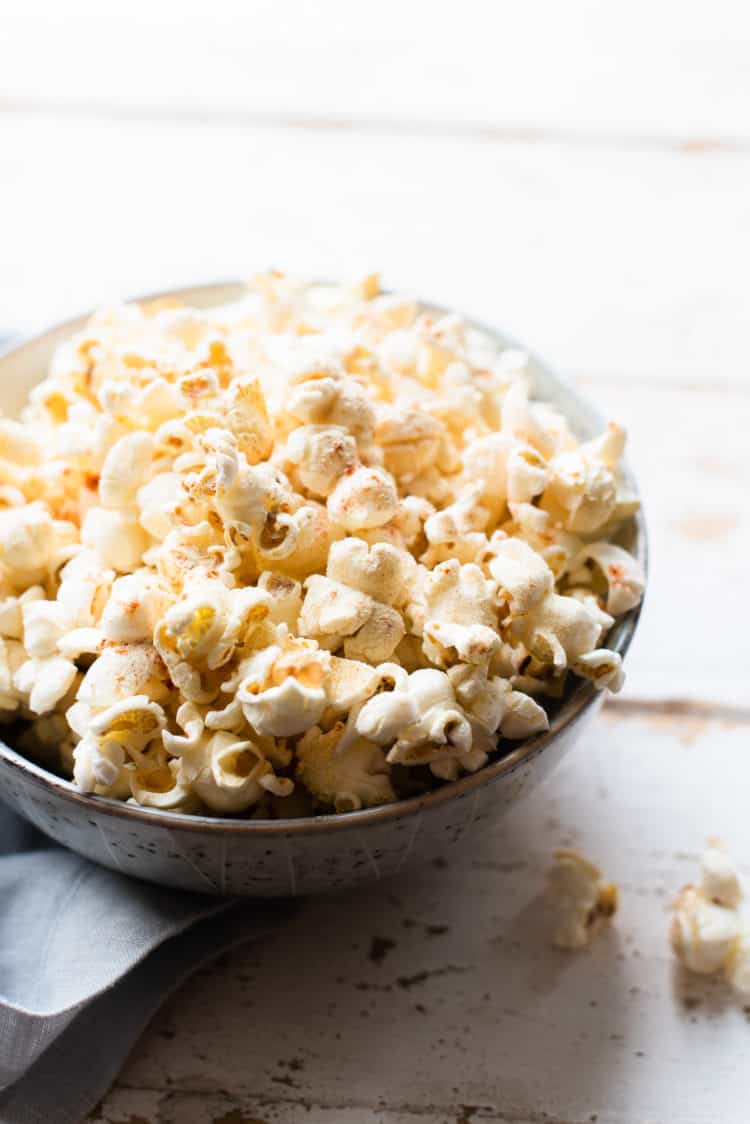 This grown-up Sweet & Spicy Wasabi Popcorn is just right for an evening in – perhaps as a yummy treat for the Grammy Awards or a casual Valentine's date night in with a movie. I think you will really love it.
So, tell me, do you have a microwave? Do you think you can live without it?
More Stovetop Popcorn Recipes
Since I wrote this post, I have revisited how to make perfect stovetop popcorn, where I address some popular popcorn myths, plus share some fun ideas and creative popcorn recipes for a healthy treat the whole family will love!
Easy Stovetop Popcorn + Popcorn Recipes to Spice Up Snack Time
Sugar & Spice Popcorn
Sweet & Spicy Wasabi Popcorn
Caramel Popcorn Affogato
Spicy Sriracha Popcorn
Baked Caramel Corn
Recommended Tools & Products
Sweet and Spicy Wasabi Popcorn
I found popping corn on the stove to take just as little time as making it in the microwave. The best part is getting to control fat and flavorings. As it is, popcorn is a healthy food, rich in fiber. So scale back on the butter (or leave it out altogether) and amp up your seasonings and have fun with your spices. It really is better this way!
Ingredients
1

teaspoon

granulated or brown sugar

1

teaspoon

kosher salt

1

teaspoon

wasabi powder

sifted, to taste

1/8

teaspoon

cayenne pepper

to taste

2

tablespoons

canola oil

1/2

cup

popcorn kernels

1-2

tablespoons

melted butter

optional
Instructions
Stir the sugar, salt, wasabi powder and cayenne pepper in a small bowl. Set aside.

Coat a large pot with canola oil, place 2-3 popcorn kernels and cover. Place over medium-high heat. When you hear the kernels pop, add all the remaining kernels to the pot, replace the lid, and shake over the heat until all the corn is popped. When you no longer hear popping, remove from heat and transfer to a large bowl.

Toss in the sugar-salt-spice mixture and butter (optional) and mix well. If you find that it's not spicy enough for you, sprinkle in more wasabi powder and/or cayenne pepper. Enjoy while toasty!
Nutrition
Calories:
112
kcal
|
Carbohydrates:
10
g
|
Protein:
1
g
|
Fat:
7
g
|
Saturated Fat:
1
g
|
Cholesterol:
5
mg
|
Sodium:
405
mg
|
Potassium:
37
mg
|
Fiber:
1
g
|
Vitamin A:
75
IU
|
Iron:
0.4
mg
Original Photos