Summer of POM
Not too long ago, I shared a recipe for a POMegranate-Soy-Garlic Marinade that I had created when POM Wonderful sent me a case of their tasty pomegranate juice. Since then, I have been cooking more and more with the juice; pomegranate has found its way into so…
Summer of POM
Not too long ago, I shared a recipe for a POMegranate-Soy-Garlic Marinade that I had created when POM Wonderful sent me a case of their tasty pomegranate juice. Since then, I have been cooking more and more with the juice; pomegranate has found its way into so many of the dishes I have been creating lately. It has proven to be even more versatile than I had originally thought.
So, when the kind folks at POM Wonderful asked if I would like to contribute to their first ever POM Summer Menu Series, it was a no-brainer! I had already accumulated several recipes and ideas, and it sounded like a lot of fun. Myself and three other creative food bloggers will be sharing recipes using POM Wonderful Pomegranate Juice each week during the month of July, providing you with a full menu of inspiration. We will rotate between entrees, salads, desserts and cocktails. It is my pleasure to introduce you to:
Danica's Daily
Fitness & Spice
Being Chelsea
For this week's kick off, I present you with an Entree.
When you think of pomegranate juice, it seems inevitable to pair it with alcohol, doesn't it? I couldn't help but do the same for my POMegranate-Beer Steak Fajitas. Using a tangy pomegranate juice with a good quality dark beer infuses steak fajitas with a deep, rich flavor that is a wonderful base for the bright, fresh and spicy bite of salsa and guacamole dressings. So go ahead and give some steak a nice drink of POM and beer – who says cows can't get a little tipsy?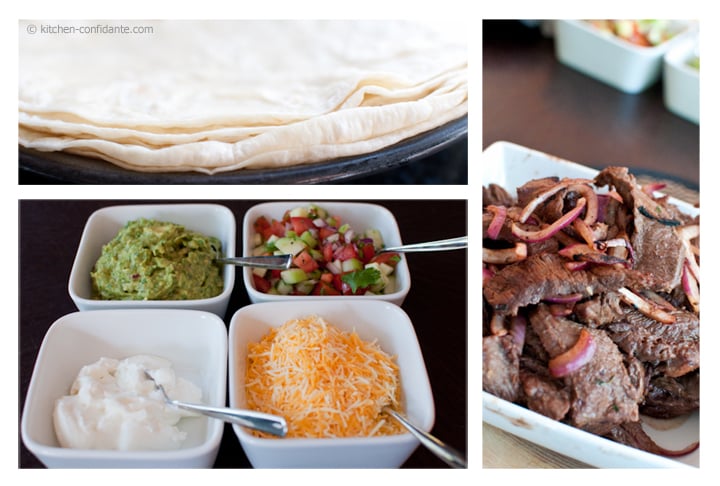 POMegranate-Beer Steak Fajitas
1 cup POM Wonderful Pomegranate Juice
1 cup dark beer (such as a stout)
3 garlic cloves, minced
4 tablespoons olive oil
1/4 cup cilantro, minced
1-2 tablespoons Sriracha hot sauce
1 teaspoon cumin
1 1/2 teaspoons salt
2-3 lbs skirt or flank steak
salt and pepper to taste
1 red onion, thinly sliced
1 lime, juiced
olive oil
flour tortillas
your favorite toppings: fresh salsa, guacamole, sour cream, cheese
Combine marinade ingredients (from pomegranate juice to salt); this can also be done in a blender. Place beef in the marinade and refrigerate for at least 4 hours or overnight.
In a bowl, toss thinly sliced red onions, lime juice, a drizzle of olive oil, salt and pepper. Set aside.
Drain the beef and season with salt and pepper. In a grill pan or an outdoor grill, grill the steaks, roughly 3 to 4 minutes per side. Allow to rest on a cutting board before slicing. Grill the red onions and toss with the sliced meat.
Warm tortillas in a microwave – place a stack on a plate, cover with a moistened paper towel, and microwave for about 30 seconds to 1 minute, or until warm.
Serve the fajitas by placing sliced beef and onions on a tortilla and dress with guacamole, sour cream, salsa and shredded cheese.