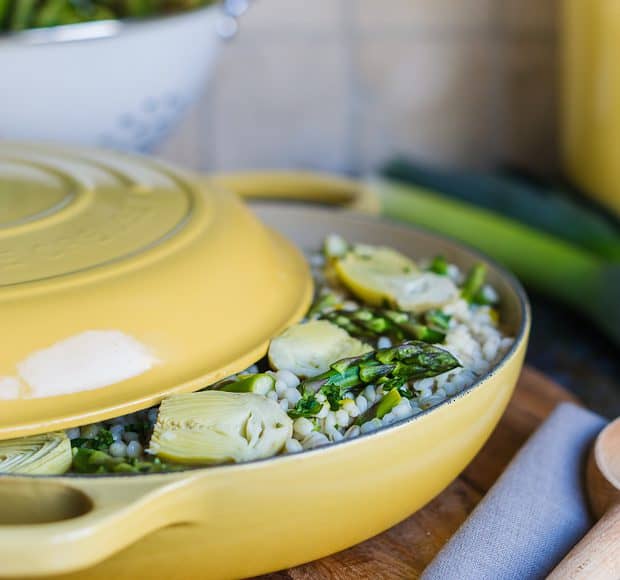 Barley Risotto with Artichokes and Asparagus
Mama, what's your favorite color? My daughter asked me this question over the weekend, and I had to stop and think. Hmm. Favorite color. I admitted to her that I really didn't have one. When it comes to clothing, I love jewel tones because it…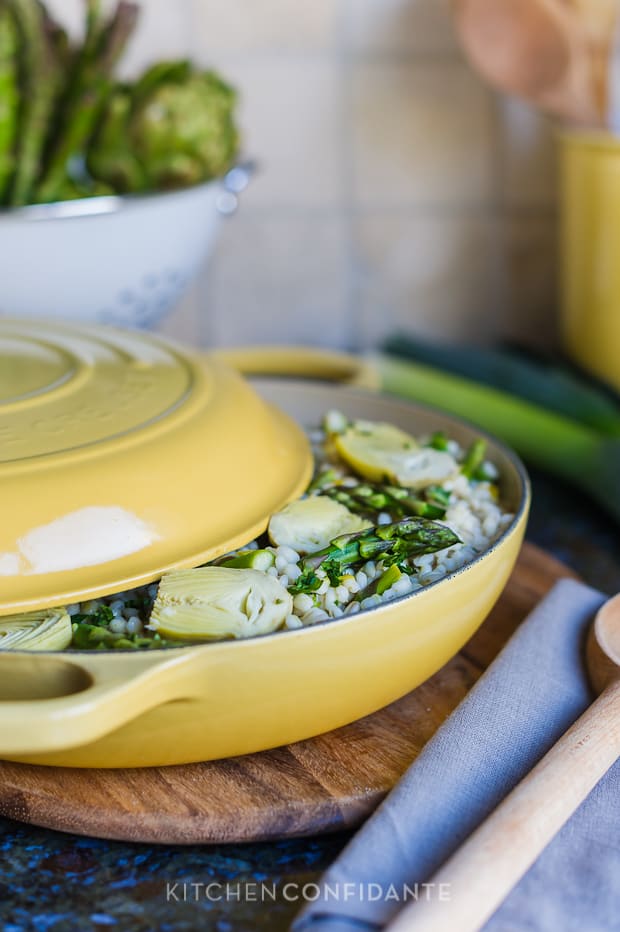 Barley Risotto with Artichokes and Asparagus
Mama, what's your favorite color?
My daughter asked me this question over the weekend, and I had to stop and think. Hmm. Favorite color. I admitted to her that I really didn't have one. When it comes to clothing, I love jewel tones because it suits my olive/tan skin. But I have a penchant for soft earthy tones, too. And I like a lot of brown. I don't really have a favorite.
There was a time, however, when I tried to convince myself that yellow was my favorite color, simply because it was my mother's favorite. I so wanted to be like her and my aunts — they all adored yellow, and it suited their sunny personalities. I was determined to believe that yellow was mine too. Until one day saw a photo of myself in an unflattering shade of pastel yellow. From that moment on, I decided it was not for me.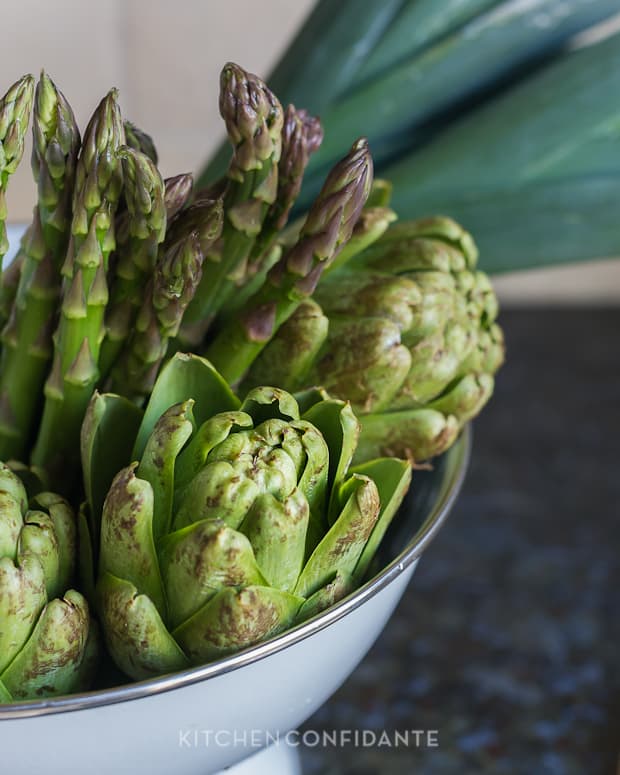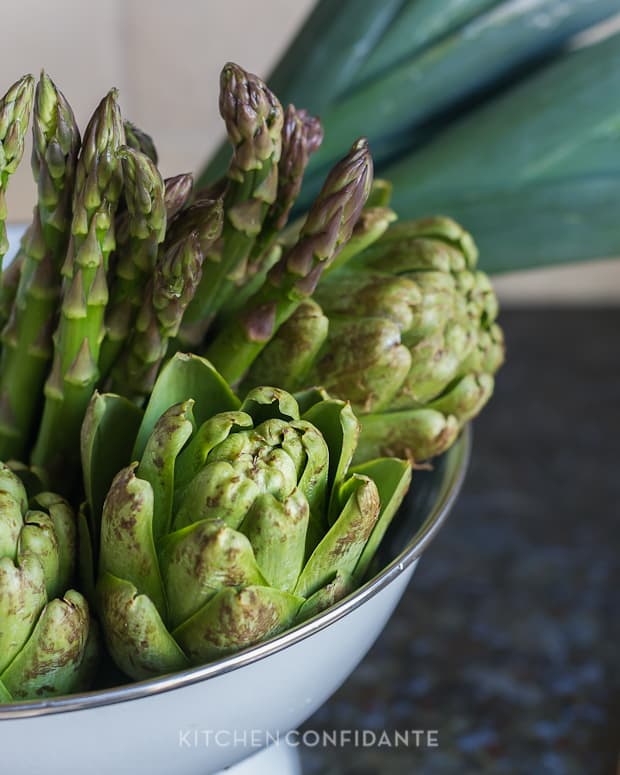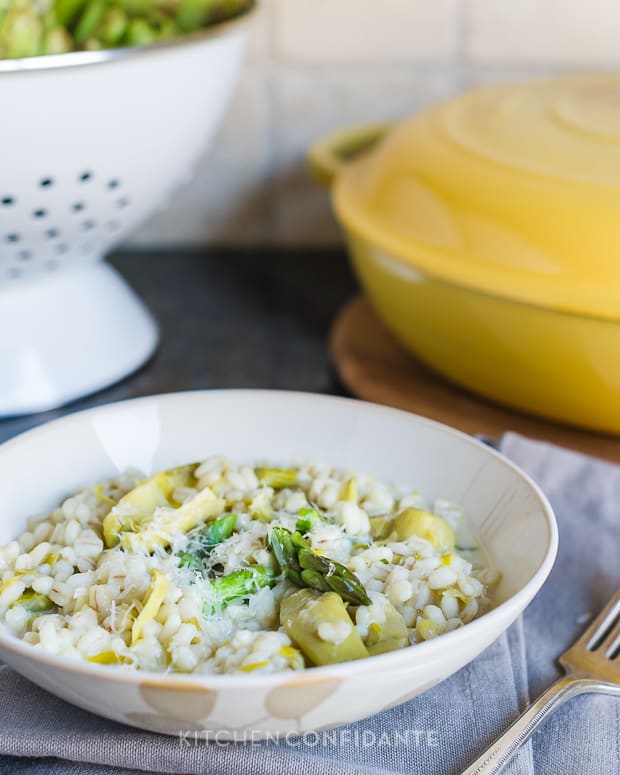 Many years later, I have welcomed yellow back into my life. Shades of warm sun have found their way not only into my closet, but my kitchen as well. There's a sense of glee and relaxation when I see my yellow bowls, the same happiness when I crack an egg and see the deeply hued yolks, or cut into ripe Meyer lemons. Instant happiness.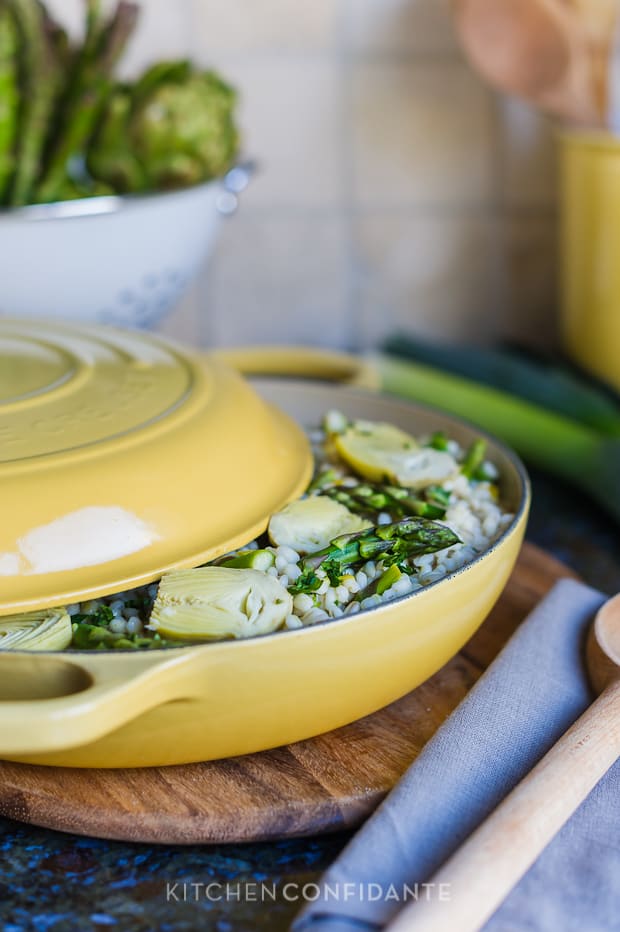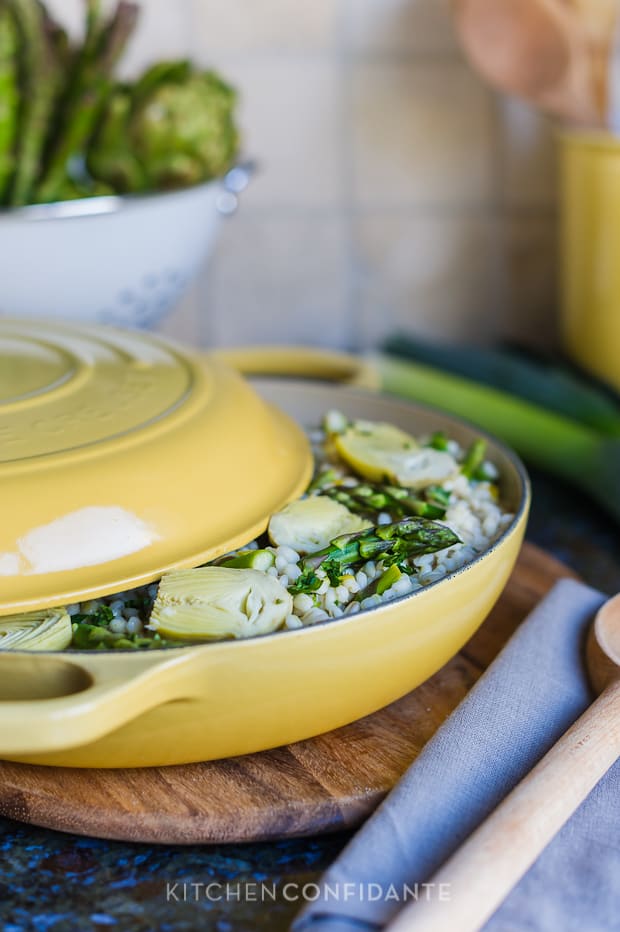 I was invited to participate in a fun Williams-Sonoma & Le Creuset Quince Photo Contest to help spread the word about the Quince Collection, the newest Le Creuset color exclusively available at Williams-Sonoma. I'm sure you will agree that the new color is beautiful! I have been putting this Quince braising pan to very good use and it is like spring has arrived early in my little kitchen. Seeing the warm yellow on the stove just makes me smile.
My photo (above) was one of 18 submissions, and I wanted to present it with a dish that celebrates the warmth of spring ahead, Barley Risotto with Artichokes and Asparagus. If my photograph wins by earning the most likes on Pinterest, guess what? Not only will receive a prize, I will receive a set of Le Creuset in Quince to giveaway to one of my readers (retail value $585)!
The set will include:
This Pinterest contest will begin today at 3pm EST and runs until Monday March 4th at 11:59pm EST. If you wish to vote for my photograph, please check out the Pinterest Board and  "LIKE" my picture. You'll need a Pinterest account…and remember re-pins are awesome (yay!), but we need the most clicks on the "heart" to win!
Thank you so much for your support!!! I really would love to be able to give away a complete Le Creuset Quince to one of you! Crossing fingers :)
Disclosure: I was provided with one Le Creuset Signature Braiser in Quince to style and photograph my submission for the Williams-Sonoma & Le Creuset Quince Photo Contest. All opinions are my own.
Barley Risotto with Artichokes and Asparagus
Using barley in place of Arborio rice in risotto works beautifully! I love the bite it retains, and it amazes me how creamy the risotto can be. This risotto was a sure winner with my family.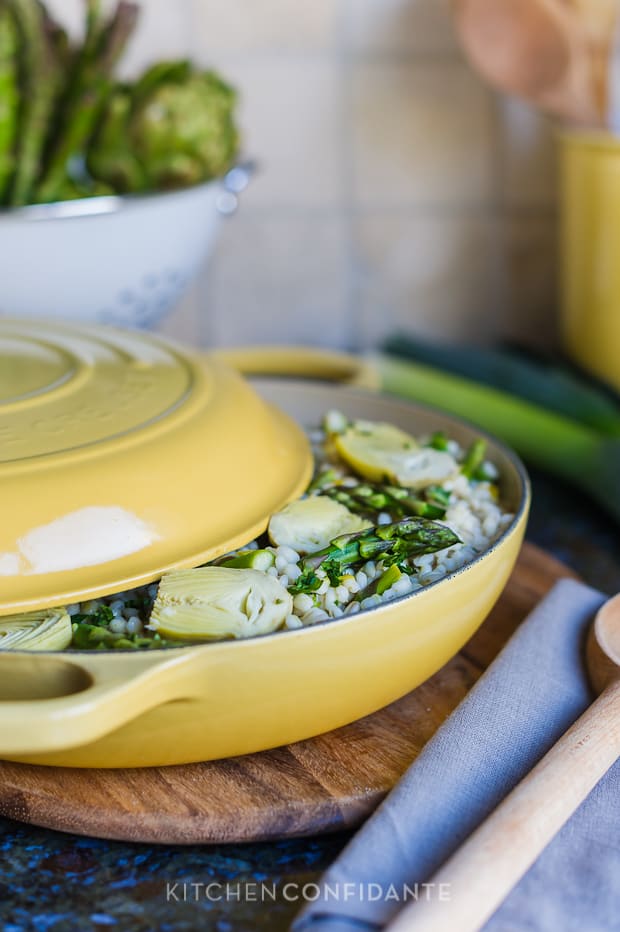 Print Recipe
Ingredients
4 tablespoons unsalted butter
1 tablespoon olive oil
1 leek, cleaned, quartered, and thinly sliced
1 garlic clove, minced
2 cups barley
1 cup white wine
5-6 cups chicken stock, kept warm
4 stalks asparagus, cut into 2 inch pieces
4 artichoke hearts, halved
kosher salt
freshly ground black pepper
flat leaf parsley, for garnish
parmesan cheese, for garnish
Instructions
Heat 2 tablespoons of butter with the olive oil in a deep sided braising or saute pan over medium-low heat. Add the leeks and cook for about two minutes. Add the garlic and cook for another minute. Season lightly with salt and pepper.
Stir in the barley and let the oils coat the grains. Stir in the wine and let it cook until the wine is absorbed. Proceed to stir in the chicken stock, one cup at a time, letting the barley absorb the liquid between additions. Continue until the risotto is creamy and soft, about 30 minutes. You may or may not need to use all the chicken stock. Towards the end of the cooking, add the vegetables and continue to cook, adding chicken stock as necessary, until the asparagus is cooked and just fork tender. Season to taste with salt and pepper.
Take the risotto off the heat and stir in the remaining butter. Serve hot, garnished with chopped parsley and parmesan cheese.