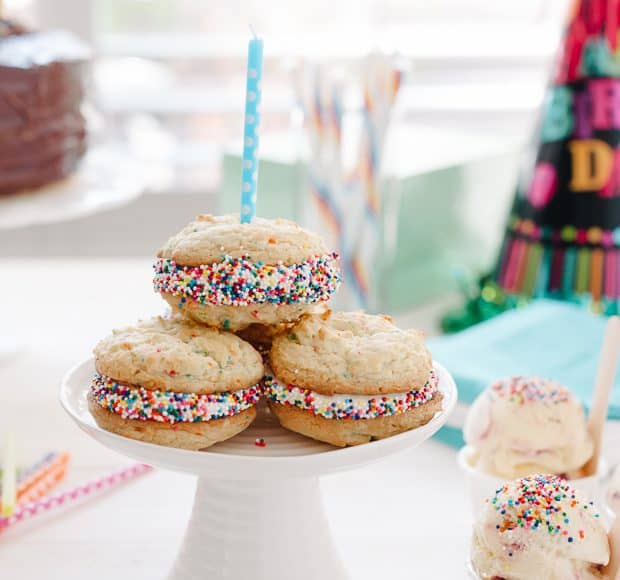 Birthday Cake Cookies + How To Plan a Birthday Bash!
A recipe for Birthday Cake Cookies (made easy with a boxed cake mix), plus tips on how to plan a kid-friendly birthday bash!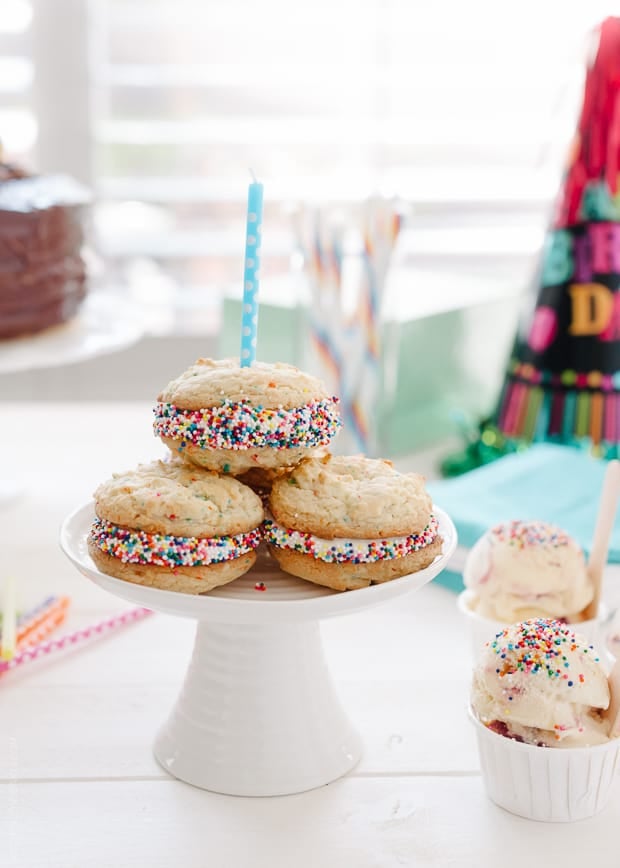 Birthday Cake Cookies + How To Plan a Birthday Bash!
These Birthday Cake Cookies are easily made with a boxed cake mix—giving you more time for planning the party! The cookies also make perfect party favors or treats to bring into school.
Disclosure: This post was originally a sponsored conversation written by me on behalf of Betty Crocker. The opinions and text are all mine.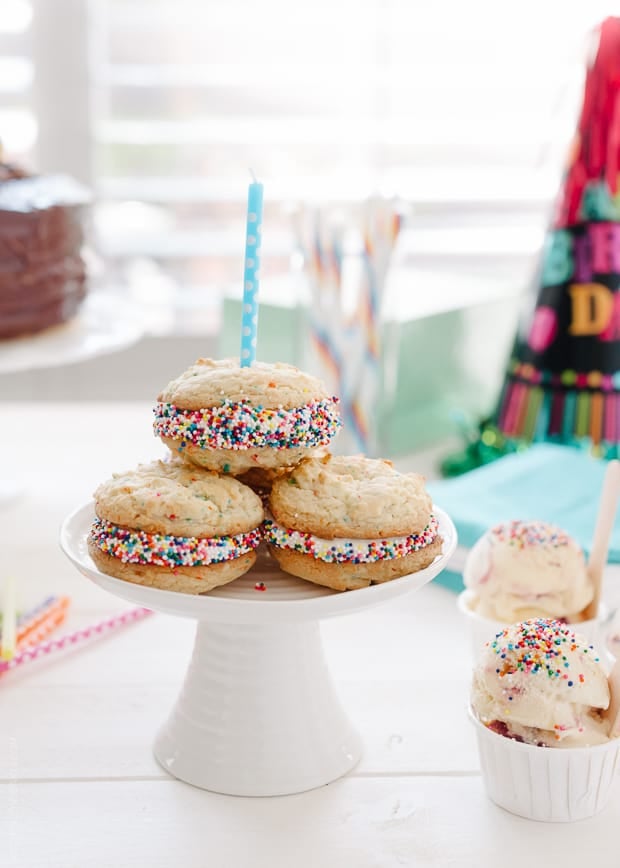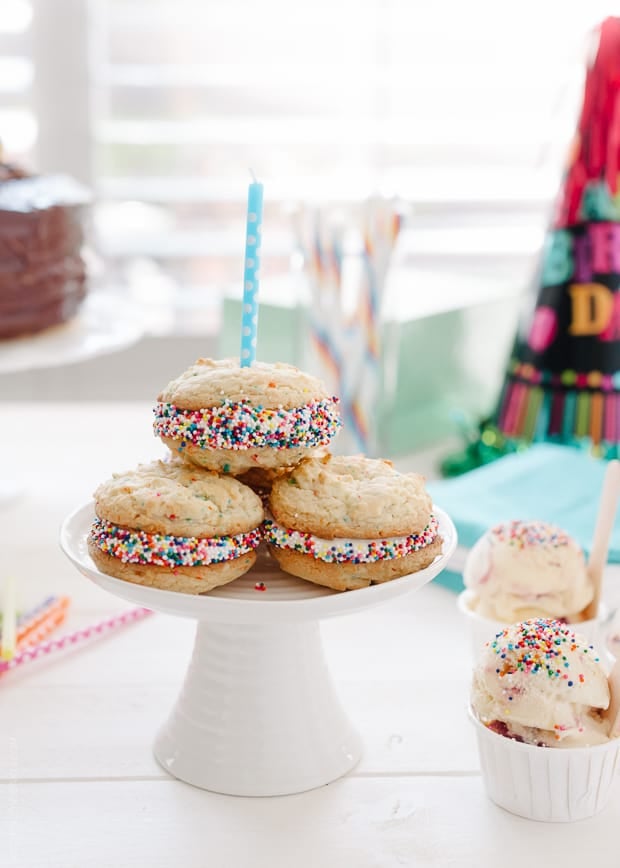 As luck would have it, the birthdays of each member of our family falls in each season: winter for my daughter, spring for my husband, summer for me (go summer birthdays!), and autumn for my son. This is awesome for many reasons – it spaces out the party planning, for one, and each season provides its own inspiration for celebrations, from activities to food to colors and theme.
One thing is certain – even if I may know there is a birthday around the corner, I tend to start the planning a few weeks in advance. Between you and me, however, I have planned birthday celebrations in much less time, and it can be done, with a little help.
How To Plan a Birthday Bash
Choose a Theme
I always start with a theme. We've had our share of Lego birthdays and Cookie Monster birthdays, Dance themed birthdays, Gymnastics birthdays, American Girl Doll parties, Bowling parties, Harry Potter birthdays…you can imagine we've done them all.
As they get older, the themes tend to simplify, and perhaps a unifying color scheme is all you need to get the planning rolling. When you have a theme, everything else tends to fall into place quite easily. Once I've got a theme, the timeline goes like this:
Secure a Location
My daughter's birthdays are often held off site – when your birthday falls during the rainy season, it's easier to host it somewhere else! Bonus: you don't have to worry about frantically cleaning your house.
Mail Invitations or Send E-vites
I'm a big fan of mailing invitations when possible. Not only do you get to give guests an idea of the fun you have planned, but for little kids, it's a chance to receive a piece of mail! That said, emailing invitations is awesome for planning, parents can import information right into their calendars, and it saves paper.
Purchase the Party Goods
Paper plates, forks, spoons…stock up! I love playing with the colors of a theme and sticking with it. Rather than scouring stores and the internet for the perfect Minecraft paper plate, I much prefer to stick with one color as the unifying theme. It's often cheaper, and I personally think it looks better.
Plan the Activities
This is the fun part. If you're hosting the party yourself and you're responsible for keeping little guests occupied, here is where creativity is a plus. If you have a theme, embrace it!
It doesn't have to be perfect, but a little extra work creates some magic. Speaking of magic, one of my favorite birthdays was the Harry Potter birthday I threw for my son. Each section of the house was a different part of the magical world and Hogwarts. The front door was platform 9 3/4, and when they entered, the dining room was transformed into the Great Hall for their "feast".
I taught a Potions class in the kitchen, and a scavenger hunt was part of Care of Magical Creatures Class. Each child was given a spell book (with coloring pages), and before they left for the evening, they were given golden "galleons" (coins) to spend at Honeydukes for sweets. Some themes are easier than others, but you can always take basic party activities and give them a little twist.
Plan the Food
Now here is where I try to keep things as simple as possible. I try to keep the food as wholesome as possible, so there's always fruit and veggies, and the children's favorite foods.
Cater, if it's easier! Wraps and sandwiches are always great, as is lasagna and pasta. We've even made fried chicken! This is where the birthday girl or birthday boy gets their wish.
Cake! What's a birthday without cake? Well, here's the deal. As my children get older, they like to think outside the box and don't always want a huge cake. That's fine with me, but I still like to make a little cake (think smash cakes that are popular with first birthdays) for lighting candles and singing Happy Birthday, and supplement it with what their heart desires.
Lately, my son, whose birthday is fast approaching, is partial to celebrating with cookies, so when I saw these party perfect Birthday Cookies in Betty Crocker Birthdays, I knew I had to make them!
Betty Crocker has been part of my birthday celebrations since I was a child. My first cake was made with Betty Crocker, and if you've read my blog for a while, you well know that despite all the homemade cakes I may make, it's cupcakes "out of a box" that my husband always requests for his own birthday. There's nostalgia, yes. But there's also something awesome about having a little (ok, a lot) of help when you're busy throwing a party.
Whether you're tackling a layer cake, a themed cake, or looking for something a little different (like these Birthday Cookies), I love all the ideas you can find on the Betty Crocker site. It makes it easy! There's even recipes to round out the menu and lots of party planning advice!
This year, my son is still finalizing the details for his birthday celebration, and I'll be sending out invitations before you know it. We're tossing around a lot of ideas, but one thing is certain, these Birthday Cake Cookies will be part of the of party!
Disclosure: This is a sponsored conversation written by me on behalf of Betty Crocker. The opinions and text are all mine.
More Birthday Recipes
Nectarine Crumb Cake + Ice Cream Birthday Cupcakes
Roasted Berry Cupcakes
Carrot Cake Cupcakes (vegan!)
No-Churn Cheesecake Ice Cream Cake
S'mores Ice Cream Pie
Birthday Cake Cookies
These Birthday Cake Cookies are easily made with a boxed cake mix—giving you more time for planning the party! The cookies also make perfect party favors or treats to bring into school.
Ingredients
1

box Betty Crocker™ SuperMoist™ party rainbow chip cake mix

1/2

cup

butter

melted

1

tablespoon

milk

1

egg

1

can Betty Crocker™ Rich & Creamy vanilla frosting

1/4

cup

Betty Crocker™ Decors rainbow mix candy sprinkles
Instructions
Preheat the oven to 350°F.

Combine the cake mix, butter, milk and egg in the bowl of an electric mixer and blend until smooth. Using a cookie scoop or small ice cream scoop, drop the batter onto a cookie sheet, leaving two inches between each cookie.

Bake for 10-12 minutes, or until golden. Let the cookies cool for one minute, then transfer to a wire rack to cool completely.

Spread some frosting onto the bottom side of one cookie and top with another cookie, creating a little sandwich with the frosting. Roll the edges of the cookie in the sprinkles.
Notes
Adapted from Birthday Cake Cookies, Betty Crocker Birthdays, Houghton Mifflin Harcourt (April, 2014).
Nutrition
Calories:
392
kcal
|
Carbohydrates:
61
g
|
Protein:
3
g
|
Fat:
15
g
|
Saturated Fat:
8
g
|
Trans Fat:
1
g
|
Cholesterol:
41
mg
|
Sodium:
488
mg
|
Potassium:
51
mg
|
Fiber:
1
g
|
Sugar:
40
g
|
Vitamin A:
310
IU
|
Calcium:
121
mg
|
Iron:
1
mg