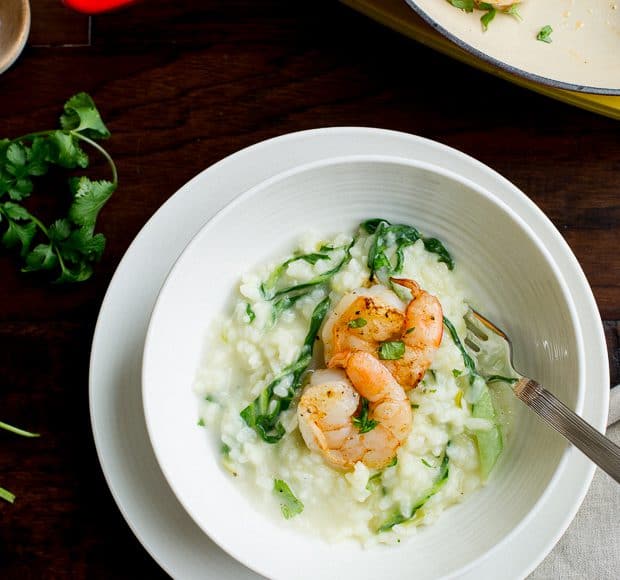 Bok Choy Risotto with Coconut Milk and Pan Seared Shrimp
Sometimes you get stuck in a rut. It happens. Especially in the kitchen. I picked up a bundle of bok choy earlier this week, without a plan in mind, simply because it looked so beautiful at the market. Its tender leaves and stems are a…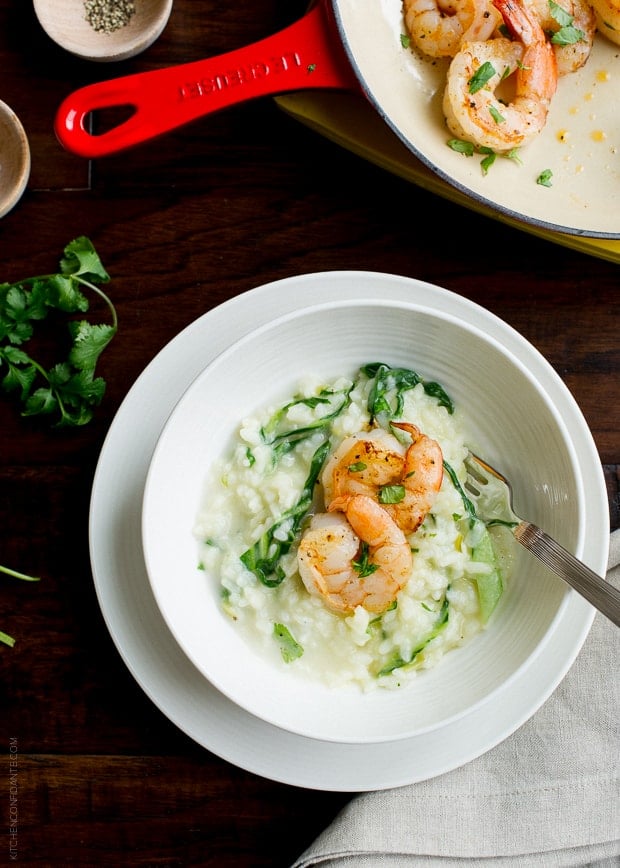 Bok Choy Risotto with Coconut Milk and Pan Seared Shrimp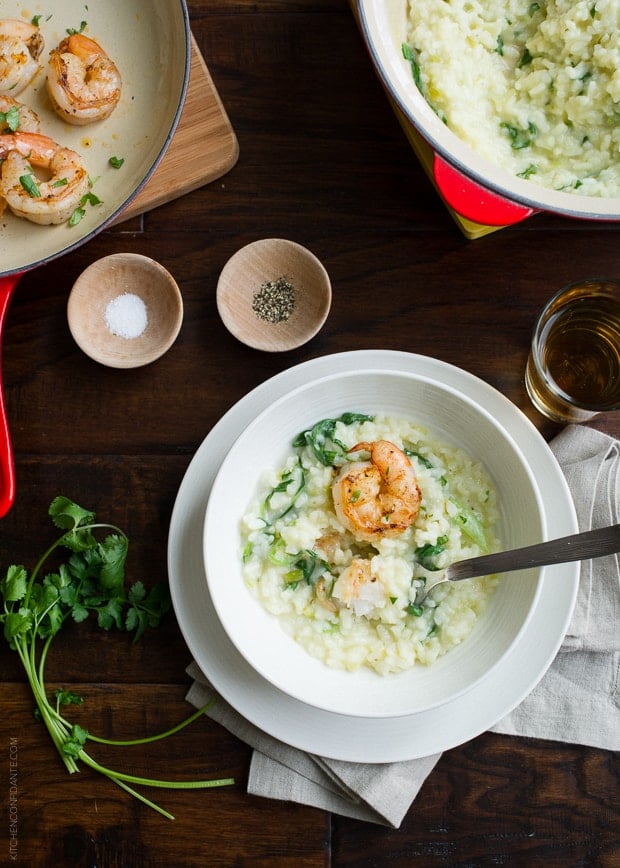 Sometimes you get stuck in a rut. It happens. Especially in the kitchen.
I picked up a bundle of bok choy earlier this week, without a plan in mind, simply because it looked so beautiful at the market. Its tender leaves and stems are a favorite of mine, but I confess that I usually don't think past a simple stir fry when it comes to bok choy.
I tried braising some of it, but was dissatisfied. Too wilty and too stringy, the limp greens begged me why I cooked them to oblivion. Determined not to make my remaining stems suffer, I turned to Instagram and sought inspiration.
The ideas poured in! All of a sudden, I was excited, and I did not have nearly enough bok choy to try all your suggestions. With your guidance, my imagination began to work as I surveyed the remaining contents of my pantry and refrigerator (it's been a while since I've been shopping, but that is another story).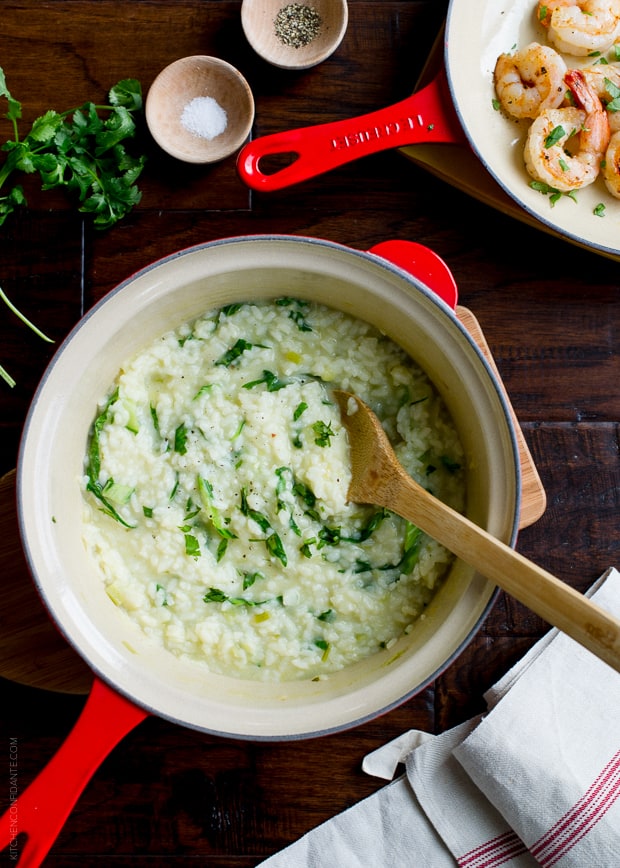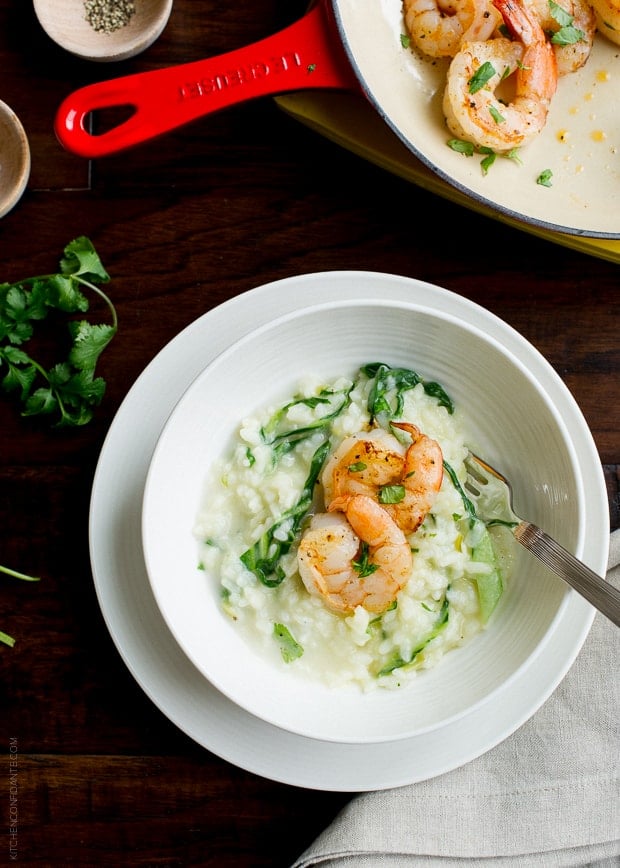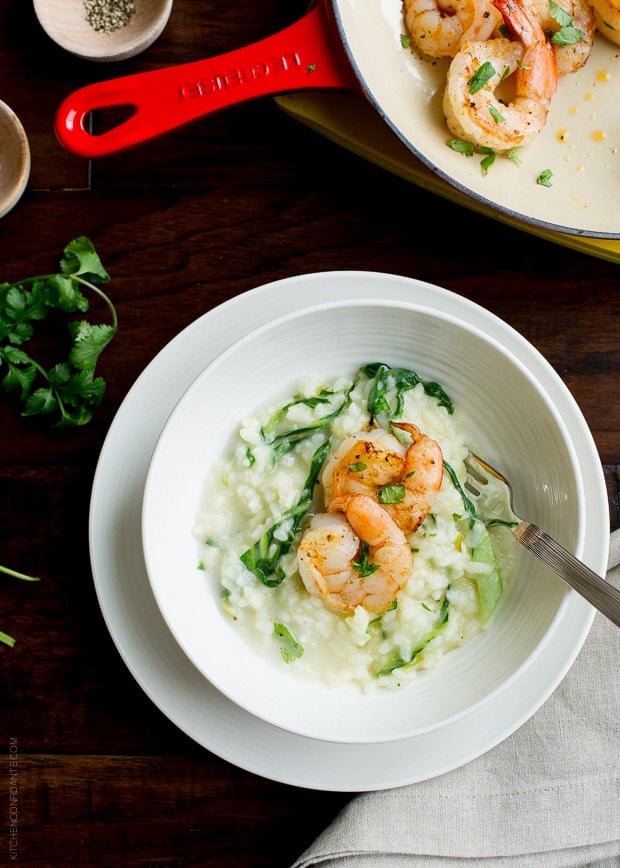 Arborio rice, frozen shrimp, and a shallot. Butter and olive oil. A splash of sake and a can of light coconut milk. One last remaining chunk of ginger. I realized I had the makings of a creamy risotto, and wondered how the bok choy would fare.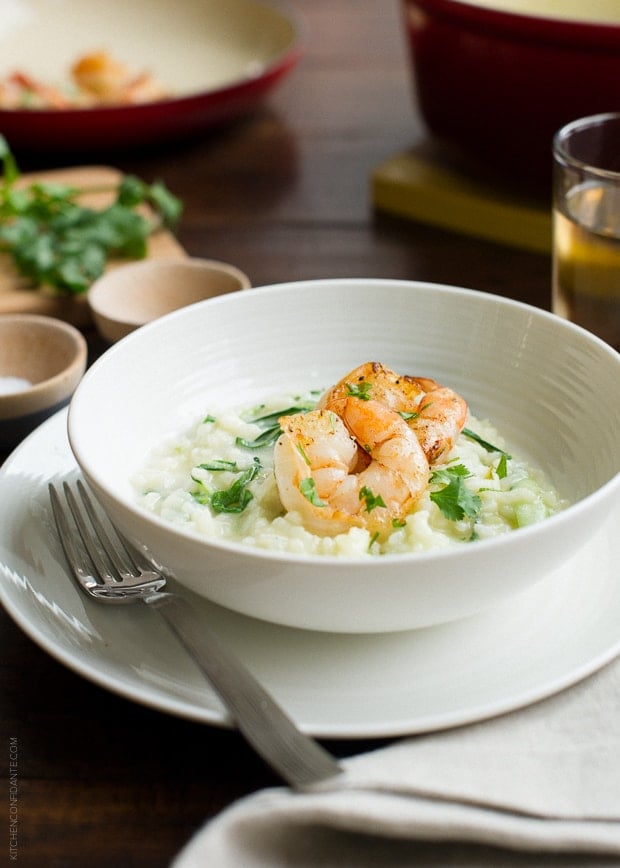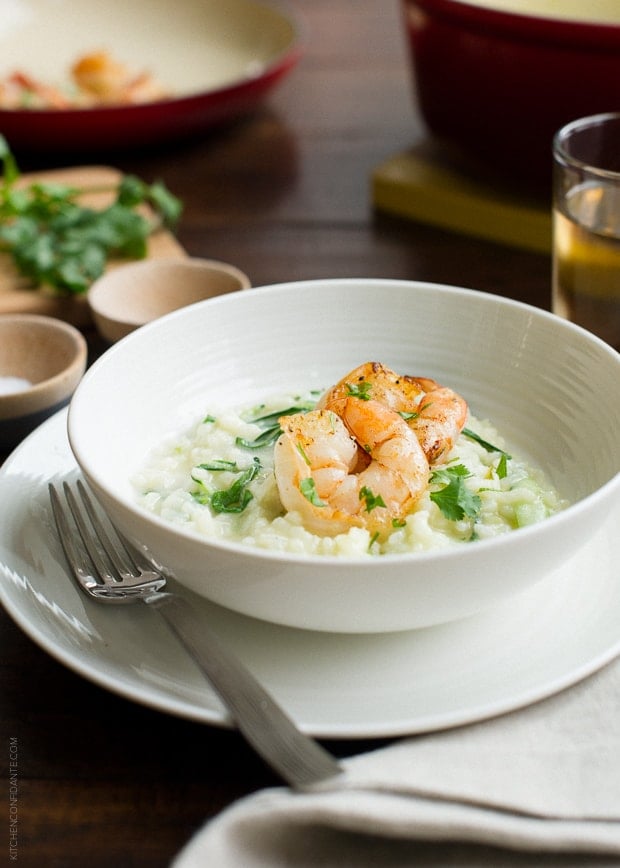 This is a keeper. Cooking the stems separately into the risotto worked nicely with the shallot, and stirring in the tender leaves at the end with the coconut milk helped it stay fresh, and not to mention creamy. The ginger gave it a hint of fragrance. In a skillet, the shrimp cooked in a few minutes, with a touch of salty heat from fish sauce and sriracha. Bok Choy Risotto with Coconut Milk and Pan Seared Shrimp is the start of a renewed love for bok choy.
Speaking of love, Valentine's Day is just a few days away, and come to think of it, this risotto would be lovely if you decide to stay in for a quiet celebration. But I also thought I would send a little love your way by hosting a giveaway for the Le Creuset 3-3/4-Quart Multi-Pan I used in making this recipe. I worked with these 2-in-1 pans a few months ago, creating some recipes for this exclusive set, and I have one to share with you, in Valentine-ready Cherry red. It has proven to be super versatile in the kitchen, and I hope one of you enjoys it as much as I do.
Giveaway
I am excited for one of you to try this recipe with a Le Creuset 3-3/4-Quart Multi-Pan. One winner will be selected. Here's how to enter:
Please leave a comment letting me know: Do you like bok choy? What's your favorite way to prepare it?
Entries/Comments accepted until 12 a.m. Pacific, Friday, February 20, 2015.
One winner will be randomly selected and notified by email. The winner will have 48 hours to respond to email notification, otherwise an alternate winner will be selected.
Disclosure: This giveaway was made possible by Le Creuset.
Bok Choy Risotto with Coconut Milk and Pan Seared Shrimp
A simple meal that is fresh, creamy and gives an Italian classic an Asian twist.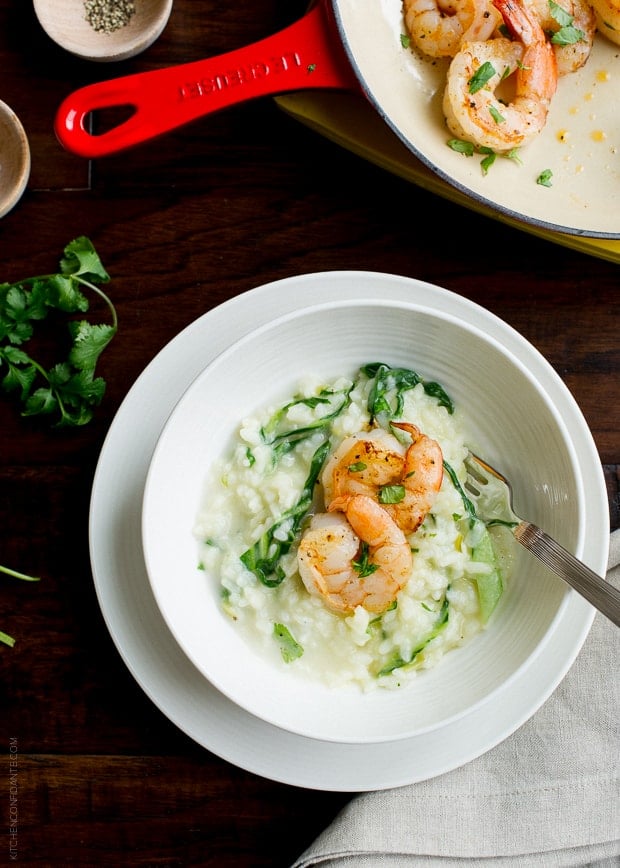 Print Recipe
Ingredients
For the Bok Choy Risotto with Coconut Milk:
1 tablespoon olive oil
1 tablespoon butter
3 bok choy, chopped, stems and leaves divided
1 shallot. finely chopped
1 1-inch slice fresh ginger
1 cup Arborio rice
1/2 cup sake or dry white wine (or substitute chicken stock)
3 cups chicken stock, heated
1 13 oz can light coconut milk
2 tablespoons chopped cilantro
kosher salt and freshly ground pepper, to taste
For the Pan Seared Shrimp:
1 tablespoon olive oil
1/2 tablespoon unsalted butter
16 oz shrimp, shelled and deveined
1 teaspoon fish sauce
1/2 teaspoon sriracha
freshly ground black pepper
Instructions
In a deep-sided sauté or sauce pan, melt the butter in the olive oil over medium heat. Sauté the stems of the bok choy, shallot and ginger until the shallots are wilted. Add the Arborio rice, stirring until the rice is coated and translucent. Add the sake or wine, and cook until it is evaporated. Stir in 1 cup of chicken stock and allow to simmer, stirring periodically. When the stock is absorbed, add another cup, and continue incorporating the stock until the rice is fully cooked and the stock is all used, about 30 minutes. Discard the ginger. Stir in the coconut milk, along with the chopped bok choy leaves. Stir in the cilantro and Season to taste with salt and pepper.
Heat a the olive oil and butter in a skillet over medium heat. Add the shrimp, and season with fish sauce, sriracha and fresh pepper, stirring frequently. Cook until the shrimp is pink, about 3 minutes.
Serve the risotto with the shrimp and additional cilantro, if you wish.