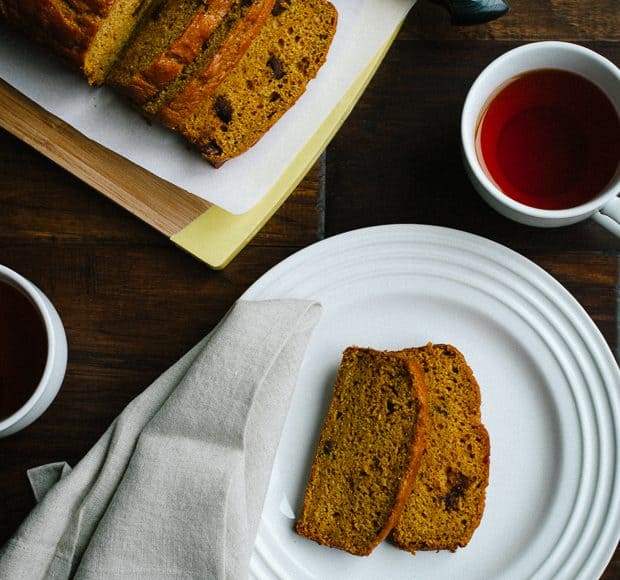 Chocolate Chip Pumpkin Bread
If you're joining me today, and double checking your calendar, do not fear. I know. It's February. And the food world (whoever that may be) declares that pumpkin is so last season. But it's winter, my friends. And a long weekend. And if you're my…
Chocolate Chip Pumpkin Bread
If you're joining me today, and double checking your calendar, do not fear. I know. It's February. And the food world (whoever that may be) declares that pumpkin is so last season. But it's winter, my friends. And a long weekend. And if you're my friends and family back in New York, I know you're cozying up indoors. They say it will reach a balmy 12 degrees today back there. I say it's a good day for baking.
Besides, canned pumpkin is something that I like to keep on hand, whatever the season. Last week, when the rains poured, and the dog flashed dirty looks anytime we coaxed him outdoors to do his doggy things, I kept cozy in the kitchen, baking up a couple of loaves of Chocolate Chip Pumpkin Bread. The scent of pumpkin spice drifted out of the kitchen, testing our willpower to wait a few moments before slicing into buttermilk rich quick bread, bursting with chocolate chips.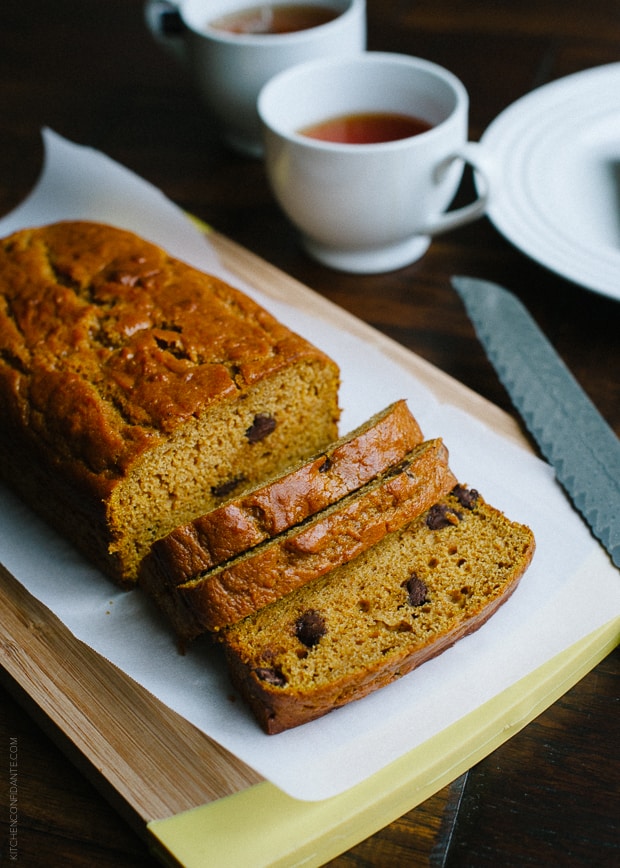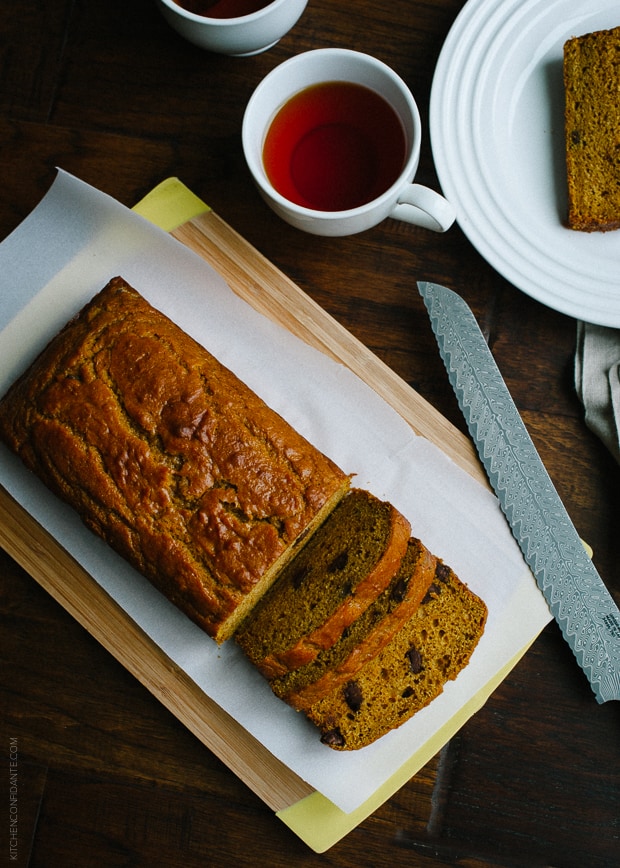 This recipe makes two loaves. Always make two. Eat one loaf fresh out of the oven over the weekend, and give the other away. Or, even better, save it to chase away the weekday blues.
Chocolate Chip Pumpkin Bread
Pumpkin bread should be enjoyed all year round, don't you think?
Print Recipe
Ingredients
3 cups flour
1½ tsp baking powder
1½ tsp baking soda
3 tsp cinnamon
1 tsp nutmeg
½ tsp ground cloves
½ tsp salt
2 cups sugar
½ cup unsalted butter, softened at room temperature
2 large eggs
2 cups canned unsweetened pumpkin puree
1 cup buttermilk (or substitute 1 cup whole milk with juice of one lemon)
½ cup semi-sweet chocolate chips
Instructions
Preheat oven to 350 degrees. Prepare two 9-inch loaf pans by buttering and lining with parchment paper.
In a medium bowl, sift or whisk together the flour, baking powder, baking soda, cinnamon, nutmeg, ground cloves, and salt. In a the bowl of an electric mixer fitted with the paddle attachment, cream sugar and butter. Mix in eggs, one at a time, then add the pumpkin, mixing thorougly. Add flour mixture and buttermilk, alternating until incorporated. Try to end with the flour mixture addition, and be sure not to over mix. Stir in the chocolate chips.
Divide the batter into the prepared loaf pans.
Bake ifor 45 minutes to one hour or until a toothpick inserted in the center comes out clean.
Transfer to a wire rack to cool.