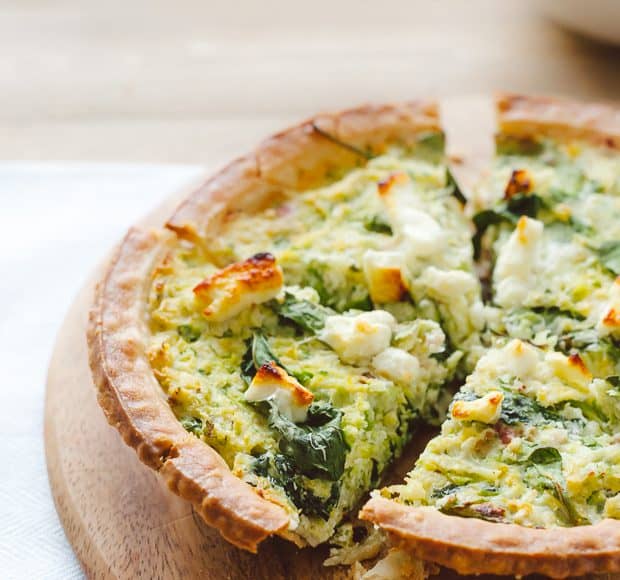 Brussels Sprouts and Baby Greens Feta Pie
I've been thinking of pies lately. Lots and lots of pies. Lots. Savory, mostly. The obsession for savory pies has been so strong, I thought I would share my collection of savory pies on Foodie. Isn't that just mouthwatering? It's hard to say where this…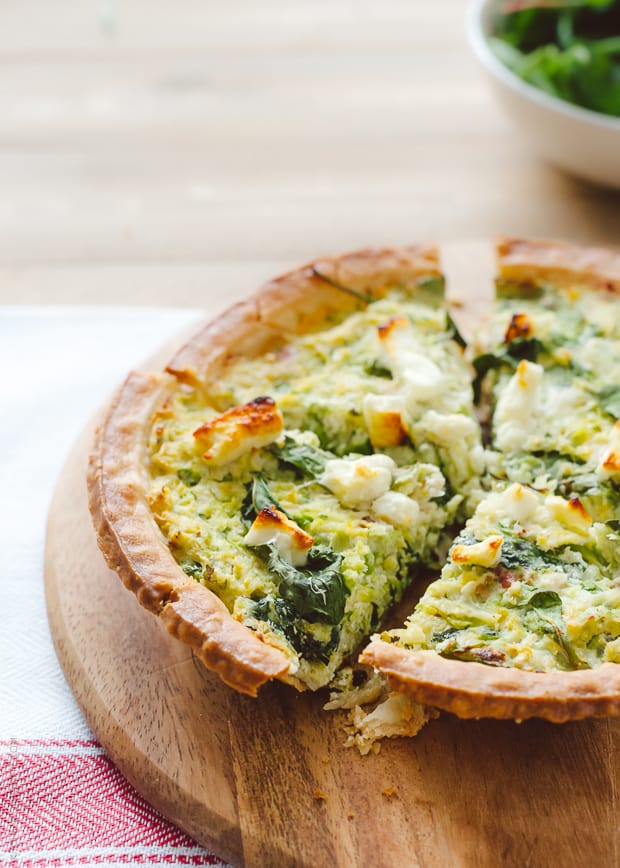 Brussels Sprouts and Baby Greens Feta Pie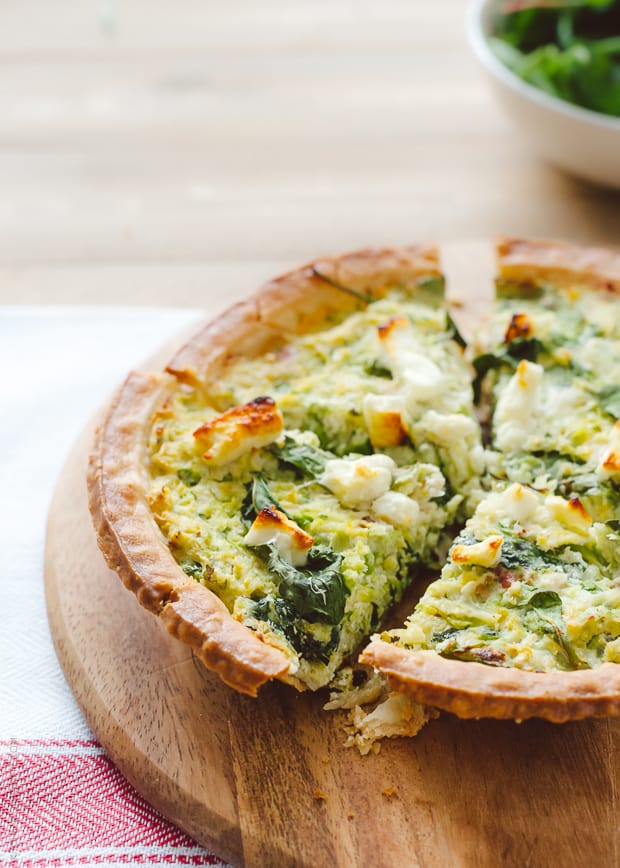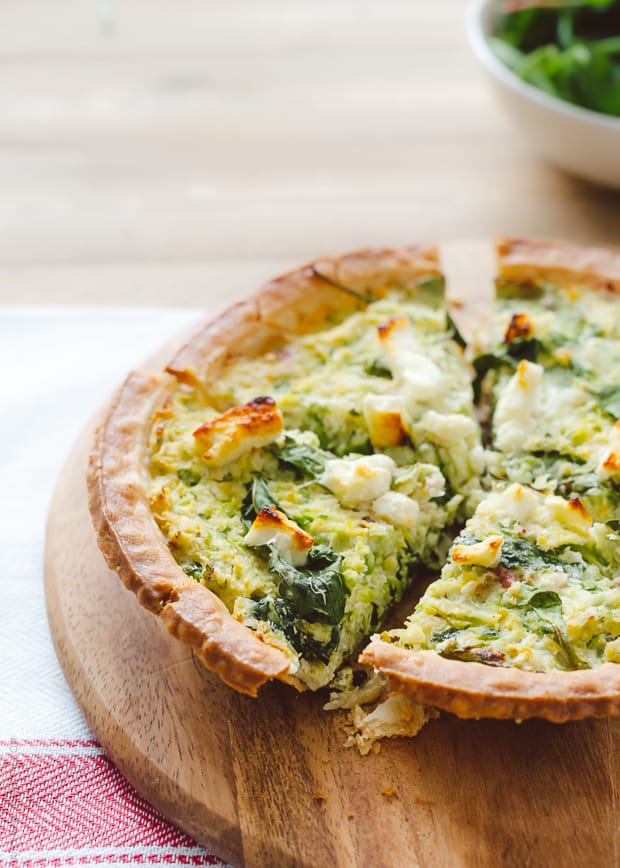 I've been thinking of pies lately. Lots and lots of pies. Lots. Savory, mostly.
The obsession for savory pies has been so strong, I thought I would share my collection of savory pies on Foodie.
Isn't that just mouthwatering?
It's hard to say where this craving is coming from. Maybe because Pi Day is just around the corner? Sweet fruit pies have been on my mind, too, but I have been exerting willpower like you wouldn't believe because a slice of, let's say, berry pie just isn't the same without a scoop of vanilla ice cream melting on top and swirled with each bite. And I've kind of been trying to eat less ice cream (you're talking to a recovering ice-cream-for-dessert-every-night person.)
So I've been focused on pies that would be perfect to serve for brunch, or eat for lunch, or even dinner. Pies that are so chock full of vegetables that you could justify the extra butter in the dough. And the cheese.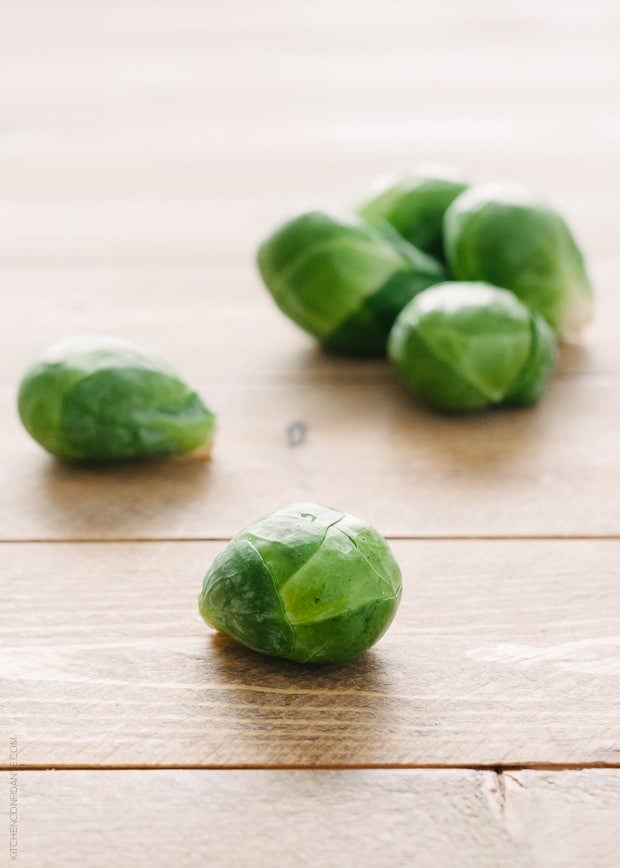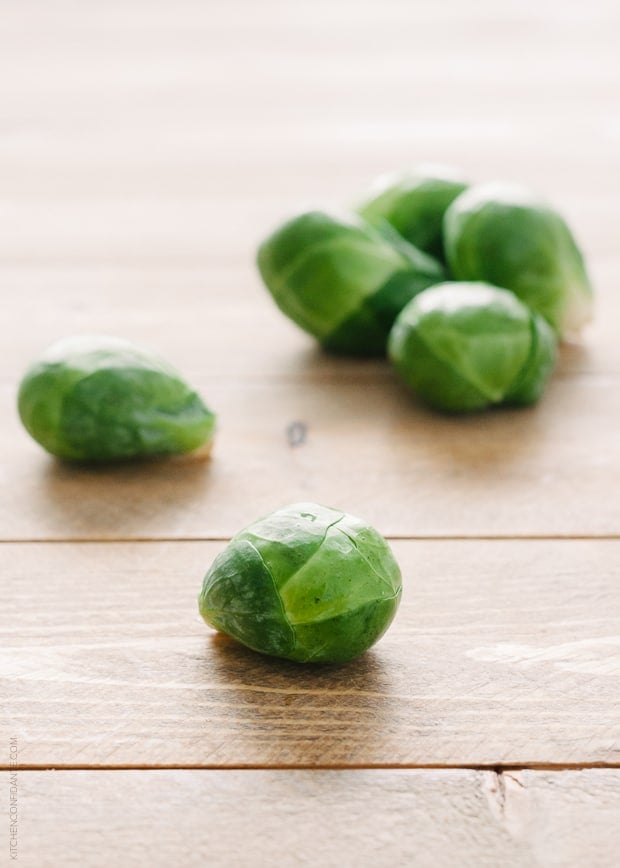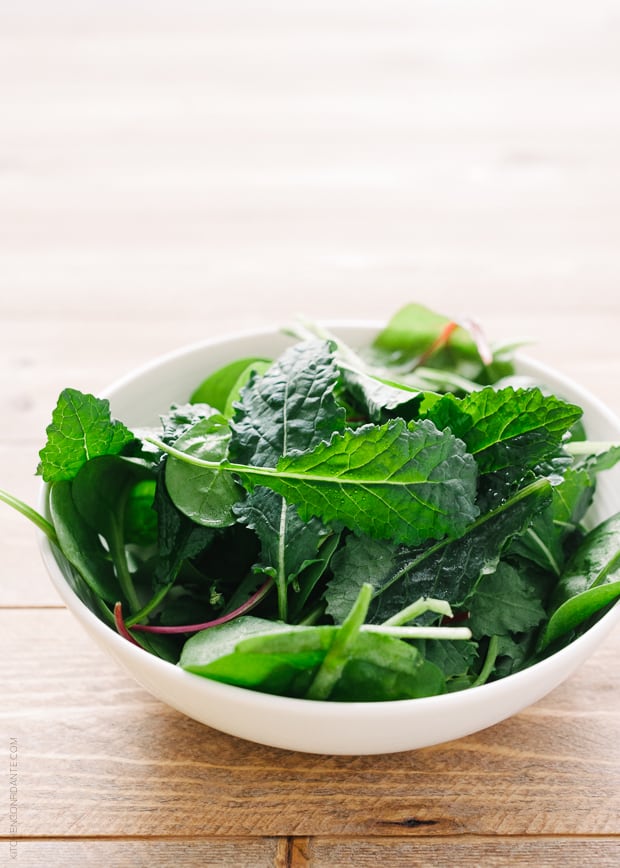 This Brussels Sprouts and Baby Greens Feta Pie gives a nod to a classic spanakopita, but is filled with shaved Brussels sprouts that have been given the chance to wilt in a wee bit of bacon, baby kale, chard, and spinach. It comes together with a trio of ricotta, Parmesan and feta cheese, and baked in a buttery crust.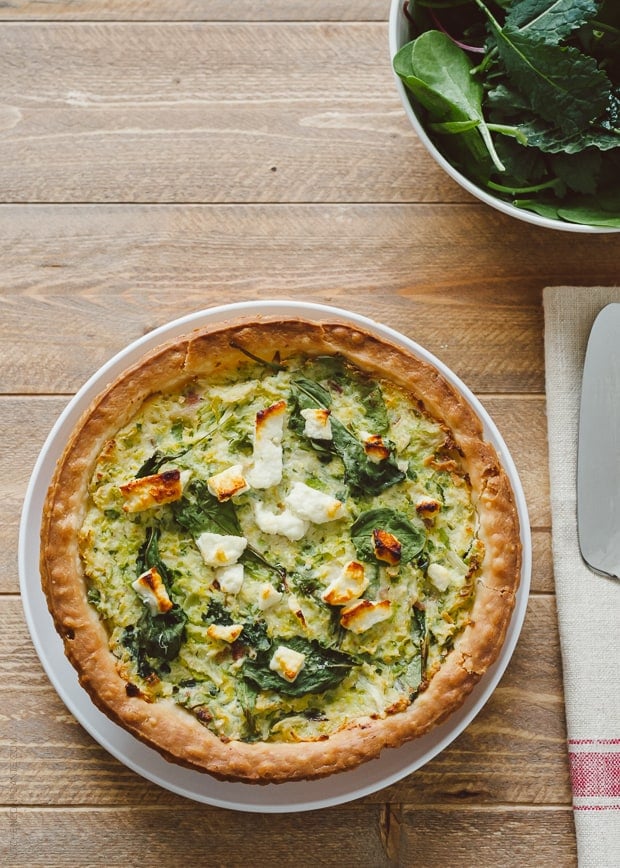 I must tell you that it took a ton of willpower to not inhale the entire pie myself. I cut my slices and sent half off to a friend and packed some for my husband. Otherwise, I would have been doomed.
Sweet or savory? What's your pie downfall?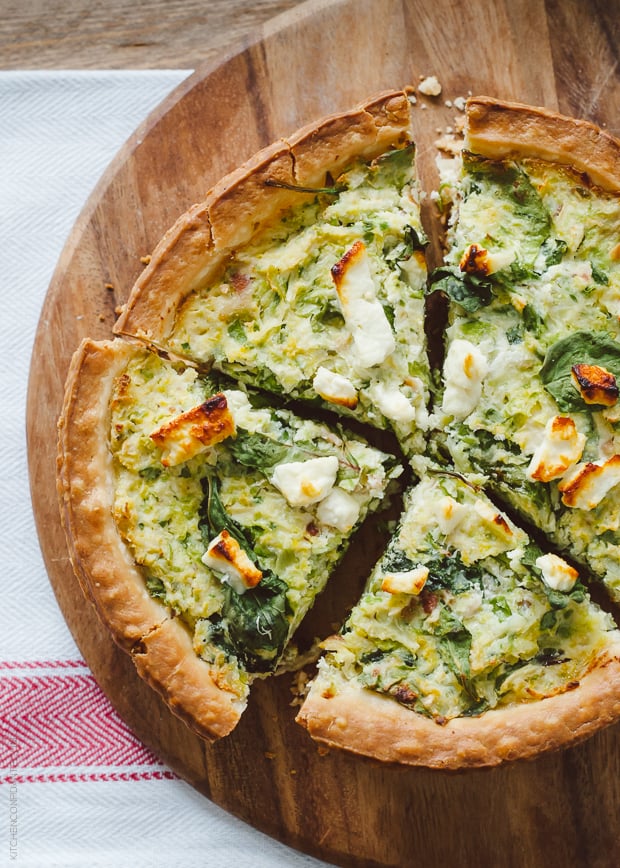 Disclosure: This was a sponsored opportunity with Foodie.com. Sponsored posts such as these help support the work behind the scenes on Kitchen Confidante. Thank you so much for your visits and making my blog part of your day. As always, all opinions are my own.
Brussels Sprouts and Baby Greens Feta Pie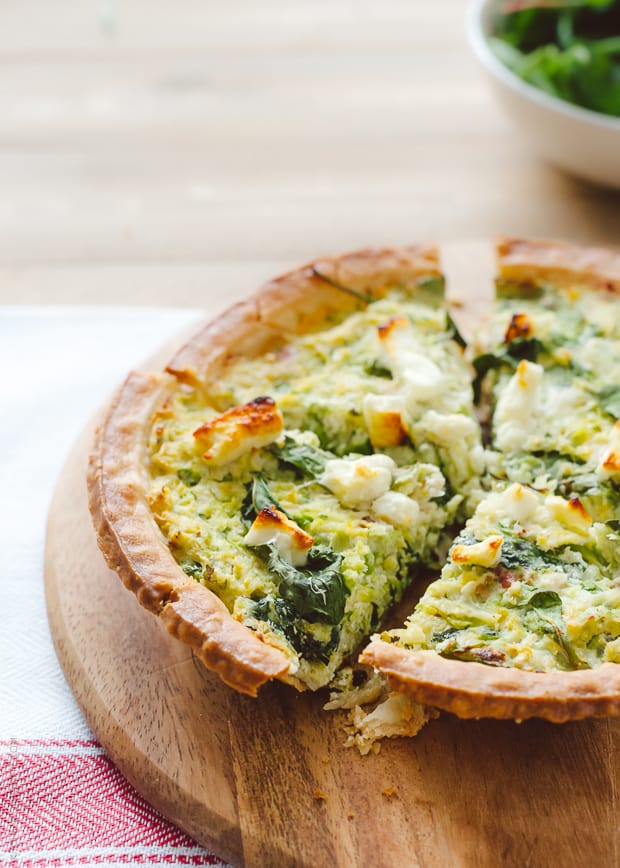 Print Recipe
Ingredients
1 1/4 cups all-purpose flour
1/2 teaspoon salt
1/2 teaspoon sugar
1/2 cup (1 stick) cold unsalted butter, cut into small pieces
2-4 tablespoons ice water
1 tablespoon olive oil
1 slice bacon, diced
2 1/2 cups shaved Brussels sprouts
8 oz ricotta
1 large egg
1/2 cup grated Parmesan cheese
1/2 cup feta cheese, plus 2 tablespoons
1/2 teaspoon kosher salt
Freshly ground black pepper
1 cup baby greens (I used by mixture of baby kale, baby chard and baby spinach)
Instructions
Place flour, salt and sugar in the bowl of a food processor and pulse till incorporated. Add the butter and pulse for about 10 seconds, until the mixture looks like crumbs. This can also be done with a pastry cutter or two forks. With the food processor running, add the water in a slow drizzle until it comes together in a ball. Take care not to get the dough too wet, you may not need all the water. Place the ball of dough in plastic wrap, and flatten into a disk. Wrap the dough tightly and store in the refrigerator for at least 1 hour before using, or overnight until ready to use. The dough can also be frozen.
Preheat the oven to 400 degrees F.
Roll out your pastry dough and press into a 7 inch pie pan. Set aside in the refrigerator.
In a sauté pan, heat the olive oil over medium heat and add the bacon to crisp. Add shaved Brussels sprouts and cook until it just begins to wilt. Set aside.
In a small bowl, stir together the ricotta, egg, Parmesan cheese, salt and pepper. Add the Brussels sprouts and bacon and stir well. Stir in the baby greens. Spread the filling into the prepared pie crust. Sprinkle with remaining feta cheese.
Place in oven and bake for 25-35 minutes, or until the crust is golden brown. Serve warm.
Pastry dough recipe from The Martha Stewart Living Cookbook (Oxmoor House, 2000).