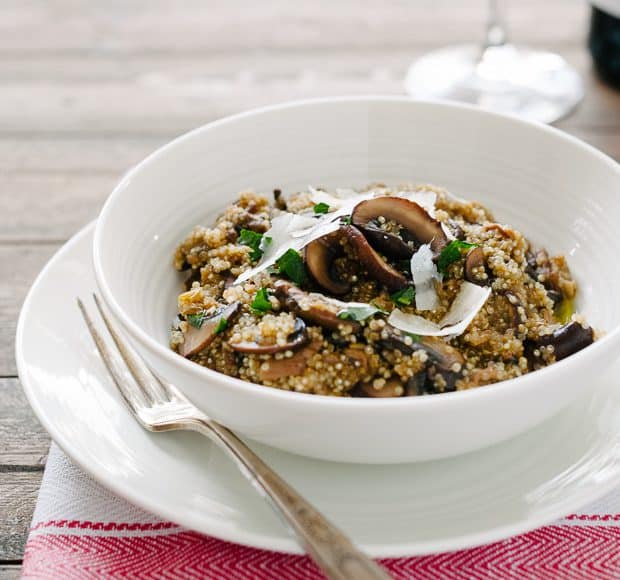 Simple Sundays | Mushroom Quinoa Risotto
It's been a rough winter. For many of you, incessant snow has been your been your adversary. For those of us in California, the drought has been ours. Don't get me started on the winter illnesses. My daughter is home. Earlier this week, my son…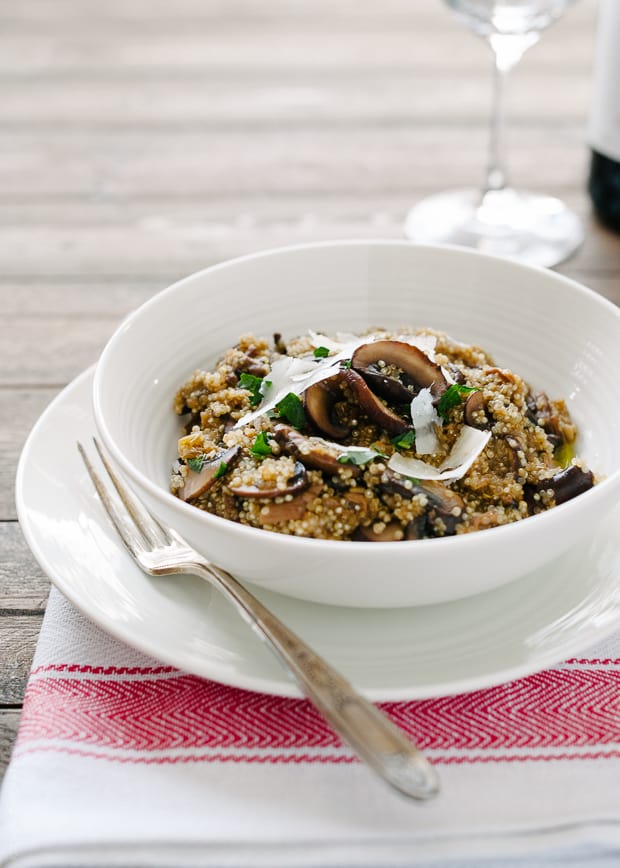 Simple Sundays | Mushroom Quinoa Risotto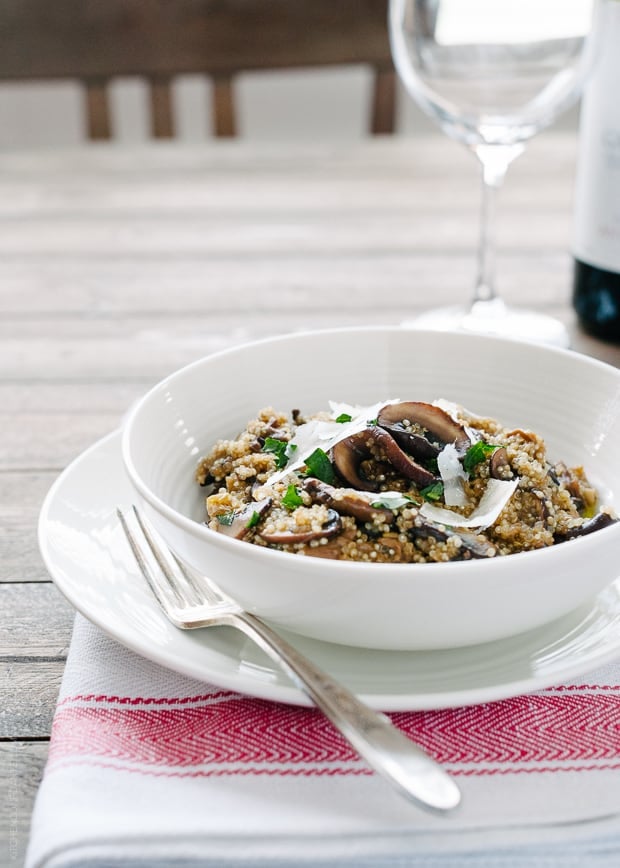 It's been a rough winter. For many of you, incessant snow has been your been your adversary. For those of us in California, the drought has been ours.
Don't get me started on the winter illnesses.
My daughter is home. Earlier this week, my son had another turn at resting in bed. Between the two of them, I have not left the house in days, and the groceries are dwindling. My daughter, who normally is full of energy and bounces about like a jumping bean, can't seem to get herself out of bed, she is so weak. January and February and all your germs, I'm so over you.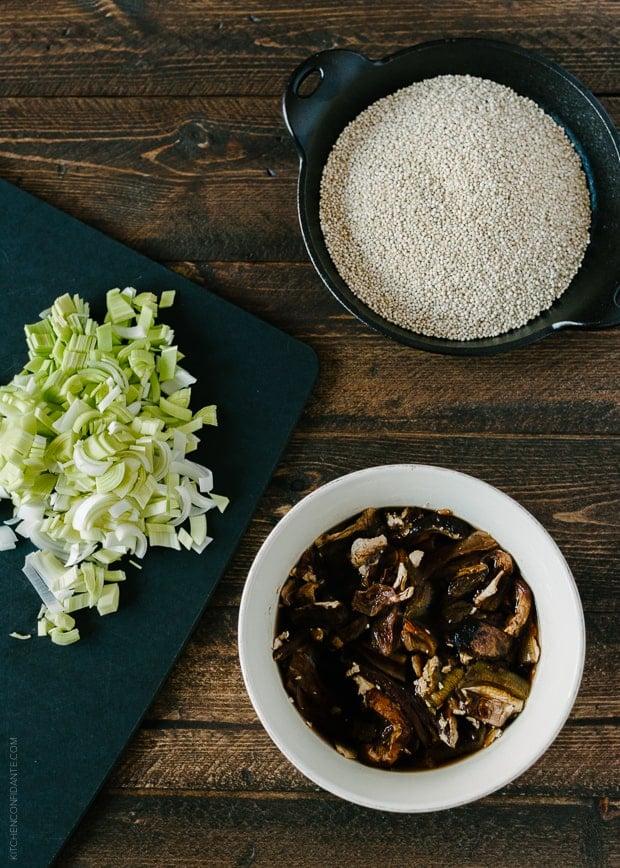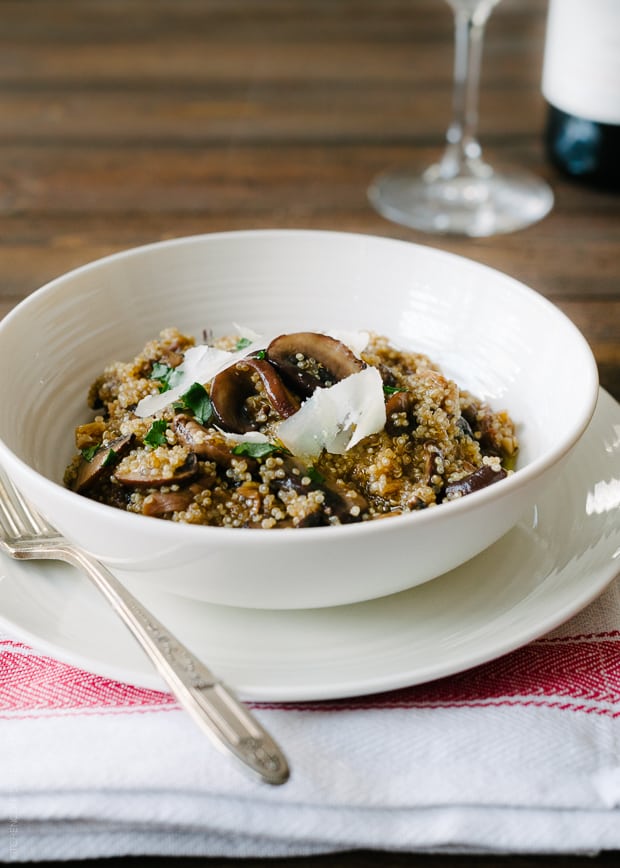 When you can't get to the store, you have to be a little resourceful in the kitchen. The refrigerator was looking a little bare, so I took the opportunity to clean it out. Literally. Shelves were pulled and washed, and I had a good chance to pick through the inventory and throw away anything past its prime. I set aside the mushrooms, however. A risotto sounded like a good idea.
I've been thinking of making this Mushroom Quinoa Risotto for a while. And then I saw that Mark Bittman successfully used quinoa in a risotto quite recently. With just enough quinoa left in the pantry, I set to work.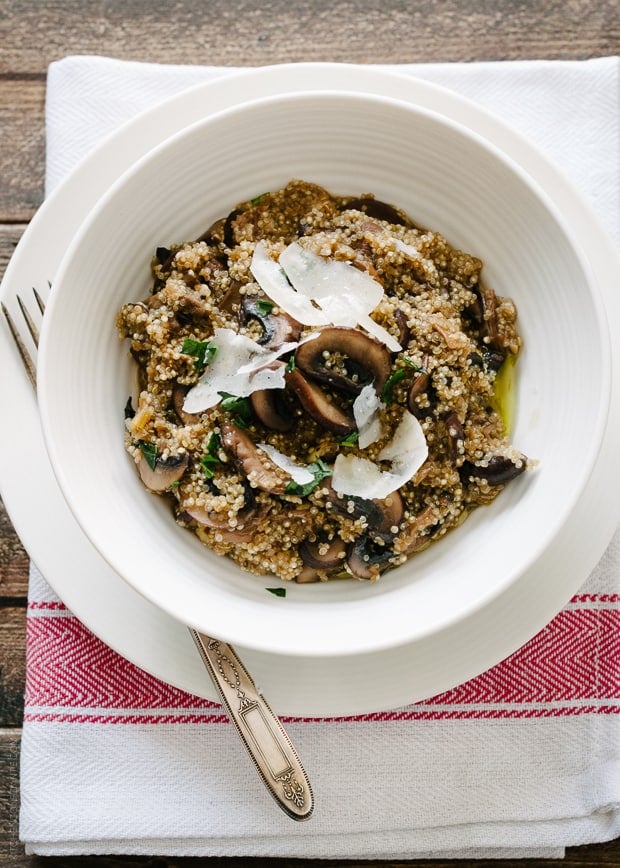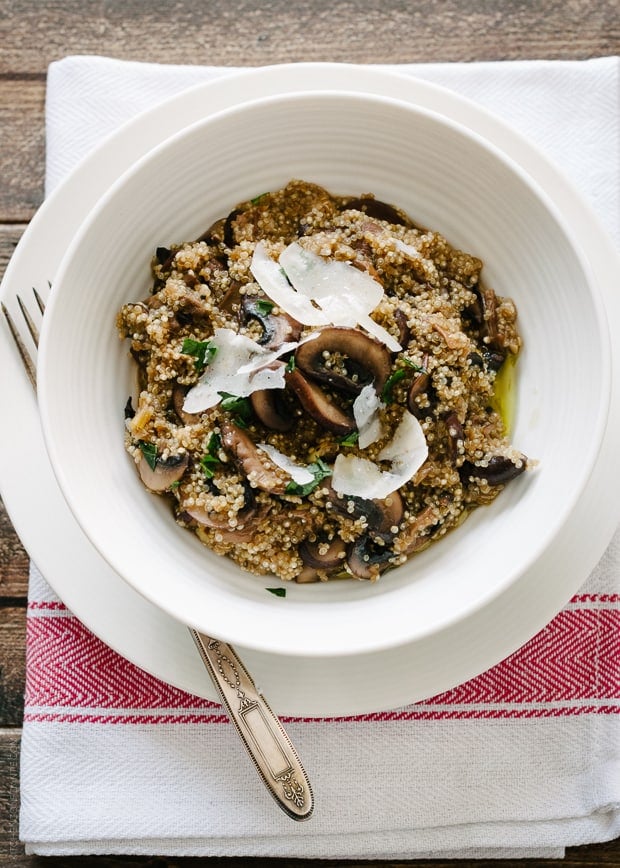 You know what I love about this risotto, other than the obvious fact that it uses such a healthy alternative to rice? It comes together faster than a traditional risotto. Quinoa cooks so quickly, so a creamy risotto can be had in about half the time. I combined some dried porcini mushrooms with the fresh cremini, bringing extra depth to the flavor with the mushroom soaking liquid.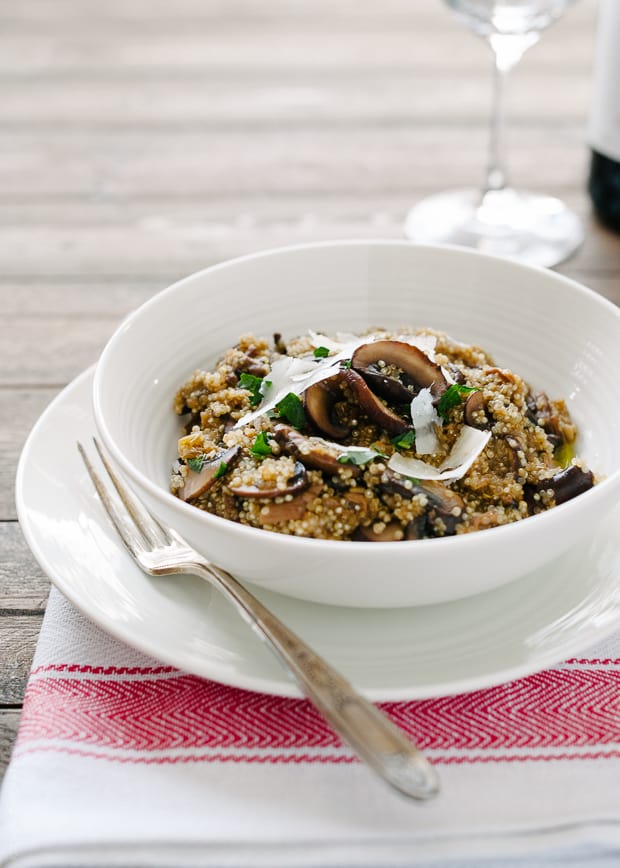 I hope you're staying warm and healthy, wherever you are. Hang in there, spring is around the corner. We'll get there, soon.
For a healthy alternative to a creamy risotto, quinoa works quite well. It cooks quickly, so be sure not to overcook, as it could get mushy.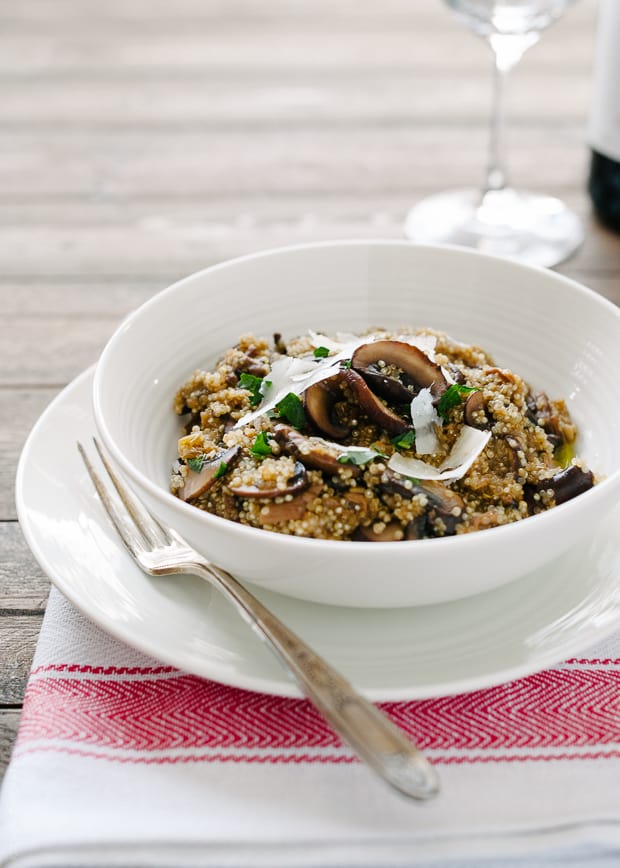 Print Recipe
Ingredients
1 oz dried porcini mushrooms
8 oz fresh cremini mushrooms, sliced
4 tablespoons unsalted butter
1 tablespoon olive oil
1 leek, cleaned and finely diced
1 garlic clove, minced
1 1/2 cups quinoa
1/2 cup white wine (optional, otherwise use water)
2-3 cups chicken or vegetable stock, kept warm (I used a combination)
Kosher salt
Freshly ground black pepper
1/2 cup Parmesan cheese, plus additional for garnish
Flat leaf parsley, for garnish
Instructions
In a small bowl, cover the dried porcini mushrooms with 1 cup boiling water and let it sit for about 10 minutes. Drain the mushrooms with a sieve and reserve the liquid. If the liquid looks grainy, you may wish to pass it through a coffee filter. Set both aside.
Heat 2 tablespoons of butter with the olive oil in a deep sided saute pan over medium-low heat. Add the leeks and cook for about two minutes. Add the garlic and cook for another minute. Add the fresh mushrooms and cook for about 4 minutes, or until they are wilted. Add the rehydrated porcini mushrooms and stir. Season lightly with salt and pepper.
Stir in the quinoa and let the oils coat the grains. Stir in the wine (or water) and let it cook until the wine is absorbed. Stir in the reserved mushroom liquid and let it cook down. Proceed to stir in the chicken or vegetable stock, one cup at a time, letting the rice absorb the liquid between additions. Continue until the risotto is creamy and soft, about 20 minutes. You may or may not need to use all the chicken stock. Turn off the heat and cover the pan, letting it sit for about 3-5 minutes. Stir in the parmesan cheese, and adjust seasoning to taste with salt and pepper.
Serve hot, garnished with chopped parsley, shavings of parmesan cheese, and a drizzle of olive oil, if desired.