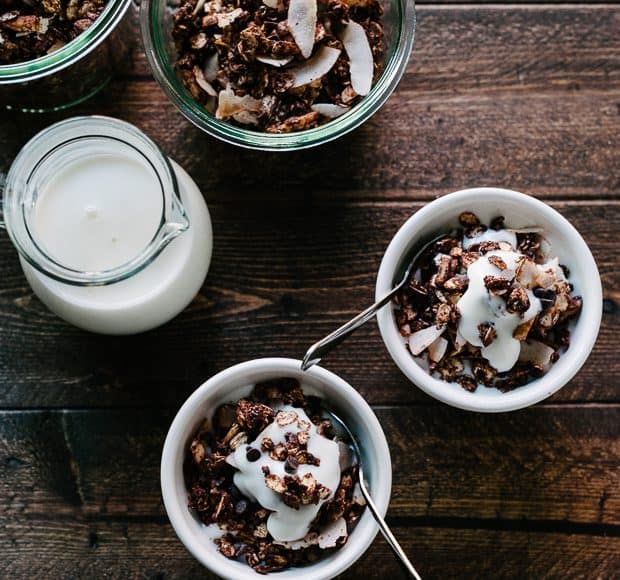 Simple Sundays | Mocha Coconut Granola
Wednesday morning started like this: 5:50 am: alarm 6:10 am: let the dog out, start the coffee 6:20 am: shower and dress for the gym 6:30 am: wake the sleepyheads 6:35 am: sip hot coffee 6:45 am: coax the kids to get ready 7:00 am:…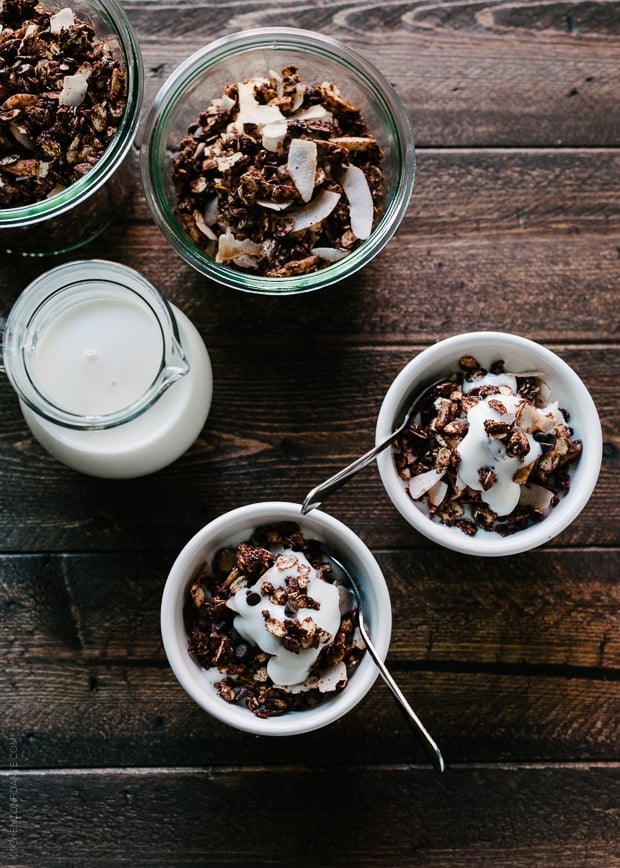 Simple Sundays | Mocha Coconut Granola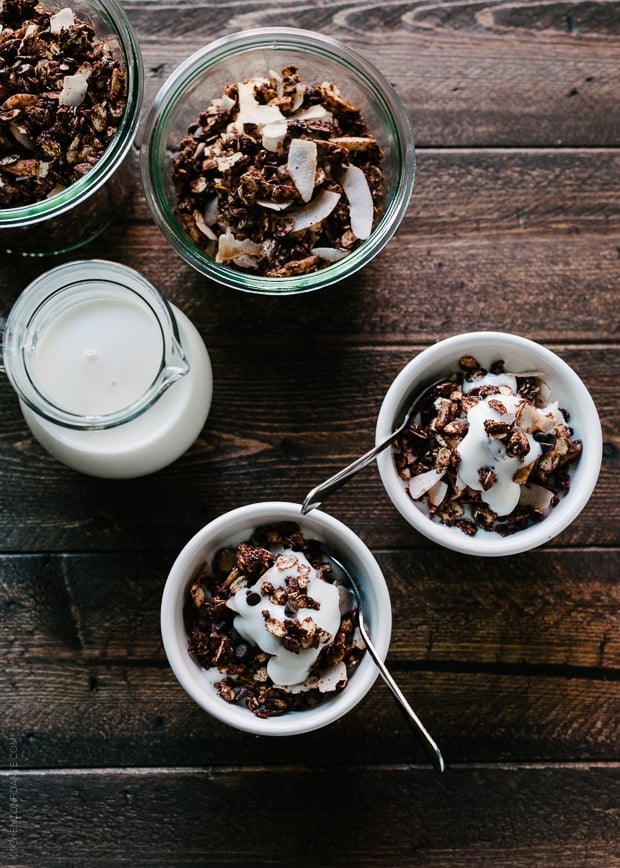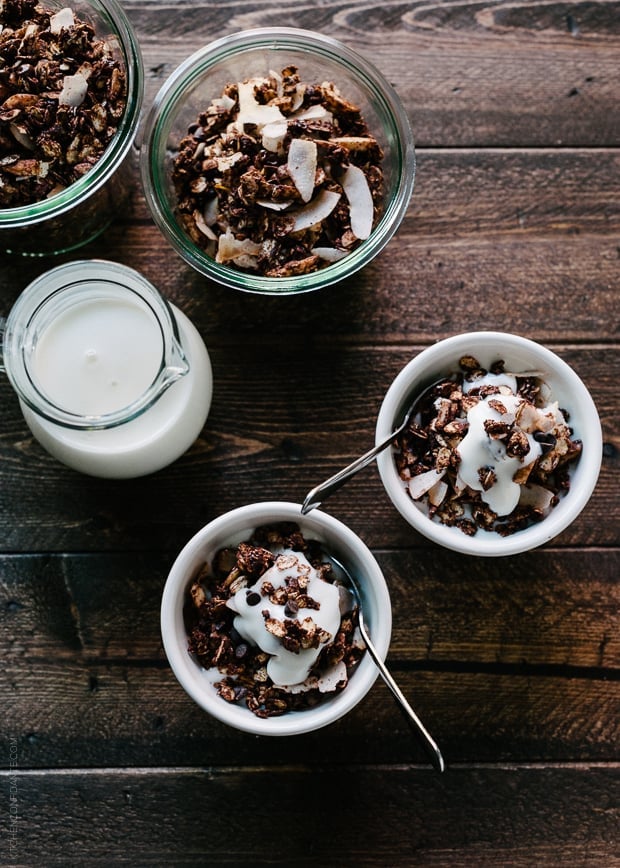 Wednesday morning started like this:
5:50 am: alarm
6:10 am: let the dog out, start the coffee
6:20 am: shower and dress for the gym
6:30 am: wake the sleepyheads
6:35 am: sip hot coffee
6:45 am: coax the kids to get ready
7:00 am: get breakfast on the table, pack lunches into backpacks, sign last minute notes for teacher, take a sip of coffee, warm apple cider because daughter decides she wants to try hot cider for the first time at breakfast this morning, take a bite of yogurt, pour my granola, REALIZE I POURED GRANOLA INTO MY COFFEE.


The offending granola was fished out with a spoon, but instead of tossing it into the sink, I paused. I lifted the spoon to my mouth.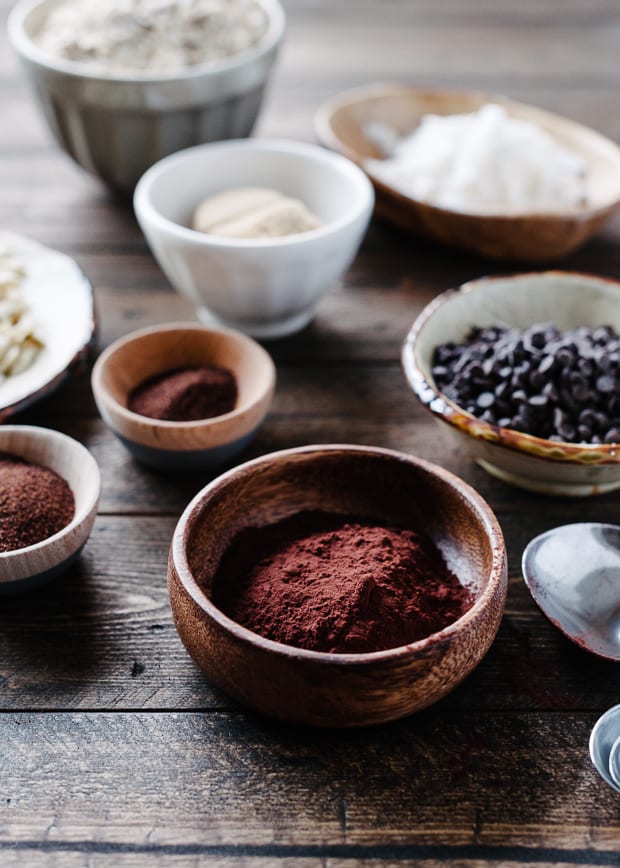 And you know what?
Granola was not meant to be eaten in coffee.
But you know what else?
Coffee was meant to be eaten in granola.
After my sleep induced mistake, a lightbulb went on in my head. Coffee + Chocolate = Mocha. Mocha!
Mocha granola sounded quite delicious, actually.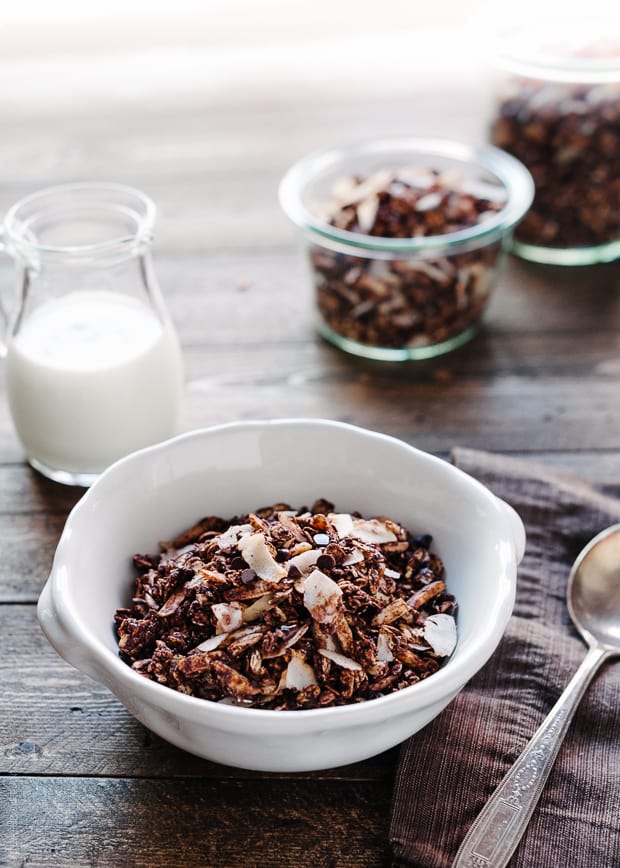 Saturday morning started like this:
5:50 am: little people crawl into my bed for a cuddle, son on my left, daughter on my right
5:55 am: after some squirming for covers, I wonder aloud why they always wake up so early on weekends (and can barely wake up on time on weekdays)
6:10 am: hubby walks in with steaming coffee, just the way I love
6:40 am: pull on my fluffy robe and get the burners fired for some pancakes
7:00 am: flip pancakes
7:30 am: pull the oats out of the cupboard and mix in cocoa, espresso powder, maple syrup, and brown sugar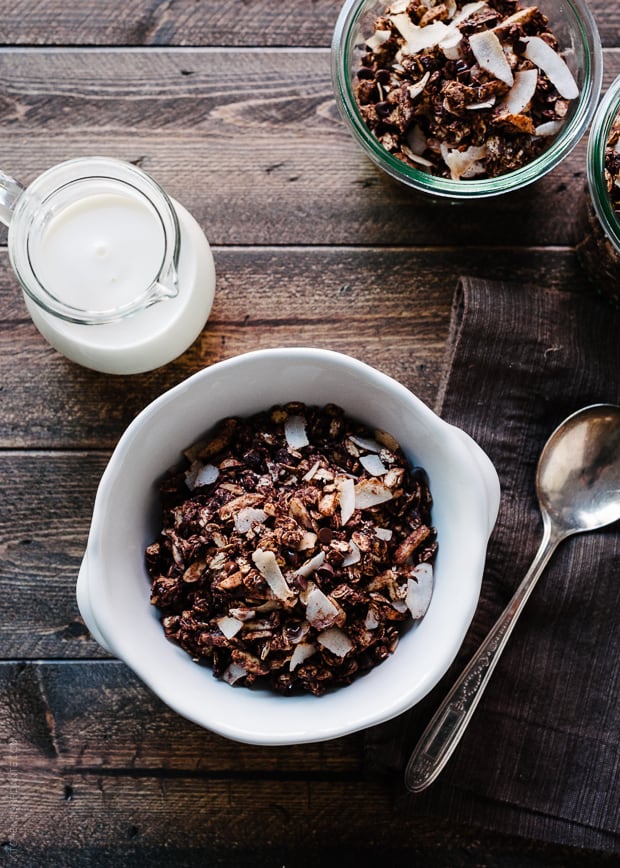 Mocha Coconut Granola is more than an accident, it is something that must be made, something that you should plan to do. It's cocoa puffs for grown ups, it's just chocolatey enough (so the little ones find it irresistible, too), with chunks of toasted coconut, slivered almonds, and cacao nibs (mini chocolate chips if you're feeling especially indulgent). And it's delicious with vanilla yogurt, drizzles of kefir, or drowned in skim milk.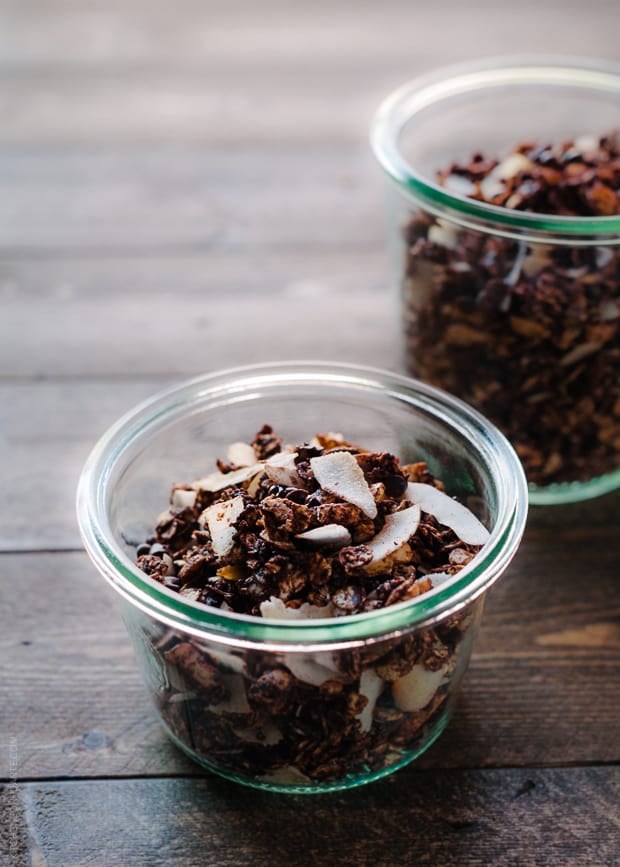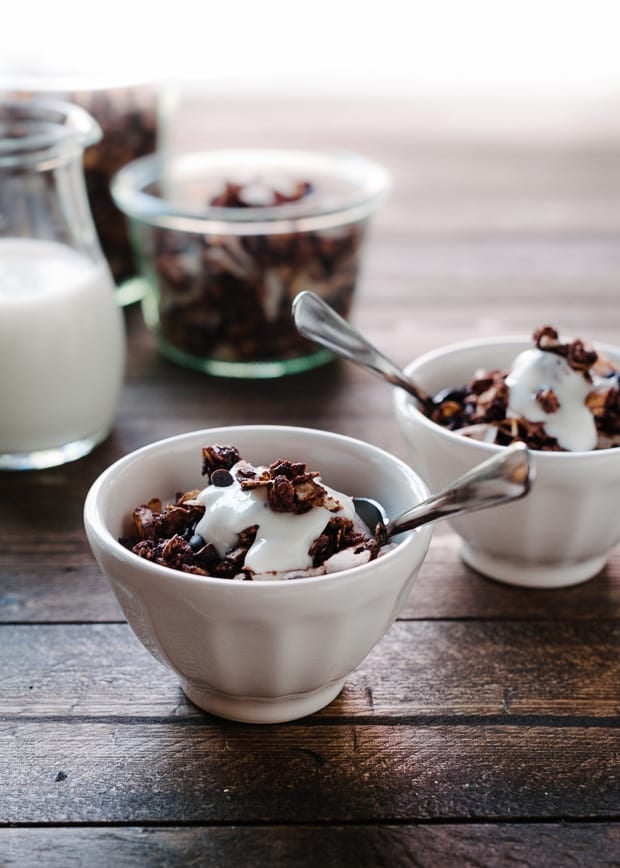 Mocha Granola may be new to me, but not surprisingly, there is more out there in the granola world. Here is more mocha inspiration to start your morning:
Mocha Granola, Pastry Affair
Almond Mocha Granola, Rachel Cooks
Mocha Granola, How Sweet It Is
Mocha Java Latte Granola, Sally's Baking Addiction
I can't live without my granola. Breakfast and mid day snacks just aren't the same without their crunch. This version smells heavenly as it bakes in the oven, and tastes so good, you may just want it for dessert (I did!).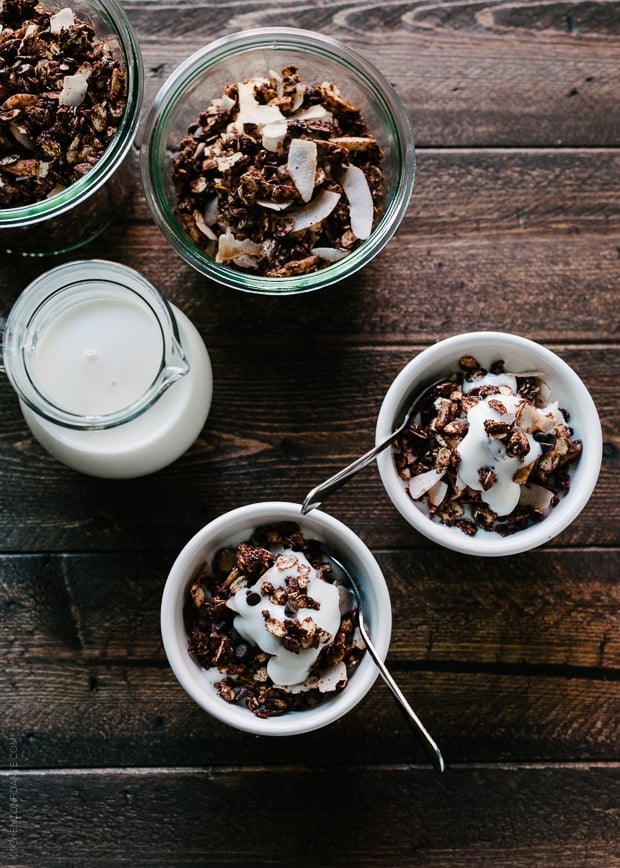 Print Recipe
Ingredients
coconut oil cooking spray
3 cups rolled oats
1 cup sliced almonds
1/4 cup cocoa powder
1 1/2 tablespoons espresso powder
1/4 cup brown sugar
1/2 cup maple syrup
1 teaspoon vanilla
1 cup flaked coconut
1 cup cacao nibs or mini chocolate chips
Instructions
Preheat the oven to 325 degrees. Prepare a baking sheet by lightly misting with coconut oil cooking spray.
In a large bowl, mix together the oats, almonds, cocoa powder, espresso powder and brown sugar. Pour the syrup and vanilla over the oat mixture and stir until evenly coated. Spread the mixture in the prepared baking tray and place it in the oven. Bake for about 30 minutes, stirring every five minutes. Before the final 5 minutes, add the coconut to toast. When the granola is toasted, remove from oven and place in a large bowl to cool. Stir in the cacao nibs/chocolate chips. Store in an airtight container.
Delicious served with milk, yogurt, or kefir.