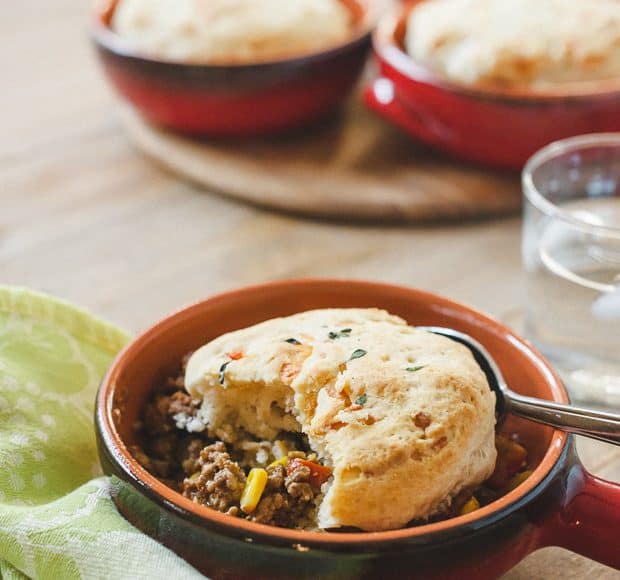 Buttermilk-Gruyere Biscuit Topped Shepherd's Pie
The evenings are a little bit brisker. The mornings are a little bit darker. And the afternoons are a whole lot busier. Now that my children are back in school, our days move at a more frenetic pace. Gone are the sleepy days of summer…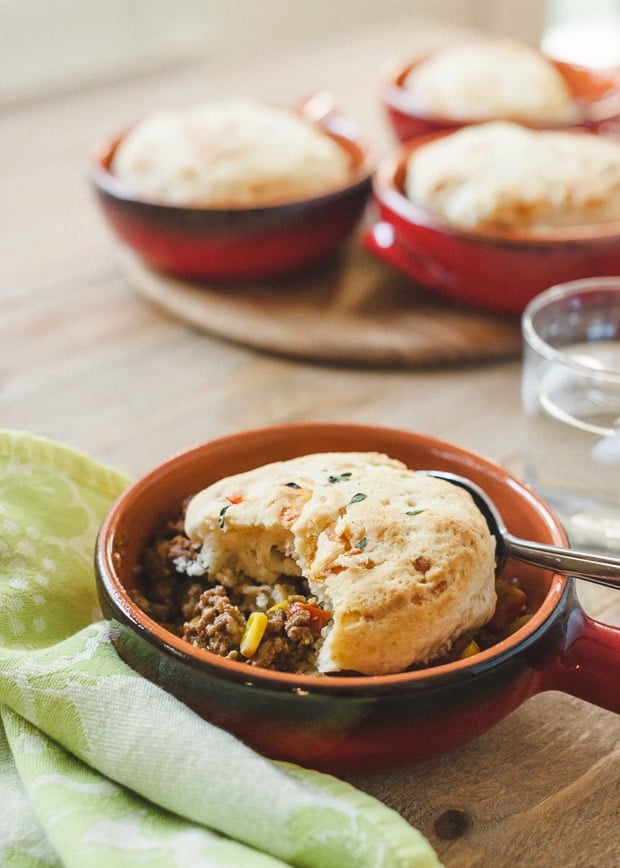 Buttermilk-Gruyere Biscuit Topped Shepherd's Pie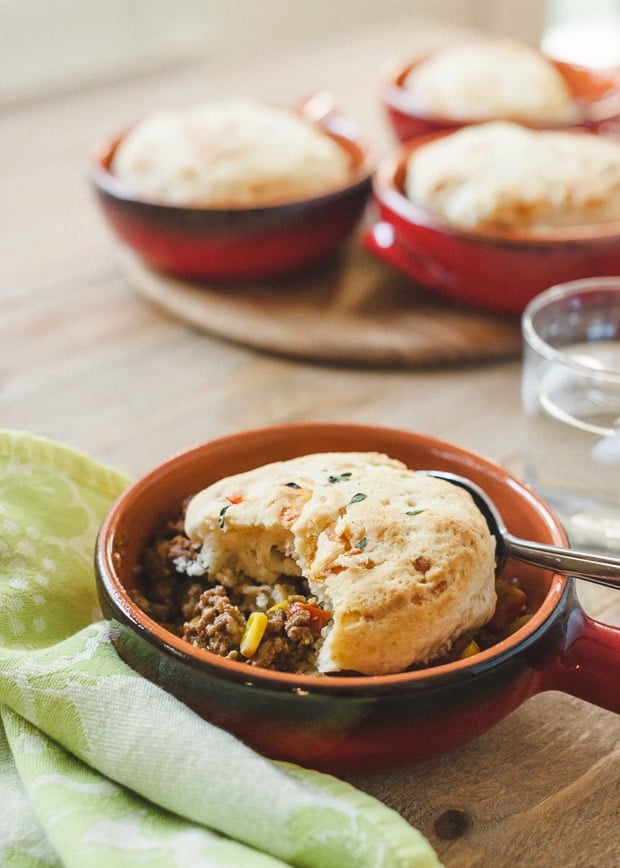 The evenings are a little bit brisker. The mornings are a little bit darker. And the afternoons are a whole lot busier.
Now that my children are back in school, our days move at a more frenetic pace. Gone are the sleepy days of summer – we are now in the full swing of autumn, juggling carpools and after school activities, homework and rehearsals, sports and projects. It's good to be back in busy mode, but boy, it's amazing how quickly those precious afternoon hours fly by.
I think back to when I was in school, and I don't have to think too far to remember the kinds of foods I craved at the end of a busy day. Even as a freshman in the dorms, while cafeteria food was nothing to write home about (or perhaps it was, to coax my mother to bring up some good food on their next visit!), there was something on the menu I actually loved: shepherd's pie.
It's not a dish I grew up eating, but it was comfort nonetheless. When the sun sets earlier, and the sweaters and scarfs are a must, dipping my spoon into a bowl of piping hot shepherd's pie brought me that comfort of home, and the nourishment to keep going with my busy days.
I thought of this as I spied the ingredients in my refrigerator, scrambling one afternoon to squeeze in a quick dinner between homework and the children's activities. Packages of ground beef and ground turkey are always good to have on hand, and I set to work, dicing up some vegetables to make that piping hot filling I craved. Now what to use for the topping? Well, a cheesy biscuit sounded just about right. I pulled the box of Bisquick from the pantry, and stirred in Gruyere and buttermilk, and with a sprinkling of fresh thyme, I patted the biscuits on top of the filling.
15 minutes in the oven was all it took for the biscuits to call me with their heavenly aroma, golden and speckled with cheese. And bubbling underneath, the filling, hearty and wholesome.
As I sat down at the dinner table with my family that evening, there was that feeling of comfort as we dug into our servings of Buttermilk-Gruyere Biscuit Topped Shepherd's Pie. My children devoured their bowls, and I was content with both nostalgia and a feeling of satisfaction.
Now on to the next busy day! Join me and #GetYourBettyOn by checking out Betty Crocker for more easy dinner inspiration with Bisquick on BettyCrocker.com, Facebook, Pinterest, and Instagram!
Disclosure:
This is a sponsored conversation written by me on behalf of Betty Crocker via Burst Media. The opinions and text are all mine.
Buttermilk-Gruyere Biscuit Topped Shepherd's Pie
This is my ultimate comfort food and a true crowd pleaser. Underneath tender buttermilk biscuits bursting with Gruyere cheese, there is a tasty filling with just a wee bit of kick. It makes both grown ups and kids happy.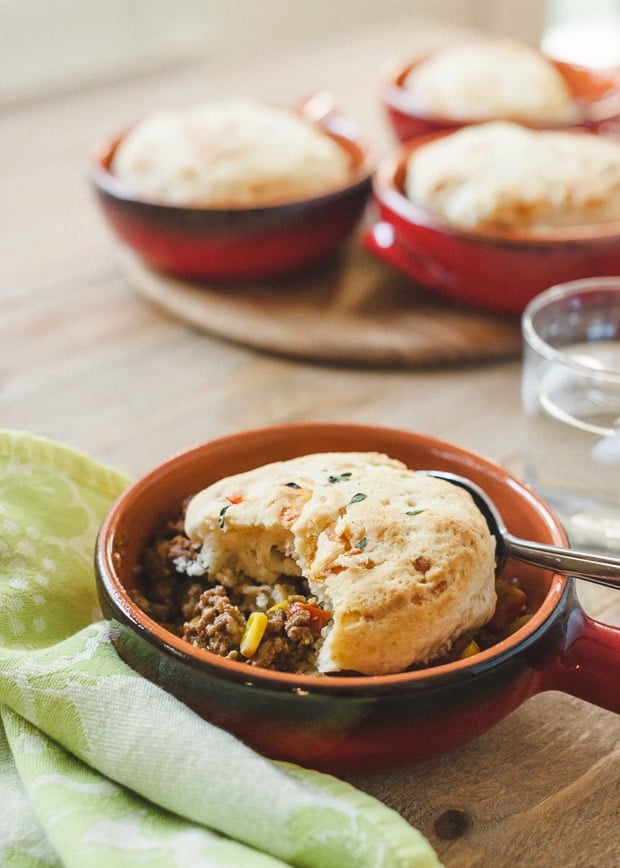 Print Recipe
Ingredients
1 tablespoon olive oil
1 cup minced onion
2 cloves garlic, minced
1/2 lb ground beef
1/2 lb ground turkey
1 teaspoon balsamic vinegar
2 teaspoons kosher salt
2 teaspoons worcestershire sauce
1 carrot diced
1 stalk celery, diced
1/2 cup corn kernels
1 cup canned diced tomato
1 cup beef broth
bay leaf
thyme
1 tablespoon flour
tabasco
kosher salt and pepper
2 cups Bisquick mix
1/4 melted butter
3/4 cup buttermilk
1/2 cup shredded swiss/gruyere cheese
2 teaspoons thyme leaves
Instructions
Preheat the oven to 425 degrees F.
Heat the olive oil in a deep sided saute pan over medium heat. Add the onions and the garlic, and cook, stirring frequently, until the onions soften, about 5 minutes. Add the ground beef and turkey, and break it down with a fork, and brown the meat, stirring frequently. Stir in balsamic vinegar, salt, and worcestershire sauce, followed by the carrot, celery, corn, and celery. Cook for about 5 minutes, then add the canned diced tomato, beef broth, bay leaf, thyme and flour. Bring to a boil then lower heat to a simmer. Season to taste with salt and pepper, as well as Tabasco. Cover the pan and let it simmer for about 10-15 minutes.
Meanwhile, make the biscuits. In a large bowl, stir together the Bisquick mix, butter, buttermilk, cheese and thyme leaves. If making individual servings, divide the dough into 4-6 pieces, and gently form into a disk.
Divide the filling into individual ramekins or oven safe dishes. Top with biscuits and place on a baking tray. Alternatively, this can be made in one large dish, if you prefer.Transfer to the oven and bake for about 15 minutes, until the biscuits are lofty and golden. Serve immediately.