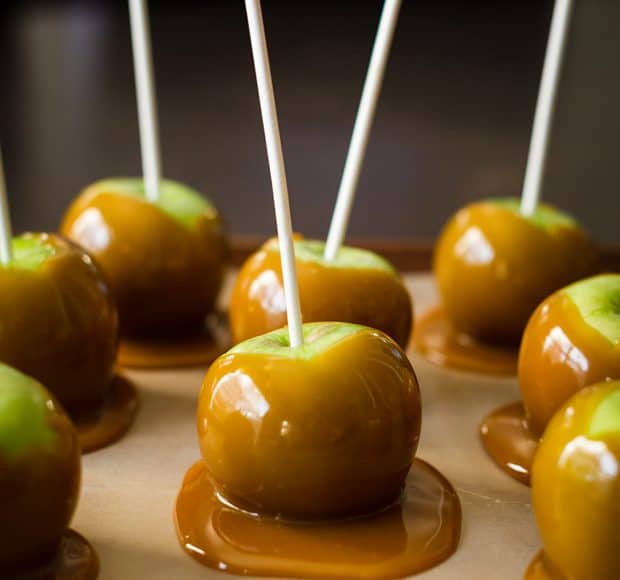 Caramel Apples without Corn Syrup
If you've never tried making caramel apples, take your first dip with this easy recipe that doesn't use corn syrup.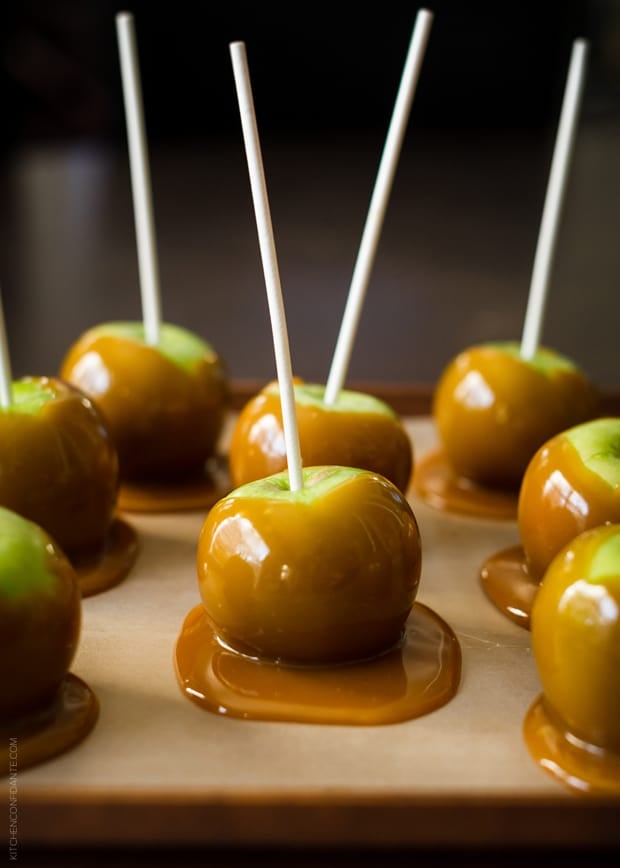 Caramel Apples without Corn Syrup
This recipe for Caramel Apples without Corn Syrup uses a more flavorful substitute. Grab a candy thermometer and get ready to make this special fall treat!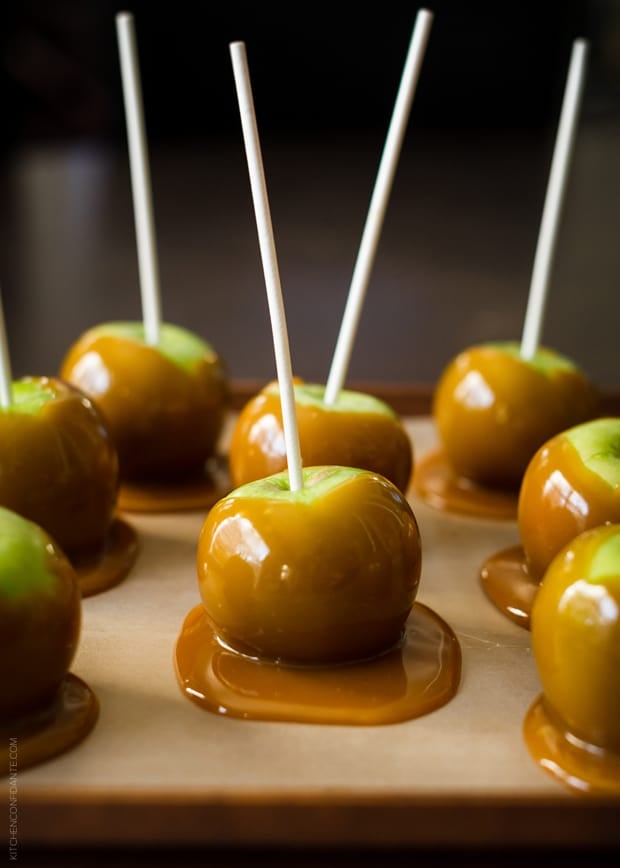 Disclosure: There are affiliate links in this post. Please see my Privacy Policy & Disclosure page for details.
I've been coping with an obsession. And since we're friends, it is my duty to forewarn you. What I am about to share may haunt you. And perhaps force you to spend a little extra time at the gym, as I have.
It's caramel.
There, I said it. Whew.
What started as a simple exploration into caramel apples has launched a fixation on all things caramel. So if you bear with me, the next couple of posts will likely have a drizzle of caramel on top.
Let's begin with caramel apples. I'm not like most people, whose love affair with this sweet on a stick began at an early age. Quite the contrary. I've admired them from afar, but never really had my first taste until I was an adult. Honestly, I simply don't know how that happened, chalk it up one of my life's anomalies. But with Halloween just around the corner, I had my heart set on making them, just because I could.
And let me tell you, it was worth the wait.
If you've never tried making caramel apples, I hope you carve out some time in your weekend to devoting yourself to a pool of gooey bliss. If the idea of using corn syrup alarms you as it does me, do not worry. The Caramel Apples I am sharing today use a happier substitute with just as glossy results. The only thing you will have to decide is what is more fun, making caramel apples or eating them?
Where to Find Cane Sugar Syrup?
Instead of using corn syrup for these caramel apples, I opted to substitute a less-processed and more flavorful option–sugar cane syrup. The syrup I used here is Lyle's Golden Syrup (can be purchased via Amazon). The flavor is often described as "buttery" or "honey-like". These apples are a great way to give it a try!
This recipe was originally shared on Wayfair.com for my Good Eats column.
More Fall Treats to Try
Double Dipped Chocolate Caramel Apples (even more extravagant caramel apples!)
Baked Pumpkin Donuts with Almond Flour and Spiced Maple Glaze
Cassava Pumpkin Pie with Graham Cracker Crust
Pumpkin Spice Buttermilk Bundt Cake
Easy Stovetop Popcorn + Popcorn Recipes to Spice Up Snack Time
Caramel Apples without Corn Syrup
If you've never tried making caramel apples, take your first dip with this easy recipe that doesn't use corn syrup. A candy thermometer is essential when making candied apples – I highly recommend this small investment in your kitchen arsenal.
Ingredients
10-12

small Granny Smith apples

ideally organic, without any waxed coating

10-12

candy or craft sticks

2

cups

packed light brown sugar

1 3/4

cups

heavy cream

3/4

cup

cane sugar syrup

(e.g. Lyle's Golden Syrup)

2

tablespoons

unsalted butter

1/4 stick

2

teaspoons

kosher salt
Instructions
Prepare the apples by washing well and drying. If there is a wax coating, try as best as possible to remove the coating when cleaning. Remove the stems and drive a candy/craft stick into each core, making sure it is firmly in place.

Prepare an ice bath and keep it near the stove. Cover a baking sheet with parchment paper, sprayed with cooking spray if desired, and also keep it near your stove and work space.

In a medium saucepan, stir together the brown sugar, heavy cream, cane sugar syrup, butter and salt. Place over medium high heat and bring to a boil, stirring periodically. Watch the temperature using a candy thermometer and let it continue bubbling until the caramel reaches 250° F.

Once the caramel has reached the ideal temperature, carefully lift the saucepan and dip it into the ice bath for one minute, then place on a heatproof surface. Stir well, incorporating the more thicker, more chilled caramel at the bottom of the saucepan with the hotter caramel on the surface of the pan.

Begin dipping your apples into the caramel, coating it evenly. Let some excess drip off for a few seconds, then turn the apple over so you are holding it like a lollipop, and hold for a few seconds more, allowing the caramel to stay on the apple longer. Place the apple on the parchment lined baking pan. Continue with all the apples; if the caramel cools too quickly, you can slowly reheat the caramel over low heat while stirring so that it is thinner again.

Let the apples rest in the refrigerator for 15 minutes. Store them in the refrigerator if made a few days in advance.
Nutrition
Calories:
415
kcal
|
Carbohydrates:
74
g
|
Protein:
1
g
|
Fat:
15
g
|
Saturated Fat:
9
g
|
Polyunsaturated Fat:
1
g
|
Monounsaturated Fat:
4
g
|
Trans Fat:
1
g
|
Cholesterol:
53
mg
|
Sodium:
426
mg
|
Potassium:
238
mg
|
Fiber:
4
g
|
Sugar:
68
g
|
Vitamin A:
650
IU
|
Vitamin C:
7
mg
|
Calcium:
66
mg
|
Iron:
1
mg