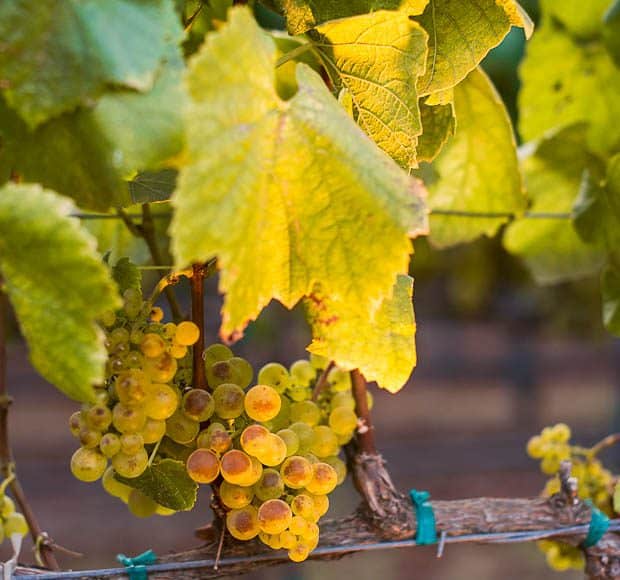 Chef Tables in the Vineyard | Kendall-Jackson Heirloom Tomato Festival
Harvest season is upon us. In this part of the world that means gorgeous blue skies, an occasional dramatic cloud, golden light, and the promise of an invigorating brisk chill once the sun sets. It means vineyards heavy with plump fruit, and gardens yielding the…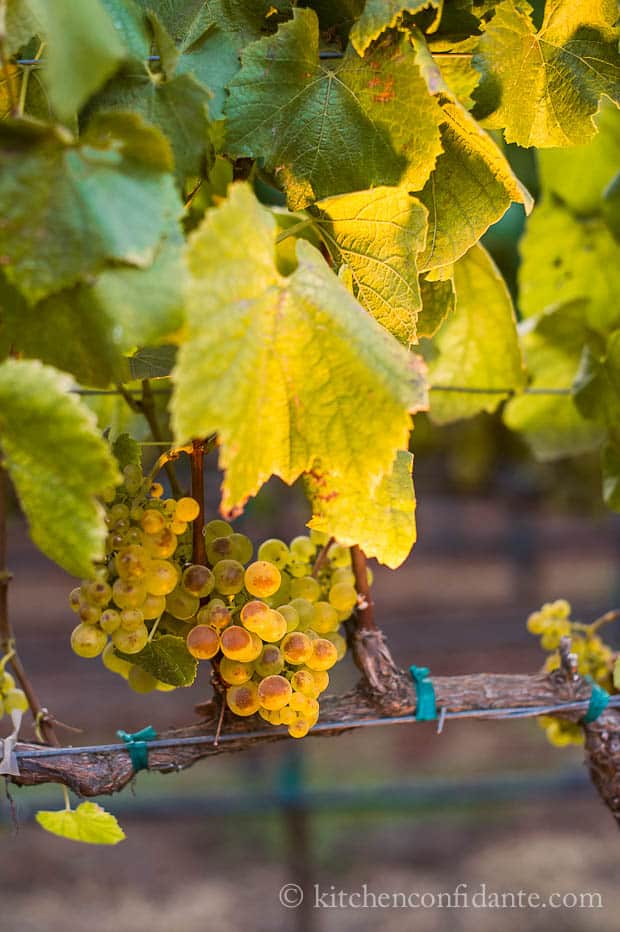 Chef Tables in the Vineyard | Kendall-Jackson Heirloom Tomato Festival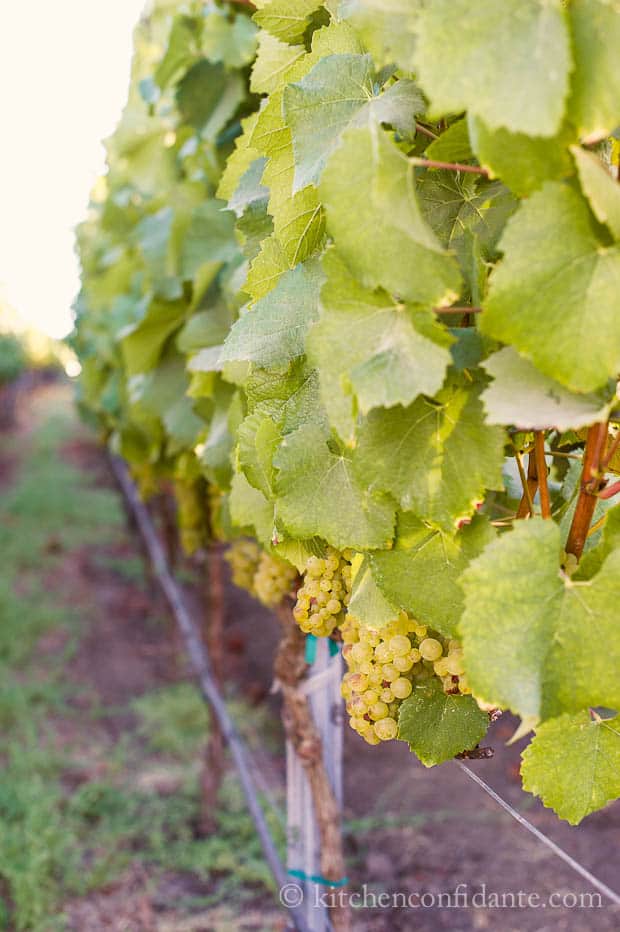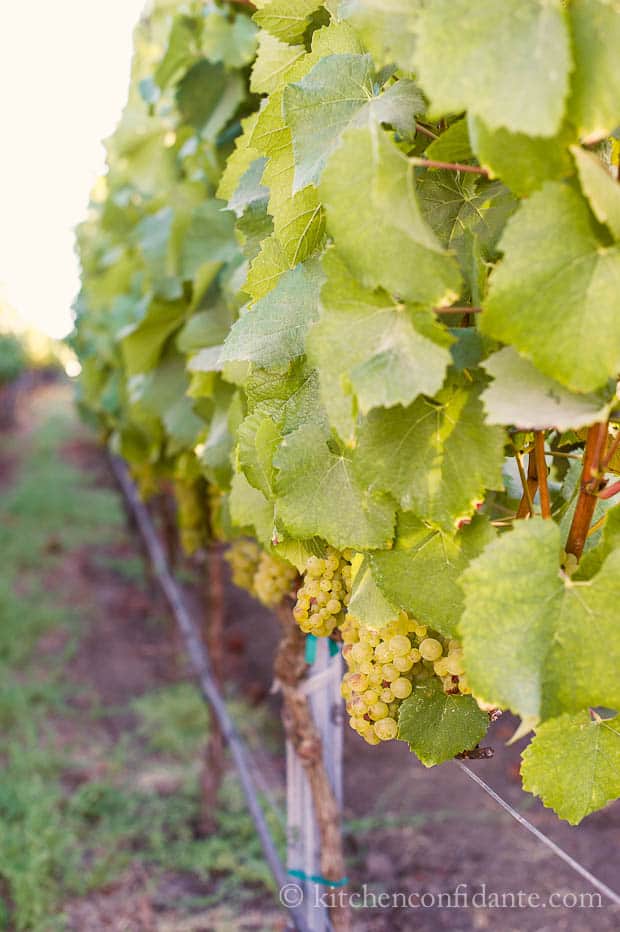 Harvest season is upon us. In this part of the world that means gorgeous blue skies, an occasional dramatic cloud, golden light, and the promise of an invigorating brisk chill once the sun sets. It means vineyards heavy with plump fruit, and gardens yielding the last of their sweetness. Tomatoes are still plentiful, but there is the excitement of pumpkins and gourds of all kinds, just around the corner.
Last Friday, my husband and I found ourselves in the heart of Sonoma. Our drive across the bay and over the hills brought us to the Kendall-Jackson Wine Center, where, amidst vineyards and the garden, a grand tent was raised and long tables beautifully set for Chef Tables in the Vineyard, a benefit for the Cooking with Kids Foundation, founded by local celebrity chef, Guy Fieri. As part of the kickoff to the 16th Annual Kendall-Jackson Heirloom Tomato Festival, Chef Fieri, along with Chef Mario Batali and a dozen or so very well respected Bay Area chefs, gathered to cook and dine with guests in an intimate dining experience. We were thrilled to join our lovely hosts, Muir Glen Organics, at this very special event.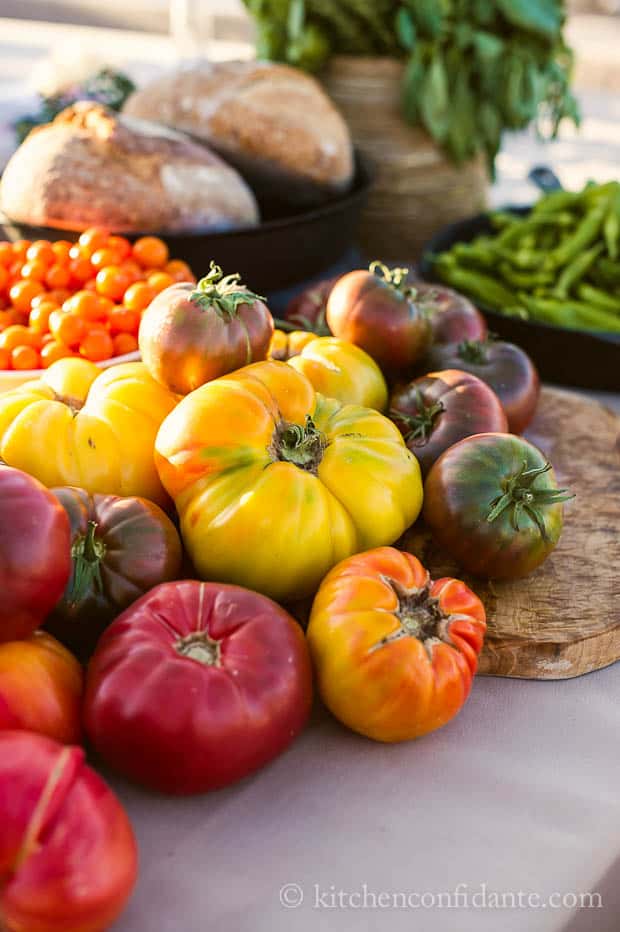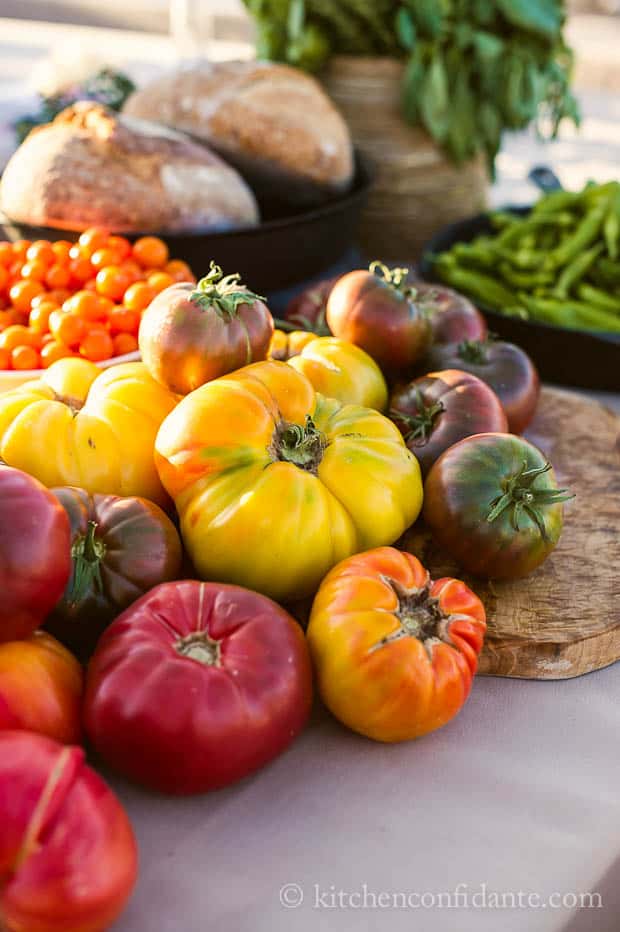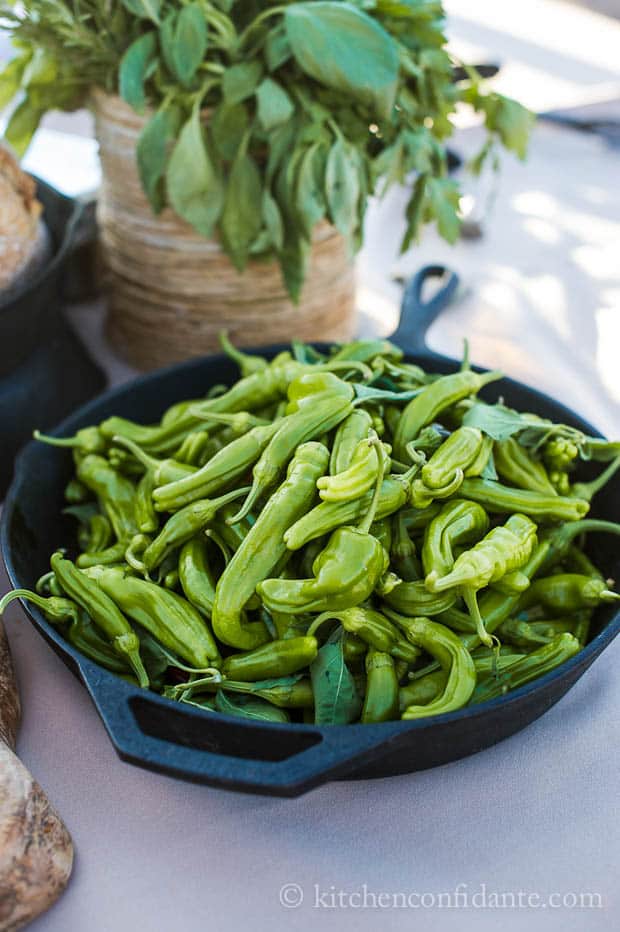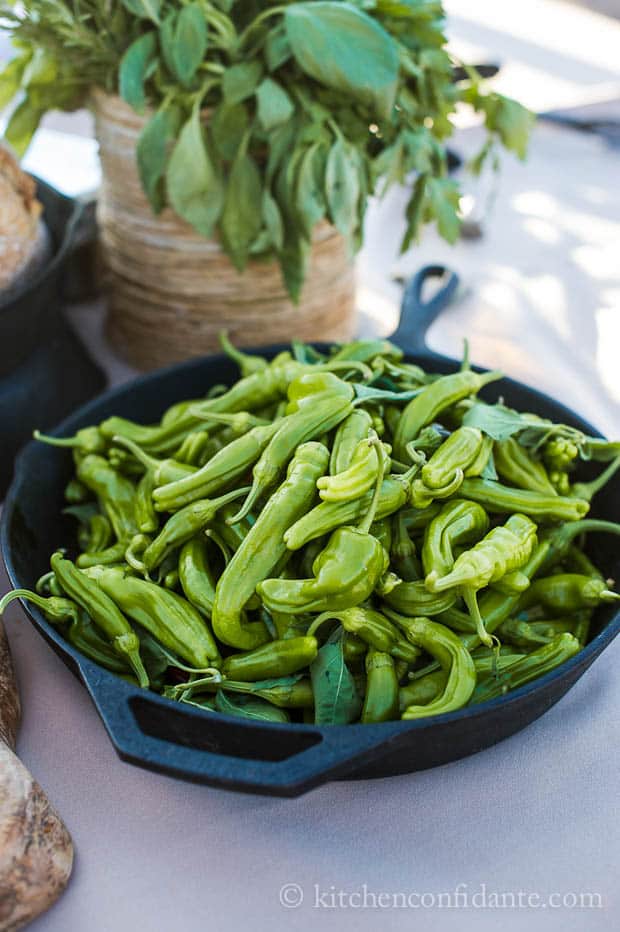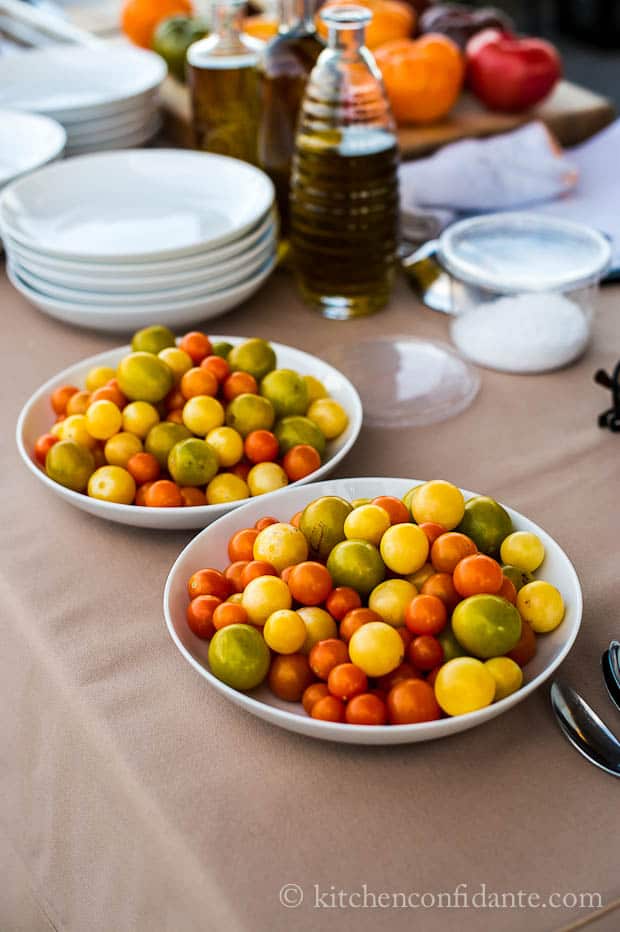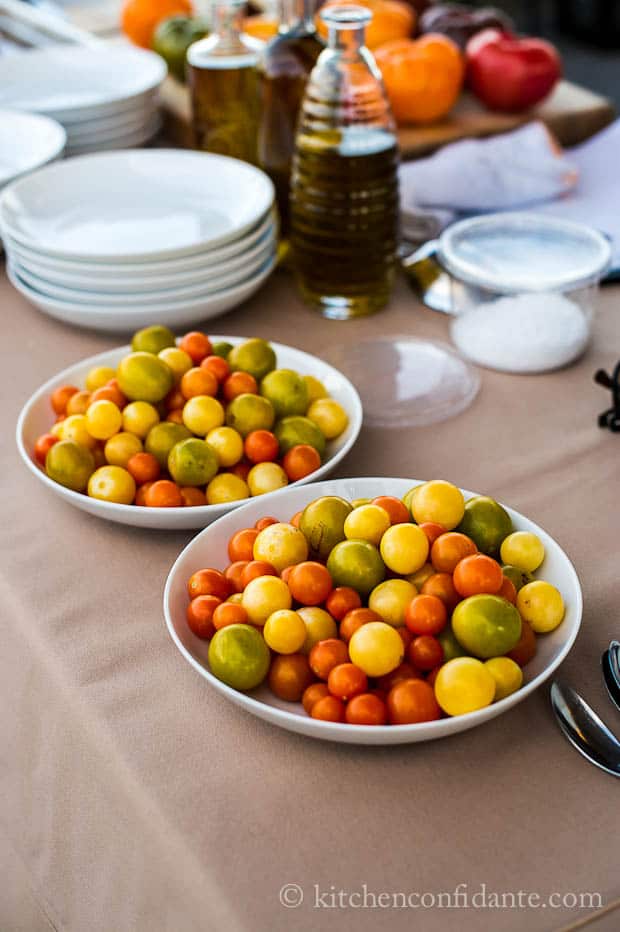 The late summer bounty was the showcase of the event, and as we arrived, the chefs and their teams were hard at work, preparing the ingredients for the evening's menus. Each chef's table had a uniquely developed menu, and it was with curiosity that we strolled the venue to see what each respective table would be serving. Heirloom tomatoes, of course, were the highlight, but as we walked, the smokey aroma of roasting chicken and rabbit drifted.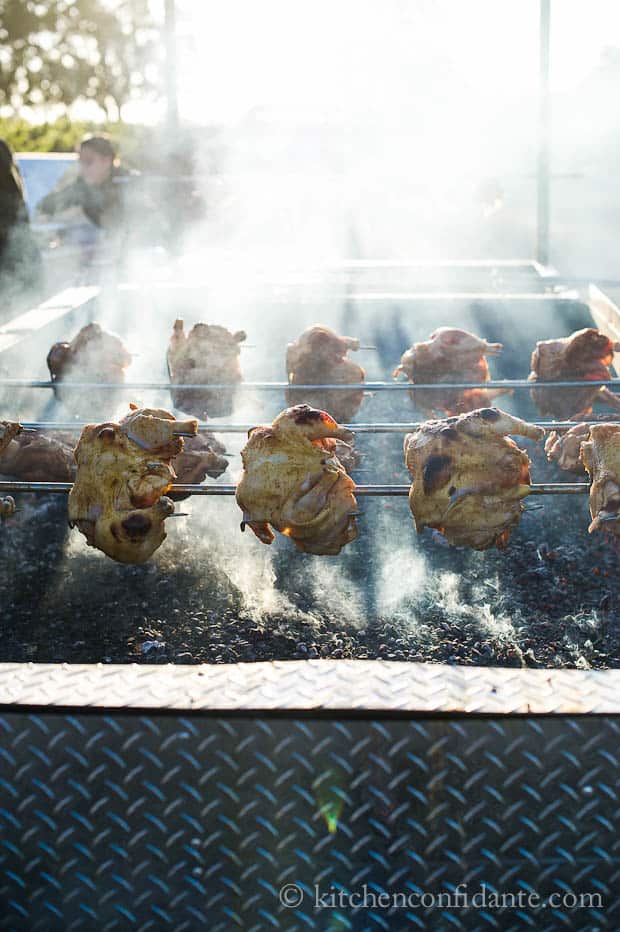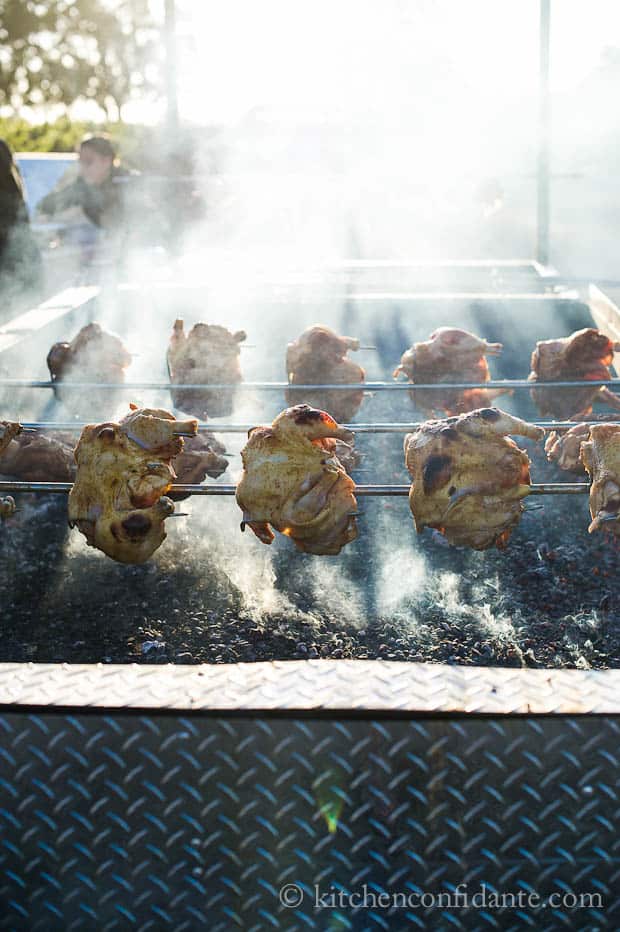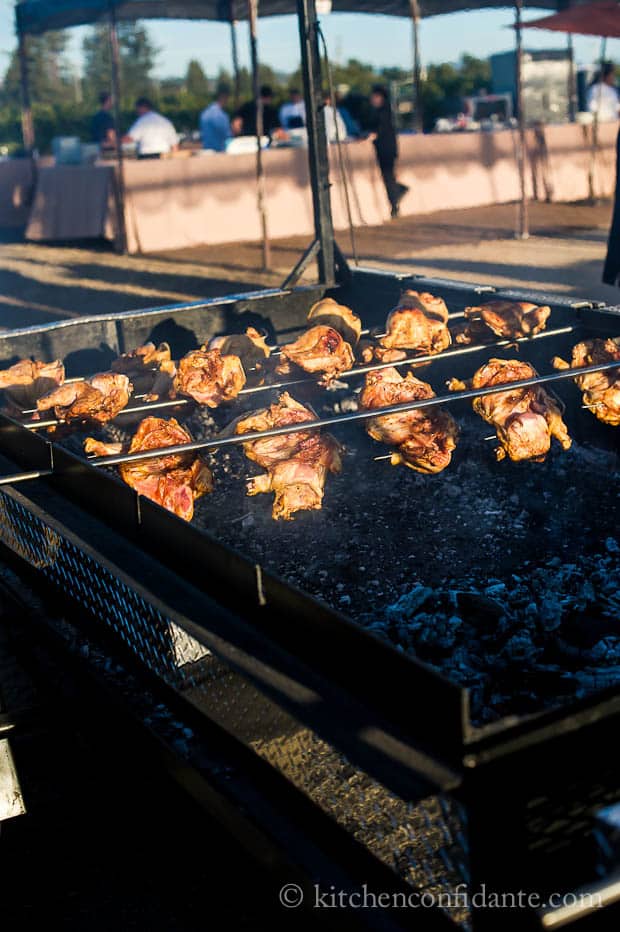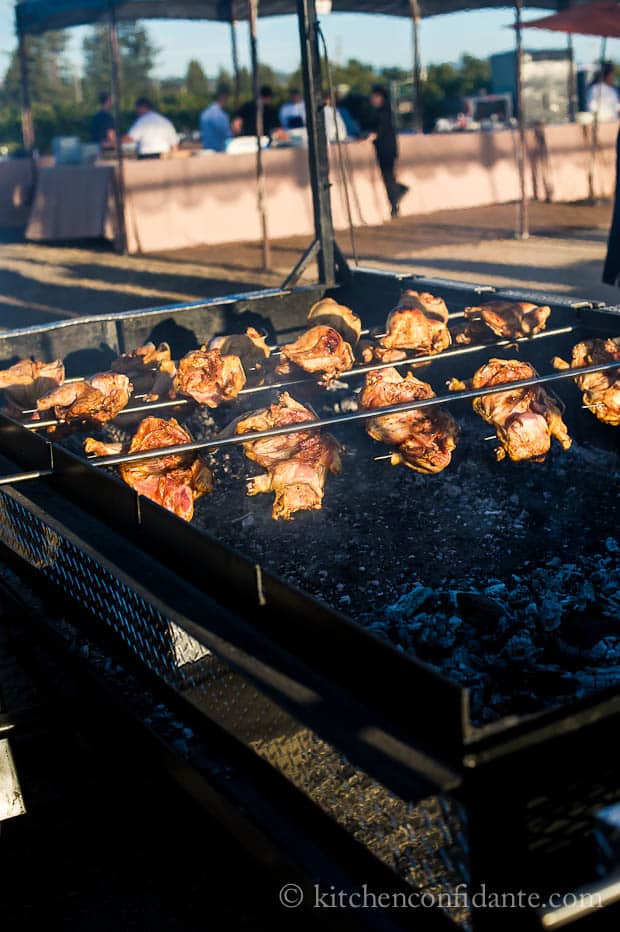 As guests mingled and enjoyed their first glasses of wine, I was drawn to the gardens tucked amongst the vineyards. Tomatoes were still plentiful, and for the first time, I found myself excited at the idea of autumn, when I spotted the gourds underneath their leafy tangle. But the grapes! I could have photographed them all evening and never tired.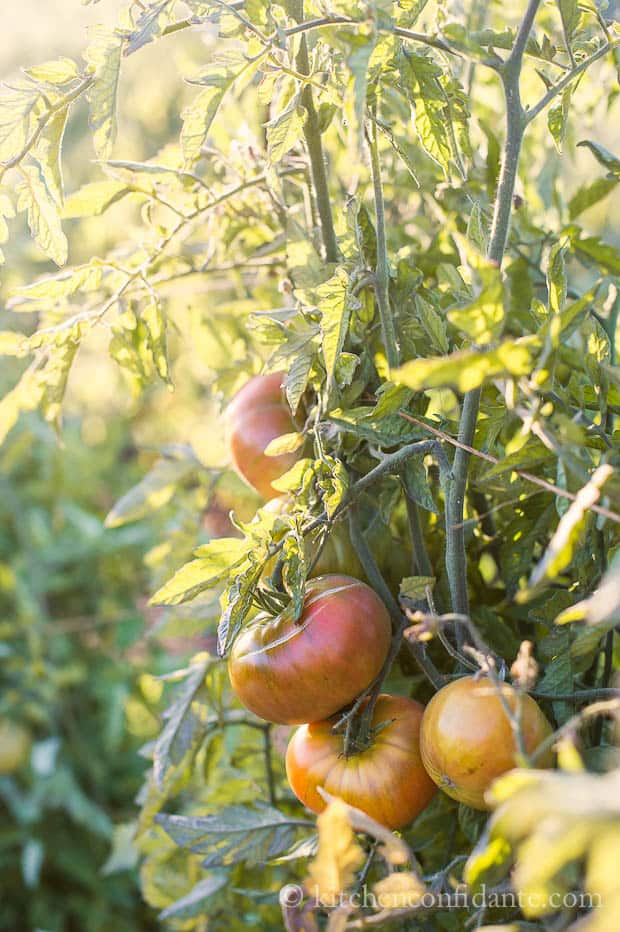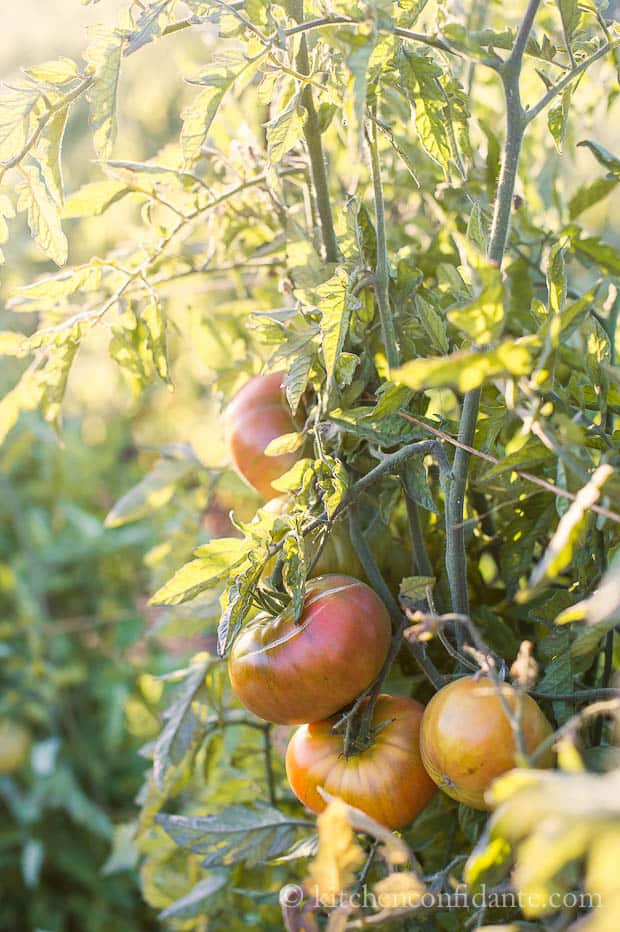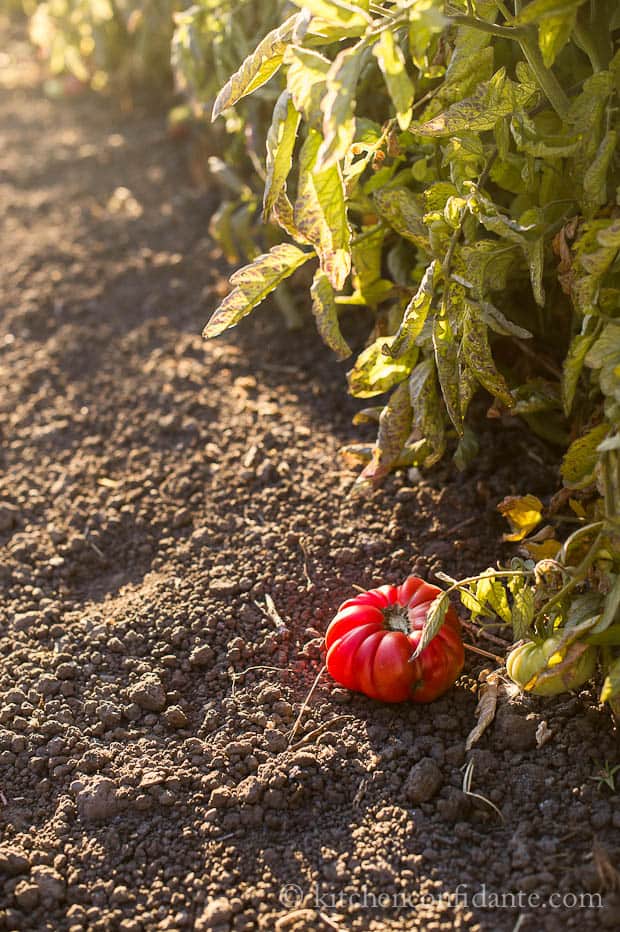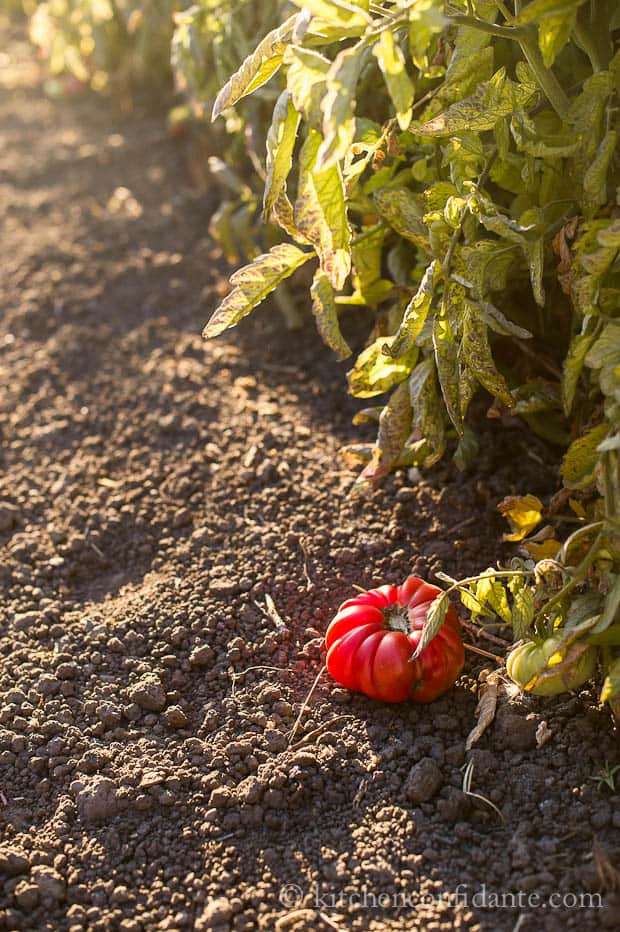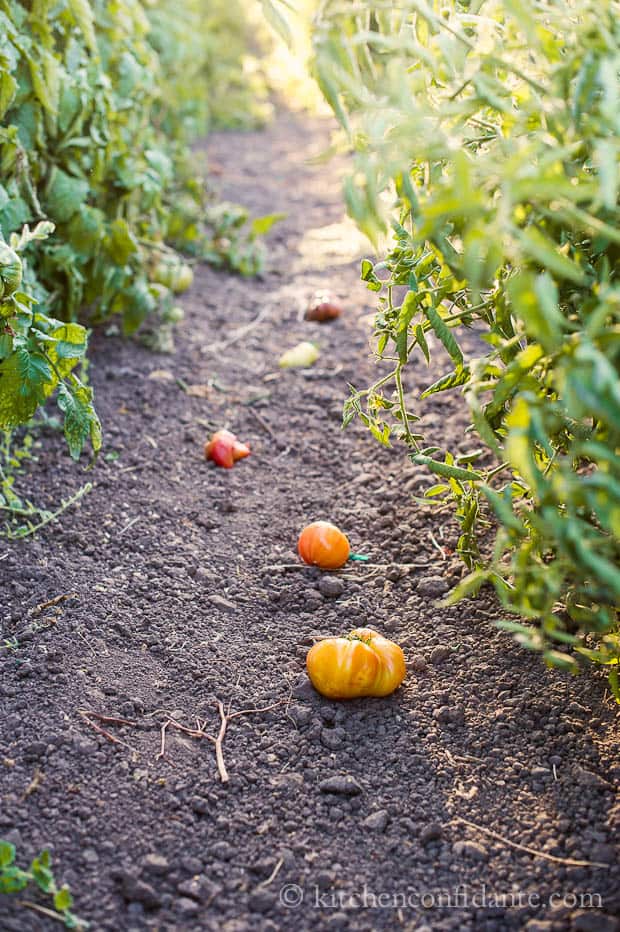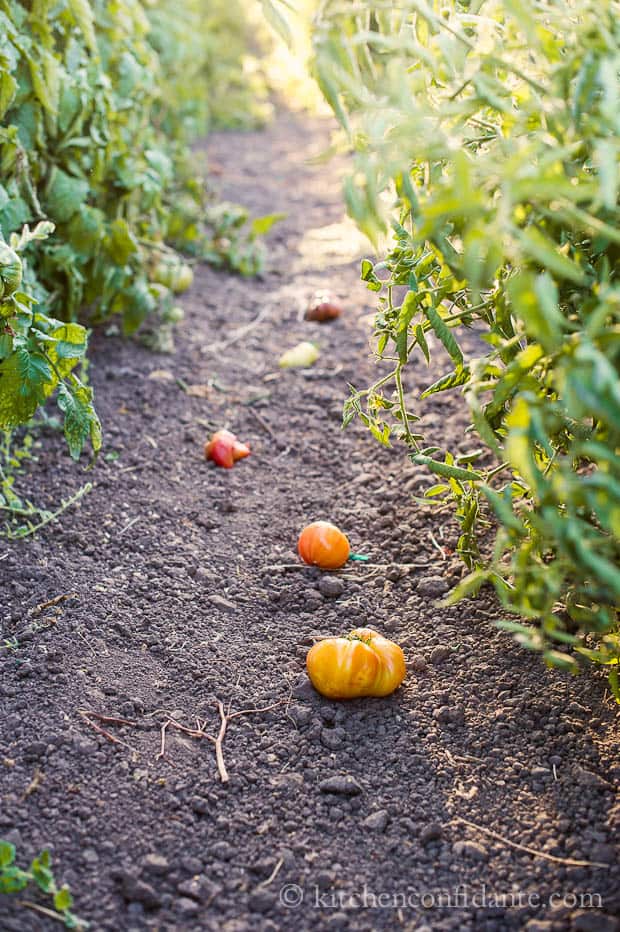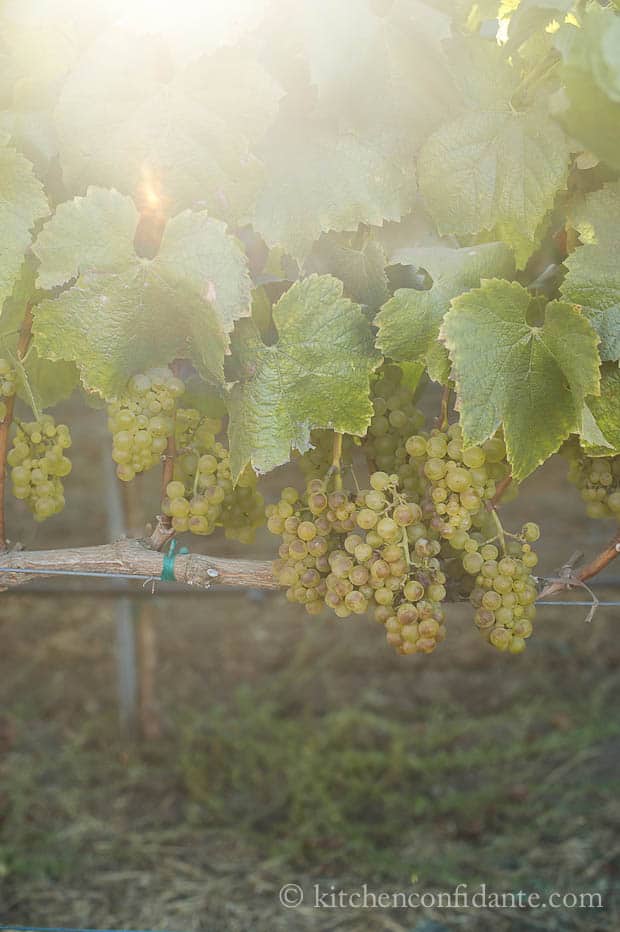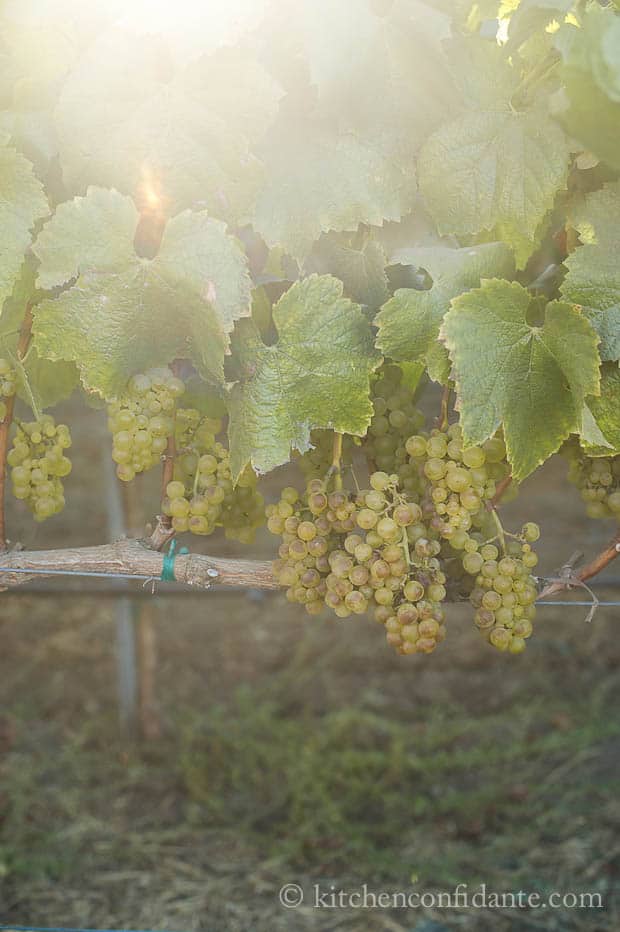 As the chicken browned, the sun began to set, and its golden light was breathtaking.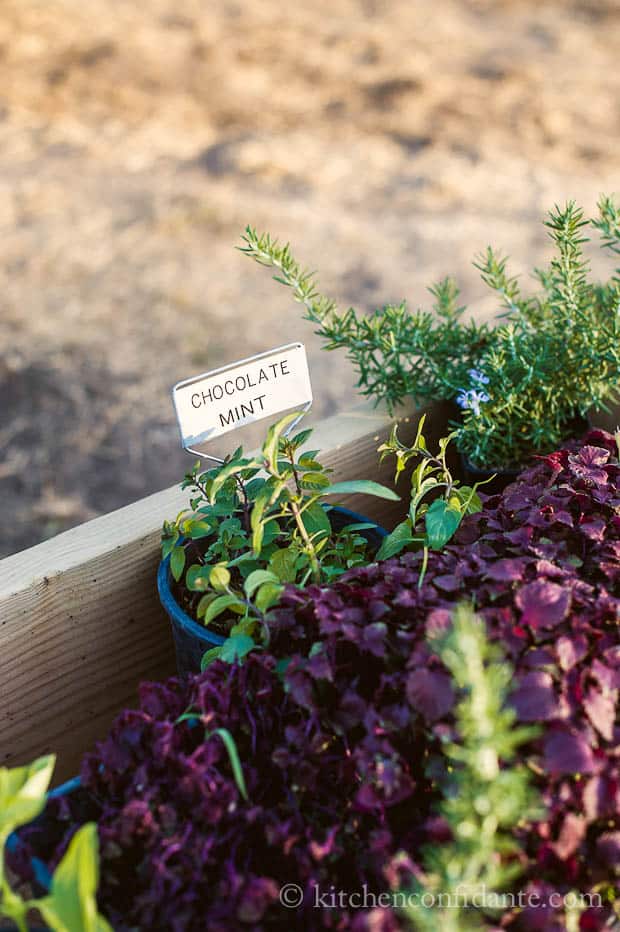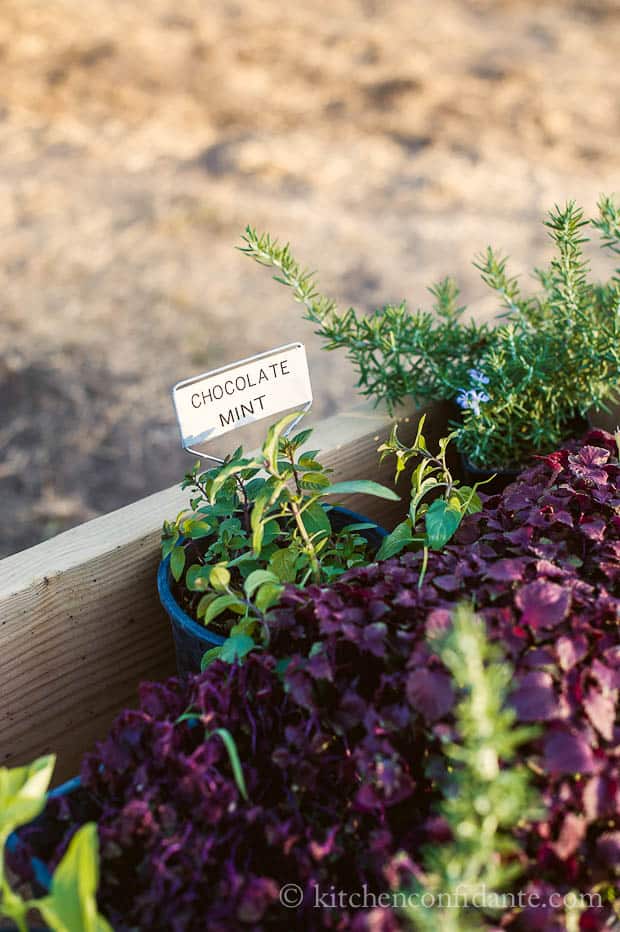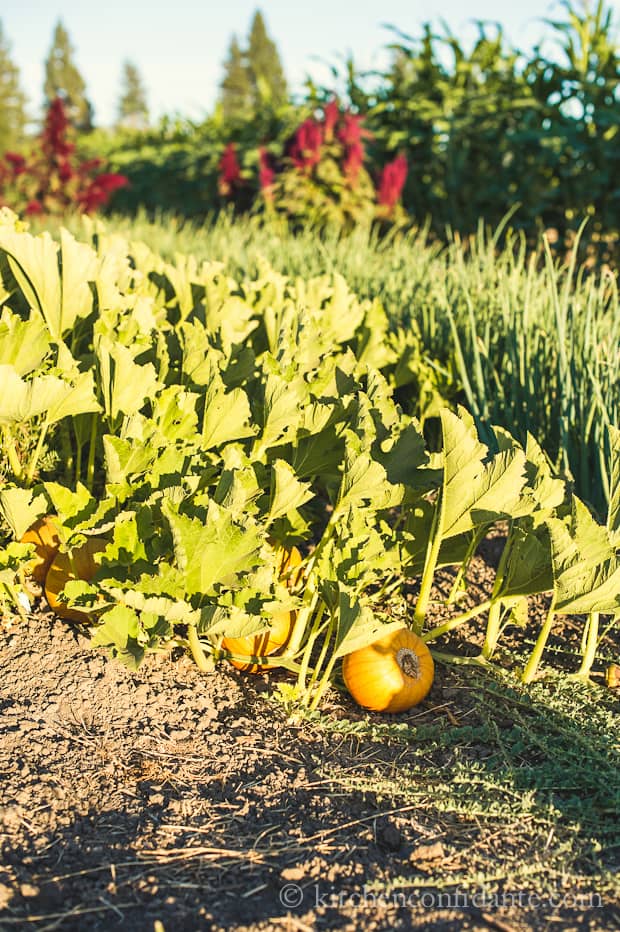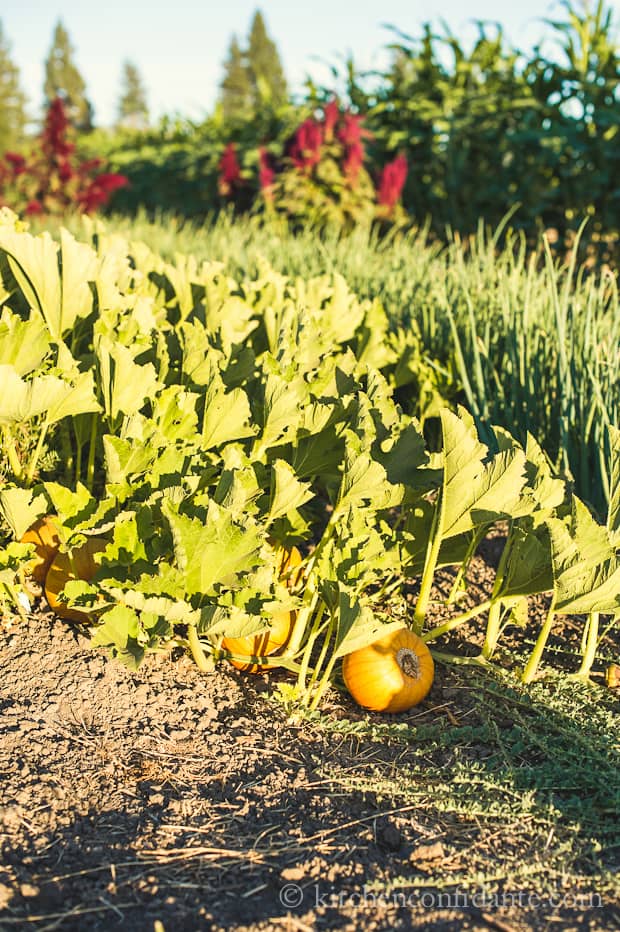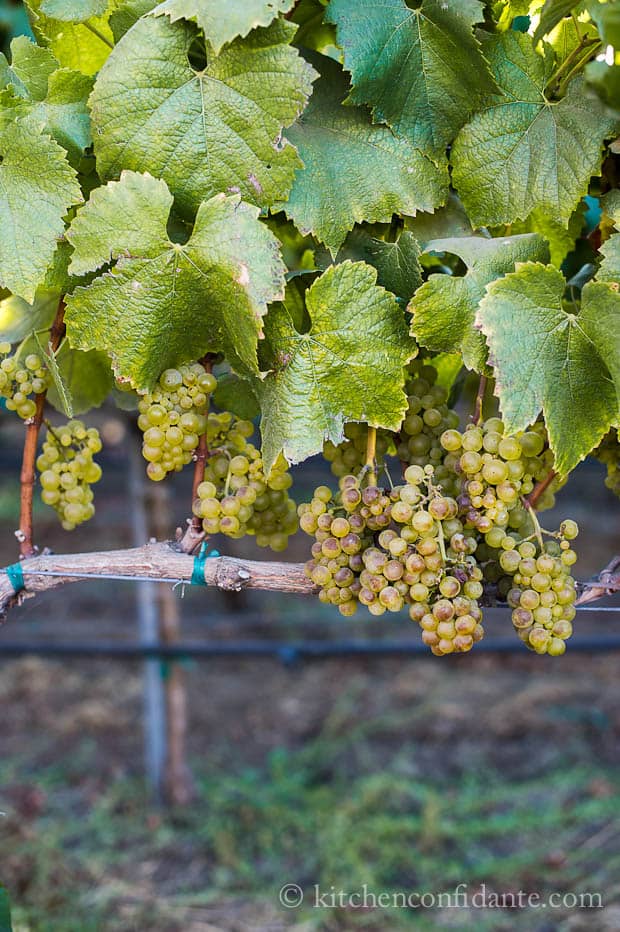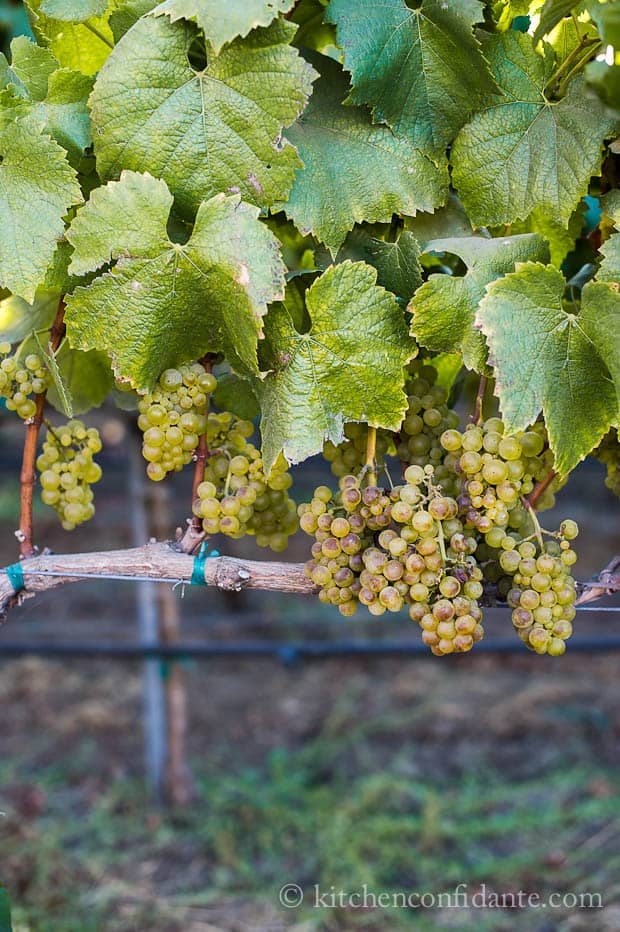 The natural beauty was stunning, but I have to say that perhaps the highlight for me was the lovely company. I was so honored to be invited by Muir Glen as their guest that evening, but what made it really special was enjoying their company. There have been many times that I have had the chance to enjoy events, but to actually be able to spend the evening with my hosts and get to know them better was really meaningful. They had traveled in for their own tomato harvest in Yolo County, and it was fun to relish wine country's best together.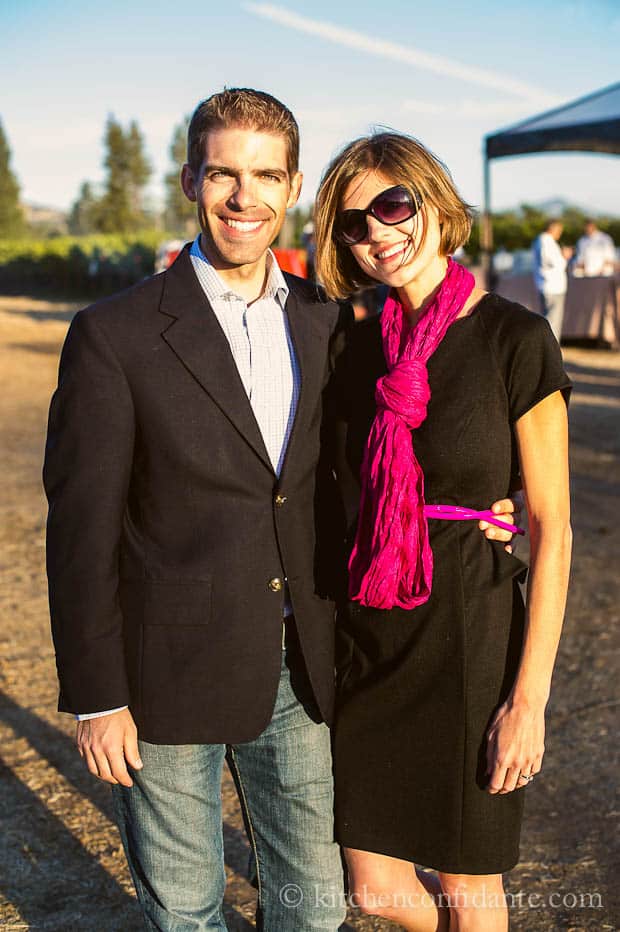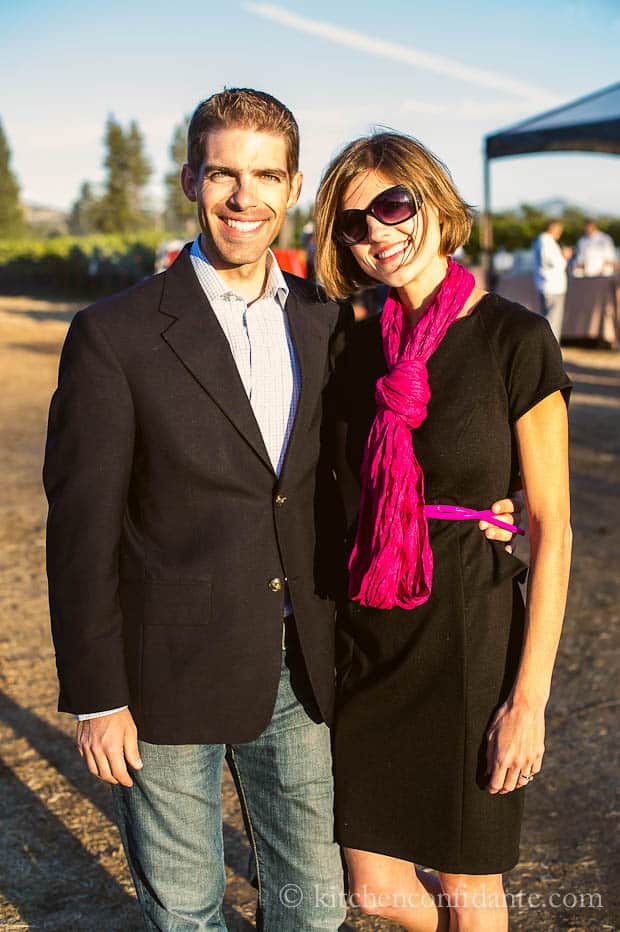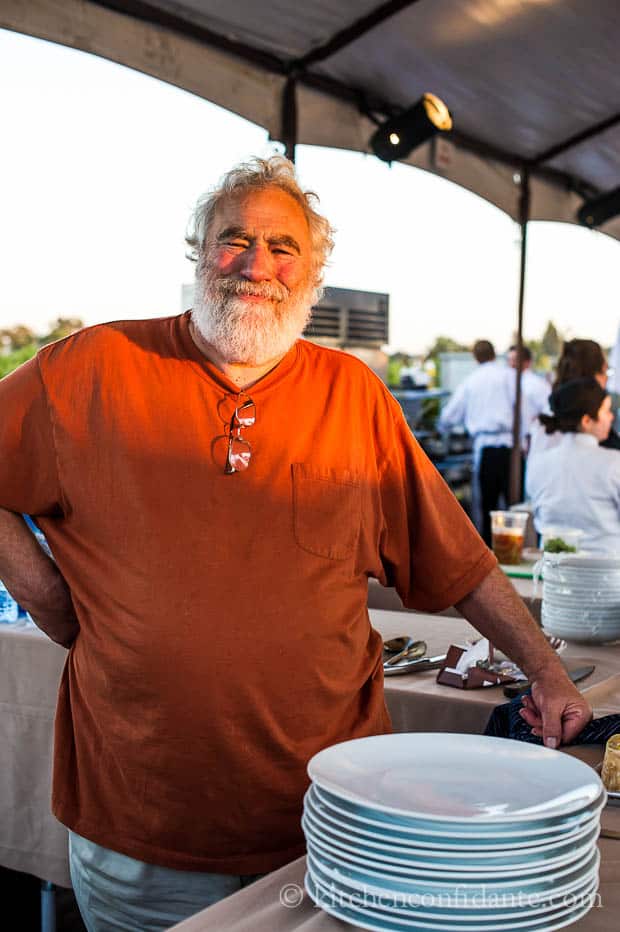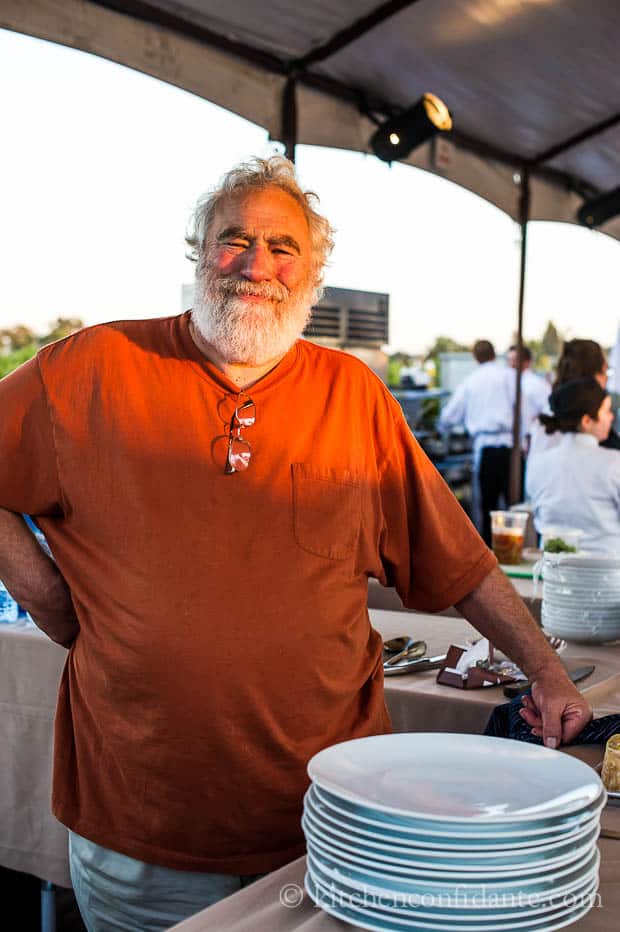 The tables were beautifully set in vivid harvest hues, and we found ourselves seated adjacent to the host tables where Fieri and Batali spoke exuberantly about the event and their fundraising efforts.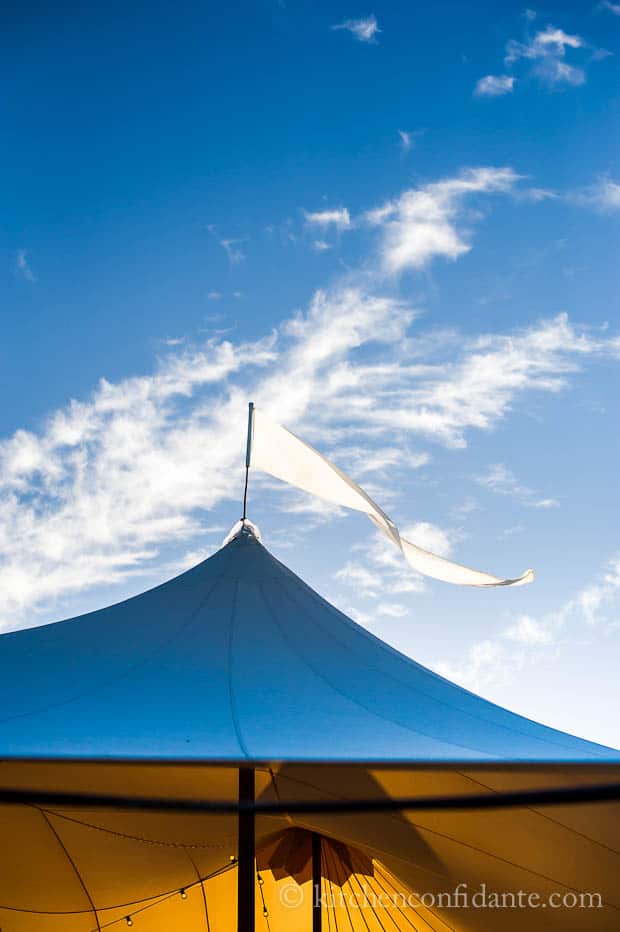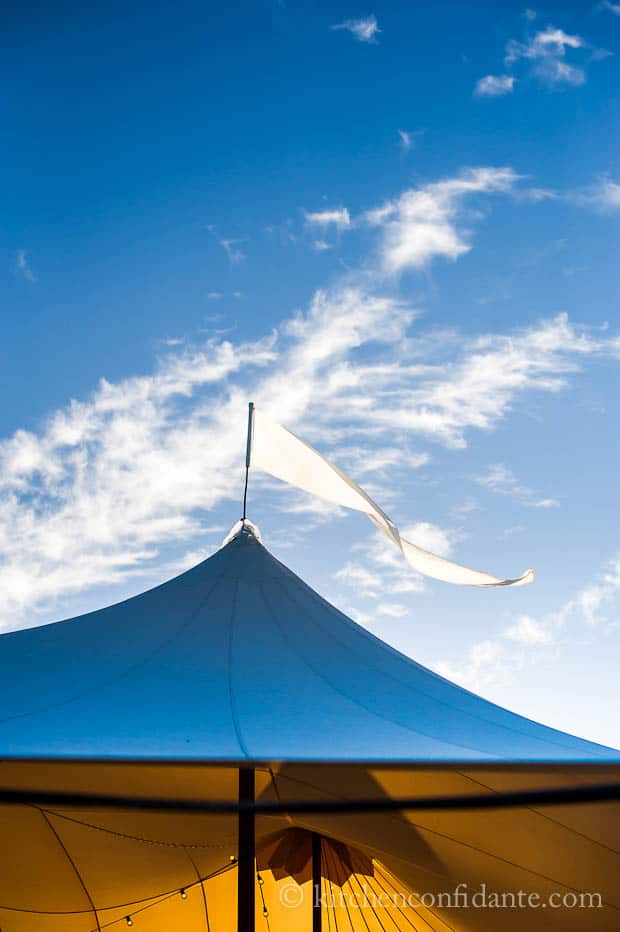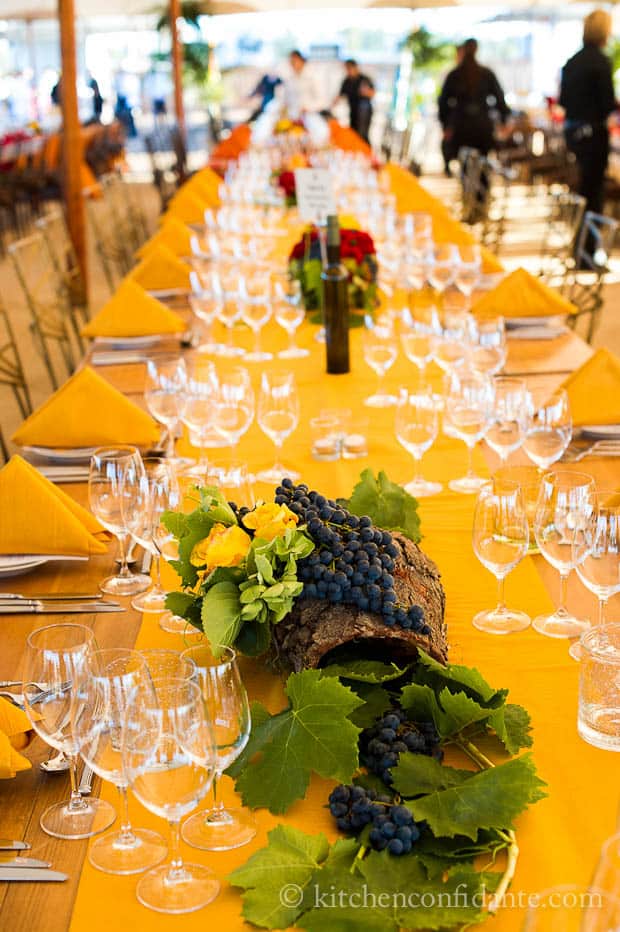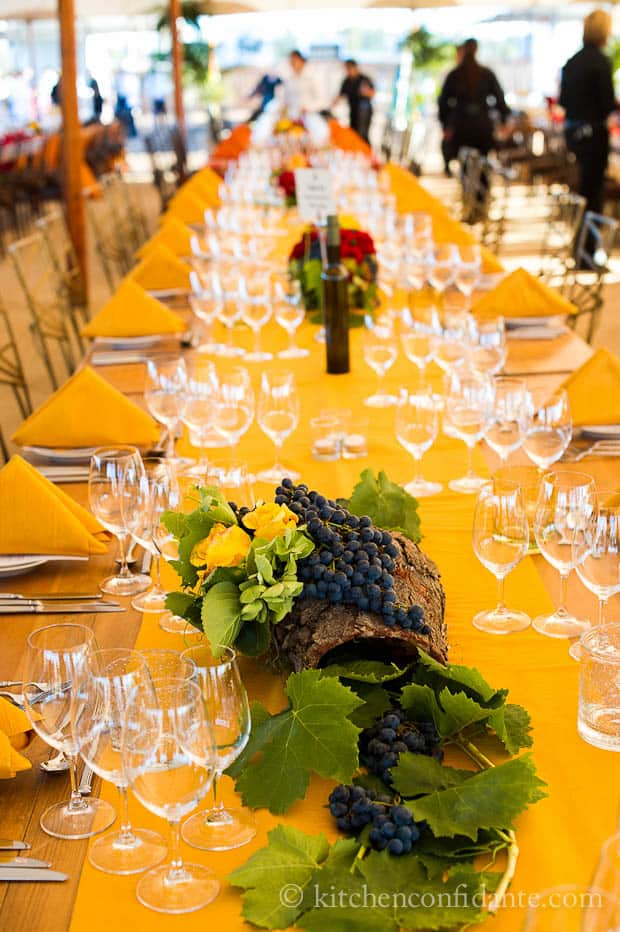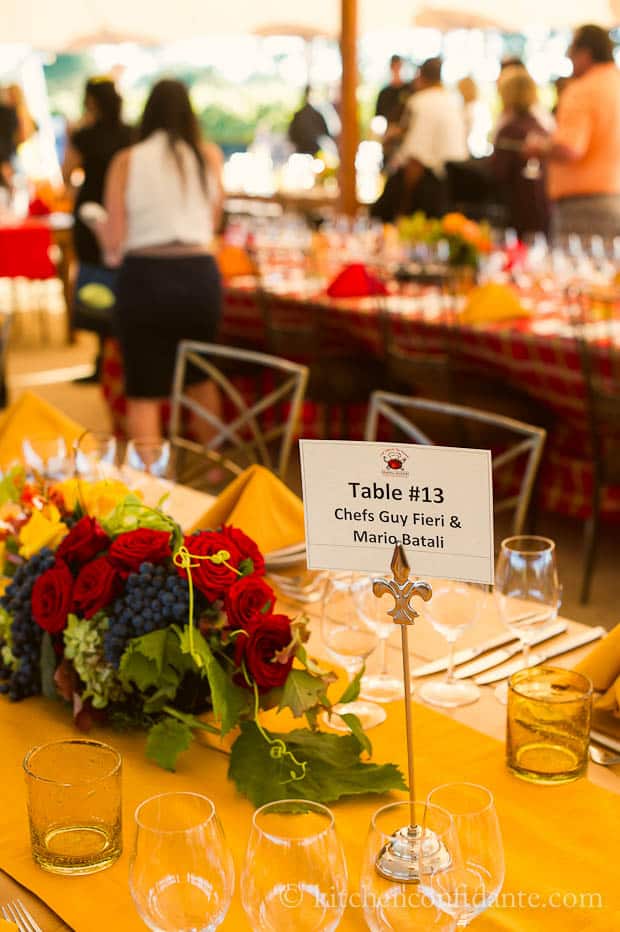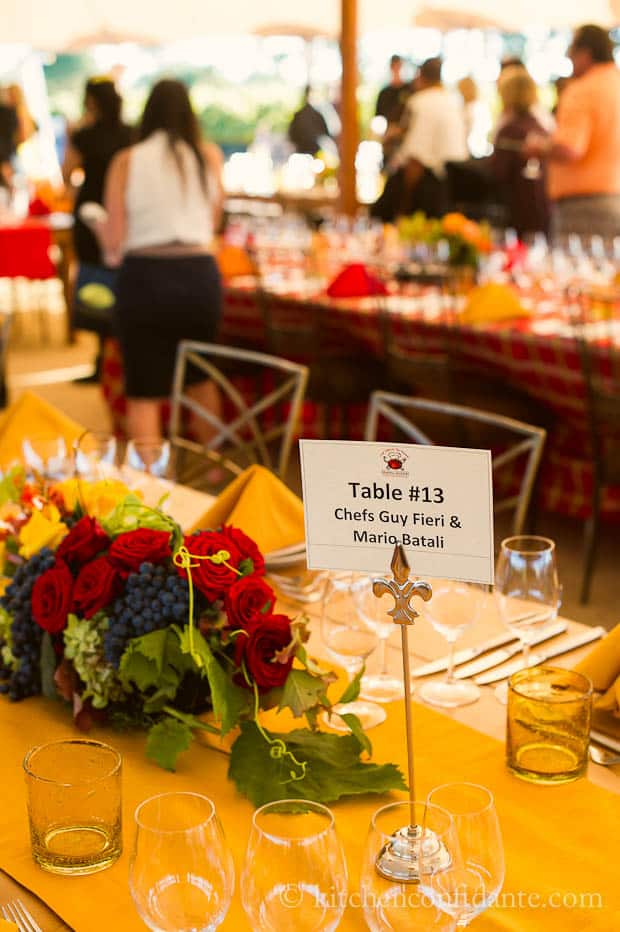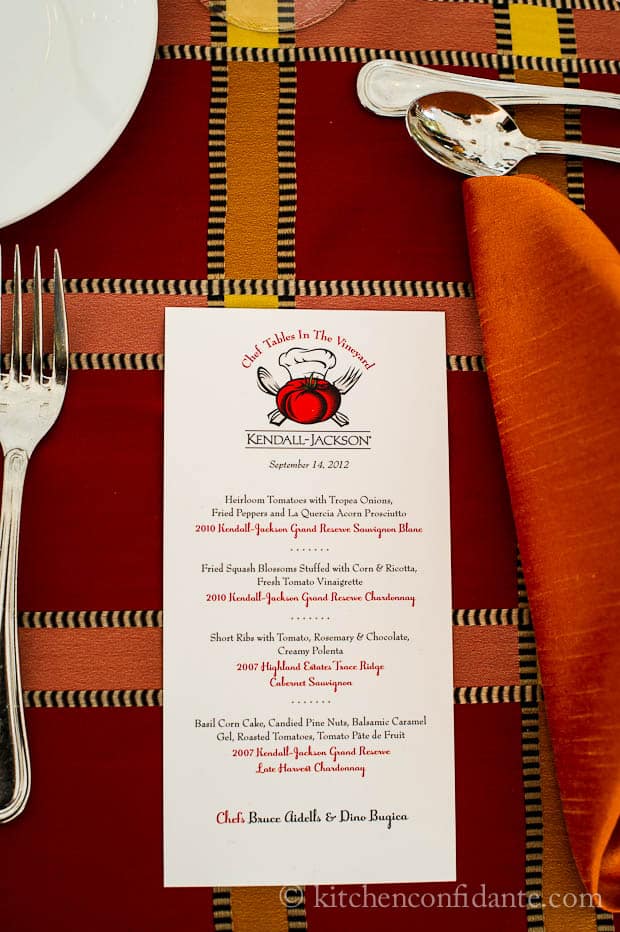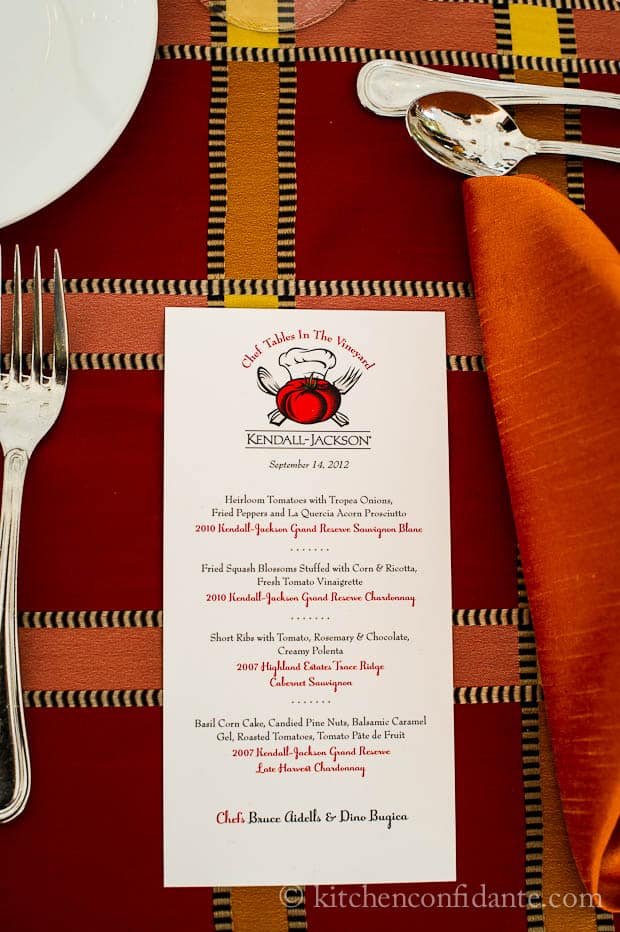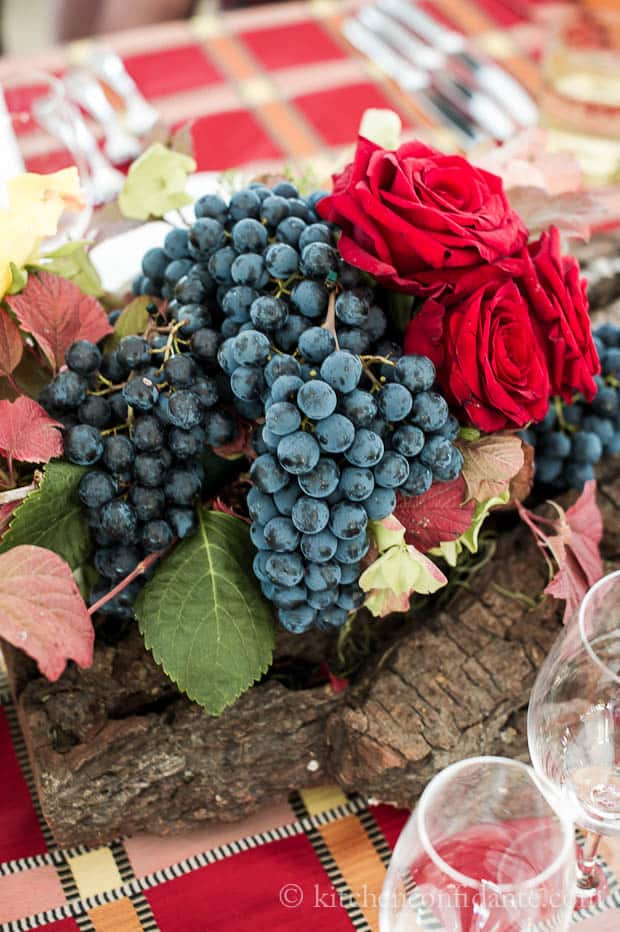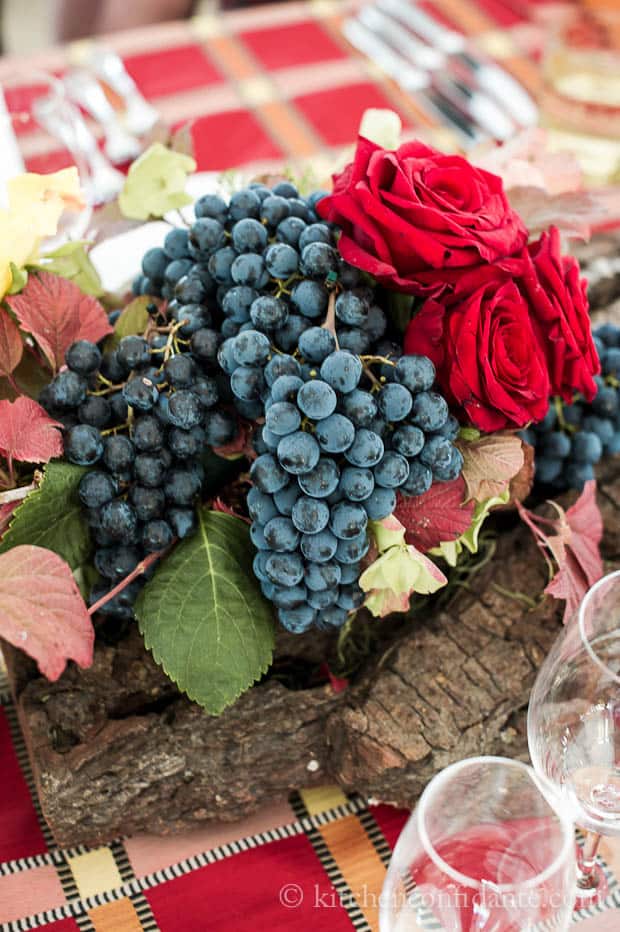 Our table that evening was with Chefs Bruce Aidells and Dino Bugica, and our intimate table really enjoyed the chance to chat with them as we enjoyed dishes boasting rustic elegance. Last minute changes to the menu were discussed and we found ourselves eating platefuls of creamy polenta and braised short ribs with chocolate. There were sweet heirloom tomatoes, rustic charcuterie, and shank bones stuffed with marrow, seafood and corn. And of course, there was wine. We were joined as well by one of Kendall-Jackson's wine makers, and each pairing was quite lovely.
By evening's end, the brisk cold air had settled in the vineyard. The chefs were lauded for the lovely meal. Fieri and Batali were generous and flamboyant. With stomachs full and hearts happy from a jovial dinner, it was time to leave wine country behind. As we drove through the dark highways back home, it affirmed my love for this place I call home. I really do feel quite lucky to live in this magical place, fertile with deliciousness. I don't think I can ever tire of it.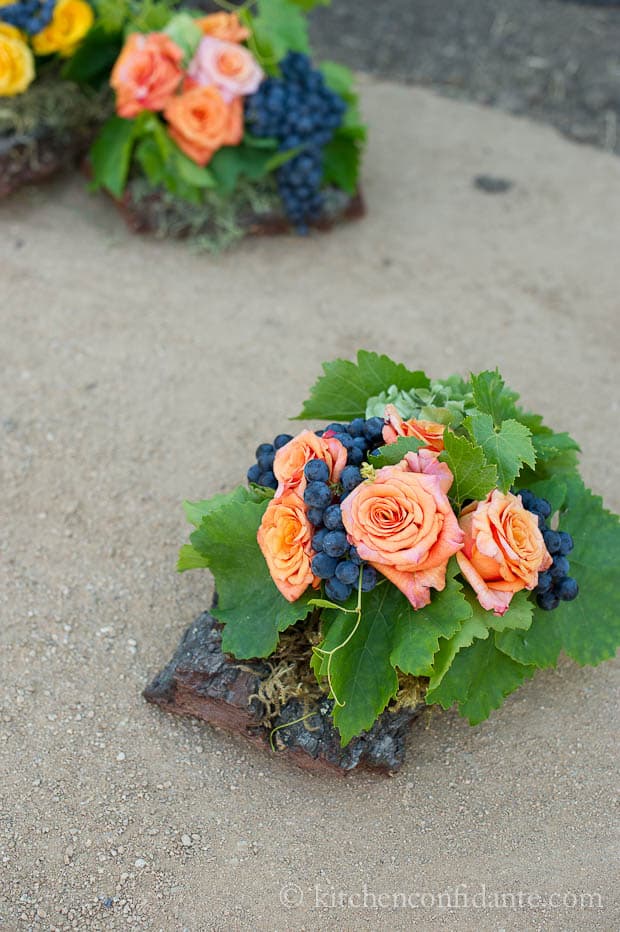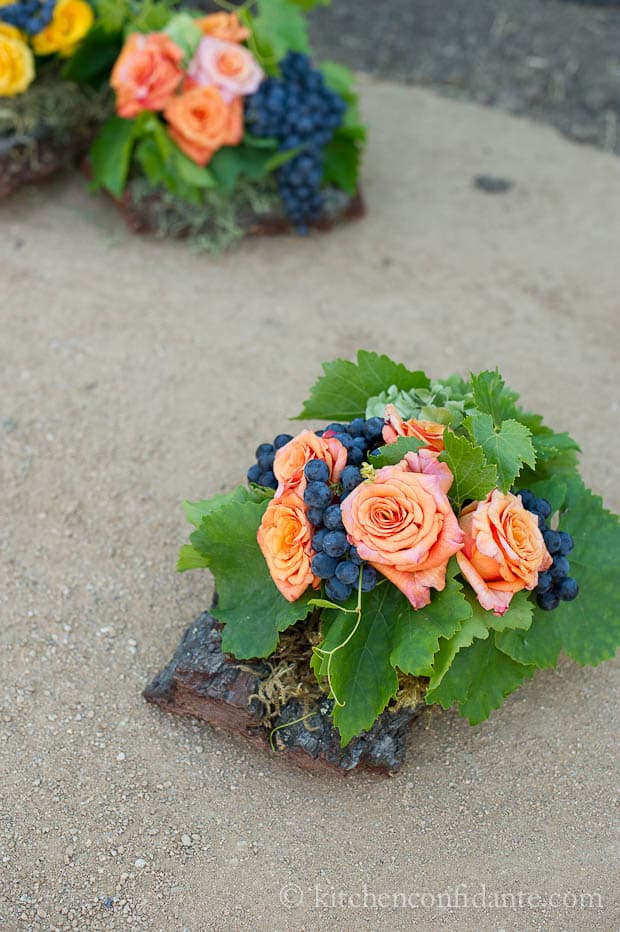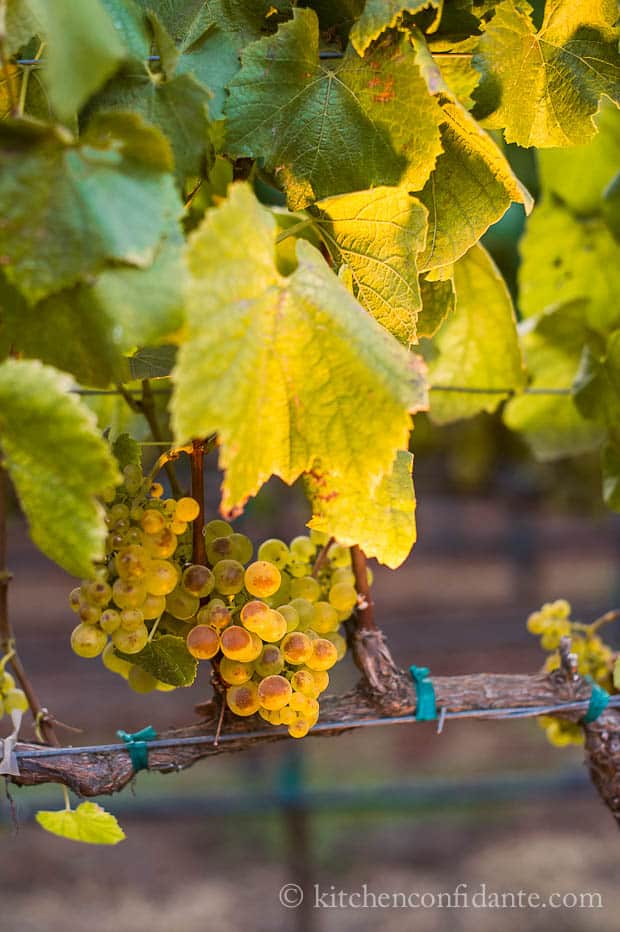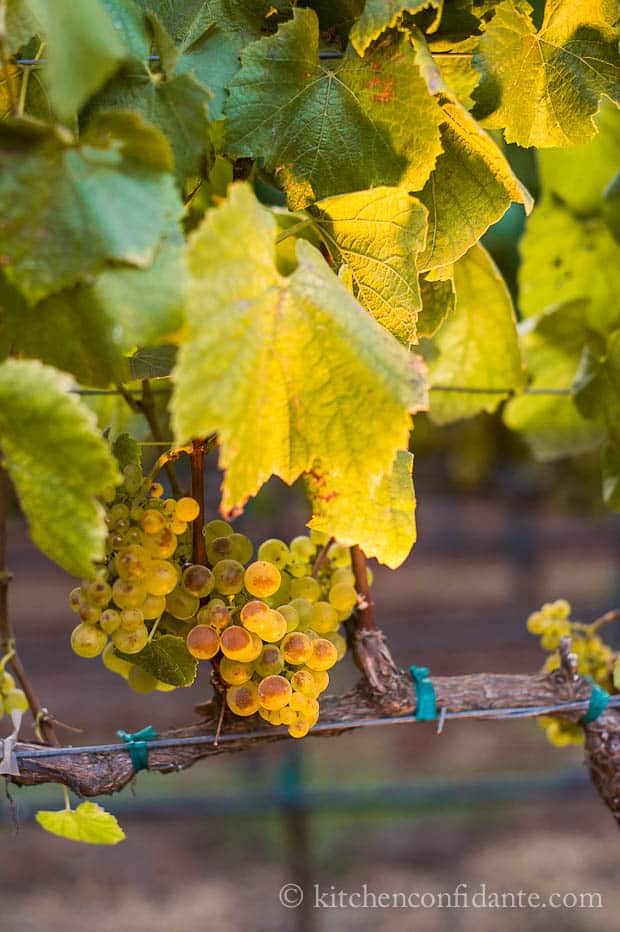 Heartfelt thanks to the team at Muir Glen Organics for extending the lovely invitation to this fantastic event. It was a joy to meet and enjoy it with each and every one of you!