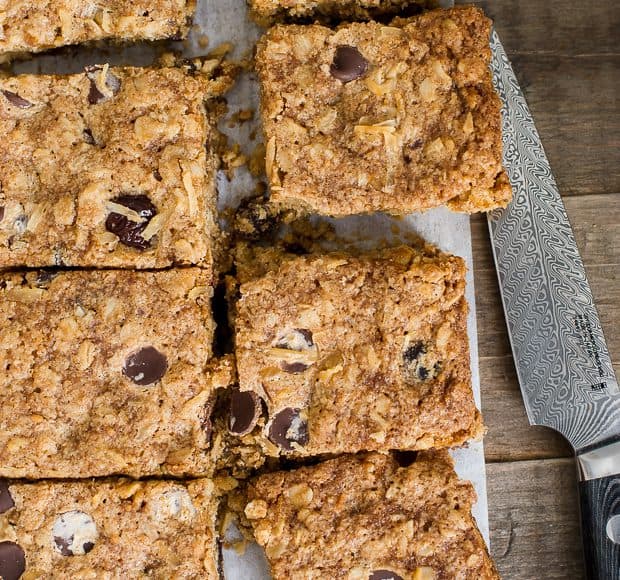 Chocolate Chip Cherry Oatmeal Cookie Bars
I tend to be one of those meticulous types when it comes to spelling and grammar. Words like "ain't" and double negatives make the hairs on my neck stand up in horror. My husband, on the other hand, is much more liberal with his language,…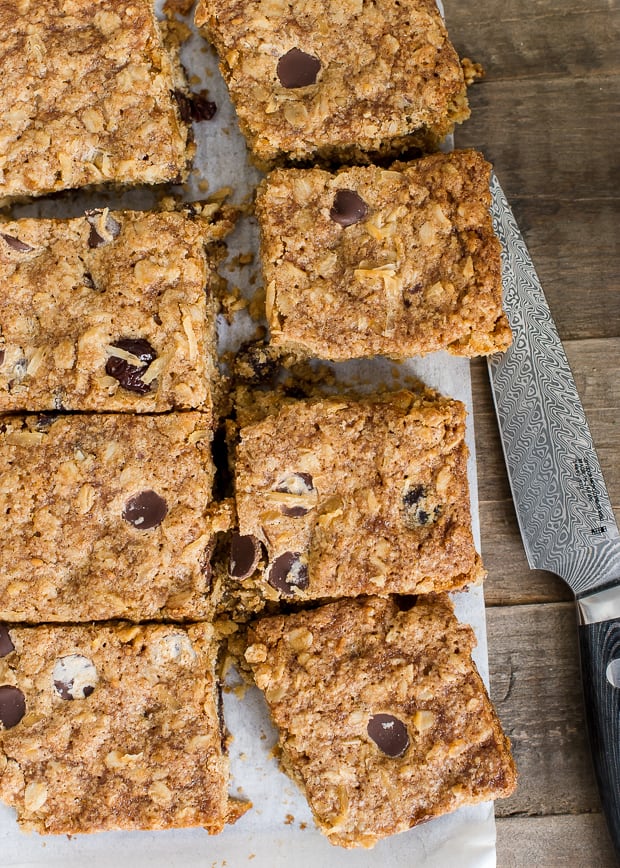 Chocolate Chip Cherry Oatmeal Cookie Bars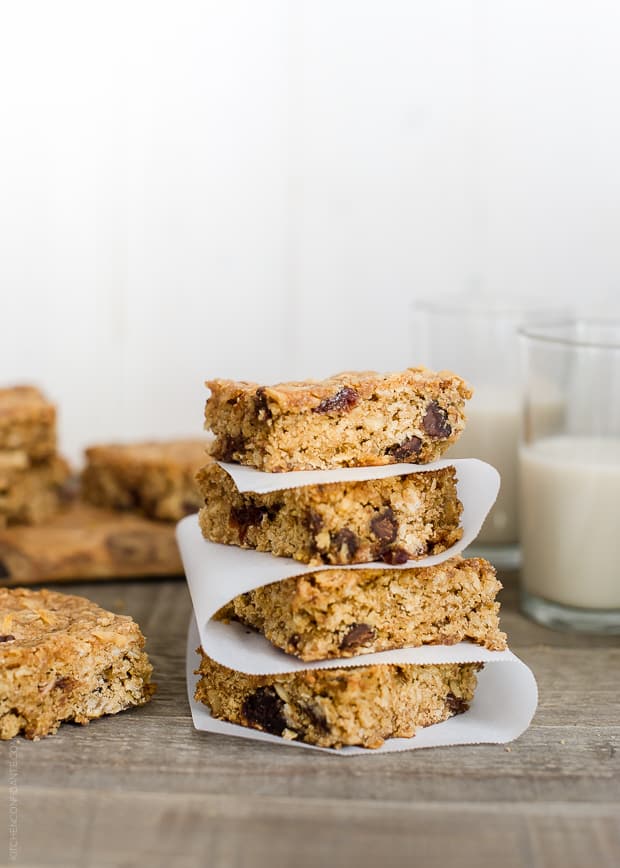 I tend to be one of those meticulous types when it comes to spelling and grammar. Words like "ain't" and double negatives make the hairs on my neck stand up in horror. My husband, on the other hand, is much more liberal with his language, infusing it with all kinds of color, making it a huge source of both amusement and squirming on my part. He makes up words, mashes them together, then effortlessly uses them in conversation, without batting an eye. After a while, it just becomes part of his every day speech. In some ways, I envy his freedom with language, but I tend to be the safer one, anyway. Someone's got to be the grammar police in the family.
Language amazes me, especially how it evolves, and I'm not as severe as I used to be. This Ted Talk from Erin McKean is a short and sweet and very amusing look into why we should embrace new words, and how it happens every day!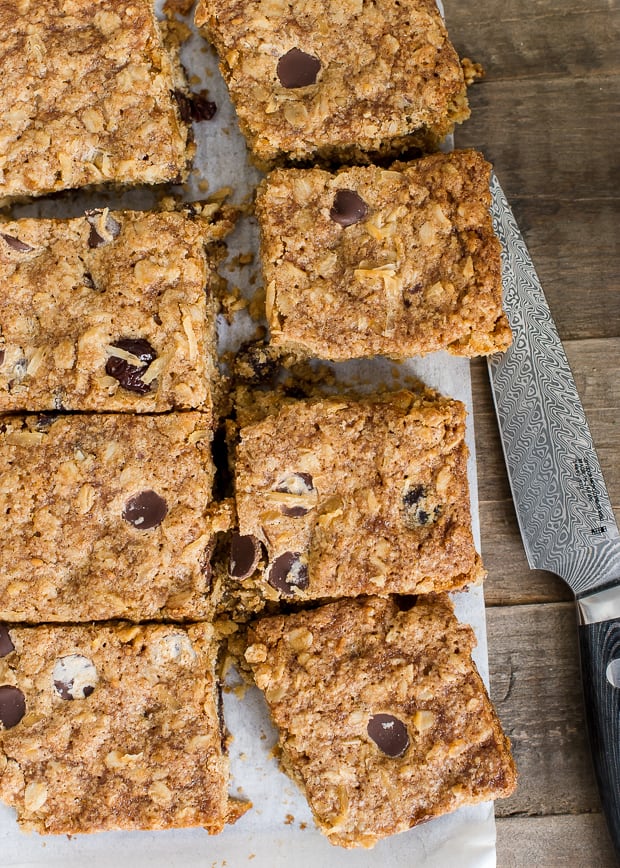 In honor of Erin McKean, and my husband, I present to you the "barkie." It's what happens when you're craving a cookie but too lazy to scoop out the cookie dough. Just dump the cookie dough into a pan, spread it out and bake! These Chocolate Chip Cherry Oatmeal Cookie Bars – or barkies, if you will – satisfied my cookie fix like you would't believe. Plus, they make the perfect ice cream sandwiches, too!
What do you think, will barkies stick?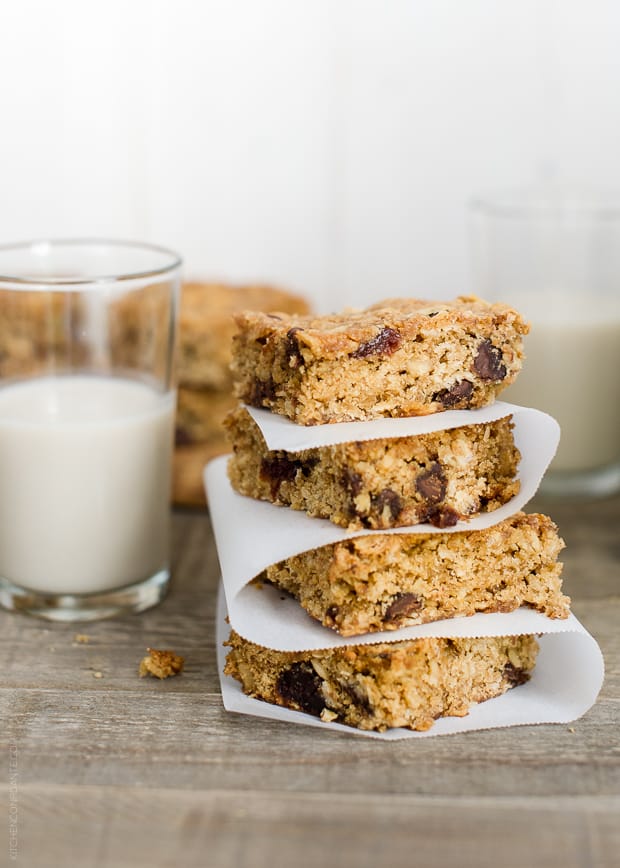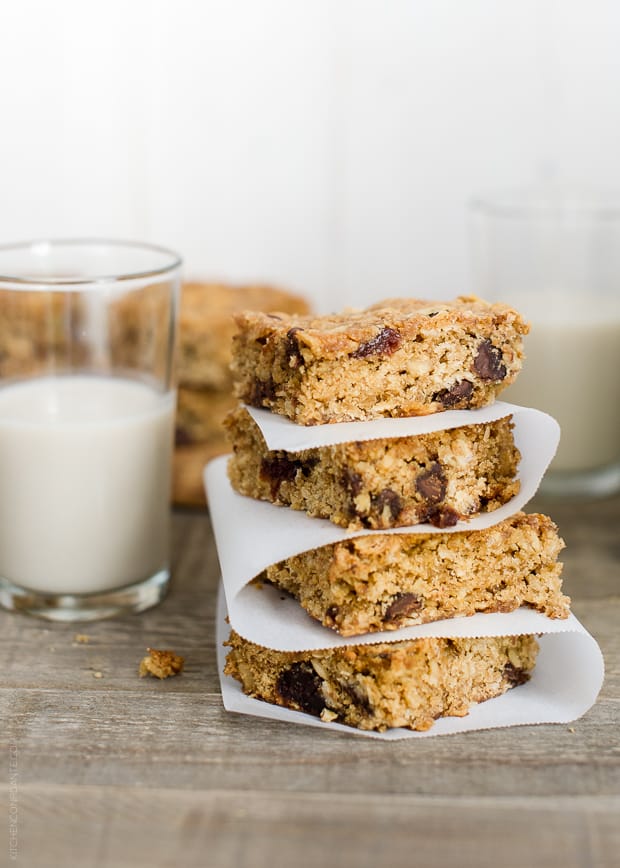 Chocolate Chip Cherry Oatmeal Cookie Bars
I like to call them barkies - it's what happens when you're craving a cookie but too lazy to scoop out the cookie dough!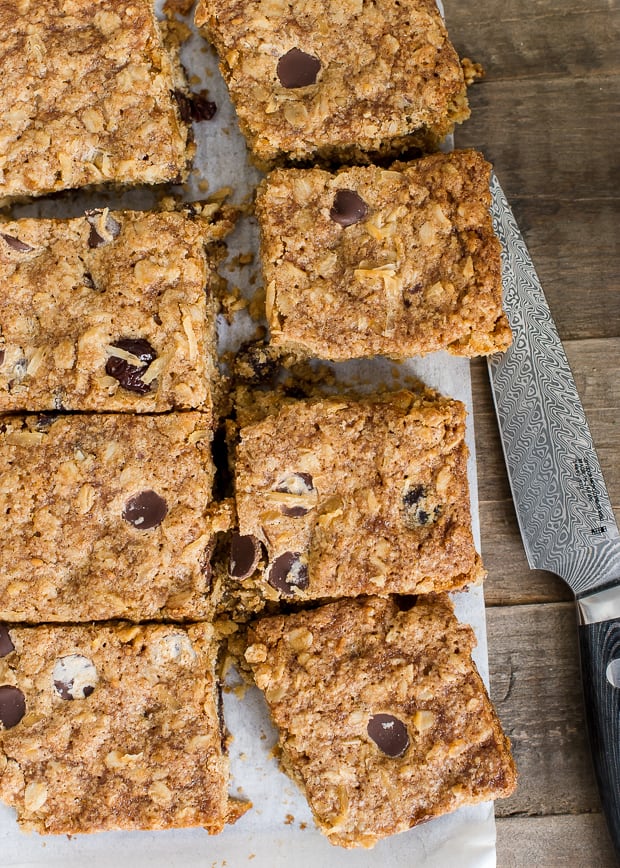 Print Recipe
Ingredients
1 cup butter, room temperature
1 cup brown sugar
1/2 cup granulated sugar
1 tablespoon ground flaxseed
3 tablespoons water
1 large egg
1/3 cup applesauce
1 teaspoon vanilla extract
1 1/2 cups flour
1/4 teaspoon salt
1 teaspoon baking soda
2 1/2 cups oats
3/4 cups chocolate chips
1/2 cup dried cherries
1/2 cup shredded coconut
Instructions
Preheat the oven to 375°F.
In the bowl of an electric mixer, beat the butter until light and creamy. Mix in the brown and granulated sugars, cream for about 2 minutes. Stir ground flaxseed into water and let it sit for 2 minutes. Add the flaxseed mixture into the batter, then beat in the egg, appleasauce and vanilla extract, and mix until well incorporated.
In a separate bowl, whisk together the flour, salt and baking soda. Add to the mixing bowl on low speed until just combined. Stir in the oats, chocolate chips, dried cherries and coconut.
Spread the batter into a 15x10 inch pan lined with parchment paper. Bake for 20 minutes or until the cookies are a golden brown and set in the middle. Remove from oven and let it cool. Slice into bars and enjoy.