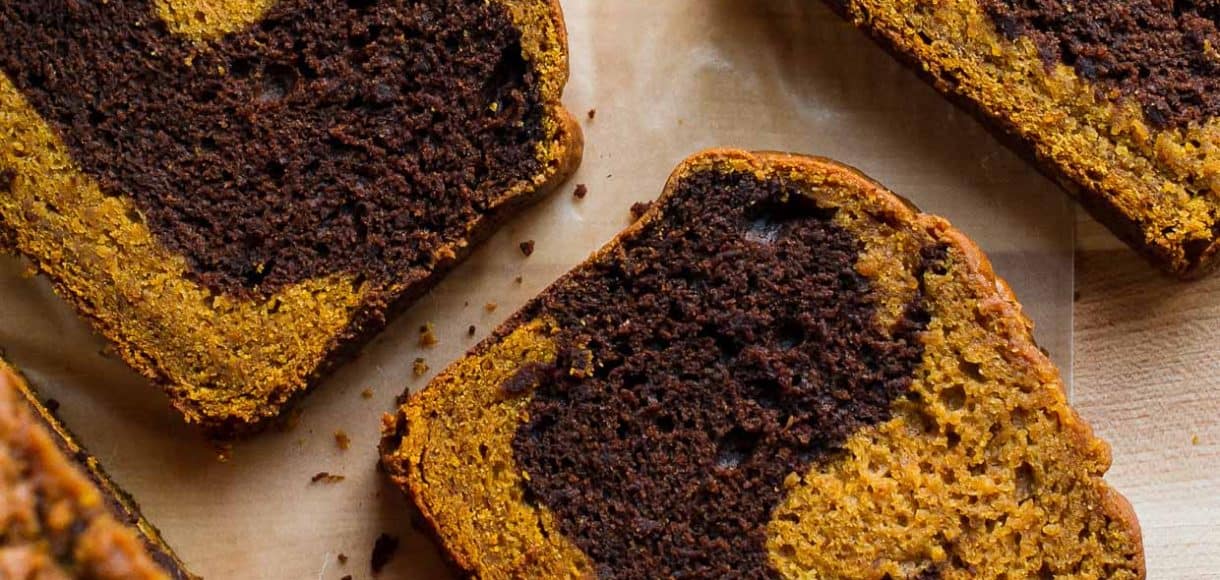 Chocolate Marble Pumpkin Bread
I opened the oven door and warmed my hands as the heat escaped, along with the scent of baked pumpkin. And this song played in my head. Reunited, and it feels so good. I missed my oven while I was at BlogHerFood last week. Walking…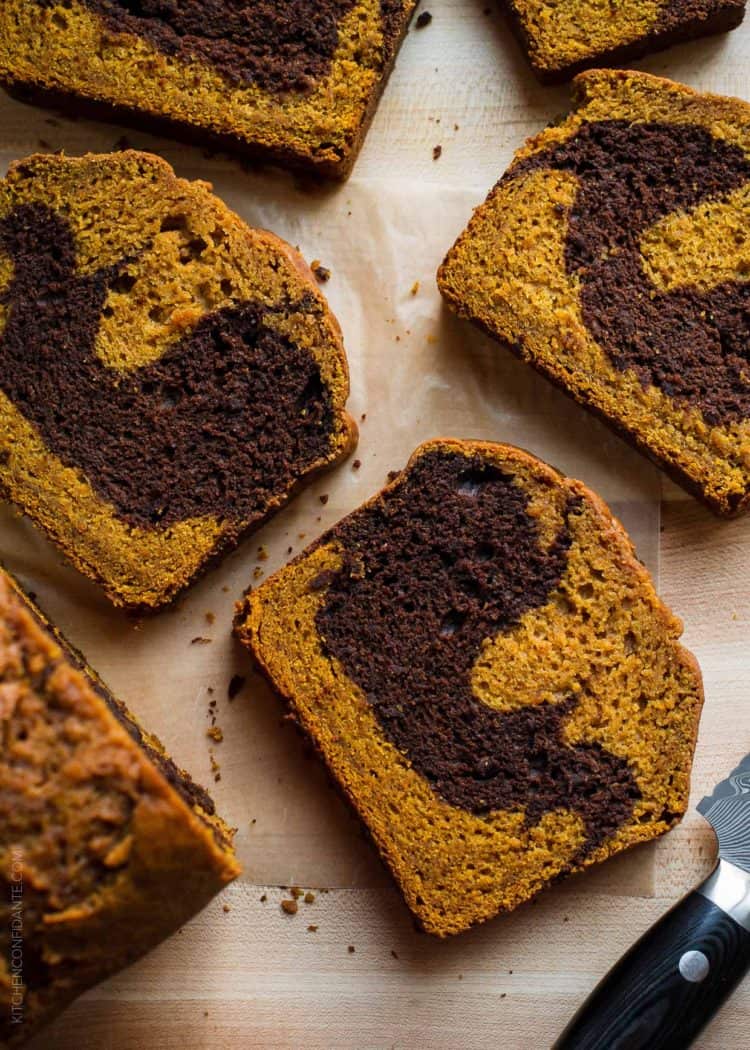 Chocolate Marble Pumpkin Bread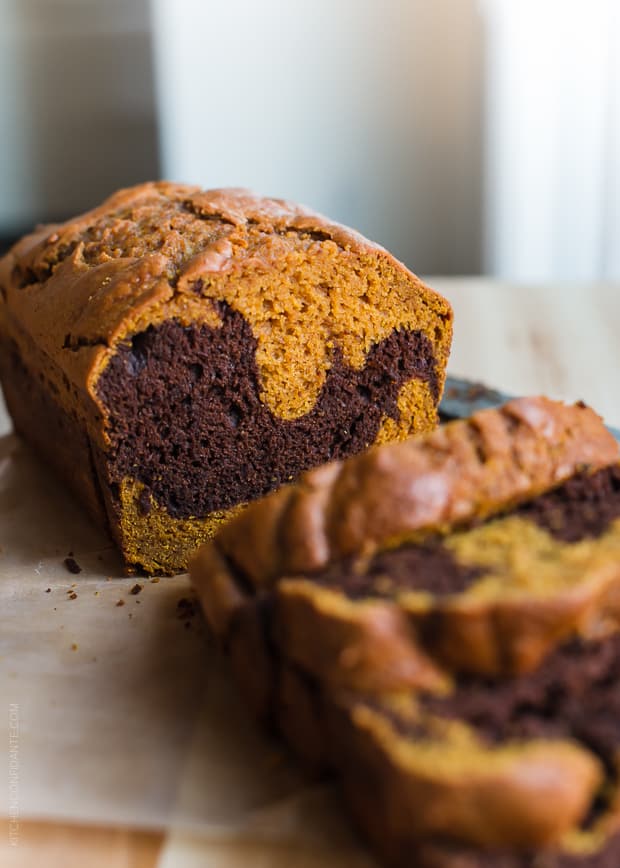 I opened the oven door and warmed my hands as the heat escaped, along with the scent of baked pumpkin. And this song played in my head.
Reunited, and it feels so good.
I missed my oven while I was at BlogHerFood last week. Walking through the blustery streets of Chicago and revisiting my old haunts left me craving the warmth of my kitchen and baked goods. Seeing the old apartment and the neighborhood that has blossomed around it left me feeling nostalgic! If we had stayed, there would now be, just footsteps away, a Whole Foods and a bright new brunch spot…and down the block and across Michigan Ave, Eataly! Oh Chicago, you just get better and better with time.
I have to say, my love for Chicago aside, it really was so good to be at the BlogHerFood conference. Were you there? I had the opportunity to speak at an influencer roundtable, meet the wonderful people at BlogHer and SheKnows, and meet so many bloggers that I have followed over the years. And if you attended my Food Styling and Plating session, I want to say thank you SO much! Jennifer and I loved working on our presentation together and it really was so nice to see you all there. Actually, seeing so many people who share this puzzling passion for food in one place was both awe inspiring and comforting. For such a solitary activity, it's nice to know I'm not alone.
Back at home, reunited with my oven, first on my agenda was baking pumpkin bread. But not any old pumpkin bread. Something better. And the only thing that can make pumpkin bread better, in my humble opinion, is a swirl of chocolate. I worked on several loaves of Chocolate Marble Pumpkin Bread this week, and quite happily I must say.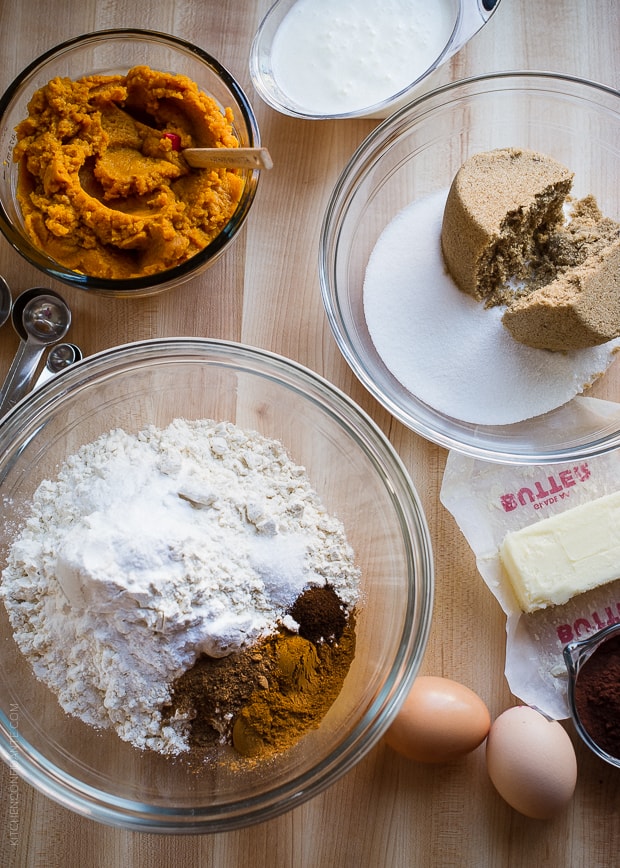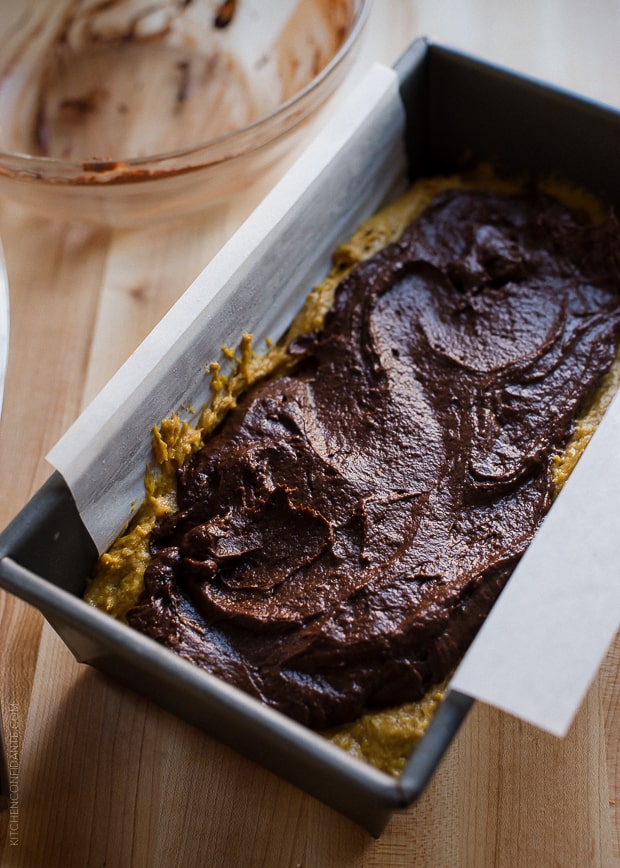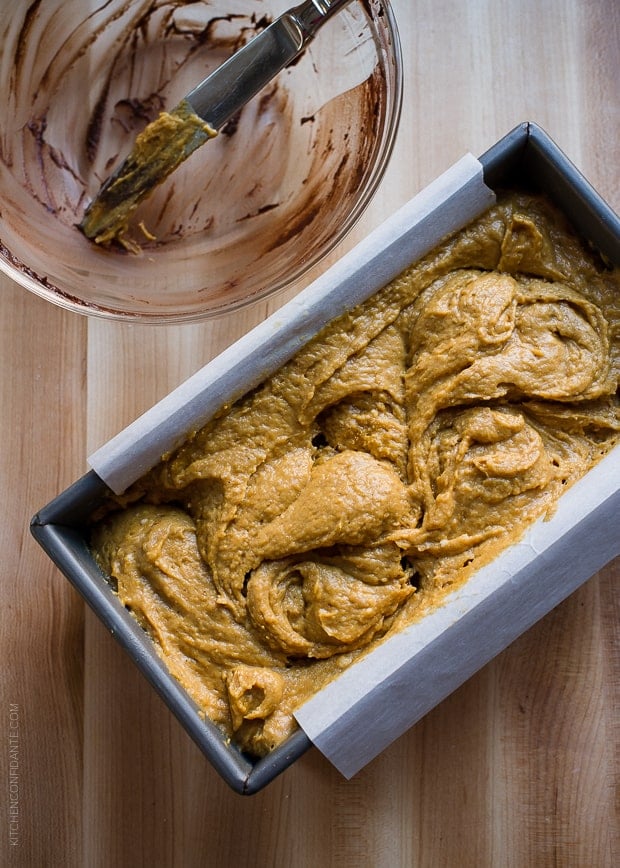 With each loaf of chocolate marble pumpkin bread that came out of the oven, the scent of the spices were intoxicatingly tempting. The hardest part of baking quick bread is patiently waiting. The game becomes this: how long can you wait to slice into it? Too soon, and the pieces crumble gingerly into your eager hands, which, truly is not a total tragedy, but if you want perfect slices, the trick is to wait. Either way, I leave the oven door open to warm up the kitchen more, and wait as best as possible. This means holding off long enough to brew a cup of tea to go with my not-so-perfect slice.
The one thing I do need to remember is this: next time, make two. Because one loaf will disappear far too quickly.
Good thing I'm done with my travels for the year. There's more time with my oven – and more loaves of chocolate marble pumpkin bread – ahead.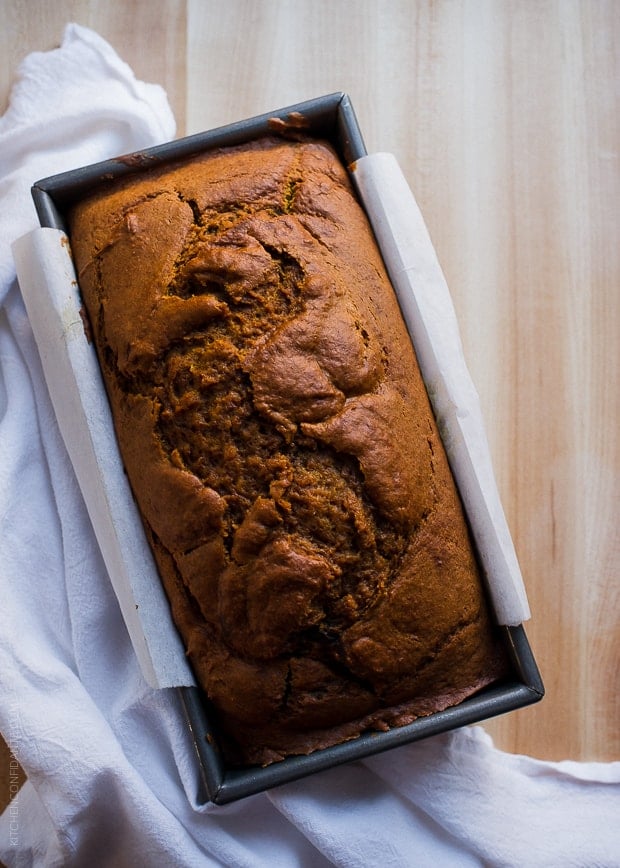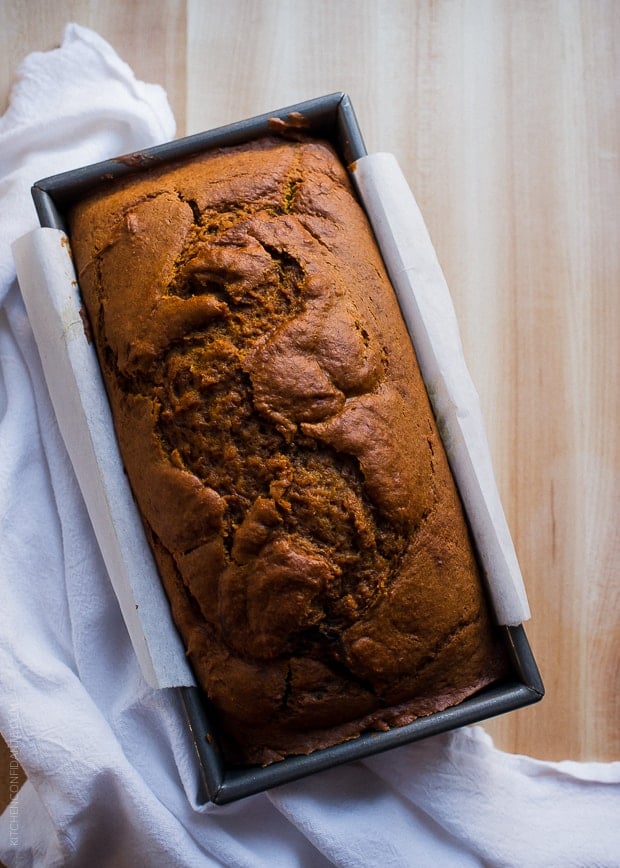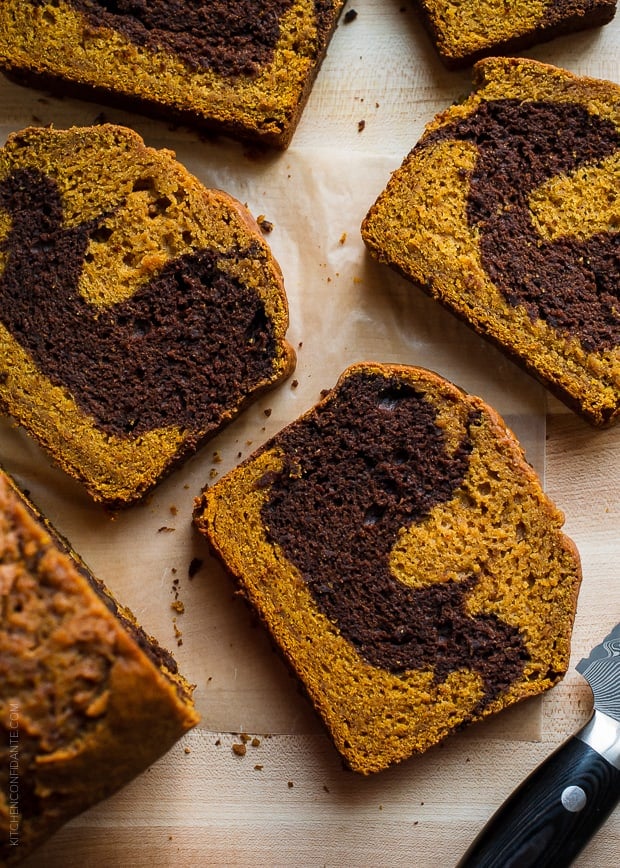 Chocolate Marble Pumpkin Bread
The only thing that can make pumpkin bread better is a swirl of chocolate. Try this simply delicious recipe for Chocolate Marble Pumpkin Bread!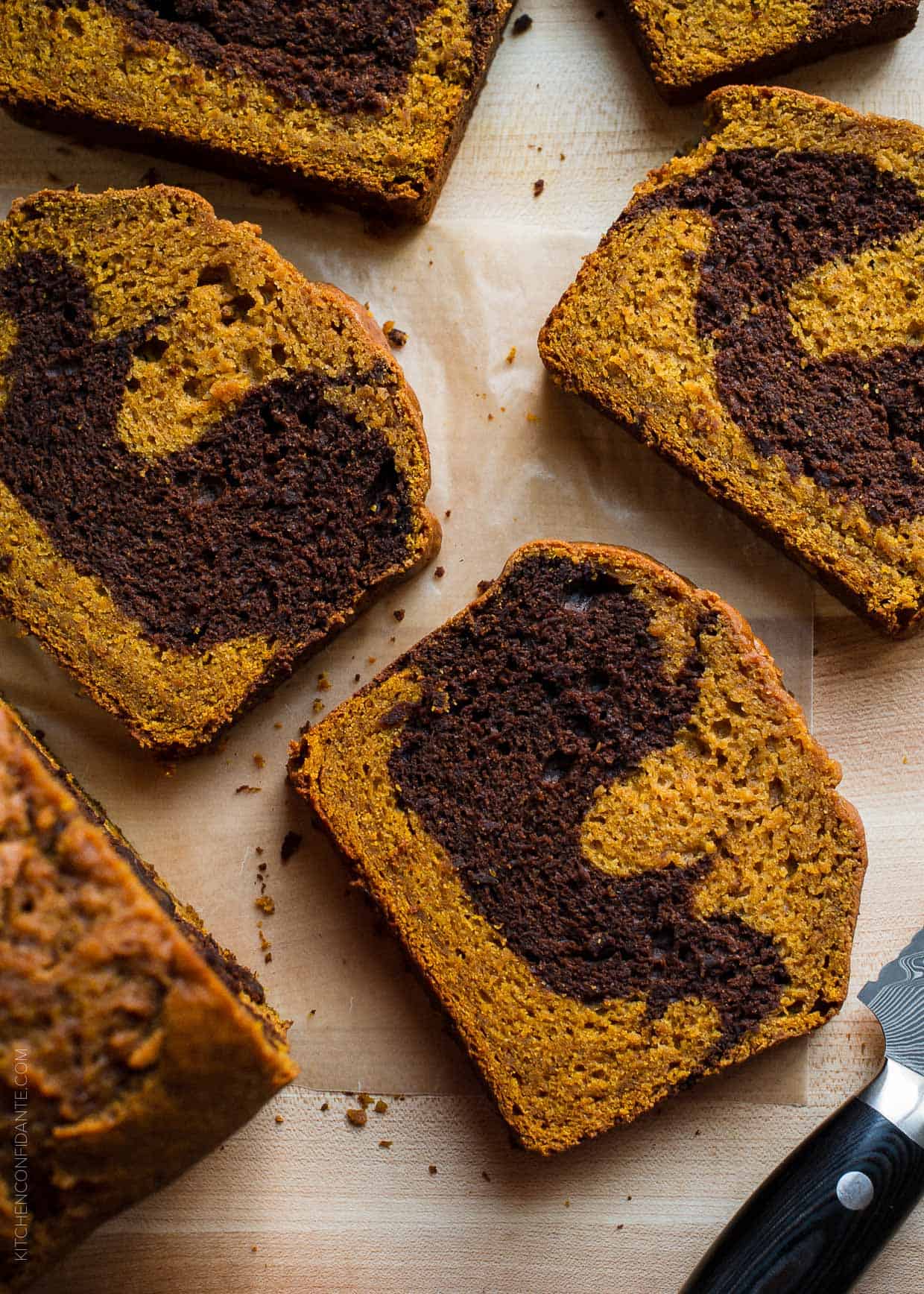 Print Recipe
Ingredients
2 3/4 cups flour
1 1/2 teaspoons baking powder
1 1/2 teaspoons baking soda
3 teaspoons cinnamon
1 teaspoon nutmeg
1/2 teaspoon ground cloves
1/2 teaspoon salt
1 cup granulated sugar
1 cup brown sugar
1/2 cup unsalted butter, softened at room temperature
2 large eggs
1 15-oz can unsweetened pumpkin puree
1 cup plus 2 tablespoons buttermilk (or substitute 1 cup whole milk with juice of one lemon), divided
4 tablespoons cocoa powder
Instructions
Preheat oven to 350°F. Prepare one 9-inch loaf pan by buttering and lining with parchment paper.
In a medium bowl, sift or whisk together the flour, baking powder, baking soda, cinnamon, nutmeg, ground cloves, and salt. In a the bowl of an electric mixer fitted with the paddle attachment, cream sugar and butter until smooth. Mix in eggs, one at a time, then add the pumpkin, mixing thorougly and scraping down the sides of bowl periodically. Add flour mixture and buttermilk, starting with the flour, and alternating until incorporated. Try to end with the flour mixture addition, and be sure not to over mix.
Transfer about 1 cup of the batter into a small bowl. In another small bowl, whisk together the cocoa powder and 2 tablespoons buttermilk. Add the cocoa mixture into the cup of batter and stir until smooth.
Pour half of the pumpkin bread batter into the prepared loaf pan. Add the chocolate batter into the pan and spread evenly. Pour the remaining pumpkin bread batter into the loaf pan and spread over the top. Using a knife, swirl the batters, running the knife from one end of the loaf pan to the other.
Bake for 1 hour, 15 minutes, until a toothpick inserted in the center comes out clean, and the loaf feel springy when you gently press in the middle.
Transfer to a wire rack to cool.