Coconut, Meet Toffee: A Cupcake Story
In case you have the misfortune of not having any Girl Scouts where you live, you may not know that it's the end of Girl Scout Cookie season.  And while I have a special place in my heart for Girl Scout cookies (you're talking to…
Coconut, Meet Toffee: A Cupcake Story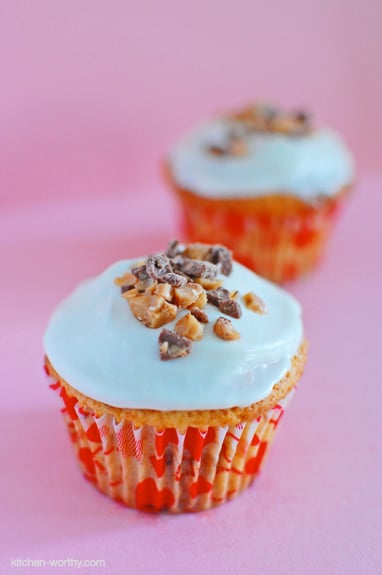 In case you have the misfortune of not having any Girl Scouts where you live, you may not know that it's the end of Girl Scout Cookie season.  And while I have a special place in my heart for Girl Scout cookies (you're talking to an ex-Brownie and current Daisy Troop Co-Leader here), as quick as I am to order my cookies, I just as well can't wait to rid the cupboards of them.
I'm sure some of you can relate to this love-hate relationship I have with these cookies.
That said, my favorite Girl Scout cookie is the Samoa, and while I don't think I can ever tire of the coconut, caramel and chocolate flavors, I am definitely tired of the actual Samoa cookie.  I'm just tired of cookies for now.
So, over the weekend, I decided it was time to make some cupcakes.  But I still wanted coconut.
As I sauntered through the baking products aisle, I found the coconut.  I picked up a bag of the shredded, fluffy goodness.  And I also came across a bag of HEATH Milk Chocolate Toffee Bits.
I thought it might be a nice time for the two to meet.  In a cupcake.
To create my Coconut Toffee Cupcake, I whipped up a variety of a basic 1-2-3-4 cake. This age old yellow cake is as easy as it says: 1 cup butter, 2 cups sugar, 3 cups flour, 4 eggs. I decided to incorporate the yolks and the whites separately to add lightness to the batter. But I realized I better do a half batch, just in case it flopped.
Let me just say, it didn't flop.  It was delicious!!!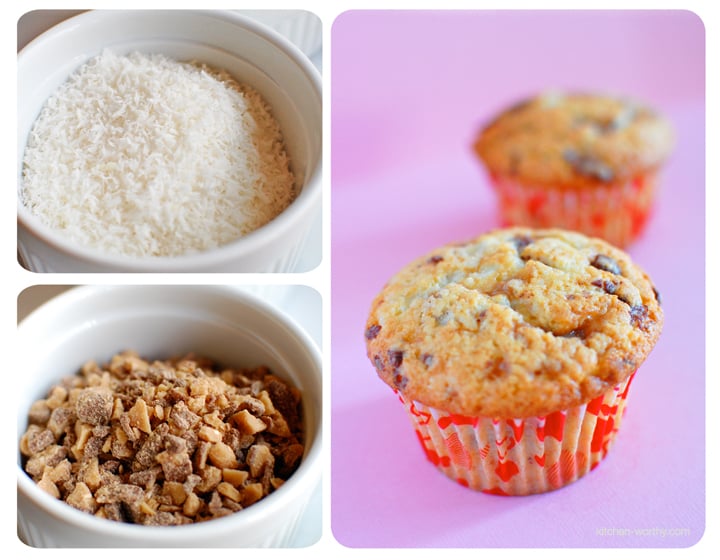 I thought it might need a little punch with some cream cheese frosting, but to be honest, I found that I preferred the cupcakes plain.  They really just tasted so good all by themselves.  But if you insist on frosting them, it will taste just as delicious, especially with some toffee bits sprinkled on top!
Coconut Toffee Cupcakes
Yields a baker's dozen.
1 1/3 cups all-purpose flour
1 1/8 teaspoons baking powder
1/4 teaspoon salt
1/2 cup butter
1 cup sugar
2 egg yolks
1/2 teaspoon vanilla
1/2 cup low fat (2%) milk
1/3 cup shredded coconut
1/3 cup milk chocolate toffee bits (such as HEATH English Milk Chocolate Toffee Bits)
2 egg whites
Preheat the oven to 350 degrees. Allow butter to soften.  Sift together the flour, baking powder and salt.  Set aside.
In a mixer, cream butter then add sugar and continue to cream until it is light in color.  Beat in the egg yolks, one at a time.  Add the vanilla.
Add the dry ingredients (flour, etc.) and the milk, alternating.  Try to make the flour your last addition, being careful not to over mix.  Stir in the coconut and the milk chocolate toffee bits.
In a separate bowl, whip the egg whites until their are stiff.  Fold them into the batter.  Put in muffin pans and bake for about 20 minutes or until golden brown and a toothpick comes out clean when inserted.
Cream Cheese Frosting recipe can be found here.