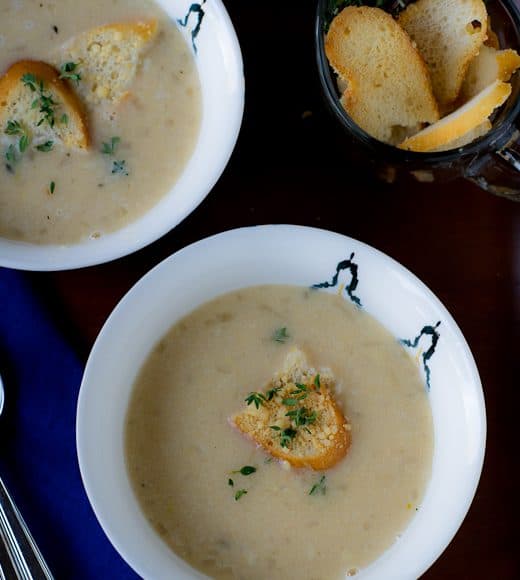 Creamy White Bean Soup
I'm such a wuss. My husband and I joke about it, but it really is true. I grew up in the land of Nor'easters and snowy winters. We met where 17 below was not unheard of, where gas tanks freeze shut and automatic windows don't…
Creamy White Bean Soup
I'm such a wuss.
My husband and I joke about it, but it really is true. I grew up in the land of Nor'easters and snowy winters. We met where 17 below was not unheard of, where gas tanks freeze shut and automatic windows don't mean a thing if you don't keep your car in a garage. I will never forget one bad spell – my first winter as a grad student in Chicago – when I planned a shopping trip to Water Tower Place one Saturday; the real reason was to let my car thaw out in the parking garage so I could actually open my windows again.
And now, here I am, the weather dips below 40 degrees, and I fuss over the children, You need your warm coat! It's Tahoe cold out there. Because, of course, "Tahoe cold" is how we now describe any cold that reveals your steamy breath in the frosty air.
Our friends and family laugh at us, the California wusses, who complain of the freezing cold in temperatures where they would still wear shorts outdoors. I take comfort in the fact that we are not alone. The other day, I was wearing a vest and scarf, and a good friend of mine rubbed my exposed arms and chastised me, Where is your coat!? Don't you know how cold it is with the windchill? I burst out laughing – even with the windchill, it was really about 50 degrees.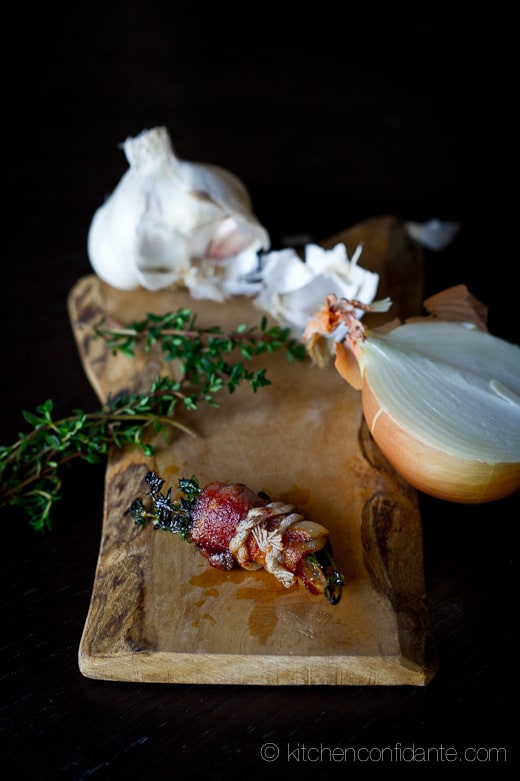 We wussy Californians need to ward off the winter chill, too. Today, I knew I needed soup. Something creamy, something comforting. Something with bacon, just a hint. So I started to brown a little bit of the fatty, smokey yumminess. This was about simplicity and subtlety. There was some temptation go pork happy and add more bacon, but I held back. I wanted to celebrate the thyme, the white beans, the Parmesan croutons soaking it all in. This is a soup I would have loved in Chicago. It's a soup that would be perfect after coming off the slopes in Tahoe. I hope it keeps you warm, wherever you are.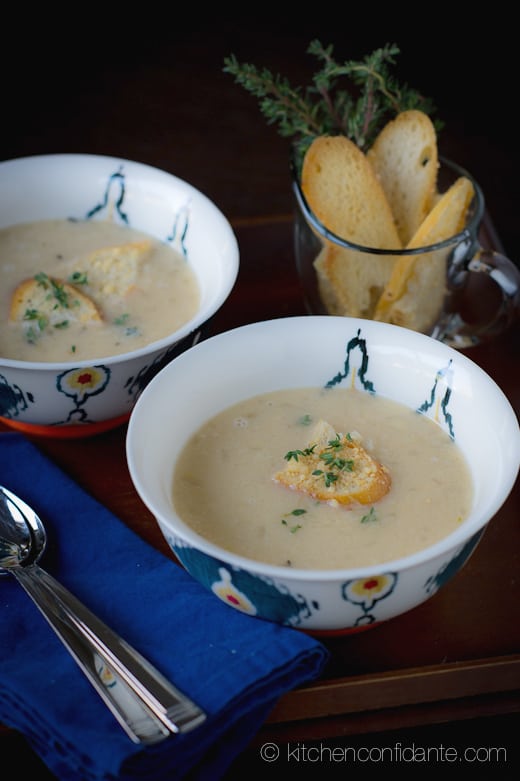 Print Recipe
Ingredients
1 slice bacon
4 springs thyme, plus extra for garnish
1-2 tablespoons olive oil
1/2 onion (about 1/2 cup), diced
2 cloves garlic, minced
4 cups chicken stock
30oz white beans (canned or softened from dried)
kosher salt and freshly ground pepper, to taste
Parmesan croutons for garnish
Instructions
Bundle the sprigs of thyme and roll within a single slice of bacon. Tie with a piece of kitchen twine to secure. Heat a medium saucepan over medium-high heat. Add the olive oil to coat the pan, then add the bundle of bacon and thyme and brown on all sides, about 3 minutes. Lower heat and add the onion and garlic and cook until the onion is translucent and not brown. Add the chicken stock and white beans and bring to a boil. When the soup is hot, remove the bacon bundle and blend the soup, either using an immersion blender or a standard blender (if using the latter, do so in two small batches, then return to the pot). Season to taste with salt and pepper. Serve hot with Parmesan croutons or crisps and garnish with some fresh thyme.