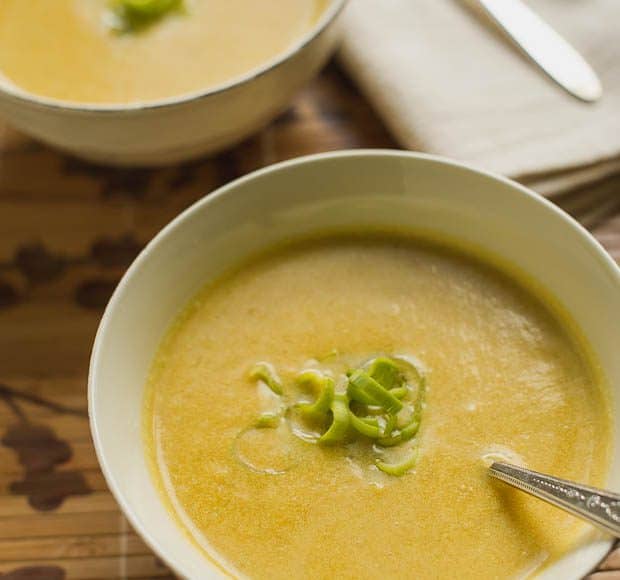 Curried Roasted Butternut Squash Soup
It was dark when I tiptoed into their rooms on Monday morning. I could hear the drip of the rain from the eaves, the first true rain of the season. As I gently woke the children, they stirred, still toasty warm in their beds. They…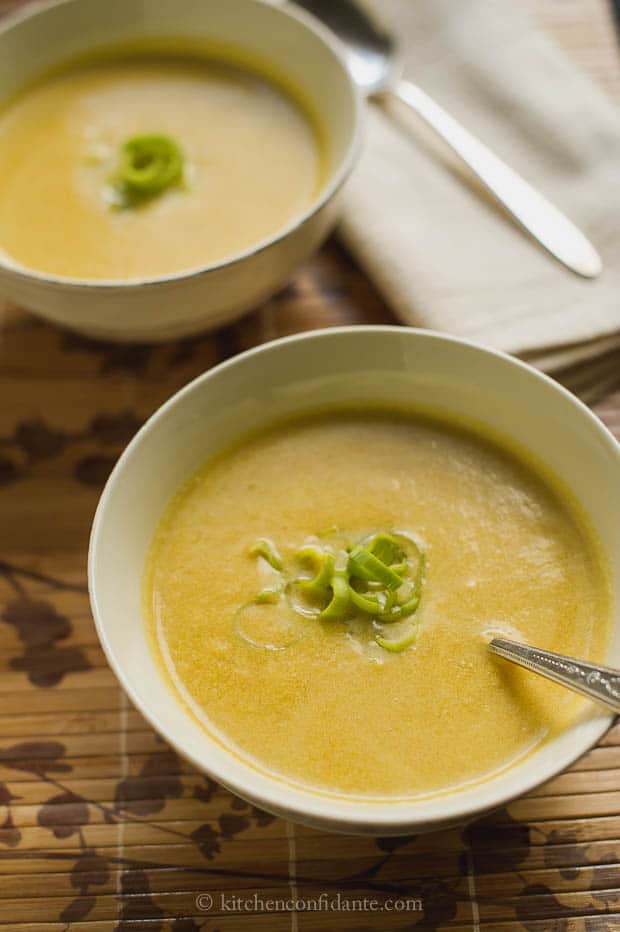 Curried Roasted Butternut Squash Soup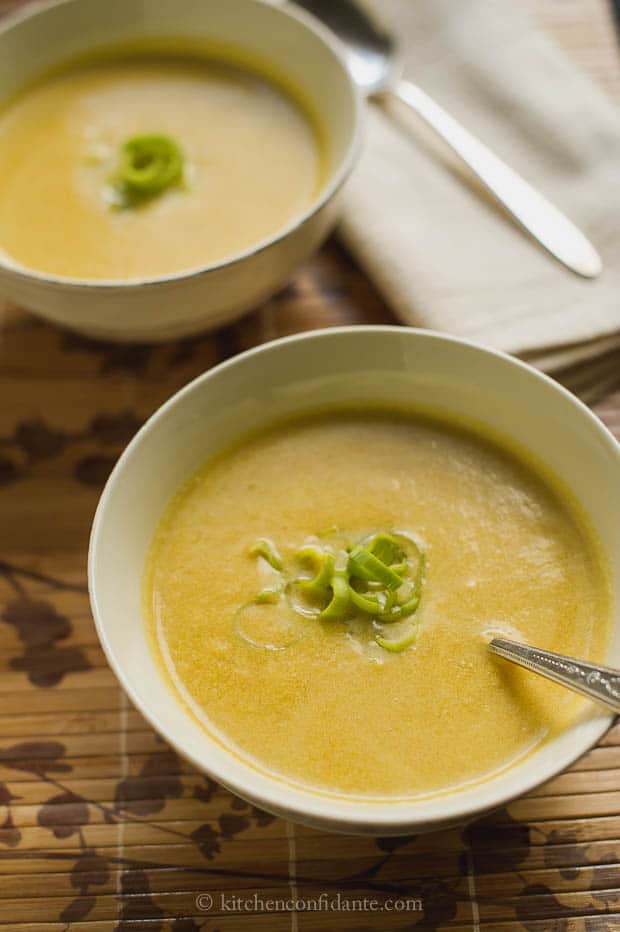 It was dark when I tiptoed into their rooms on Monday morning. I could hear the drip of the rain from the eaves, the first true rain of the season. As I gently woke the children, they stirred, still toasty warm in their beds. They turned, face up, and raised their arms above their heads.
That little sign of innocence, the sleepy vulnerability that we lose somewhere along the way…it made me happy to see they still have it. I remembered peering down on them as babies, their arms up by their ears in sleepy surrender. I kissed their foreheads and sadly interrupted their deep slumber to begin another long week.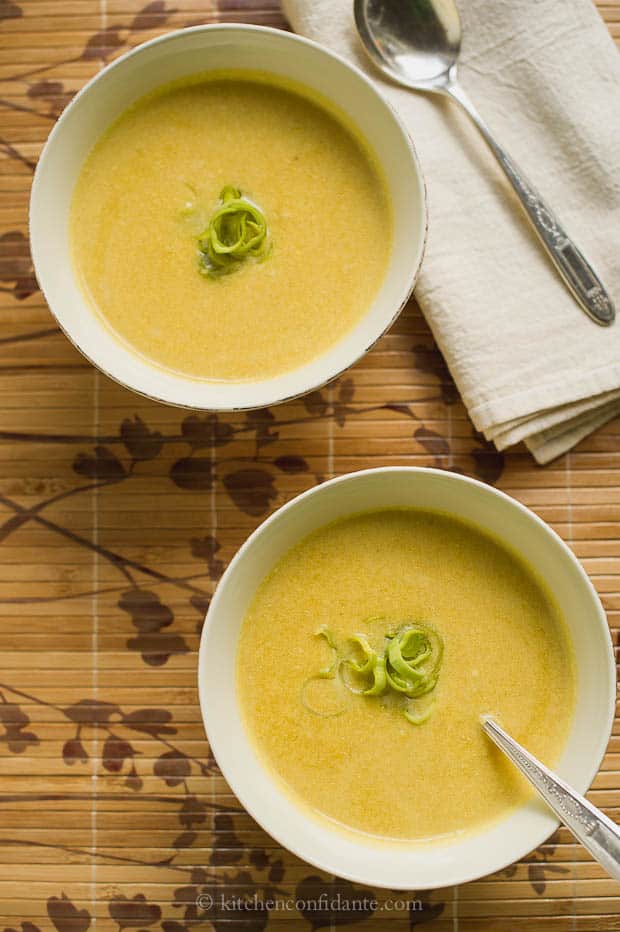 After a busy morning, I found myself bundled up in a scarf in the kitchen and with the rain still dripping outside, I roasted a butternut squash. I remembered the kids and hoped they were warm at school, and wondered, how much longer will I find them sleeping that way?
As the squash finished roasting, my knife cut through tender leeks and I poured the cylinders into a pot. I craved a little heat, so I grated some fresh ginger and measured out the sunny yellow curry powder. I was going to stay warm with a Curried Roasted Butternut Squash Soup, healthy and creamy with silken tofu. It was my gift to myself, that little bit of time, slowed down, even if for just a moment.
Curried Roasted Butternut Squash Soup
Warm up from the autumn chill with this roasted butternut squash soup. Rich in flavor from roasting, with a savory heat from curry and ginger, and a creamy silkiness from silken tofu, it's a healthy way to stay cozy when it's cold outside.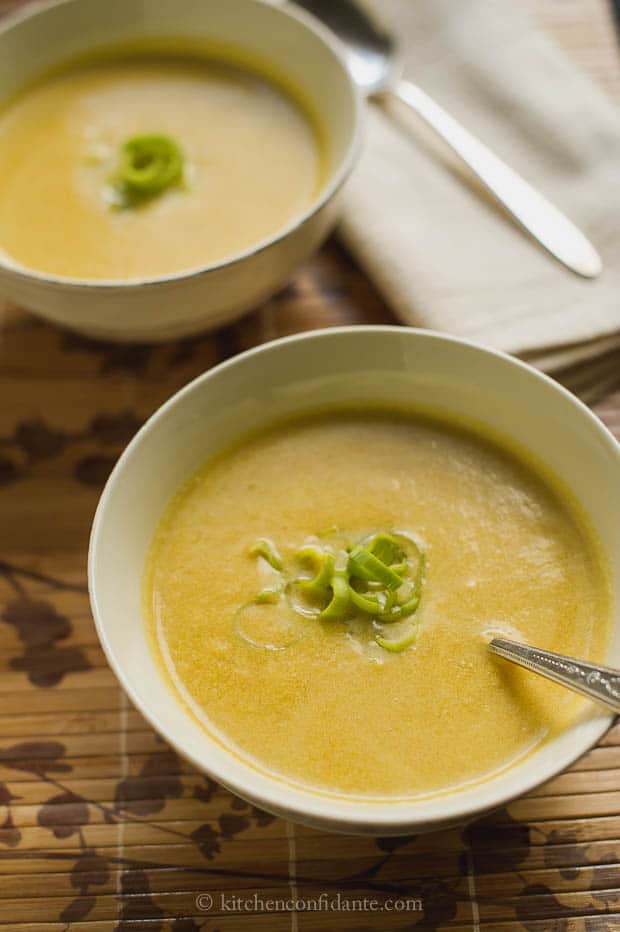 Print Recipe
Ingredients
Roasted Butternut Squash
1 butternut squash
1 tablespoon olive oil
kosher salt
freshly ground pepper
Curried Roasted Butternut Squash Soup
1-2 tablespoons olive oil, divided
1 leek, sliced and thoroughly rinsed
1 teaspoon freshly grated ginger
1 teaspoon curry powder
4 cups vegetable stock (chicken stock works well, too)
roasted butternut squash (see above)
12 oz silken tofu
2 teaspoons kosher salt, to taste
freshly ground black pepper, to taste
Instructions
Preheat the oven to 400 degrees. Line a baking sheet with aluminum foil if desired, for easy clean up.
Cut the butternut squash in half and discard the seeds. Place on the baking sheet and brush or drizzle with olive oil. Season with a little salt and pepper. Place in the oven to roast for about 30-40 minutes, or until the squash is tender. Remove from oven and carefully scoop out the squash with a spoon. This can be done in advance, just keep the roasted squash in a covered container in the refrigerator for up to 4 days.
Heat the olive oil in a medium sauce pan over medium-low heat. Add the leeks and cook for about 5 minutes. When it starts to wilt, add the ginger and cook for another 5 minutes until the leeks are fully wilted. Stir in the curry powder until fragrant, about 30 seconds.
Pour in the vegetable stock and bring to a gentle boil. Working in batches, take one half of the heated stock and place in a blender with the roasted butternut squash and blend. Set aside. Take the second batch of stock and blend with the silken tofu. Return both batches to the pot and bring to a gentle boil. Stir in the salt and pepper, seasoning to taste. Skim off any foam. Cook for about 5 minutes until the soup just begins to thicken. Serve immediately, garnished with some additional sliced leeks.