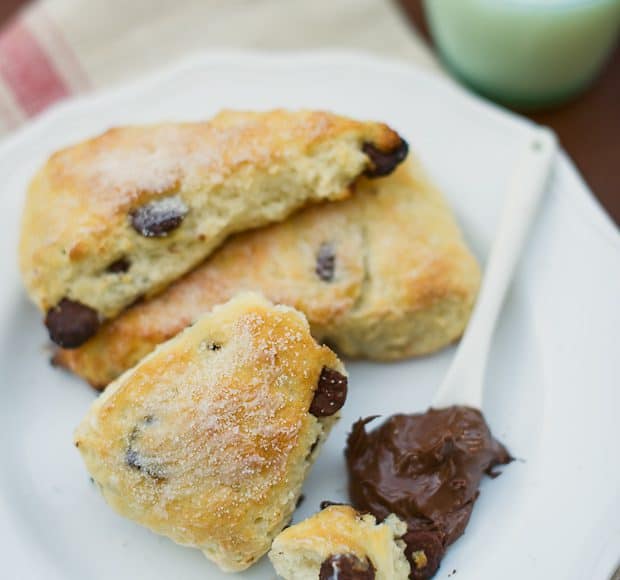 Simple Sundays | Chocolate Chip Scones
It was one of those weeks. You know, the kind where you are juggling many balls in the air, tethered to your calendar and your phone, and all you can think is I just need to get past Friday. Well, Friday did arrive and I…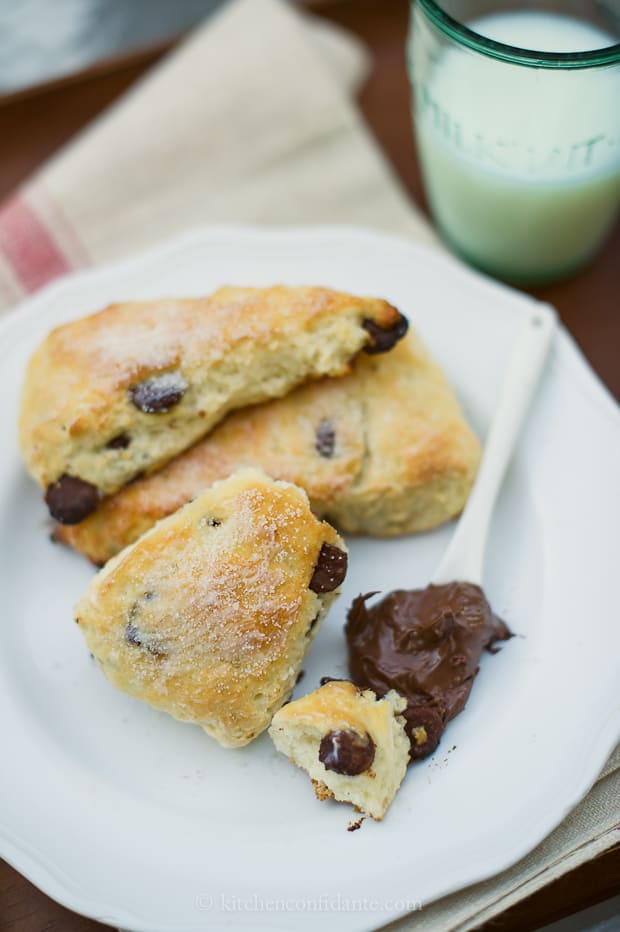 Simple Sundays | Chocolate Chip Scones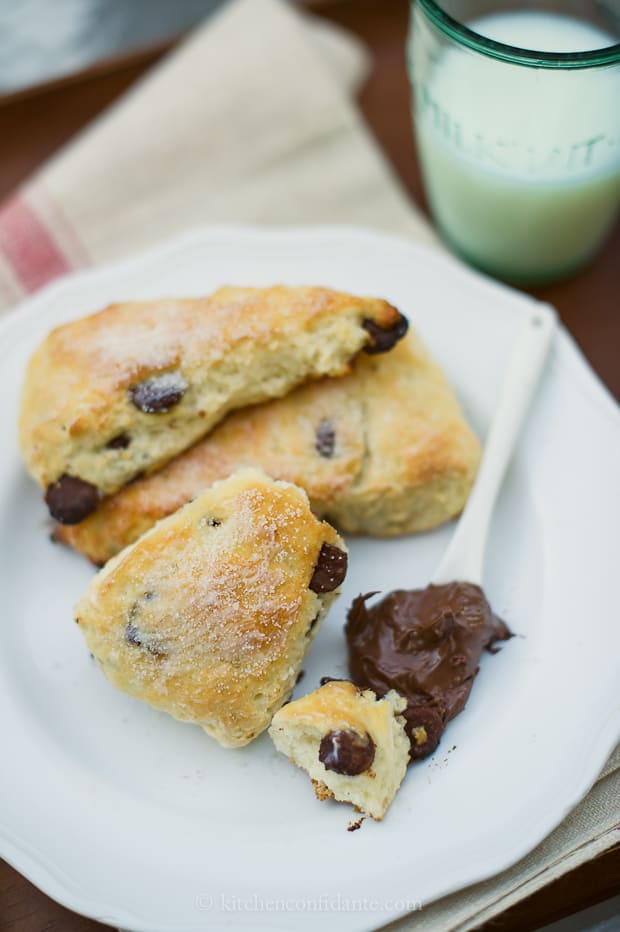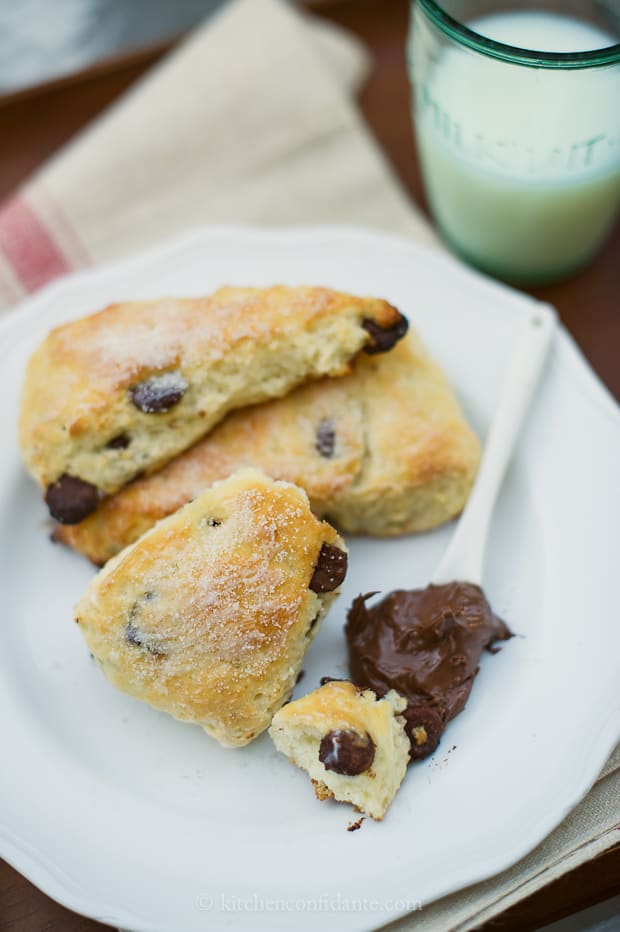 It was one of those weeks. You know, the kind where you are juggling many balls in the air, tethered to your calendar and your phone, and all you can think is I just need to get past Friday.
Well, Friday did arrive and I gave myself permission to ignore my emails. The weekend was still very busy, but it was occupied with the things I wanted to do. Like clean the kitchen. Watch my children play at the school carnival. Eat cotton candy. Wine taste with my husband and dear friends. And bake these Chocolate Chip Scones.
This was my Saturday morning, my indulgence. My hands worked the sticky dough into a promising disk, and it was the type of busy work I wish I could indulge in every morning. I hope you find time for you this weekend. Pamper yourself. Hopefully, it will involve these scones.
I love that these scones strike the right balance between just the right amount of chocolate goodness without being too sweet as a breakfast treat. It's not the type of goodie that will keep long, but that shouldn't matter. If your family is anything like mine, it will be long gone before then.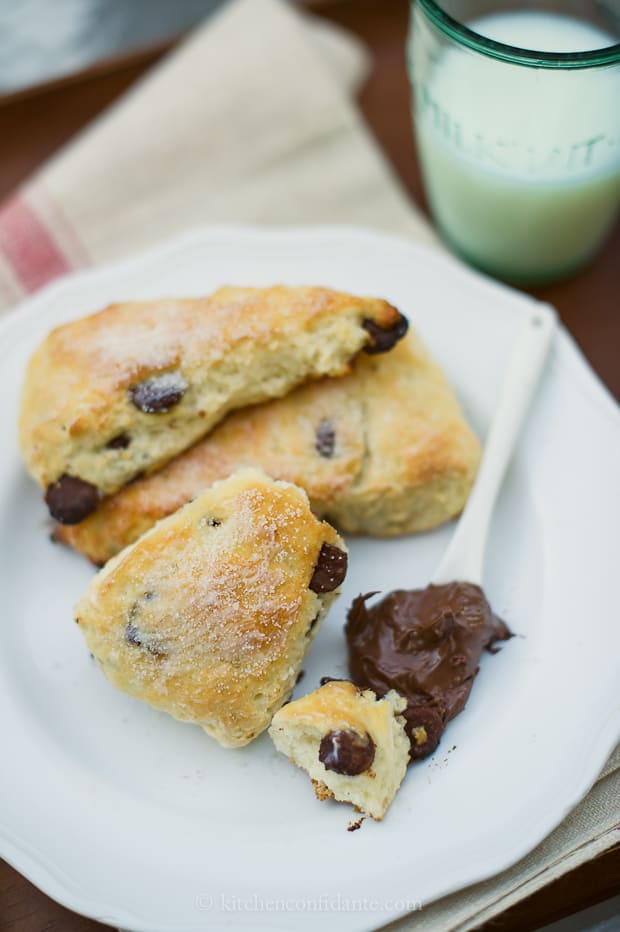 Print Recipe
Ingredients
2 cups all purpose flour, plus extra for kneading
1 tablespoon baking powder
1/2 teaspoon salt
1/4 cup sugar, plus 3 tablespoons
3/4 cup chocolate chips (milk or semisweet)
1 1/4 cups buttermilk
3 tablespoons unsalted butter, melted
Instructions
Preheat the oven to 425 degrees, placing a rack in the center of the oven. Line a heavy baking sheet with a silicone mat or parchment paper.
In a medium bowl, whisk together the flour, baking powder, salt and 1/4 cup sugar. Stir in the chocolate chips. Add the buttermilk and stir with fork until the dough starts to come together and pulls away from the walls of the bowl. It will be very sticky.
Lightly flour a work surface and turn the dough out. Sprinkle with a little more flour and knead the dough, giving it 10 turns (fold the dough towards you, push it out with the heel of your hand and give it a quarter of a turn each time). Pat it into a disk about 9 inches wide. Brush with the melted butter and sprinkle with the remaining sugar. Cut into 12 wedges and place on the baking tray, about 1 inch apart.
Bake for 15 minutes, until the scones are golden brown and still tender. Serve immediately.
Lightly adapted from Chocolate, Williams-Sonoma Kitchen Library (Williams & Brody, 1993). The original recipe called for heavy cream. This version, made with buttermilk, lightens it up considerably, without loosing flavor or texture.