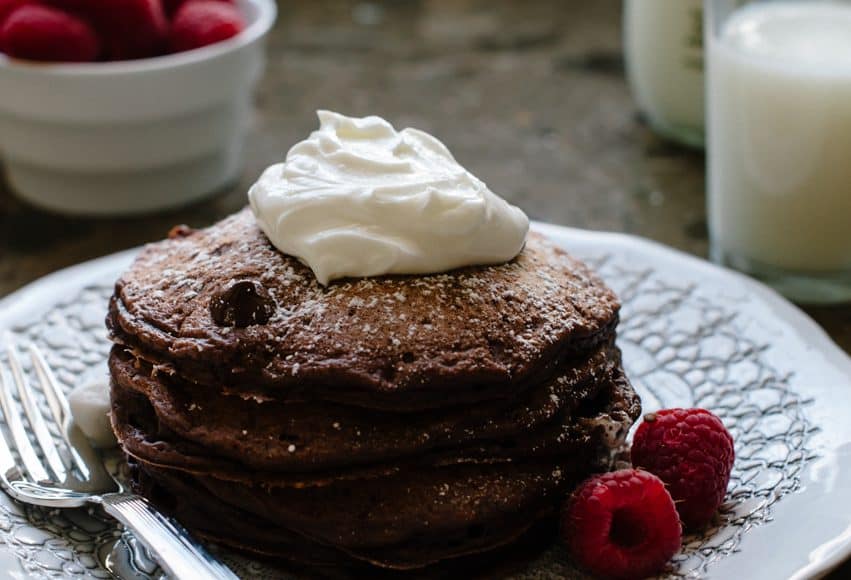 (Eggless) Dark Chocolate Pancakes
In the days leading up to the weekend, I usually take a quick inventory of the fridge and pantry, making sure I have the essentials on hand. The idea of grocery shopping over the weekend pains me for some reason, so I try to stock…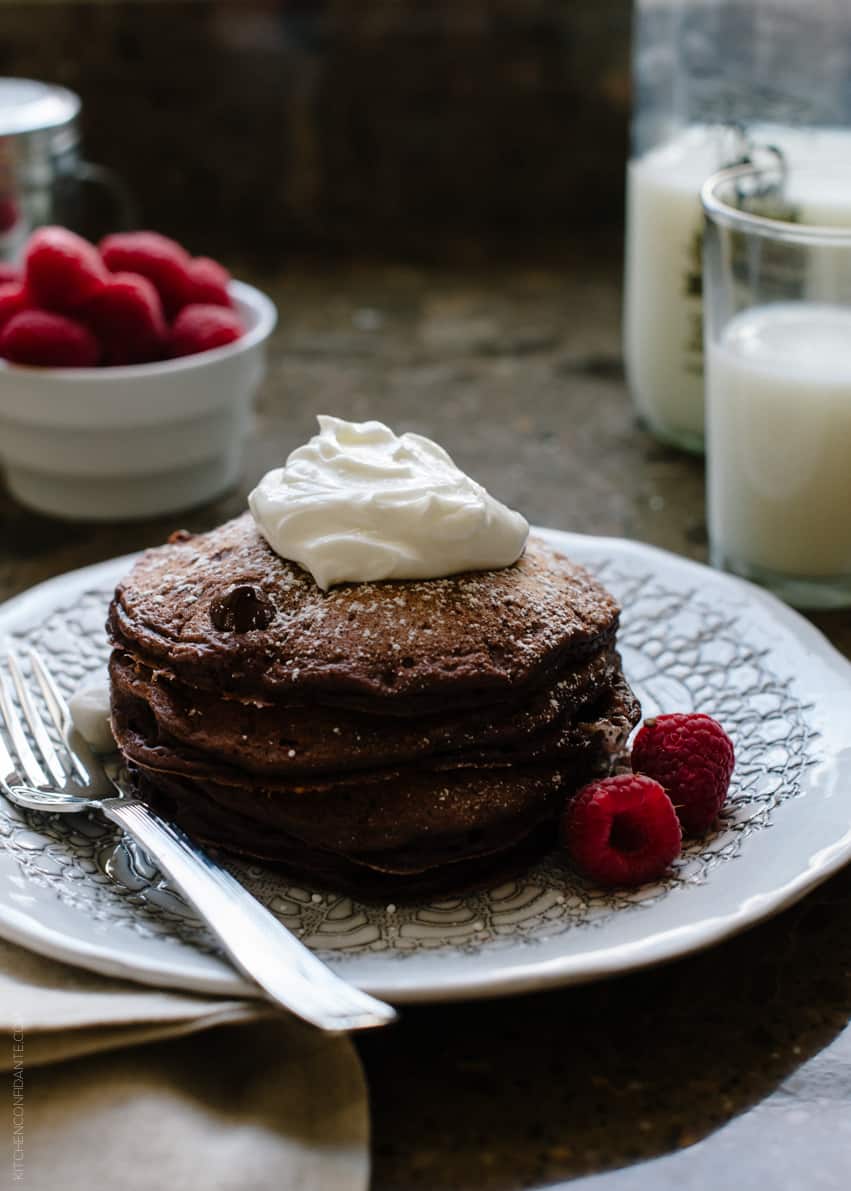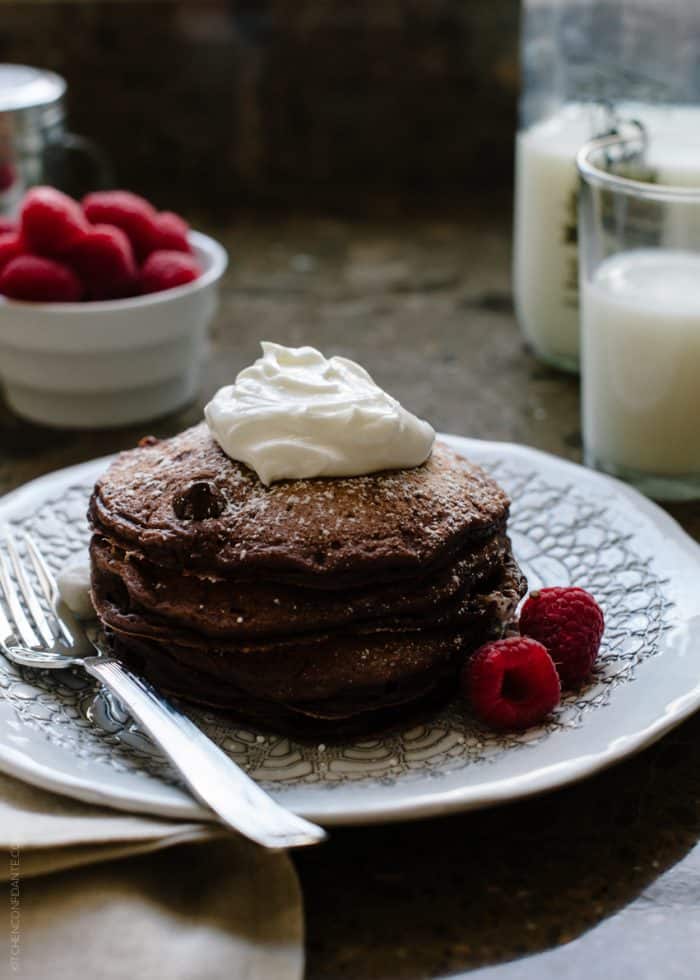 (Eggless) Dark Chocolate Pancakes
In the days leading up to the weekend, I usually take a quick inventory of the fridge and pantry, making sure I have the essentials on hand. The idea of grocery shopping over the weekend pains me for some reason, so I try to stock up before hand. Number one on the list: eggs.
We go through a lot of eggs. Between weekend baking, Sunday morning pancakes or waffles, eggy brunch sandwiches, and more, they disappear as quickly as my imaginary hen will lay them.
Sometimes, I don't stock up, and I find myself eggless on Sunday morning, just when our cravings for a stack of pancakes start to gnaw. In those moments, I turn to the next best thing in such a pinch: the flaxseed egg.
My vegan friends will already have used this substitute and consider this old hat, but in case you have never tried it, I just wanted to let you know, it really works! I keep a bag of whole flaxseed in the fridge and this always works in a pinch for pancakes. One tablespoon ground flaxseed mixed with three tablespoons water is all you need to release the mucilage that are surprisingly similar to egg proteins.
These Eggless Dark Chocolate Pancakes stack up – chocolatey, with dark chocolate chips, and a nice little nutty flavor from the flaxseed – who can resist chocolate for breakfast? Don't let eggs stop you!
(Eggless) Dark Chocolate Pancakes
Out of eggs or need to omit? These chocolate pancakes use a flaxseed "egg" substitute. Of course, if you like, they can also be made with eggs if you have them!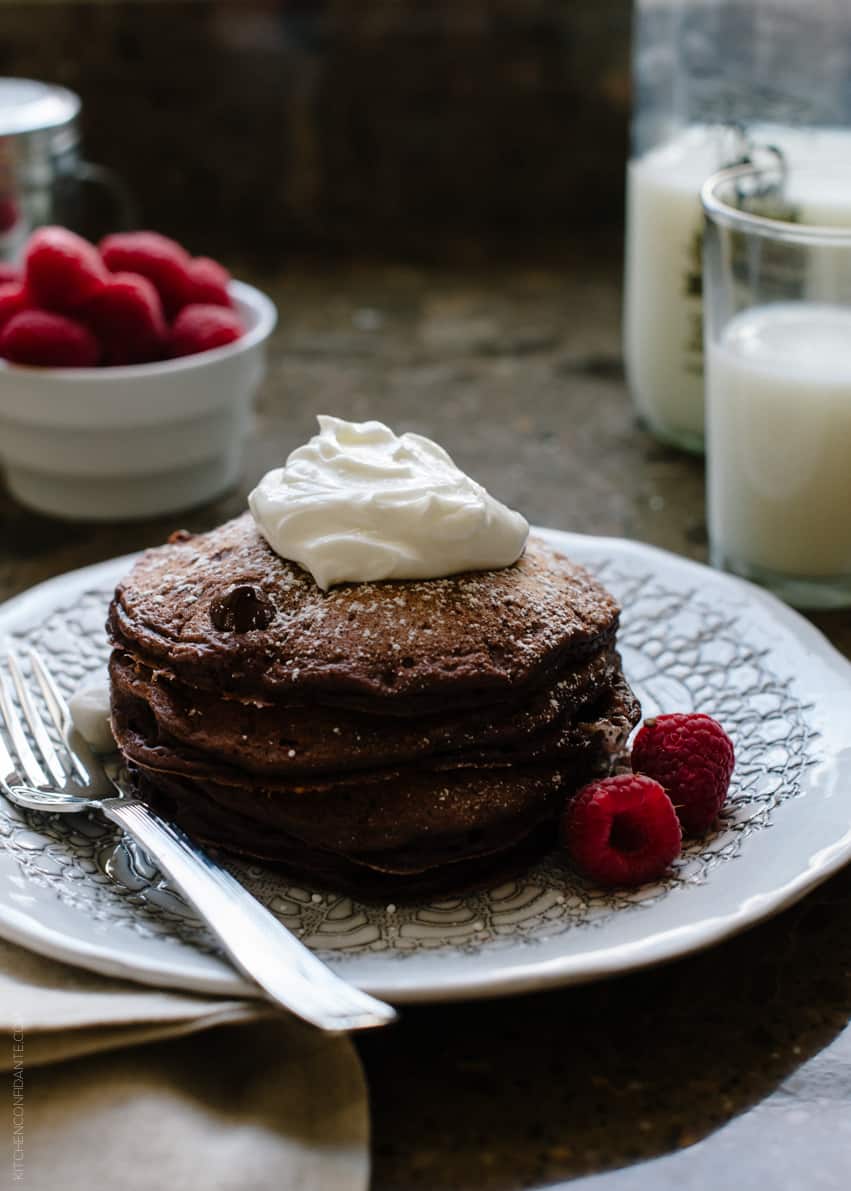 Print Recipe
Ingredients
For the flax eggs:
(1 flax egg = 1 tablespoon ground flaxseed + 3 tablespoons water)
2 tablespoon ground flaxseed
6 tablespoons water
For the Dark Chocolate Pancakes:
2 cups all-purpose flour
1/2 cup unsweetened Dutch process cocoa powder (I use Guittard Cocoa Rouge)
1/2 cup sugar (you can use less or more to taste, remember the chocolate chips add sweetness, too)
2 teaspoon baking powder
1 teaspoon baking soda
1/2 teaspoon salt
2 flax eggs, see above (or 2 large eggs, lightly beaten)
3 cups buttermilk
4 tablespoons unsalted butter, melted, plus ½ teaspoon for griddle
1/3 cup semisweet chocolate chips
Instructions
Make the flax eggs by stirring together the ground flaxseed and water in a small bowl. Let it sit.
Heat griddle over medium low heat. If you plan to keep pancakes warm in the oven, heat oven to 175 degrees.
Whisk together flour, cocoa powder, sugar, baking powder, baking soda, and salt in a large bowl.
In a separate bowl, whisk together the flax eggs, buttermilk, and 4 tablespoons melted butter. Combine the buttermilk mixture with the flour mixture and stir until just combined. The batter should have small lumps.
Test griddle by sprinkling a few drops of water on it. If water bounces and spatters off griddle, it is hot enough. Using a pastry brush, brush remaining ½ teaspoon of butter onto griddle. Wipe off excess.
Using an ice cream scoop or ladle, pour pancake batter (about half a cup), 2 inches away from one other. Drop in 3-5 chocolate chips into each pancake, and use a knife to gently push the chocolate chips into the batter and let a little batter cover the chocolate chips. When the pancakes are slightly dry around edges, about 2½ minutes, flip over. Cook for another minute.
Work in batches, keeping finished pancakes in the oven. Serve warm with your favorite toppings. It tastes especially good with, powdered sugar, whipped cream and fresh berries.
Notes
Find out more on flax eggs here.
This recipe makes about 20 4-inch pancakes.
Pancakes adapted from Best Buttermilk Pancakes, Martha Stewart Living, January 2001. Find the original recipe here.