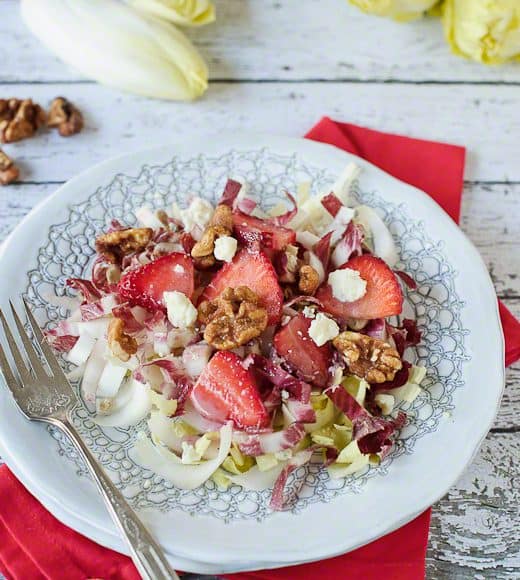 Endive & Strawberry Salad with Gorgonzola, Walnuts & Strawberry Dressing
I received a bouquet the other day. And it wasn't from my husband. It was quite a surprise…especially because it was a lovely arrangement of endive. I have to admit, I am a sucker for pretty bouquets, but I was even more charmed when I…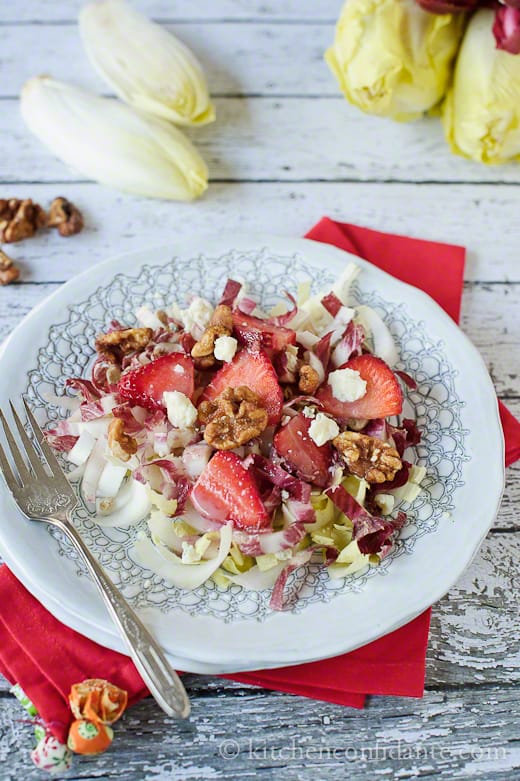 Endive & Strawberry Salad with Gorgonzola, Walnuts & Strawberry Dressing
I received a bouquet the other day. And it wasn't from my husband.
It was quite a surprise…especially because it was a lovely arrangement of endive.
I have to admit, I am a sucker for pretty bouquets, but I was even more charmed when I unwrapped the arrangement. I thought you might be intrigued, as I was, to see the this often unseen part of the endive's growing process.
This unique glimpse really ignited my curiosity. I have always enjoyed endive, but admittedly don't know too much about it. So I decided to head on over to Discover Endive, who sent the bouquet, to learn more about how they are grown. It really is a fascinating process, and I encourage you to check out how they are produced out here in California.
Who knew there was so much involved in making something so beautiful?
Receiving the Valentine's bouquet of endive was a clever surprise; amid the sweet decadence, it was nice to have something refreshing and wholesome. I hope yesterday's sweet holiday was full of all kinds of indulgence, but if you're like me, with a house saturated with chocolates and cupcakes, you are yearning to detox with something healthy.
So, how about a salad? I used some of the endive in an Endive & Strawberry Salad, with Gorgonzola, Walnuts and Strawberry Dressing. I think it's a great way to let your special someone know you still love them, even if it's no longer Valentine's Day.
* FTC: Discover Endive sent this lovely bouquet of California endive. I am not affiliated with Discover Endive, nor was I compensated for or required to write about their product. I truly feel you would find endive interesting and delicious. All opinions are, as always, genuinely my own.
You may also like: Endive Spears with Crab, Pomelo and Avocado
Endive & Strawberry Salad, with Gorgonzola, Walnuts and Strawberry Dressing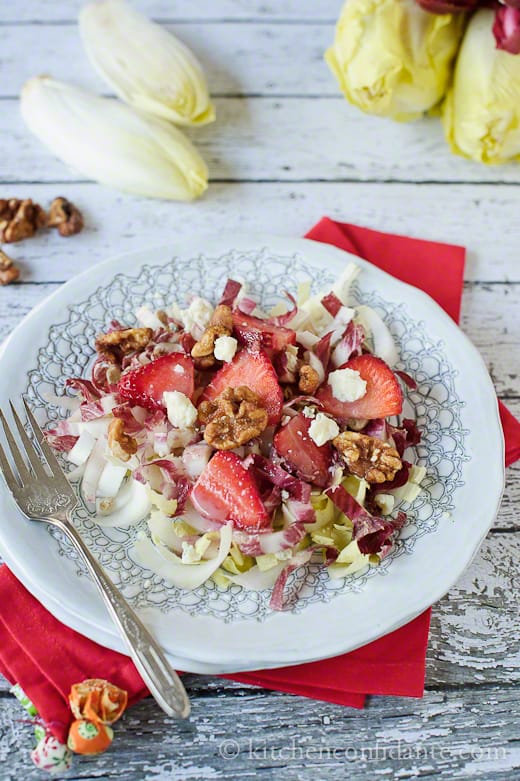 Print Recipe
Ingredients
For the salad:
4 spears endive
1 cup fresh strawberries
1/2 cup Gorgonzola cheese
1/2 cup candied walnuts
Strawberry Dressing (below)
For the dressing:
2/3 cup frozen strawberries, thawed (or fresh)
1/4 cup sugar
1/4 cup red wine vinegar
1 tablespoon dry mustard
1/2 teaspoon salt
1/2 teaspoon lemon juice
1/2 to 1 cup olive oil
Instructions
Slice the endive crosswise and the strawberries lengthwise in 1/4 inch wide pieces. Arrange on plates, garnished with Gorgonzola cheese and candied walnuts.
Blend the strawberries, sugar, vinegar, mustard, salt and lemon juice in a food processor. With the motor running, drizzle in the olive oil until it emulsifies into a creamy consistency. Drizzle over the salad and serve. If preparing in advance, refrigerate in a sealed container, and whisk well before serving.