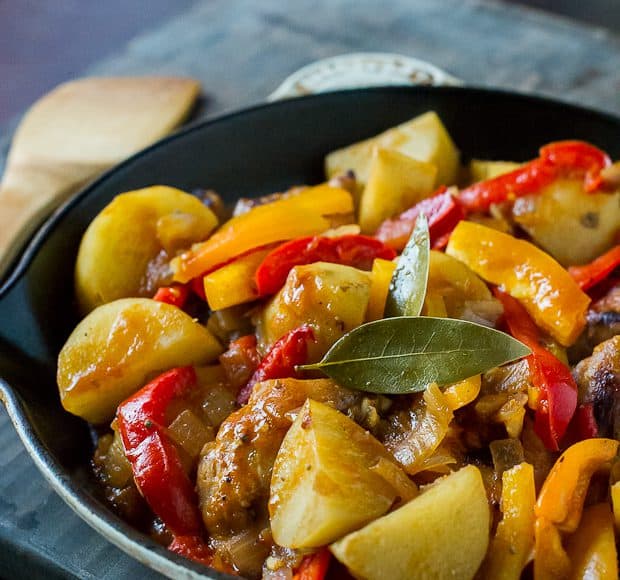 Chicken Afritada | Simple Sundays
There's nothing more comforting than a stew. Chicken Afritada is a classic Filipino dish, with tender chicken nestled within potatoes and sweet peppers. With a press of a button, there was heat. The rumble of the boiler stirred from the depths of the garage and…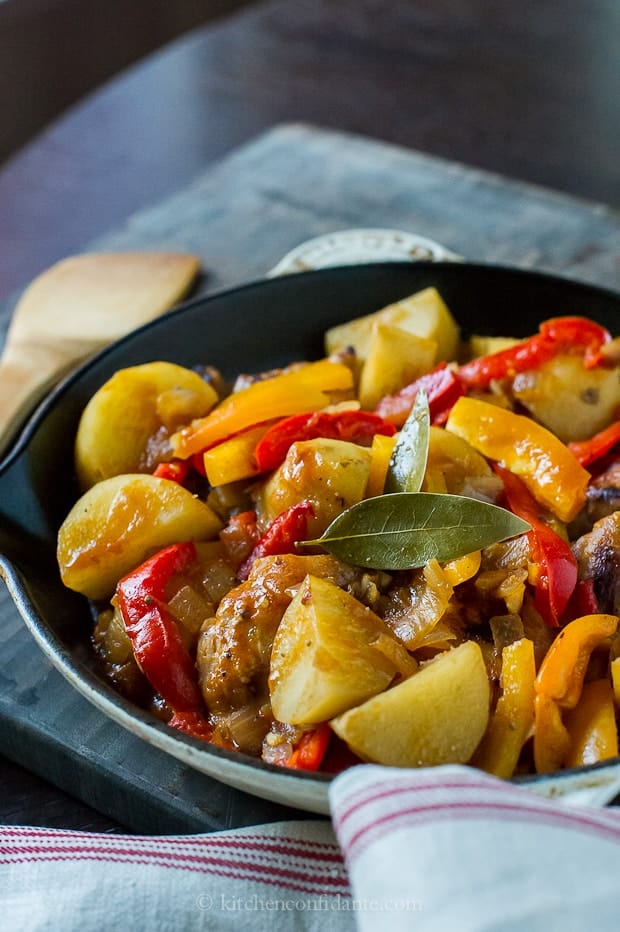 Chicken Afritada | Simple Sundays
There's nothing more comforting than a stew. Chicken Afritada is a classic Filipino dish, with tender chicken nestled within potatoes and sweet peppers.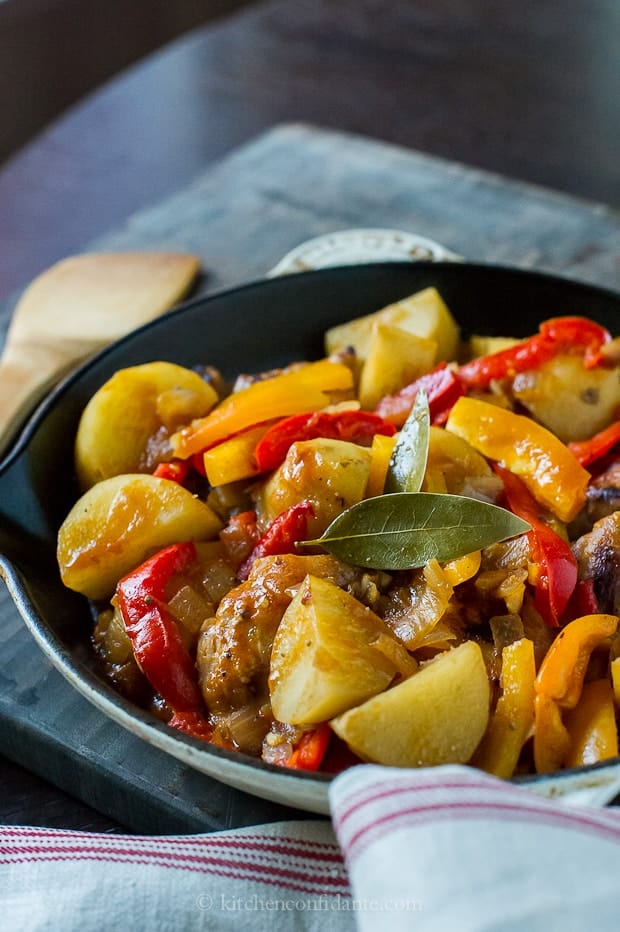 With a press of a button, there was heat. The rumble of the boiler stirred from the depths of the garage and the hush of warm air could be heard as it moved through the vents. I stood in front of the mirror as I dried my hair and could feel the warmth on my face. These simple luxuries – a hot shower, a working heater, a cozy robe — are ones that I often take for granted.
The aftermath of Sandy has been devastating to so many, robbing them of what we consider basics, and sadly, much more. The hurricane was vicious, leaving too many families with nothing. I am so grateful that most of my family and friends were spared the worst, but for my brother in law, Niall, while his childhood home is still standing, the neighborhood was left unrecognizable. For Niall and his sister, Mollie, it was hard to witness from afar, as they each now live on the west coast. Mollie recently wrote about it poignantly, and as a family, they have dedicated themselves to rebuilding Rockaway.
There are many ways to help, but sometimes, it is hard to make contributions not knowing who will benefit or when. I want to share with you two families close to Niall and Mollie who have suffered the hurricane's destruction. They have experienced real loss, and have immediate needs.
There is Sarah and Vince, who after the joy of the birth of their first son, just two days later lost not only the comfort of their home, but those essentials for their new baby boy. And there are the Craigwell's, a family with three sons who lost not only their home but everything in it — clothes, school materials, simple basics. Niall and his family have set up Amazon gift registries to help their friends get back on their feet, and I just wanted to share it with you. If you would like to help them rebuild their homes with these very tangible needs, I know they would appreciate it very much.
Please click here for Sarah and Vince's registry and here for the Craigwell's registry.
As for this Chicken Afritada…well, simply put, it's comfort food. A stew that I love to cook in the winter, that brings me back to winter nights in New York. Tender braised chicken and potatoes with a rich tomato sauce — it's a stew that is a staple in many Filipino kitchens, and reminds me of many dinners at my childhood table, served over a bed of steaming rice. It's a basic that I know you will love too.
There's nothing more comforting than a stew. Tender chicken is nestled within potatoes and sweet peppers and is a Filipino classic. As such, it is traditionally eaten over a bed of hot rice, and if you're like me, with lots of sauce.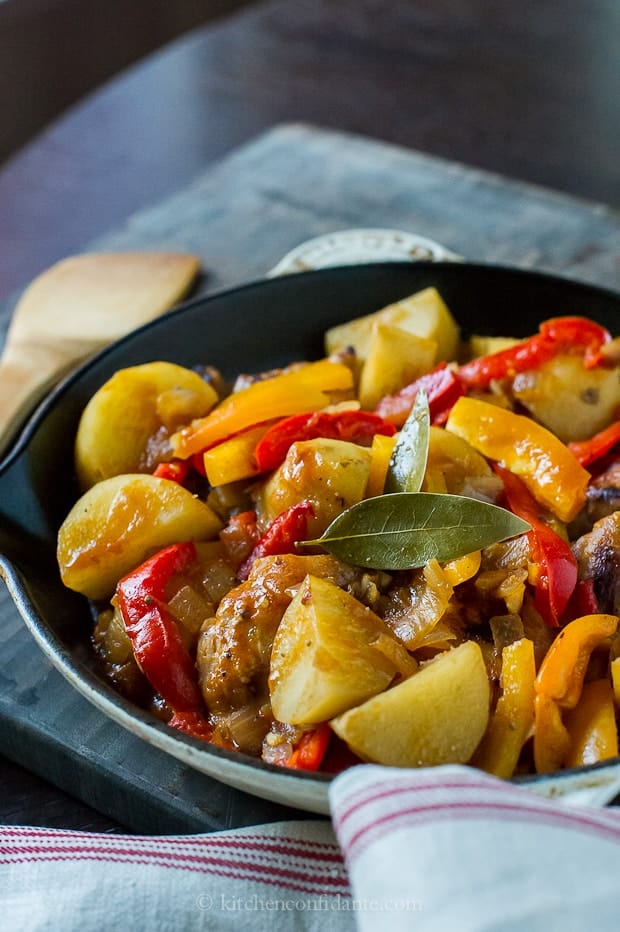 Print Recipe
Ingredients
1 1/2 pounds boneless, skinless chicken thighs
2 tablespoons soy sauce
1/2 teaspoon freshly ground black pepper
2 tablespoons canola oil
4 cloves garlic, minced
1 large onion, diced
2 teaspoons fish sauce
2 tablespoons tomato paste
1 cup water
1 teaspoon sugar
2 russet potatoes, peeled and cut into 3 inch pieces
2 bell peppers (red, yellow or a combination)
2 bay leaves
several dashes Tabasco Habanero Sauce, to taste
Instructions
Marinate the chicken thighs in soy sauce and black pepper for 30 minutes in the refrigerator.
In a dutch oven over medium heat, heat the canola oil and brown the garlic and set aside.
Add the chicken, and brown on all sides. Add onions and season with fish sauce. When the onions are soft and transparent, stir in the tomato paste. After two minutes, stir in the water, sugar, potatoes, half the bell peppers, Tabasco, bay leaves, and reserved garlic. Let come to a boil, then lower heat to simmer. Cook for about 25 minutes, or until the chicken is fully cooked and the potatoes are fork tender.
Add the remaining bell peppers and cook for about 7 minutes more. Season to taste with additional fish sauce, black pepper, or if you desire more heat, Tabasco. Remove bay leaves and discard. Serve immediately over rice.